Two months ago, I didn't know Bryan Callen and Brendan Schaub's "The Fighter & The Kid" podcast existed, but now it's one of my favorite things to listen to. I don't  actively seek out new podcasts, I just kind of  stumble onto them. I'll usually listen to 1-2 episodes of something new and, if I like it, I'll continue to passively listen to more when they come up. After tuning into my first episode of "The Fighter & The Kid" about a month ago, I've listened to every new episode as well as some backdated ones. As a new fan I jumped at the chance to head down to Fox Sports and check out a show with the guys.
"The Fighter & The Kid" is made up of Bryan, Brendan, and usually a guest's ramblings about MMA, comedy, Hollywood, sports, dating advice, acting, and basically anything they find interesting – including dicks. Lots and lots of dicks. Brendan Schaub is a top name in MMA, and as runner up in the 10th season of The Ultimate Fighter, he quickly made his way up through the heavyweight division of the UFC. Bryan Callen is a hilarious comedian and actor who got his start on MADtv and, recently, you'd recognize him from the show The Goldbergs or movies like Warrior and Ride Along. If those don't ring a bell, you might not have noticed it's him, but he's played one of the funniest characters in both The Hangover and The Hangover Part II.
When I arrived to the studio, Evan The Beard (the show's producer) iswasprepping for the show. The heavyweight, Brendan, walked in fittingly carrying a 40lb kettle bell that looked like an angry chimp. Evan and I immediately admired the Onnit Primal Bell as a piece of artwork as Brendan began his prep for the show.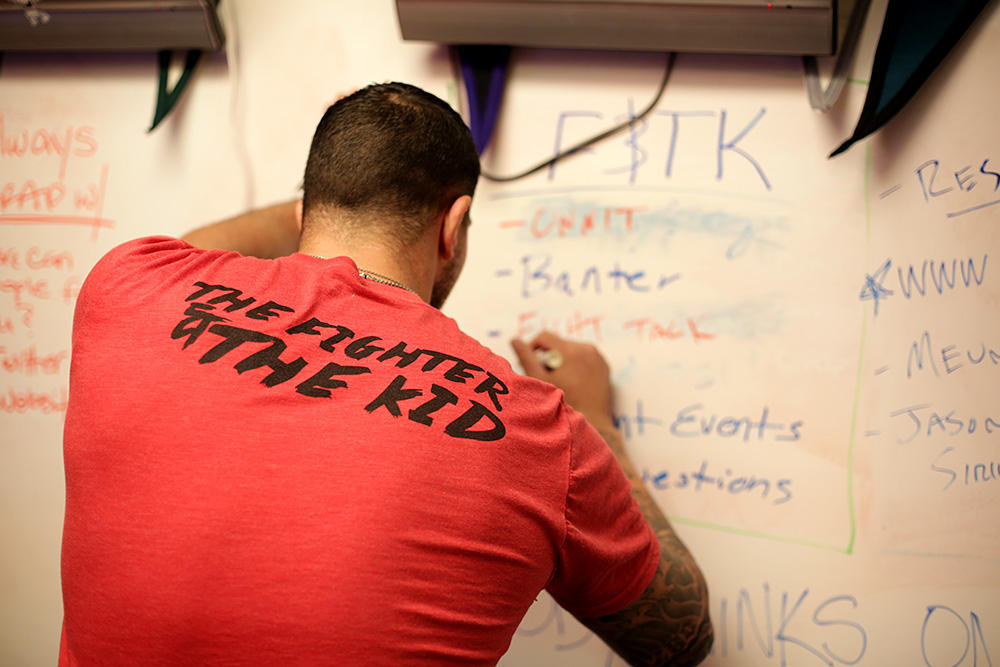 Brendan updating notes for today's episode.
A text from Bryan came in saying he was running late. Schaub showed that he wasn't surprised when he stated, "I basically had to dress Bryan this morning."

I wasn't sure if he was kidding, because when Bryan walked in the door, he was wearing a tight bright red shirt whose color matched perfectly with Brendan's shirt. Either way, they looked adorable together in their matching shirts. Well, as adorable as a fit 5'11 48-year-old Callen with self-described "ridiculously developed delts and glutes" can be next to the beastly Schaub – who has to be walking around at 6'3" 230lbs. They both gave each other some shit and the show began.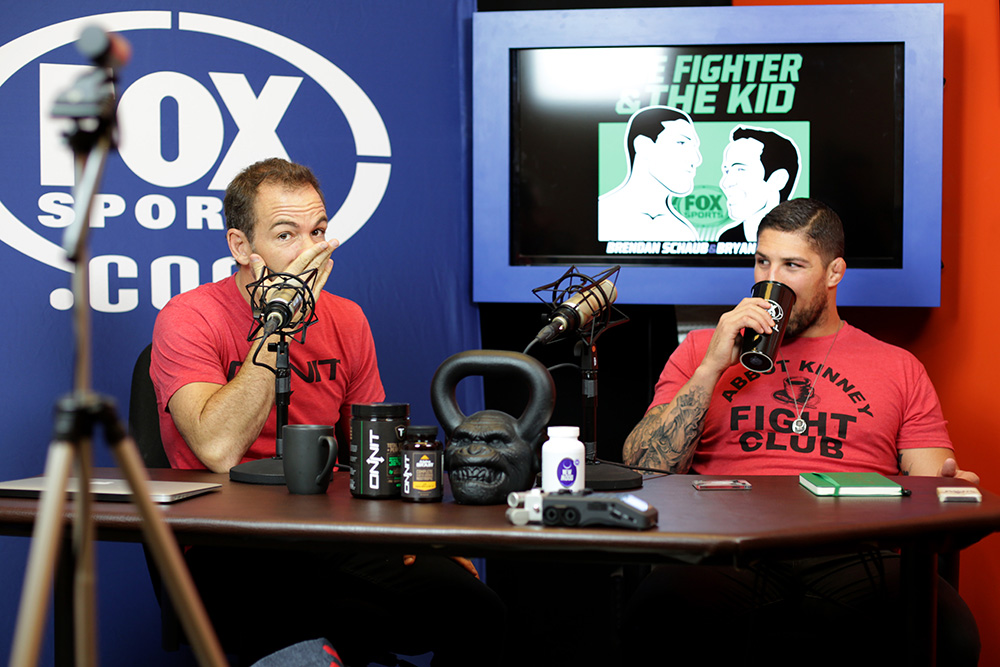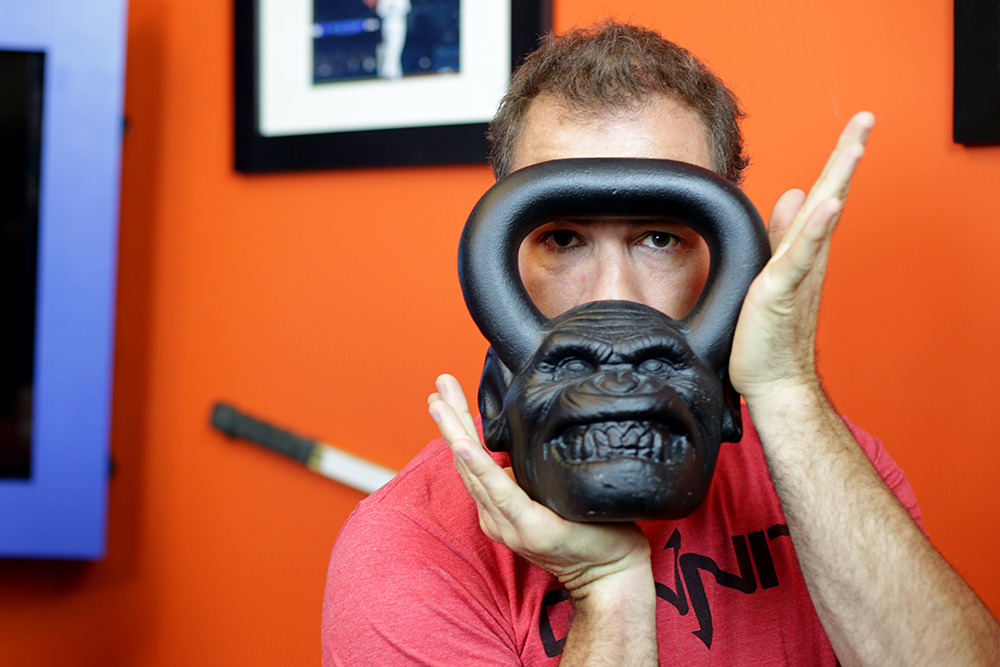 Callen showing off his meditation-training prowess with the Onnit chimp bell.
Off the bat, I already liked the vibe. I was with a couple people that are clearly doing what they love, having fun with it, and are as entertaining in person as they are on air. The vibe in the studio was relaxed and fun, but also pretty personal. The studio is small, a bit crowded, and decorated randomly – but somehow it all makes sense.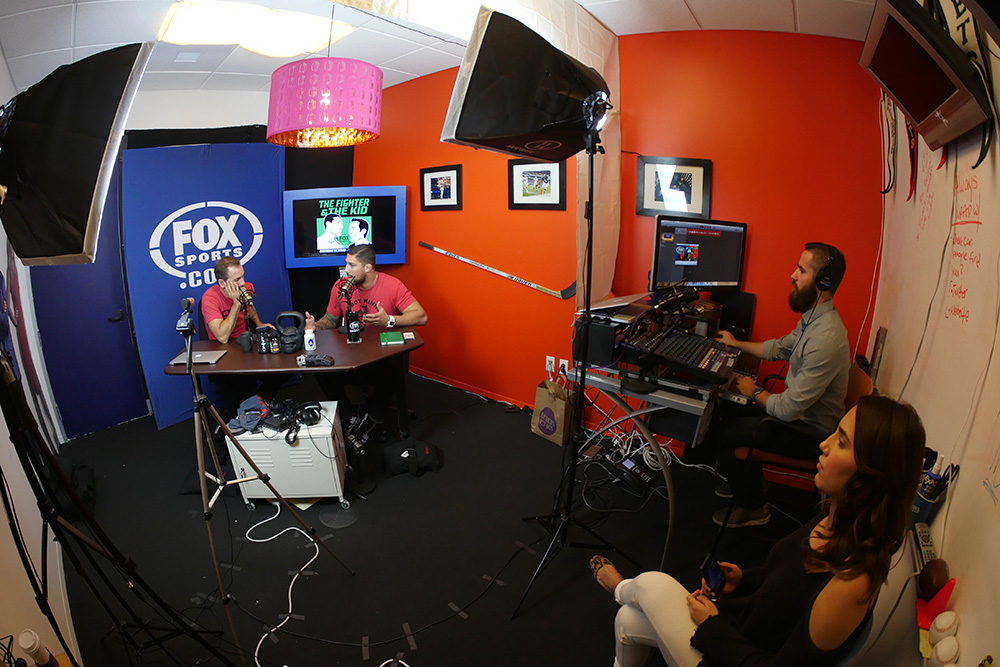 Everything you need to have one of the top ranked podcasts in the world.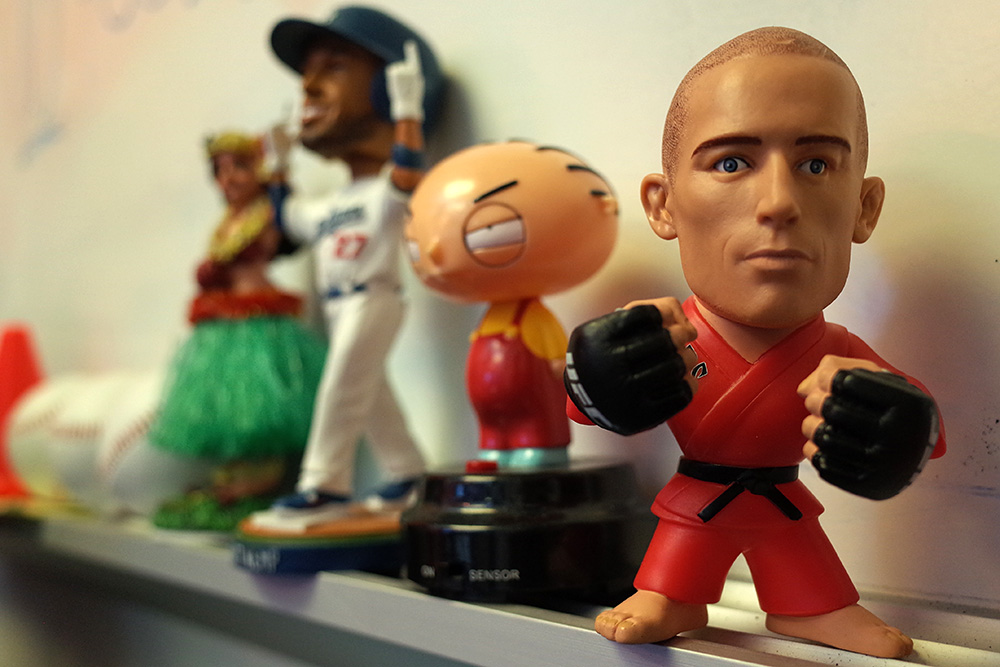 Some of the greats. GSP, Stewie, and Matt Kemp, are present for every show.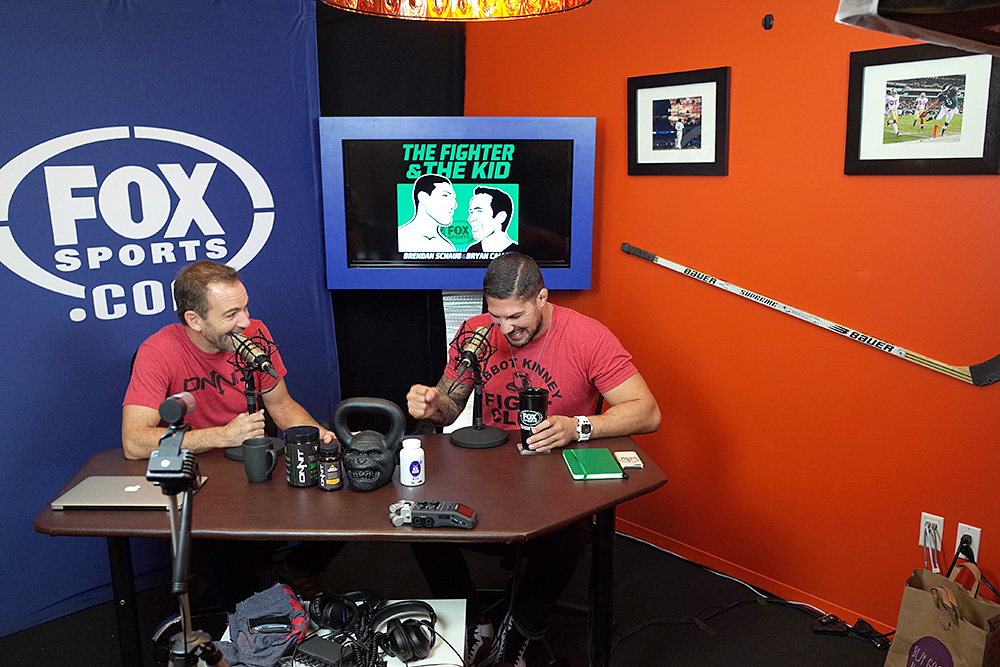 About a minute in and the laughs are already coming.
I like to listen to podcasts when I drive, travel, and sometimes when I'm working out, so I've never understood why anyone would watch a podcast. But after seeing how animated these guys are this show, watching would probably add a whole new dynamic.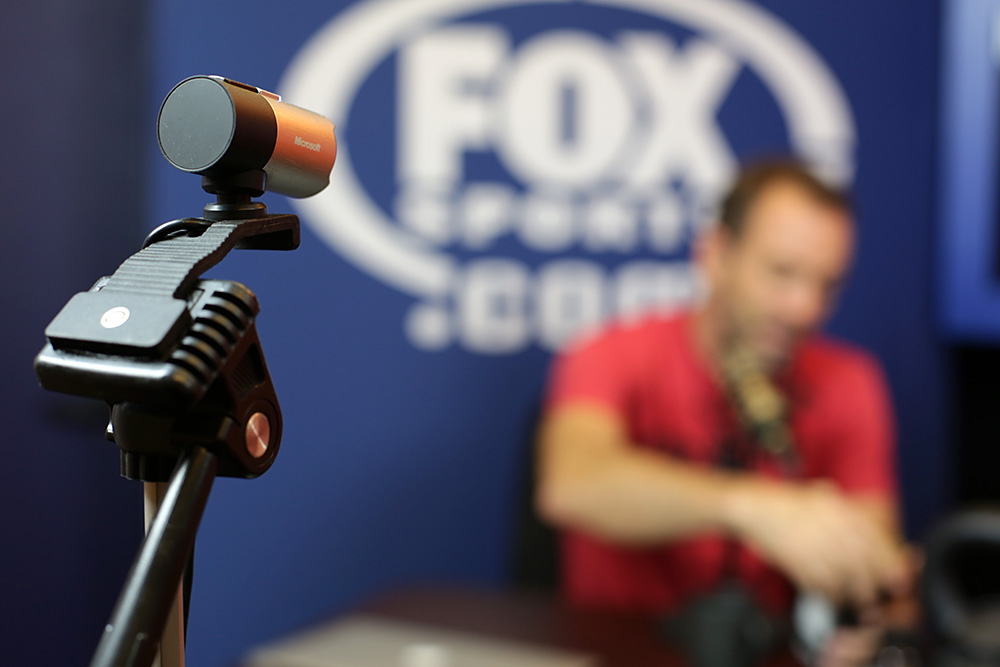 Somehow this tiny camera is responsible for the show's HD broadcasts available from UFC on FOX.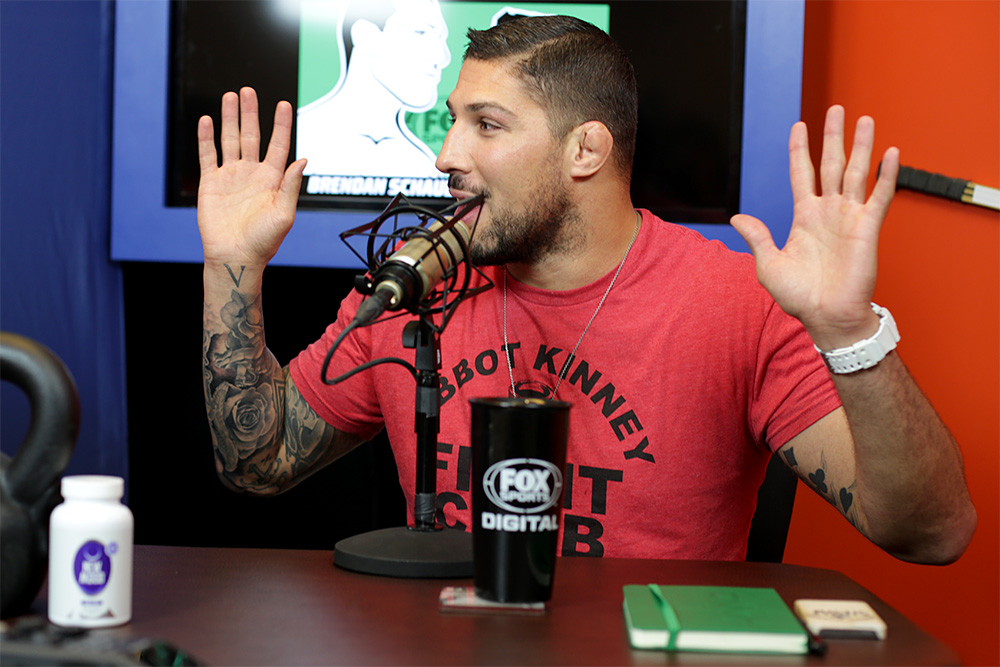 Brendan admits, "I'm addicted to Buffalo Wild Wings. If I get a cheat meal, I'm heading to Buffalo Wild Wings. I only get 10 wings though."
Generally speaking, 90% of ads on any media platform are terrible and you just want to skip past them. One of the impressive parts of this show is Bryan and Brendan's ability to make their reads as entertaining as the rest of the show.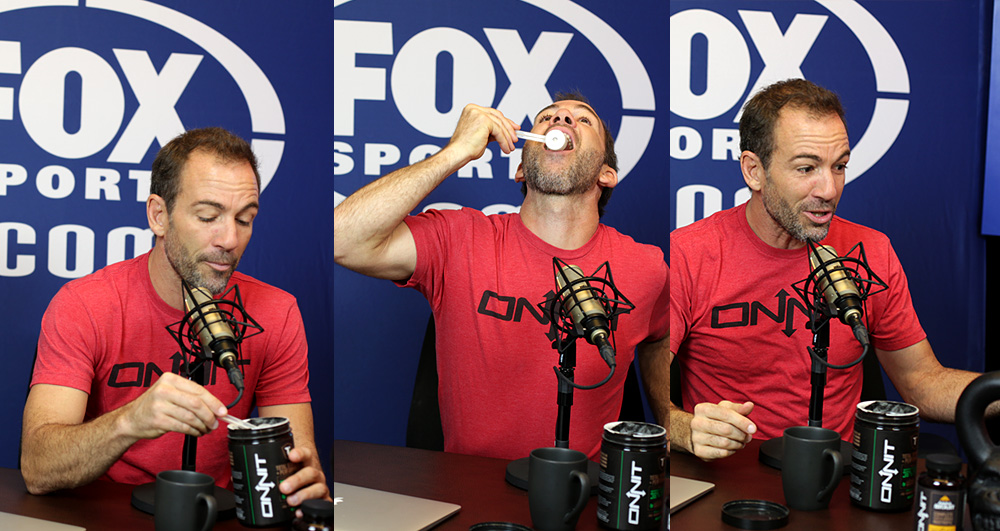 Mid Onnit read, Callen decides to down some of Onnit's protein powder stone cold dry.
After being pleasantly surprised by the taste even dry, Callen continues the Onnit read making horse noises while stating, "It's so much work keeping my tummy full and my dick down. And Onnit doesn't help."

I don't even know what that means, but I was dying laughing that this was their version of an ad.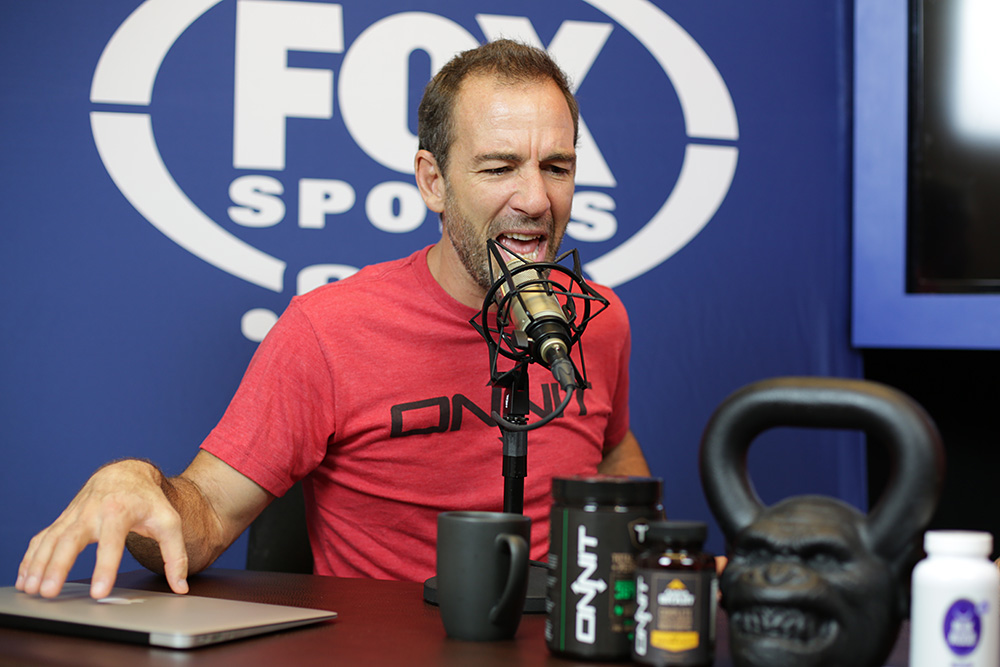 The classically-trained Callen performing one of the show's signature songs.
The dynamic of the Fight Talk segment is hilarious. Callen, a well-informed fan and practioner, and Schaub, as real of a fighter as it gets, often go head-to-head and the exchanges are amazing.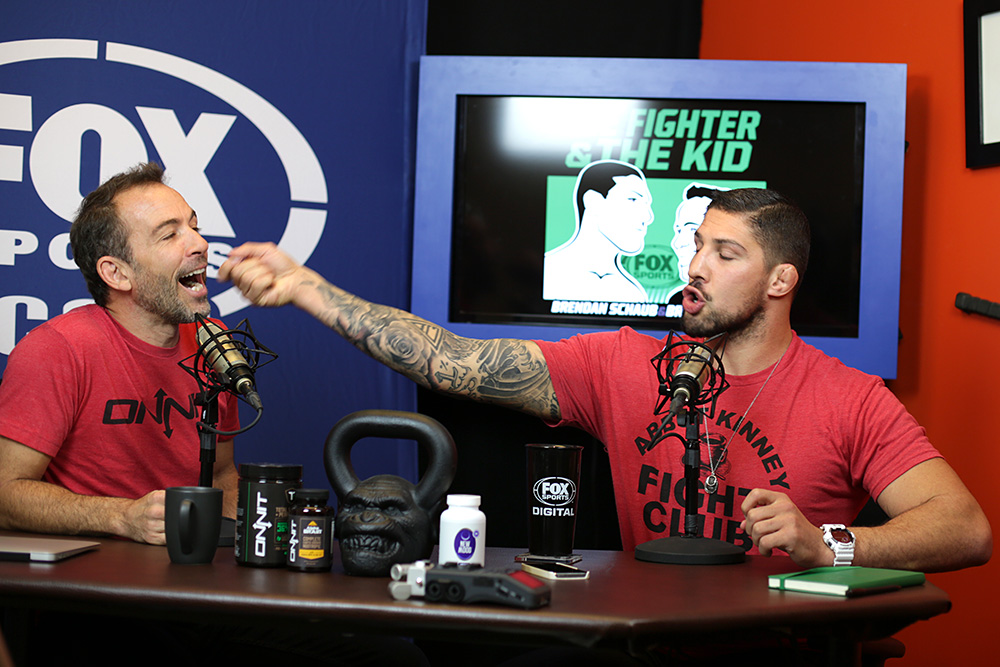 Brendan pulling Connor McGregor's dick out of Callen's mouth.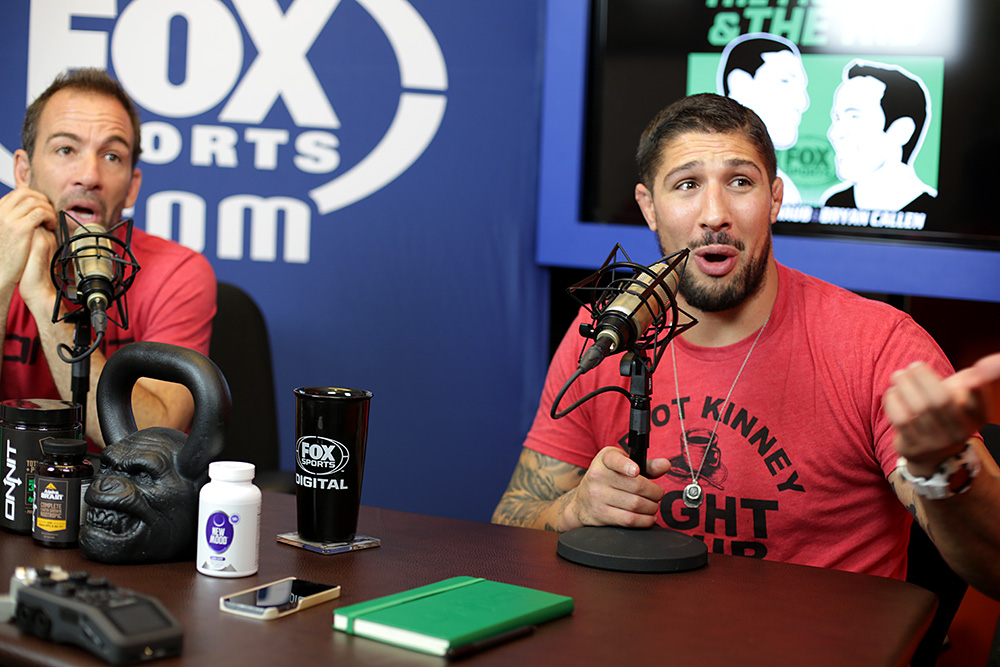 Bryan and Brendan horrified of a woman's drunk dick tattoo during current events.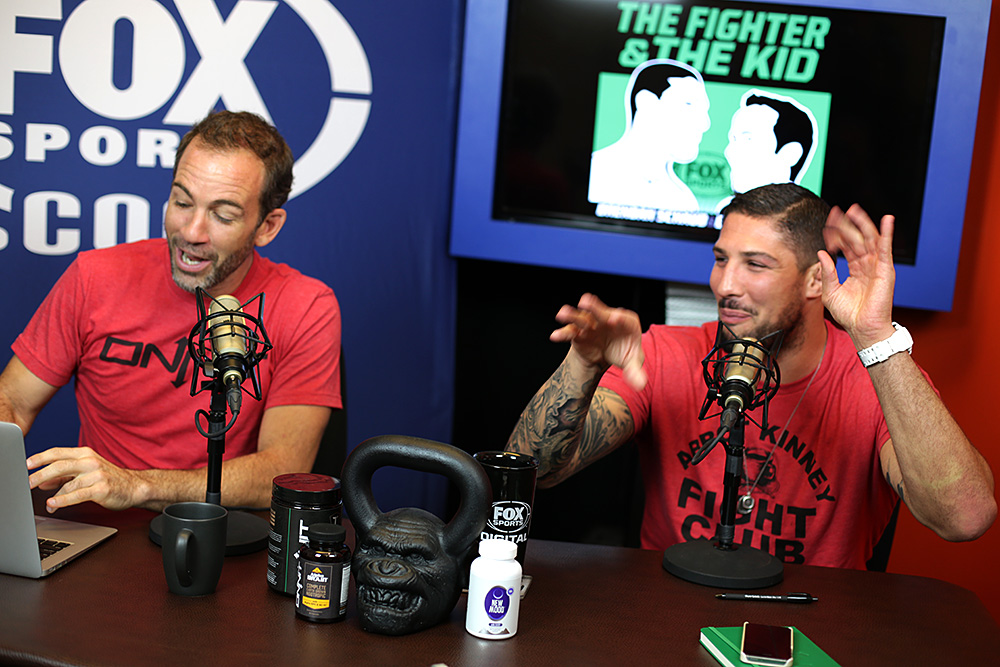 Inevitably the Bill Cosby scandal came up, and while Callen tried to explain how important/successful Bill was in his heyday – Schaub cut him off with:
"At your age, you guys love him. At my age, he made Jello. Sweet… I had Jello the other night and guess what – it's not that great." 

The idea of a Brock Lesnar fight led to a discussion of who the guys' characters would be if they were in the WWE. Callen had an entertainingly terrible idea for his character, but Brendan's seemed like it might really work; "I'd be the Razor Ramon 2.0."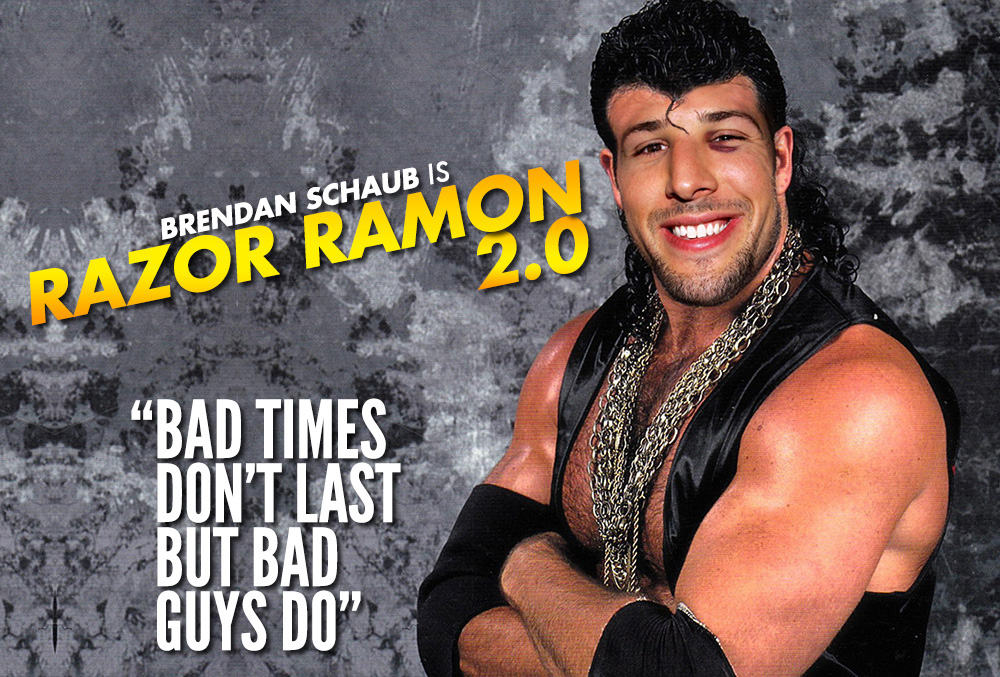 While they like the idea of the The Golden Globes, they were both a little bummed since it's basically a party they aren't invited to. This thought led Callen to explain how he never realized his dreams of being a legit actor. He admitted that the issue was that he loved comedy more than acting.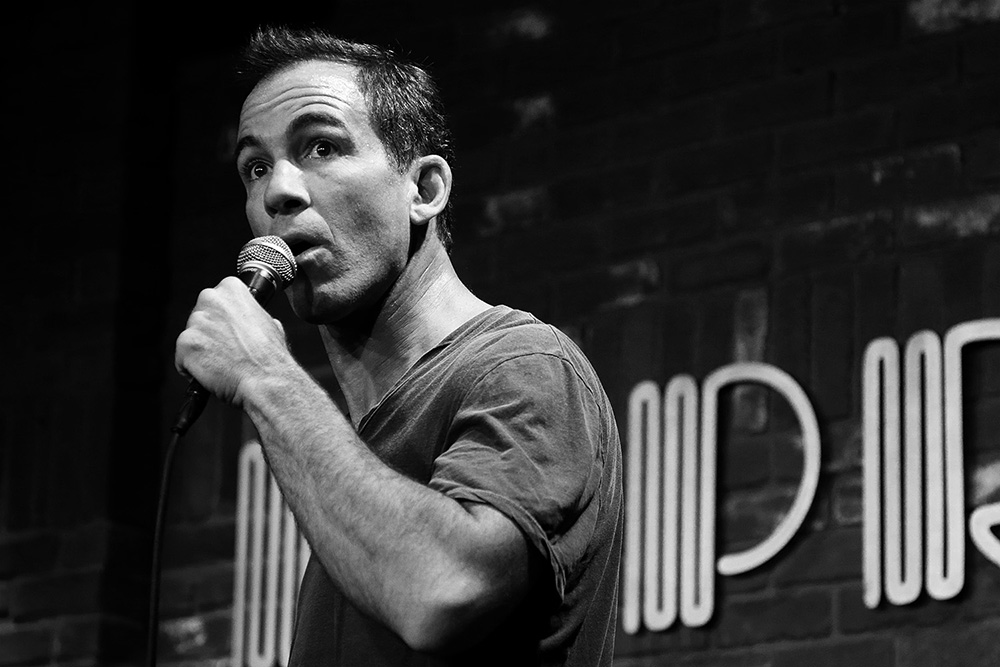 Bryan loves standup and it shows. Last night he crushed a packed house at the Hollywood Improv.
The acting or comedy discussion continued with some interesting insights and a lot of humor. As Schaub gave him shit about not being a successful actor, Callen rebutted, saying he bought a house from acting. The irony that he is in fact a successful actor – albeit not a dramatic one – isn't lost, and eventually it led to a sobering, yet motivating conversation about hard work and determination as Cullen explained, "Victories – when you win that Oscar, it's all downhill from there. There's a lot of Oscar winers who won them 10 years ago who can't find a job right now."
The take away from that whole conversation was whether you are fighting to achieve a goal or you reach a goal, you can never give up and you always need to keep fighting for what you want. While that sentiment struck a serious chord with me, I'd also been laughing throughout this entire exchange.
This pretty much sums up why I identify with these two and the show. They have an ability to bounce back and forth from absurd to real moments, from ridiculous antics to true emotions – approaching it all with both humor and sincerity. It's extremely refreshing and to hear a top level athlete or successful entertainer being real, showing their fears and flaws, explaining their process, and where their head is at. They aren't afraid to be honest, and they actually find humor in the honesty.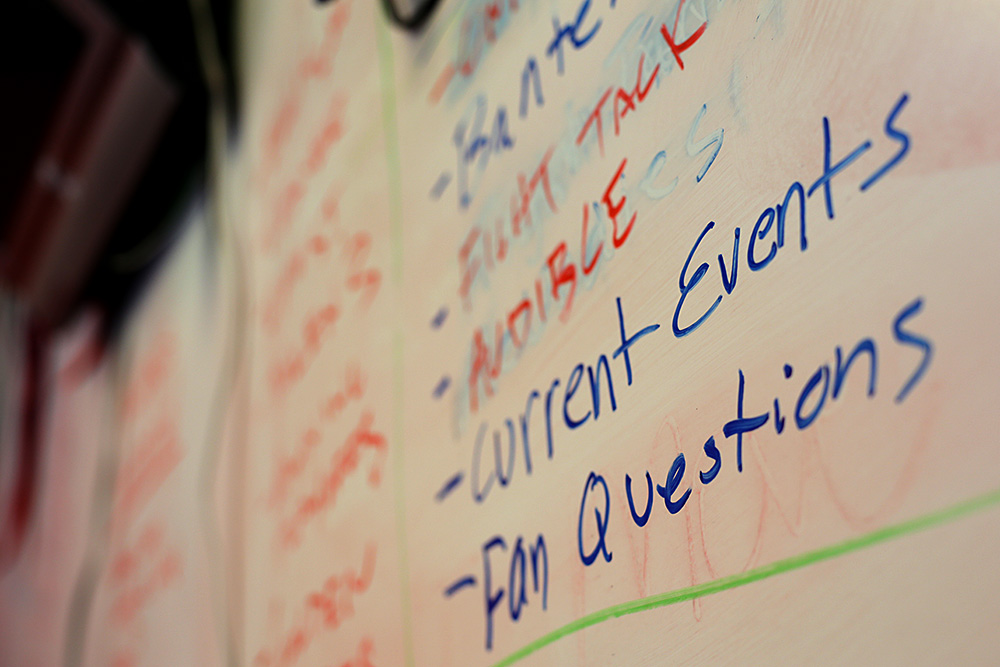 The show winds down with pretty funny fan questions.
Interestingly, when asked what fight they'd want to be in the audience for, neither one mentions an MMA fight. Callen gets nostalgic with, "Ali vs. Foreman fight in Zaire." While Schaub's interest lie a little closer to mine, "Probably Tyson in his heyday... or maybe Pacquaio v. Mayweather."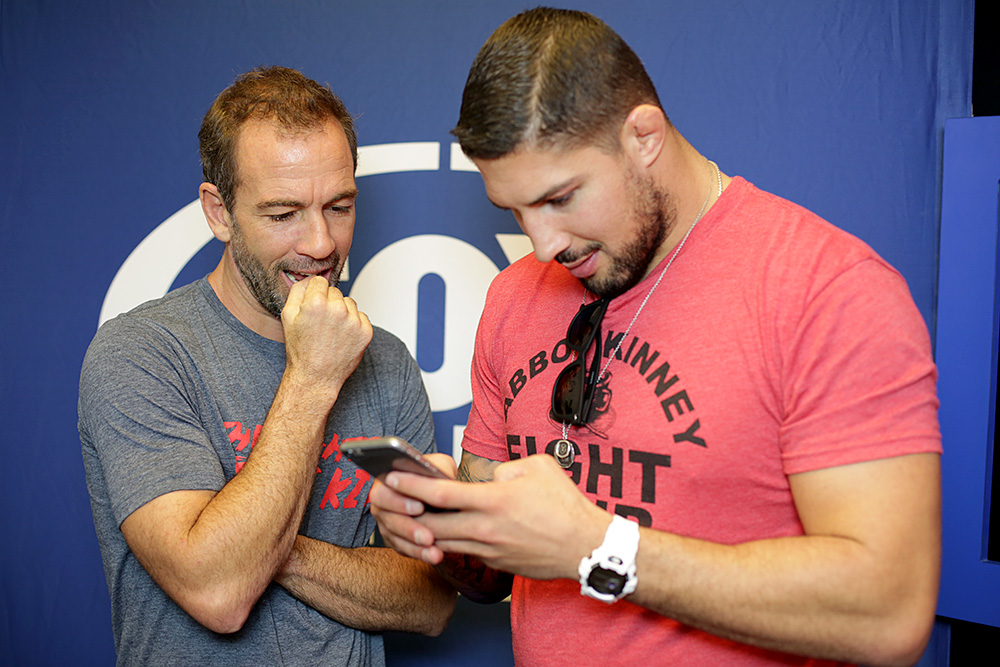 Schaub giving the 48-year-old Callen some much needed social media instruction.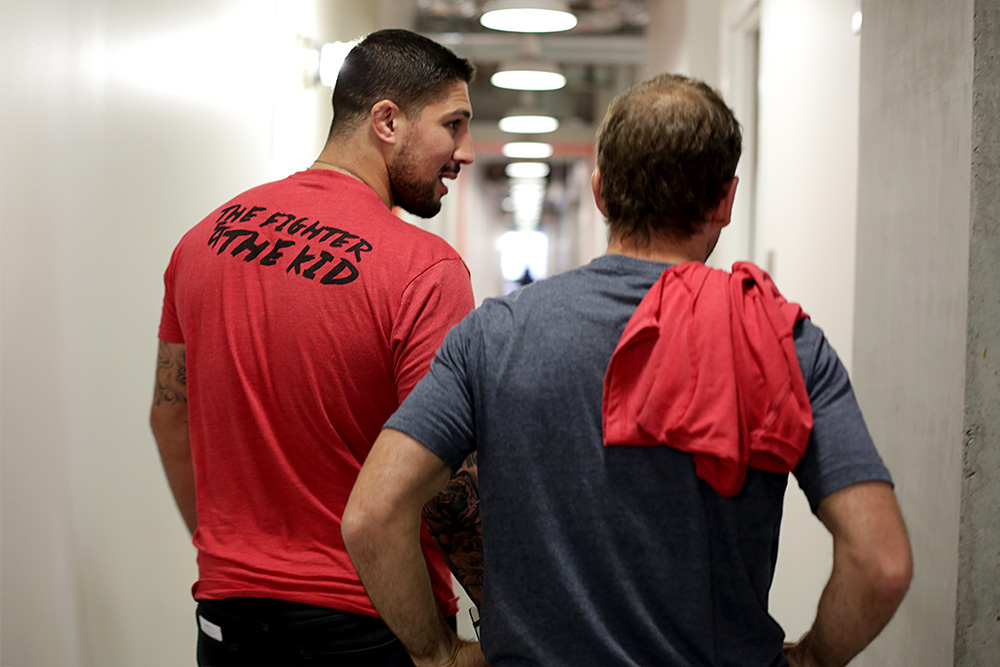 With the show over, we headed for lunch at Kreation on Abbot Kinney in Venice. Callen and Schaub like the street enough to have started the "Abbot Kinney Fight Club." Every time I hear them mention it or see their shirts with the phrase "Abbot Kinney Fight Club," I smile. I love the juxtaposition of the words "fight club" with a street known for fancy hippies, yoga and pilates studios, healthy food, fancy bars, art galleries, and basically everything rich, white people like. But I also completely agree with Callen's idea that, "There should be a place where real men can also appreciate fine wine, good, healthy food, be fit, and whatever the finer things in life are for them."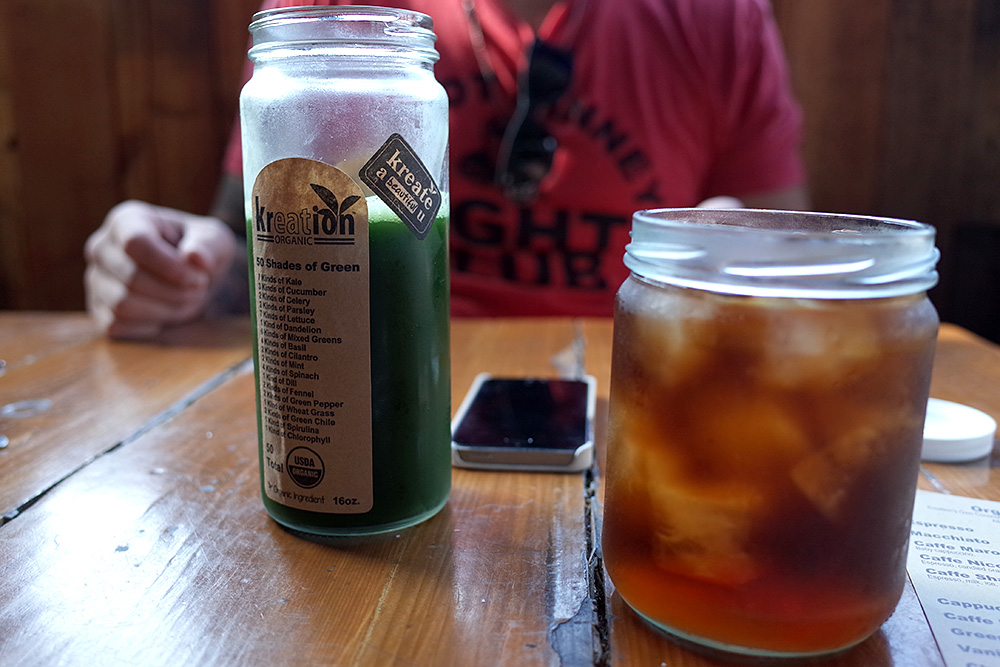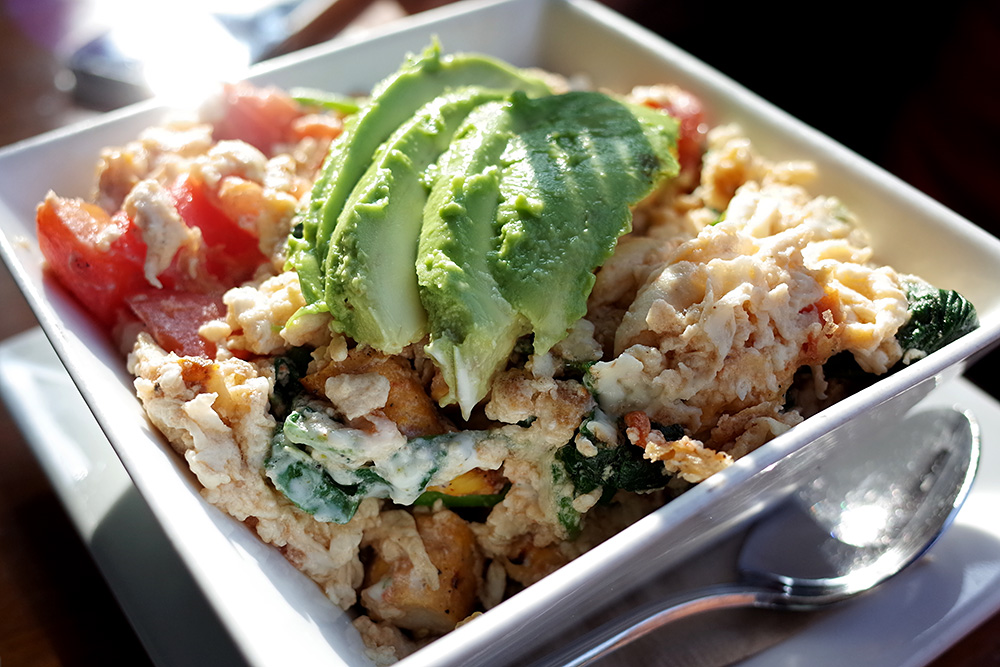 Brendan is a big boy and knows how to eat.
The lunch conversation was actually pretty motivating as I realized one of the reasons these guys are so successful is they are always thinking about work. The entire conversation revolved around how they can make "The Fighter & The Kid" better, how they can reach more fans, what else they can offer the fans that they might not be getting, and generally how they can be more efficient and productive.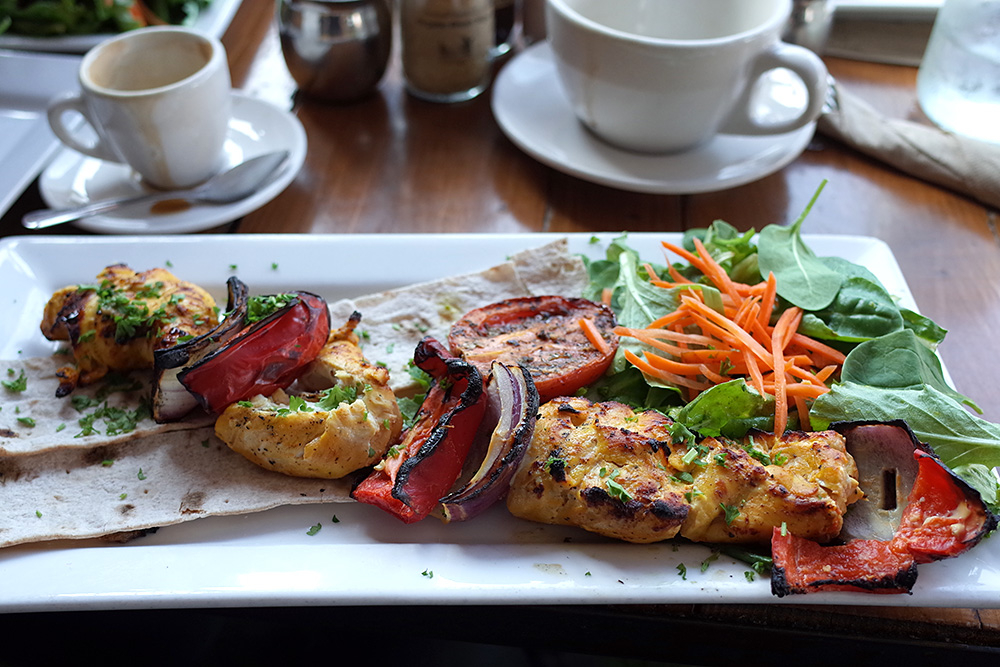 Callen and I went with the Chicken Kabob and it was perfect.
Their fans love "The Fighter & The Kid" merch – which led to a discussion about how they can be more efficient and what kind of items and designs they should be offering. After some back and forth as to what's cool and what people want, Callen's summary of his personal style was perfect in its simplicity. He said, "I just want to feel comfortable and look goooood."
"The Fighter & The Kid" can be found on iTunes , Soundcloud, YouTube, Stitcher, and you can also listen to this episode below.