Travis Millard's one of those guys who seems to have a cool story behind everything, even his puzzling fascination with goats. We tried to get to the bottom of this off-kilter love affair, and in classic Travis fashion, he presented us with yet another cool story, bro. Here's what the artist/Fudge Factory founder/savant of all things cool had to say on the matter:
"I used to teach a class called 'Comics & Cartoons' to Kindergarten – 6th graders at The Lawrence Arts Center in Lawrence, Kansas around 1997/98. We would all sit around a table together with sketchbooks and draw. I was at the table with a group of 2nd graders talking about inventing your own character and drawing along with them. I remember blathering on about what your character might look like, and unconsciously just drew this funny looking soft-eyed goat head guy. The kids really sparked up and I recall someone saying, 'That should be your character.' There's something about getting an honest compliment from a 7 year old that made me think it might be a good idea. So from there the goat guy started popping up in more drawings, odd ball comics, and eventually I started making stickers and slapping him around on poles and dumpsters.
A few years later, I moved to Brooklyn and continued slapping stickers around the city. One night at an art show in 2001, a friend named John who worked at 55DSL suggested it might be cool to see that head on a belt buckle. He thought we could get it sampled, and if they didn't pick it up, at the very least we would each get our own rad buckle out of it. So we got it sampled, they didn't pick it up, but I was happy just to have one of my own. Later that year, my Dad (who works for Wrangler) was at a trade show browsing the booths and stumbled upon that buckle on a table of samples from the manufacturer who produced it. He freaked out a bit and the vendor was kind enough to give him the sample. So when Bobby approached me about doing the collection, he asked if there's something I might have in mind to try making, outside of tee graphics. I threw out a few loose ideas, mentioned the buckle, and he jumped on it. My personal one is sewed into the belt strap, so i called my Dad and got him to mail out his buckle. This is the one we used for the updated casting. I've been wearing this buckle everyday for the last 12 years, and now thanks to The Hundreds, it's finally been produced."
-Travis Millard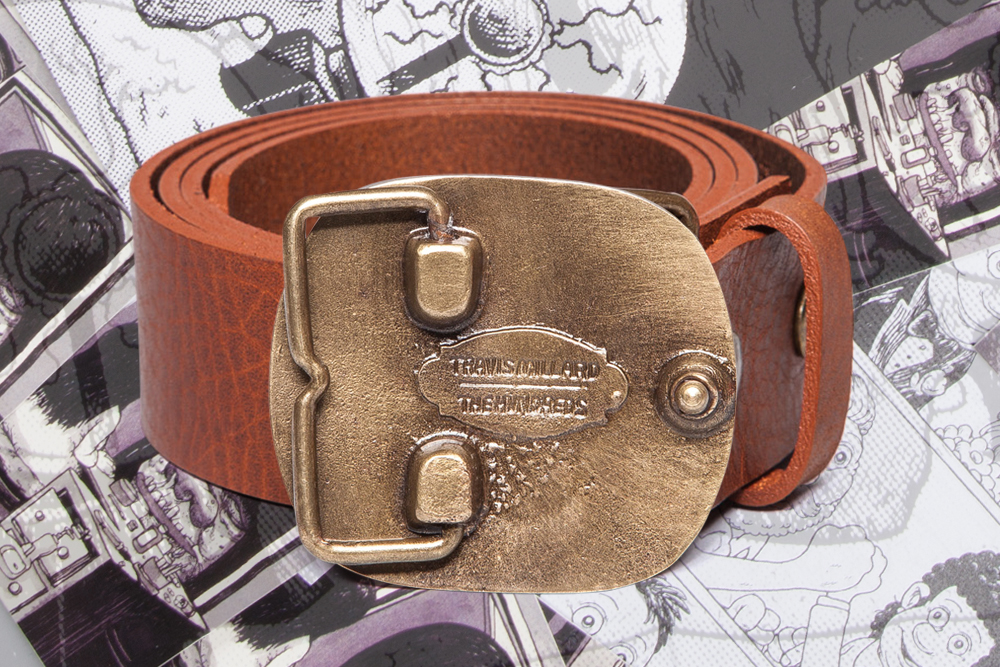 You can purchase the Goathead Belt, as well as other offerings from the The Hundreds X Travis Millard collaboration, hereand now.