Since coming onto the scene with a memorable verse on "C.R.E.A.M." and "Protect Ya Neck," Wu Tang Clan member Raekwon the Chef, aka Lex Diamonds, has built up quite the reputation as one of the preeminent street lyricists in the rap game. Much in the same vein as a Kool G Rap, Rae has since released his critically acclaimed solo debut Only Built 4 Cuban Linx in '95 and has become one of the pioneers of the Mafioso rap style that took New York by storm in the golden era. Tracks like "Criminology" and "Ice Cream" defined a moment in hip-hop—straight from the Polo and Versace-wearing golden mouth of Staten Island.
The Hundreds is proud to partner with White Label Radio and Sean Healy to bring you Raekwon live at Union this Friday, June 16th for a night of unforgettable jams and classic hits. Buy tickets HERE. And to prep for the show, we caught up with the iconic artist himself.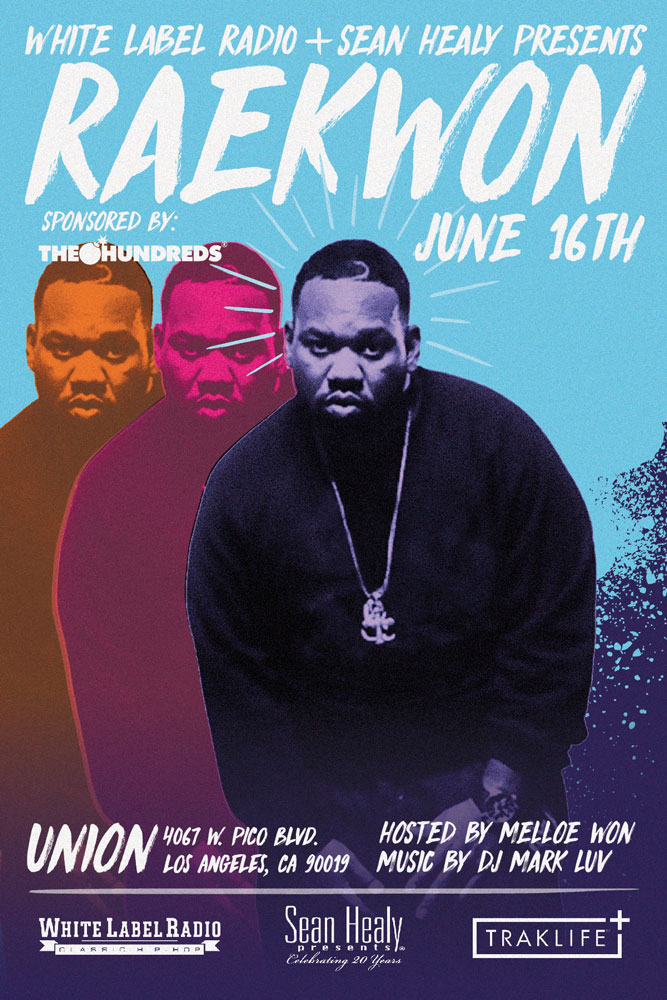 THE HUNDREDS: You've described your rap style as "street elegant"/ "street nostalgic"—can you speak on that for us?
RAEKWON: Well street elegant is that grown man shit that talks about that fly shit, like copping that new Rolls Royce Sweeptail or a fresh pair of Diadora to match the fit. Street nostalgia is the legacy [that speaks] on that part of the culture and life.
Your 7th solo album The Wild is introspective, reflective. Does your spirituality inform the themes on the album?
In some parts but not solely. We live in The Wild in some aspects and it's reflective society. Look at the news, government etc., it some wild times, but it's also a lucrative time to build.
You've got some amazing production on the new album with Ogs as well as newcomers; can you tell us more about that? What was the chemistry like in the studio?
I've felt a need for balance and relevance. I am a old head that can still get busy but you don't want to only hear me do old shit. To stay relevant you have to incorporate the new kids getting busy. The chemistry was amazing cause you also get newcomers that understand your vibe.
What do you want to hear in today's rap that you're not hearing? How do you feel about the internet affecting rap's previous sense of regionalism?
I want to hear more diversity. When things get popular, there's a lot [of] copycats trying to ride that wave. It's a gift and curse: we have more access to hear great music but it also opens the door for a lot of bullshit.
Photo: Mass Appeal
You have a song dedicated to Marvin Gaye on your new album. Why do you think now, especially in 2017, it's a great time to revisit Marvin's story & his legacy?
Marvin Gaye is a legend that don't [get] the credit he deserves in music. I love his music and the feel, so I wanted to shed some light on that.
In 2015, you held a 20th anniversary tour for Only Built 4 Cuban Linx. In contrast to that iconic album's original tour, how did you feel this time around/what was your mindset like on the anniversary tour now that you're seen as a legend in the rap game?
It's an honor to be able to do it 20 years later. In the beginning we were just having fun trying to make shit we loved. It's crazy to see it connect to a new generation 20 years later.
***
Hurry up and get your tickets to see Raekwon June 16th at UNION. Click here.