New York-based artist Brian Willmont has an interest in the unexplained. He moved to Santa Fe, after art school, to "explore the desert and chase ghosts." He also cites perplexing movies and novels, such as Suspiria and Blood and Guts in High School, as inspirations. And these inspirations are seen in his work: Like the hallucinatory films of Dario Argento, Brian extracts the narrative and then transforms it through his unique and surreal aesthetic; vision supersedes the plot. "I reduced my work, pushing the narrative out of individual pieces," he explains. "I wanted them to, while standing on their own, act as players and work as a whole, oscillating between figuration and abstraction." The result is work that ranges from trippy geometric shapes and patterns to a freeform, blue ombre rose with realistic dewdrops. In the following interview with The Hundreds, Brian talks with us about his process, plus podcasts, ghosts and galleries.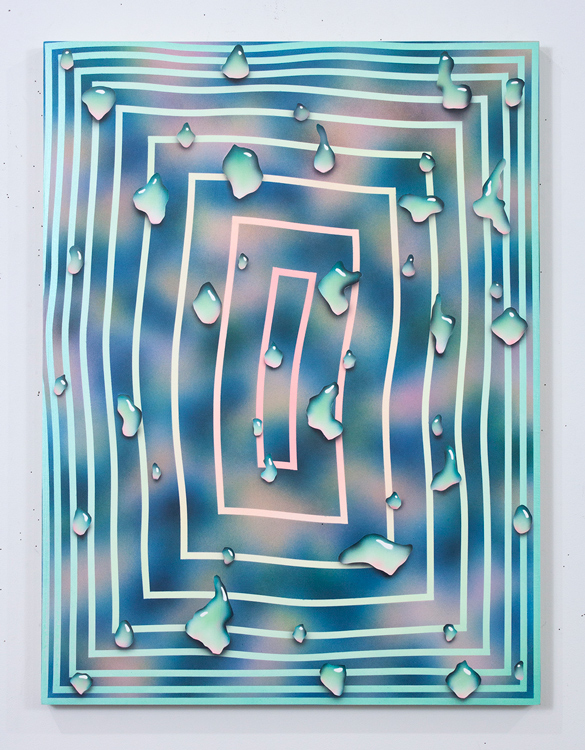 You grew up in Boston but later moved to Santa Fe to focus on your art. Why there?
My grandmother's family has been in New Mexico for the past 400 years, so when I was little, I would hear these stories about witches, cyclops, giants, etc. After art school, I knew I'd eventually move to N.Y., but wanted to explore the desert and chase ghosts before entering the chaos.
Did you find any ghosts?
I saw many strange things and thought my studio was haunted, but the most shocking was when my girlfriend and I were driving our roommates to the outskirts of town so they could have a threesome. I was driving fast on the open road and we were all giggling about their upcoming rendezvous, when I saw a giant wooly beast running along side the van. We all noticed the thing—it was within 10 feet of my window. It was galloping along side us at 50 mph and then veered off and charged up a hill. You'd hear about Skinwalkers, which are a certain kind of evil witch (man or woman), who's made a pact with the darkness in order to gain the ability to shape shift—not into animals we recognize, but creatures that possess the powers of the animal kingdom. New Mexico was the only place I've been warned about ghosts and witches—and it happened a lot.
Where is your studio now? What does it look like? What's happening in it right now?
My studio is in a huge Civil War-era rope factory on the East River in Greenpoint. When I moved in over four years ago, the building was almost completely abandoned except for some squatters and rodents. It is a complete industrial playground with the best roofs and views around. The studio itself is hidden behind the gallery I run. I've got a big table, lots of books and materials, and my work scattered in various stages of completion. I have some plants by the windows and a big area that I've walled off with plastic to use as a spray booth.
What are you working on now? I love those rose panels you posted on Instagram...
Thanks, me too! I love how shapes interact on a wall as opposed to a rectangle. I'm in the beginning of a long studio marathon working towards several shows. Recently, I've started making much larger work than I had in the past. I love seeing how my imagery translates when big. I'm making three big rose paintings, and I'm starting some night scenes soon.
What do you look to for inspiration?
Suspiria was a big one for me, and I used to watch it in Italian without subtitles, just getting into the aesthetic and pace. I similarly love Kenneth Anger films in that there is no dialogue, just imagery and music, and yet it's so evocative. This afternoon, I was talking to a friend about Kathy Acker, whose novel, Blood and Guts in High School, was a revelation to me in rawness and storytelling. You're basically punched in the stomach on the first page and then presented with a narrative that, both in story and form, leaves you asking WTF over and over again. It's uncompromising in both its brutality and playfulness.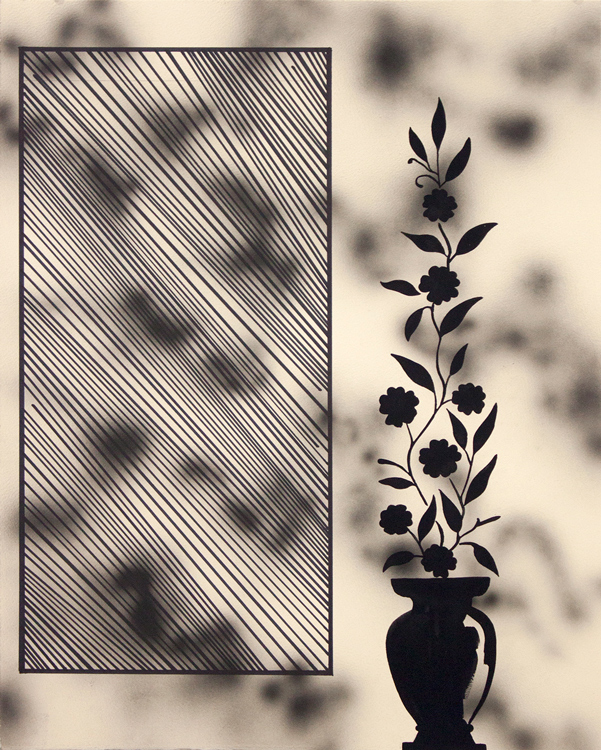 Your aesthetic has changed a lot in the past several years—it's more graphic and abstract now. How and why did that change happen?
I had mostly been making gouache on paper paintings for years and then had begun to reduce my work, pushing the narrative out of individual pieces. I wanted them to, while standing on their own, act as players and work as a whole, oscillating between figuration and abstraction. The graphic quality is definitely theatrical, detached, and is affected by our digitized culture, advertising, and the way we see ourselves within the world and [how we] navigate this space.
Can you describe your process? Do you plan everything out in advance or do you sort of make things up as you go? What materials do you use?
The paintings I'm making right now are acrylic on panel or canvas, and I use an airbrush, lots of tape and X-acto blades to make them. There's always planning, and I make sketches in my notebook or in Photoshop to get a good idea of what I'm doing, but then there's an organic side where the work develops through the process and has room to adapt and develop. I usually work on several pieces at once, and will get surfaces ready in batches, spending days just stretching canvas, priming, and sanding. Once I get started, there's a lot of taping and cutting of tape. I can spend days in a row drawing and cutting out shapes in the tape. Then there's painting, then more taping and cutting and repeat. Often when I'm cutting I listen to podcasts and when I'm painting I listen to music.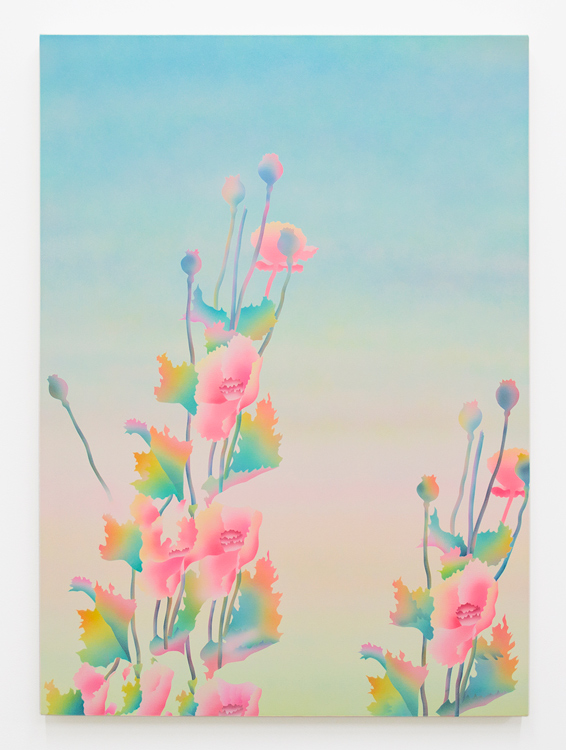 Do you listen to The Black Tapes podcast? I think you would like that one, since you're into the paranormal...
I haven't heard of it, but I'm gonna check it out! I recently listened to Hardcore History's 8-plus hour piece on the Mongolian Kahns, which was amazing to hear about. It was about the period when most of Europe had no idea East Asia even existed, and then these smallish armies of ferocious Mongolians tore across Asia and into Europe absolutely destroying and conquering everyone that they came across.
When and why did you open Greenpoint Terminal Gallery?
I opened the gallery in September 2013 after a studio mate moved out and I saw the chance to make use of his space. I didn't know how long it would last, but having lots of amazingly talented friends, I figured I would put on shows until it got old and then could rent it out as a studio again. After the first year, another studio mate moved out and I took over his space too and tediously rebuilt the gallery by myself. It felt like a testament of willpower.
What's it like being an artist and also running a gallery?
It's been difficult to balance both roles, mostly because of how many hats you have to wear. Juggling everything can leave me a bit fried, but I also thrive on stress, deadlines, and overstimulation. When all the back end work is cleared away, you're just left with a show and can forget the bullshit that went into it. The openings are always a party, and the gallery feels like a home for my little corner of the world, and it's great to be a part of that.
Plans or goals for 2016?
I'm pumped for 2016. It's starting off pretty big with a solo show at Victori + Mo in February, then right after that, I'm doing a solo booth with them at Volta, which is part of Armory week here in NYC. I'm also making some paintings for the inaugural exhibition at Allouche Gallery's new space. After that, I want to get the fuck out of dodge for a bit, forget about the studio, and finish up the motorcycle that I've been working on for far too long.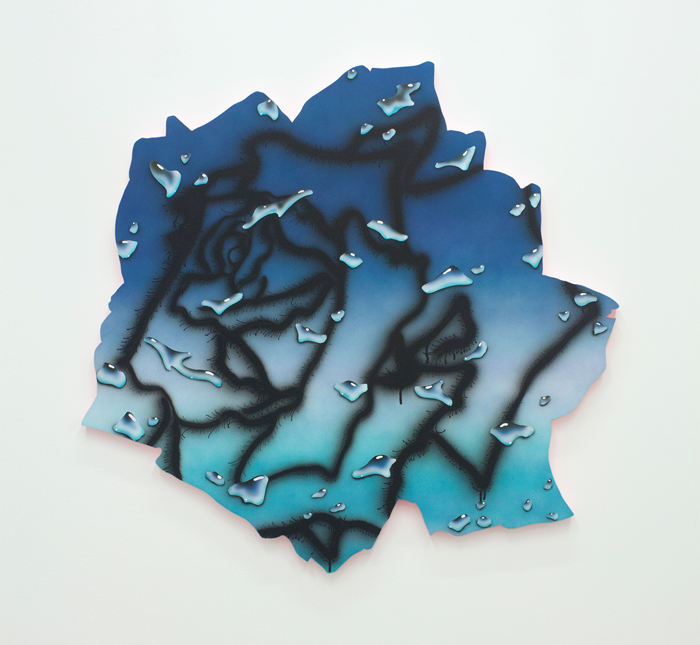 ***