"Not enough people collect things these days," says Brian Kelley in his Brooklyn photography studio. Spread across a large table in front of him are hundreds of items from the New York City public transit system. Half a dozen full boxes are also stacked on the floor. In an era where people only seem to be interested in collecting Instagram followers, Kelley has slowly put together a tangible, archival history of NYC's subway evolution. It's his prize collection, created wholly for self-interest, and the real New York City Transit Authority doesn't even know about it—yet.
A commercial photographer by trade (staff lensman at HUF Worldwide), Kelley began collecting spent MetroCards he found on the ground and shooting them in various arrangements as studio practice. He realized the subtle variations in the MetroCard—first introduced in 1993—which sparked an interest in acquiring some of the rare ones no longer in circulation; like the New York Rangers' Stanley Cup victory edition of five from 1994. Next, Kelley got into the maps, commissioned to different graphic design agencies over the decades with continuous additions of new train lines. He now has ticket stubs from the train that used to cross Brooklyn Bridge, uniform patches for various ranks of MTA staff, and a mass of other vintage pieces.
There are more than 1,000 items in Kelley's unofficial, unauthorized history of the New York City public transportation system, dating back to its origin. What he hasn't found in the streets has been purchased online—an example of how anyone can launch an independent museum in the digital age. The original stack of found MetroCards has since turned into a late night eBay addiction, and now Kelley is on the cusp of creating something very impressive. This is Brian Kelley's NYCTA Project.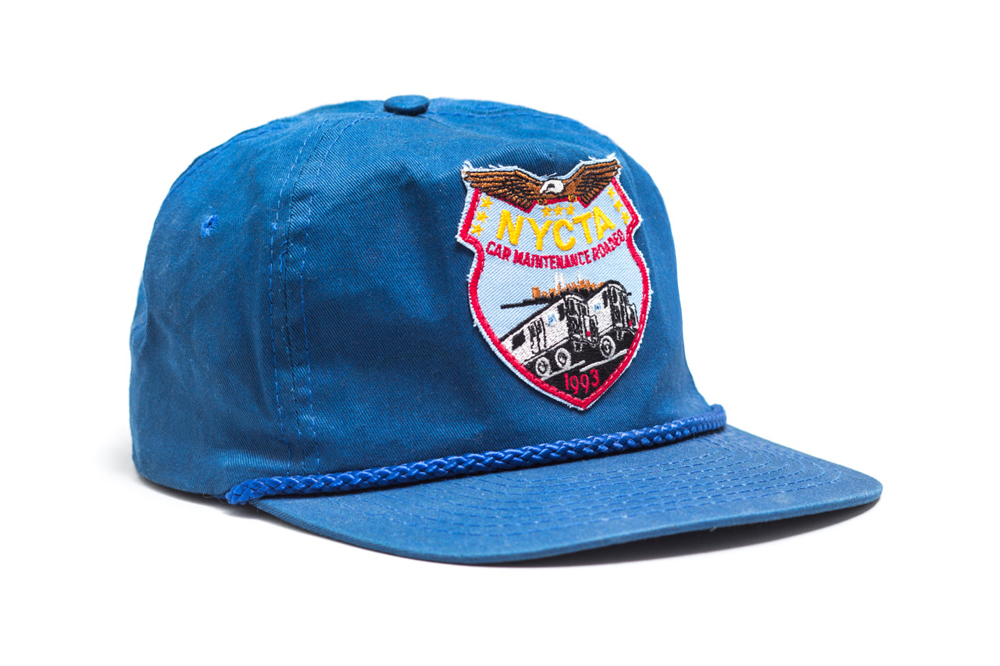 1993 NYCTA Car Maintenance Rodeo Hat.
What's your story?
I'm a Brooklyn-based photographer. I'm from upstate New York and have been living in New York City since 2006. I originally came here to study photography at SVA (School of Visual Arts). I started collecting items from the transit system four years ago.
Can you explain the premise of The NYCTA Project and how you started the collection?
Well, I first started photographing MetroCards for studio practice when I got into product photography. I photographed all the normal yellow MetroCards that I had acquired, then photographed the ones that were damaged or burned or fucked up. I collected a bunch and laid them all out in grids and shot them. My brother suggested that I look for all the different MetroCards. That was the start of the collecting, which began as a photography project and nothing more.
Were you first interested in just the MetroCards as opposed to the whole transit system?
I did something that the MTA people probably won't be hyped on. In 2011, when I was working at 12ozProfit in SoHo, I'd finish work at 2AM and walk around the city for hours, going in and out of train stations and taking photos of all the MTA workers I saw asleep. I did that for several months and then released this photo series called, "While You Were Sleeping." I can show it to you. It's pretty funny.
So this is fully a passion project that you pursue in your own time? What do you do in real life?
I shoot product and advertising for a living, where nothing has longevity. My images go online and they're gone in a week. I'd love to photograph for the MTA. Shooting the transit system or the construction of lines and tunnels and all that. That's history. That would live forever. It'd be incredible—especially in New York City.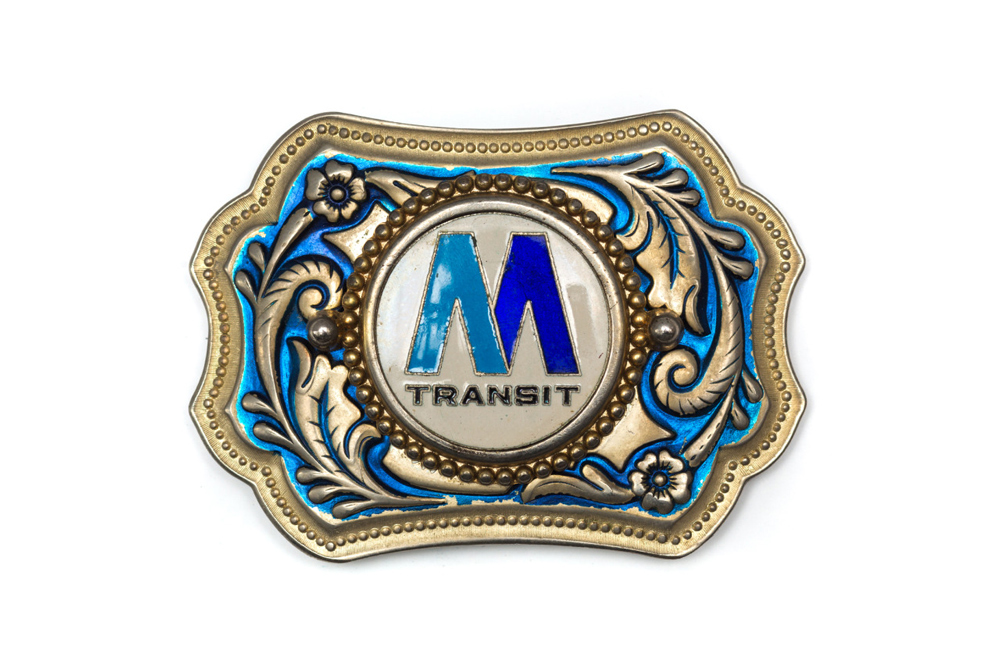 Vintage MTA Belt Buckle.
In a way, you're building an archive of modern American history.
For sure. That's why I want to reach out to archive departments and apply for a grant to continue doing it, but do it in a way where design and the visual presentation of it will be the standard. I don't want it to be displayed like a catalogue collection.
Where are you getting all this stuff and what's it like buying it all on the Internet?
On eBay from other weirdos like me who collect things. I don't think enough people collect things like this. I get home at night and search eBay for items or research archives of the subway, looking for new things. I have to keep on it because people are posting new items every day.
People's apartments are so small in New York. Are you a collector by nature?
I've been called a hoarder before. I haven't really had any other collections aside from Pokemon cards or shit like that as a kid. There are currently more than a thousand items in this project and I have everything scanned, labeled, photographed, catalogued, and archived.
When did you find out this was a rabbit hole of endless stuff to find within the history of New York City's transit?
I don't think I've realized that yet. Now it's just fun.
Walk us through some of your items that explain the history and background of the transit system, like the history of the MetroCard.
They introduced the MetroCard in 1993 and I have the first edition set of cards. They're scenic shots of Grand Central Station, Battery Park, Times Square, and the Twin Towers. The design of the front has never really changed. I have single-ride tickets and transfer tickets from '94. The subway cost $1.25 per ride then.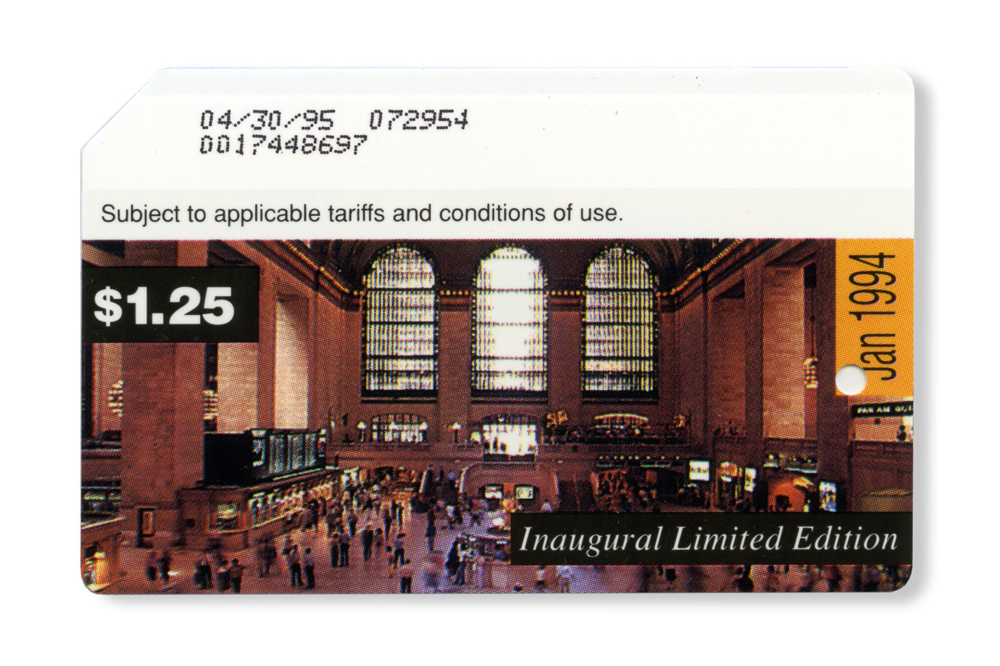 The Inaugural Limited Edition Set featuring Grand Central Ave.  The set was released in January 1994 as part of the introduction to the MetroCard.  Only 20,000 of these card sets were produced.
The New York Rangers won the Stanley Cup in 1994 and you have a limited edition MetroCard set from that series.
Yeah. Those were expensive. I paid $600 for the set. The back of the MetroCard is ad space. I think you have to buy 50,000 cards to put your logo or ad on the back and it costs something crazy. They just released a new card with The New School's logo and I couldn't find the card anywhere, so I found it on eBay, bought it, and five minutes later, I found another one on the ground.
What about some of the old stuff you've acquired?
The oldest ticket I have is a stub from 1885 when it cost three cents to ride the train across Brooklyn Bridge. I also have a bunch of original tokens and token holders that you could strap to your belt. I just bought a big stack of old tickets from the '40s and have old tokens from the tunnels.
What are some of the more interesting pieces you have?
The "fun passes" from 1999 are pretty cool. They cost $4 for an entire day of unlimited use. I have rerouting maps that went up after 9/11. One is from September 2002, one year later, and it still shows all the alternate bus routes to get around downtown. One of my favorites is a schedule pamphlet from the '60s. The design is a mix of watercolor and pencil. The best item is probably the 1972 schedule that was designed by Massimo Vignelli. They have the same one in the MoMA. The internal annual reports of the NYCTA are pretty cool, too. They have all the facts and figures of the entire system for each year, like how much money was earned and spent, and how many people rode the train all year. I also have the 10-year objective program books. I have some staff uniforms, a fire extinguisher from the subway, a first aid kit, and some other random items like that.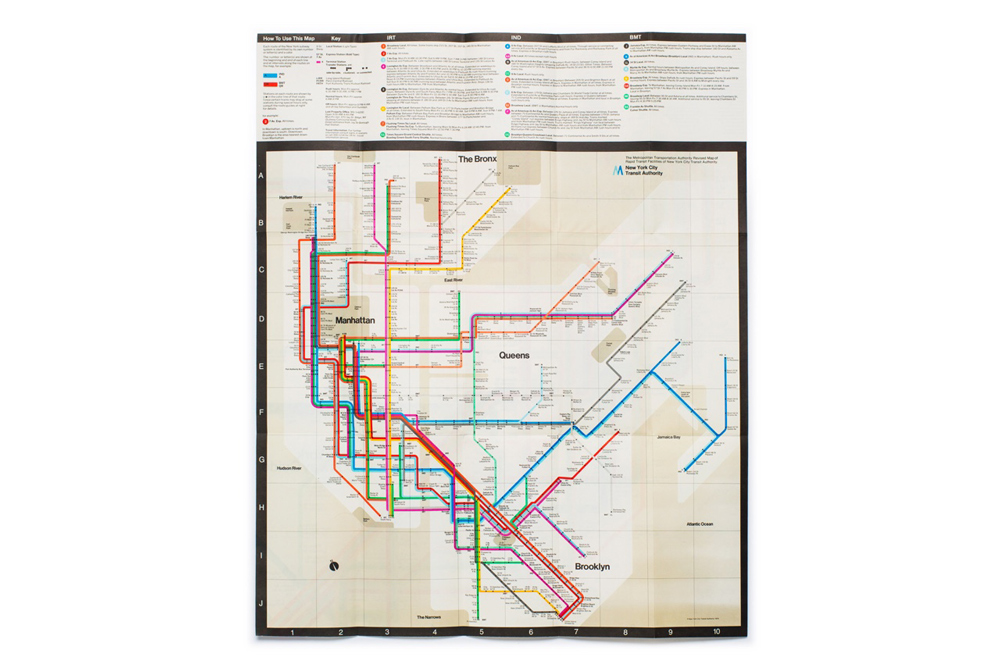 Massimo Vignelli, 1972 New York City Transit Authority Subway Map.
Can you tell us about the patches?
The patches are tricky to find. Every depot has a different uniform patch. The other day I saw an MTA worker wearing a patch I'd never seen, so I started talking to him about it and he thought I was crazy. I have one patch with a bus and the Twin Towers on it, but I don't know when it was made. There's a patch and a pin for the MTA Ski Team, whatever that is. People love the patches. Whenever I post them on the Instagram account, they get the most love. All the employees have different types of ID badges, depending on their department, so that's a whole other series within the collection. There are even NYPD and FDNY train passes.
How much more do you need to collect before you feel that you'll have enough for a book or a show?
I want more large items, like signs and big maps from the stations. They're out there, but they're expensive. There are old porcelain signs from Rockaway Boulevard in the '60s, but when things start getting that expensive, I need to pump the brakes. I'm starting to be more aware of seeing anything for free and making sure I just grab it, no matter what it is. You never know what could end up being important. My whole thing with this project is that there's somewhat of an end goal.
Are there other people out there who will snake you on old subway tokens from the '60s?
For sure. I've lost out on so many pieces. Two nights ago, I got in a bidding war over an old subway uniform patch and lost out on it.
Who are these people you're in competition with?
Other nerds like me, man. I have search alerts set. I feel like I'm buying and collecting all this stuff to put towards a book or a show or something, but I have no idea why the people I'm buying items from have them.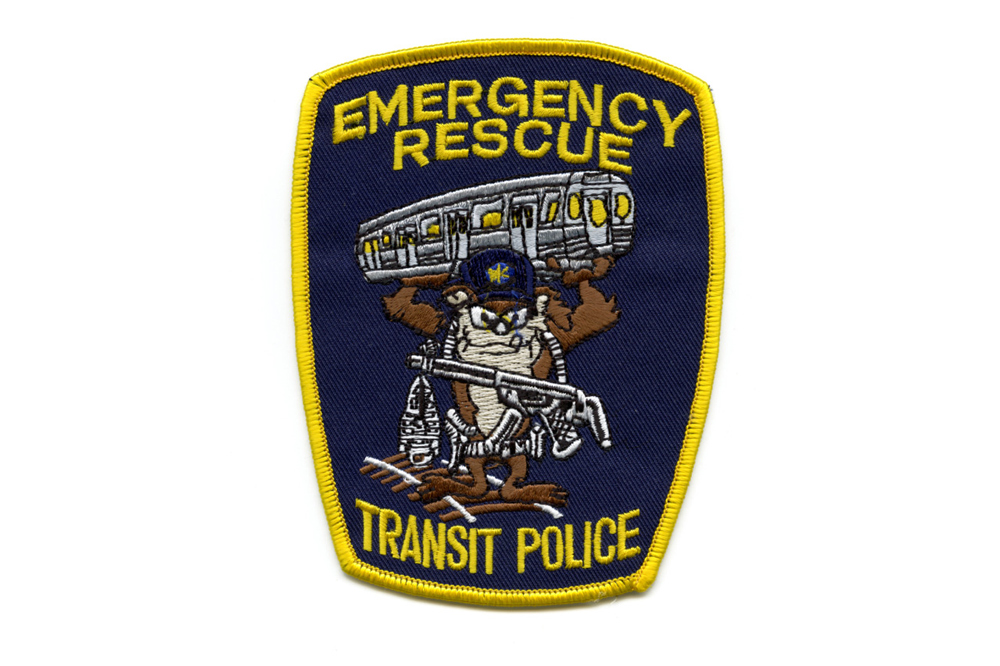 Emergency Rescue Transit Police.
How public have you made your project at this point?
There's a website up (thenyctaproject.com) and an Instagram account (@the_nycta_project). I set up all that stuff early in case I ended up wanting to do a crowd-funding campaign for it and need a public backing. Most of the people that are following it are creative directors and designer-type people—and a lot of New Yorkers and train enthusiasts. There's also a Tumblr page and the other day someone put it on the Tumblr homepage and blew it up. That really helped out. I've shared the project with some of the people I've been buying pieces from on eBay and they're stoked. They usually lower the price for me and want to support it.
***