This past Friday, Body Anxiety, an online exhibition curated by Leah Schrager and Jennifer Chan, went live. The show features only female identified artists dealing with the female body as it exists online. The works shown span a wide range of mediums – net art, video art, digital images, and others all in service of reminding the viewer of the space femininity is relegated to IRL and online.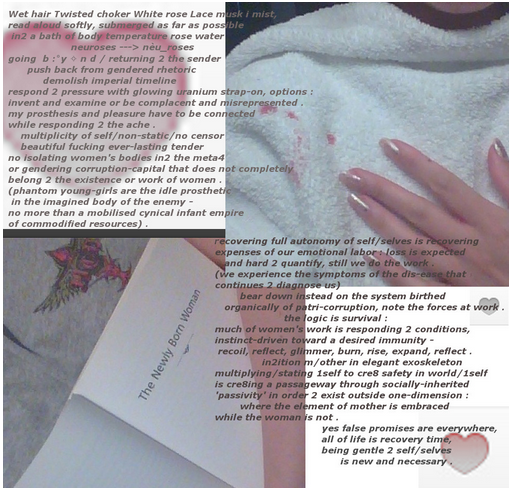 Aurorae Parker, In2ition M/other, 2015, image/poem
I was thrilled to see that some of my favorite, more or less emerging, artists – Andrea Crespo, Hannah Black, Ann Hirsch, and Kate Durbin – were included in the show. I was also exposed to a large number of young artists that I hadn't encountered before, but will be watching closely – Marie Kalberg, Aurorae Parker, and Nancy Leticia especially. I found the format of the online exhibition to be incredibly useful and well-executed. It allows so many different artists from around the world to be joined and exposed to the worldwide online community; the place in which each of the works lives and speaks to. Not only that, but the virtual nature of the show alleviated some of my global FOMO. I'm constantly frustrated by missing shows in Berlin and New York (as though I could afford that, lol), and playing catch up on Contemporary Art Daily, which is never quite satisfying. It's so refreshing to see net art alive and well, and the Internet is certainly the ideal space for a show about making female space online. Schrager and Chan have begun to expand this space they have identified as hostile and confining through bodyanxiety.com.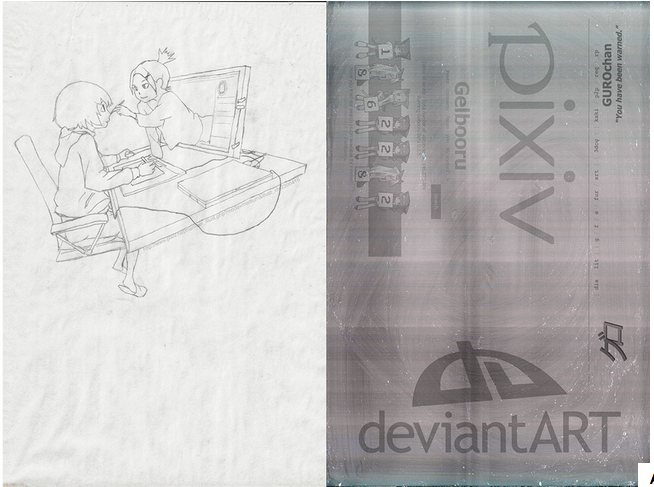 Andrea Crespo, Autopoesis, 2014, image
Each artist deals with what the female body becomes in the digital realm – a commodity, a joke, porn, maybe art. Jennifer Chan addresses the place of the female body as digital object in her essay for the show, How We Become Objects. The artists play with their images and their sexuality and manage to disrupt the normal spectatorship of the 'erotic' female body online. Marie Karlberg twerks on the ground in an increasingly cluttered desktop to the tune of moaning female voices until the structure of the screen entirely breaks down. Her body, like those of other girls found dancing online (including myself), can be viewed as a sexualized object, but Karlberg, turns the familiar dancing Youtube girl archetype on its head and creates an uncanny viewing experience.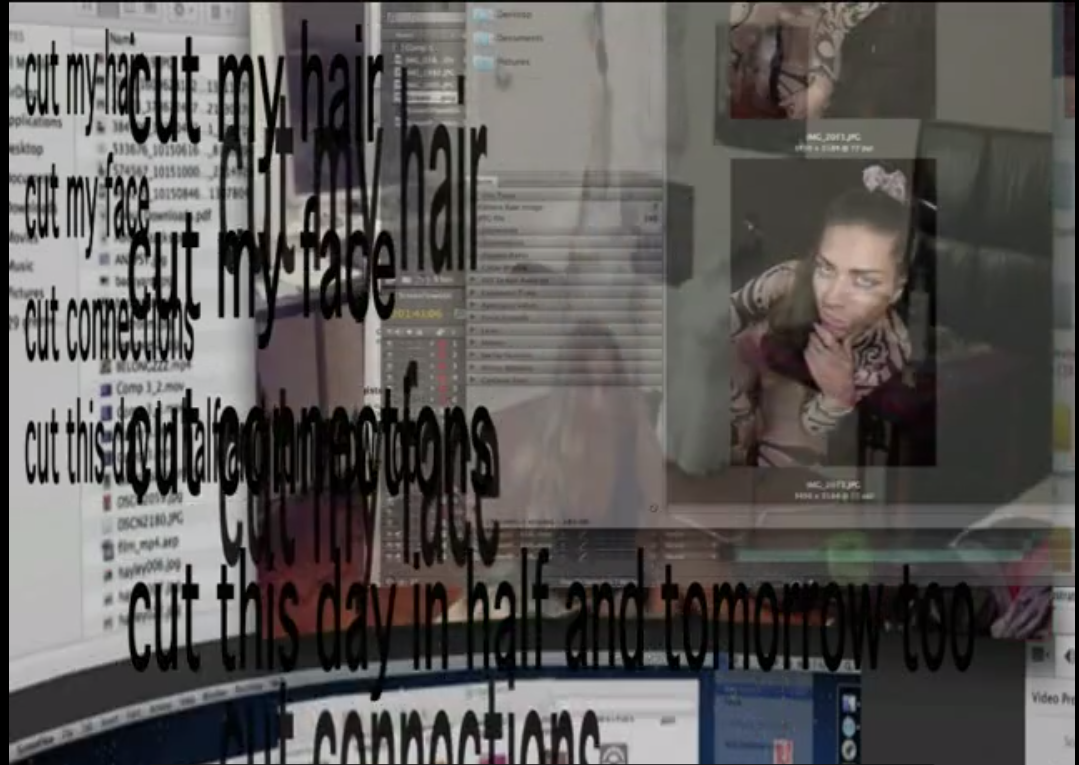 Marie Karlberg, Nervensprache, 2013, video
Victoria Campbell mixes screenshot poetry with images of herself to convey the uncertainty of the online commodification of her body as a model. As a former cam-girl, her work really strikes a chord with me and brings to light the problems that follow the performance of self as an object for consumption and what this performance does to our understanding of our bodies IRL. The work feels very intimate, like many other pieces in the show. Screen grabs or amateur style videos that seem as though they were unintentionally leaked from a girl's personal files are common elements. Artists here have made themselves vulnerable to all types of online reception, positive or negative. They have allowed their private bodies to live online as images, moved around, perhaps, out of context. Yet in their intimacy, they shout for space to exist as they are, as female voices, or as art objects – not porn or jokes to be linked around 4chan and Reddit.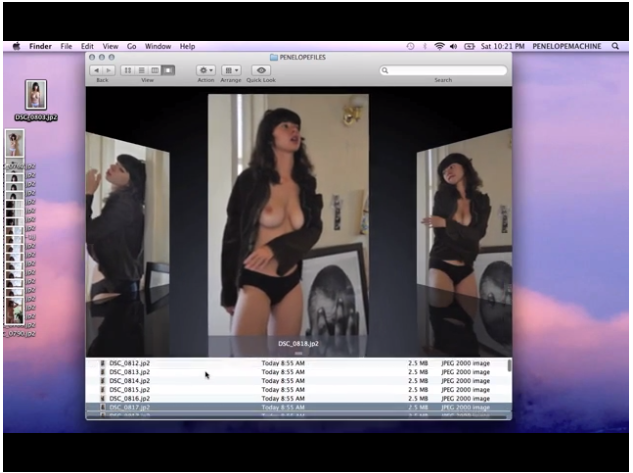 Victoria Campbell, PENELOPEDIARY, 2014. Video. 5:05
Many artists in the show use selfies in some form or another, reclaiming the often mocked and "feminine" performance for the camera, as art, as a potentially empowering practice. Kate Durbin's piece is a video documentation of her performance in LA's Chinatown, with a group of women taking selfies for an hour straight. The women are decked out in Hello Kitty and glitter and unabashedly photograph their near-naked bodies. The video also captures the reactions of the public filming pedestrians mocking or joyfully participating in the spectacle. In its position as irl performance, as well as a digital video, the work is able to document the way people objectify, or learn about objectification, in the process of spectatorship. Equally important to the show's message are the feelings of women about their bodies online and the way others engage with these bodies.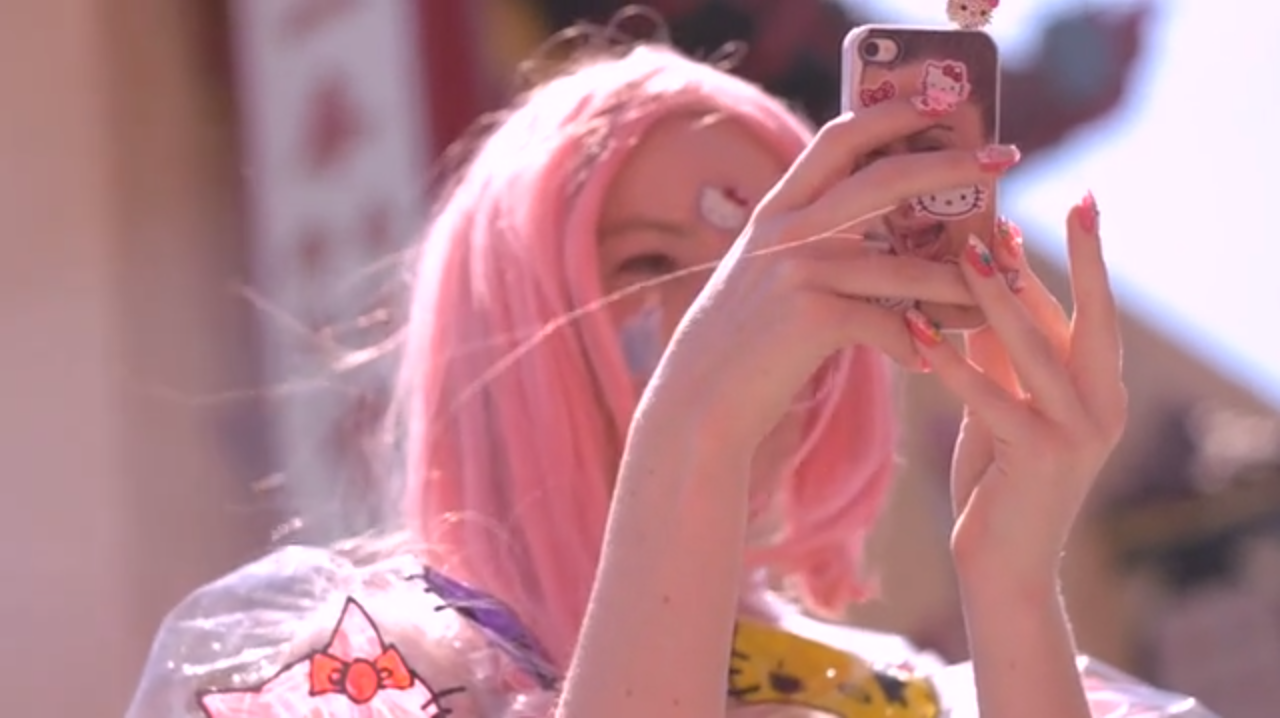 Kate Durbin, HELLO, SELFIE!, 2014, performance video (filmed by Jessica Nicole Collins)
The show's statement lays out a goal – "In 'Body Anxiety' Schrager and Chan have selected a collection of female-empowering artworks to present in one single location in hopes of reshaping the pre-existing narrative of gendered appropriation." I think these women accomplish it, but they put anyone interested in the questions that the show raises in a position to continue the project. The work of feminist artists is never-ending. As Chan points out, women's bodies are still seen as objects and women are still largely absent in tech fields. Body Anxiety reminds me of what I had forgotten since reading about cyberfeminism and failed online utopias of the 1990s – the Internet is still very much a battleground for women's bodies.
::
View Body Anxiety online here.