My friend Mike Castillo aka Big Island is basically one of the best dudes I've ever met. He's not just an amazing tattoo artist known for great portraits and his black and grey, he actually learned directly from the legendary Mark Mahoney. Even after opening up his own tattoo studio, Hale Nui Tattoos, in Hawaii after 14 years he still puts in work at the iconic Shamrock Social Club in Los Angeles. Big Island's tattoos are sought after by some of the biggest names in action sports and I continually run into new people with work done by him, including a few people in The Hundreds' family. Big has also traveled the world as a judge at almost every X-Games to date. But besides all that, the truth is he's really just a seriously fucking rad dude with great stories.
Anytime Big Island is in town, I make it a point to get a new tattoo from him. Whether it's small and ridiculous or something a little more substantial, his work always comes out amazing. For me, the time is really more just a chance to hang out with one of my favorite people. So I headed over to Shamrock, debatably the best tattoo shop in LA, to meet up with Big and get some work done. We always have pretty interesting and funny conversations, so this time I decided to document the experience and ask Big a little more about himself, tattooing, and whatever else came up along the way.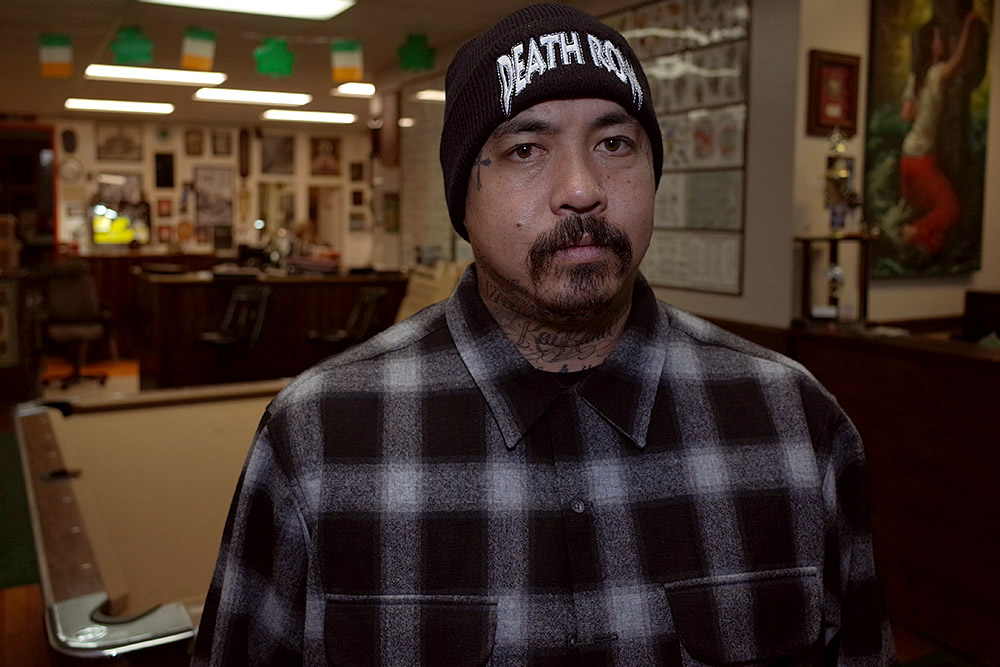 Big Island's been tattooing for about 14 years and his entrance into the art form was pretty random:
"While at the European X-Games in Barcelona, all my camera gear got stolen. I was at Shamrock and I told Mark Mahoney about it, and he asked if I wanted to get new gear or learn how to tattoo. From there, I worked at the Shamrock apprenticing under Mark and the rest of the crew."
Big had been getting tattooed for 5 years by Mark before starting to work at Shamrock, and now anytime he's in LA, he's a fixture at the shop. He pretty much loves everything about Shamrock.
"From Mark and everyone that works there, who are all incredibly talented and inspiring, to the interesting clients and folks that walk through the doors. Such a positive vibe, plus all the knowledge and history of tattooing within the shop."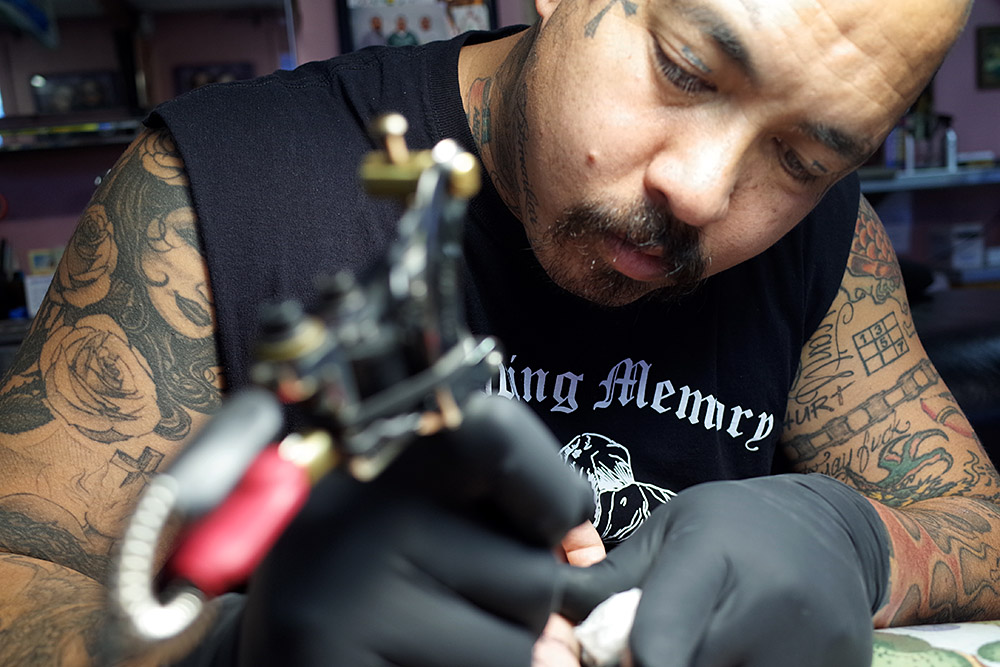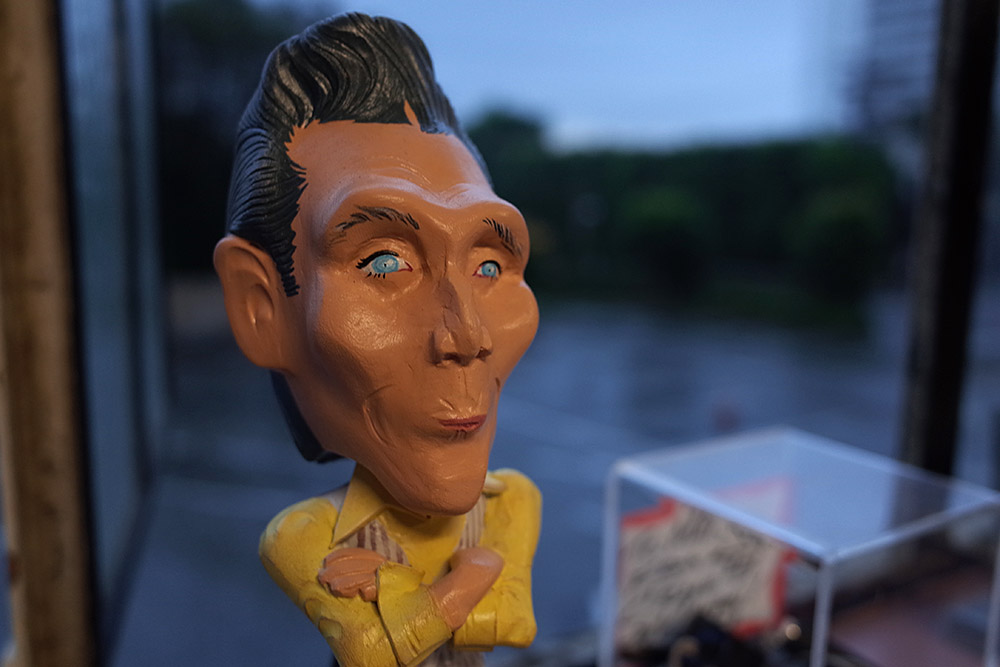 Rad figurine of Mark Mahoney. I have so much respect for this man.
Located on the Sunset Strip, Shamrock has a pretty distinct vibe from the artists, artwork, and locals playing pool up front. Mark and Shamrock are two of the original reasons the West Coast is known for black and grey work. At this point, I think it's safe to say both are legendary and Big has nothing but respect and honor for the now-interchangeable pair.
"Mark [Mahoney] was from the East Coast and worked at the Pike, which was the mecca of tattooing on the West Coast at the time. He tattooed people from all spectrums of society and everyone loved him. Getting tattooed by Mark is about the whole experience, a great tattoo, great experience, and a great story.  When Mark opened the Shamrock, he had the elite of tattooers at the shop, time and tattooers have passed and gone, but he still has the most elite of tattooers still tattooing at the shop."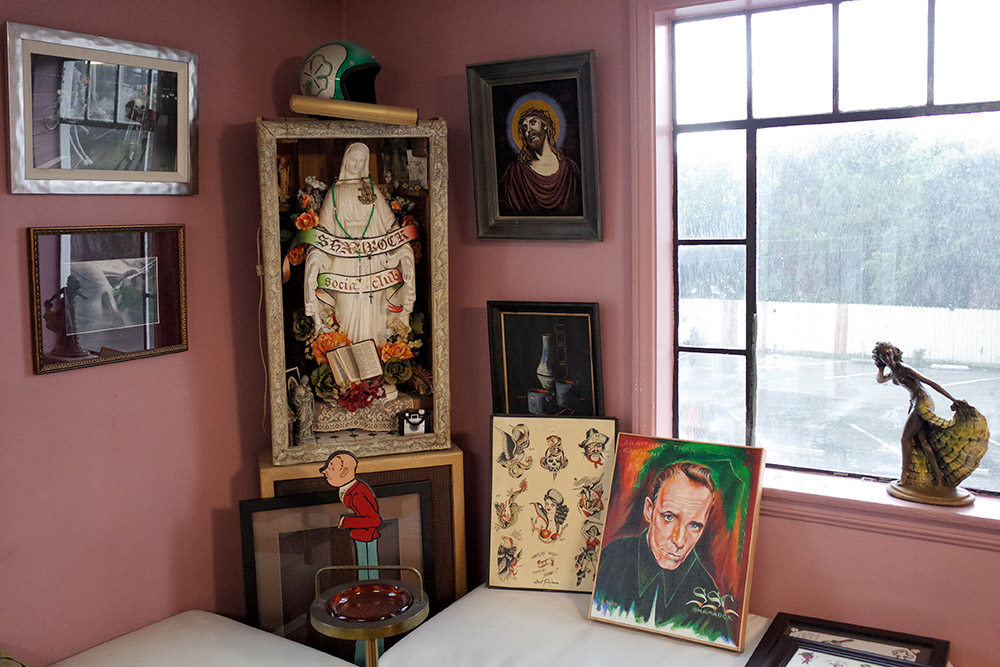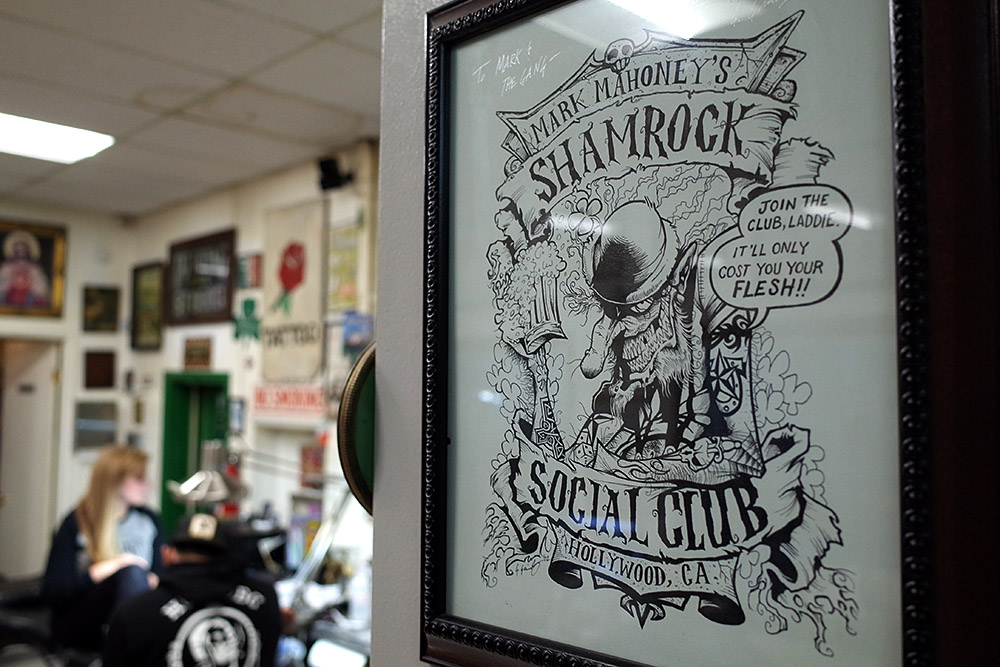 Shamrock has such a unique environment. You can really feel the history contained in the walls.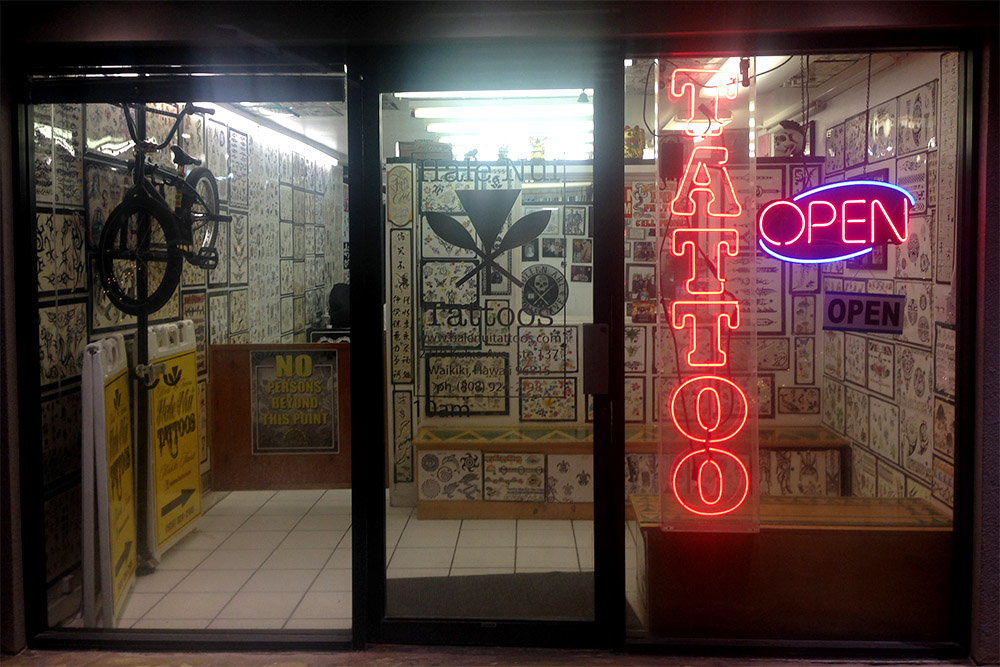 Big calls Hawaii home, so it only made sense that he opened Hale Nui Tattoos of Waikiki in Honolulu:
"My partner Tat2Kev and I own and operate Hale Nui Tattoos in beautiful Waikiki. I love being in Hawaii and having my shop to work out of is a blessing. We tattoo a lot of locals that work around town but the majority of our business is tourist. I'll never get tired of tattooing hibiscus flowers or turtles."
Having been tattooed at Hale Nui as well as Shamrock, I wondered about the difference between working in both of them:
"Tattooing at the Shamrock is a bit more specialized. Shamrock is known worldwide as a fine line black and grey shop, but with the diverse group of tattooers working there, today everything from old school to color realism is not uncommon. No matter where I am working, I try to make the best tattoo I can, whether it be a hibiscus flower or a portrait of someone."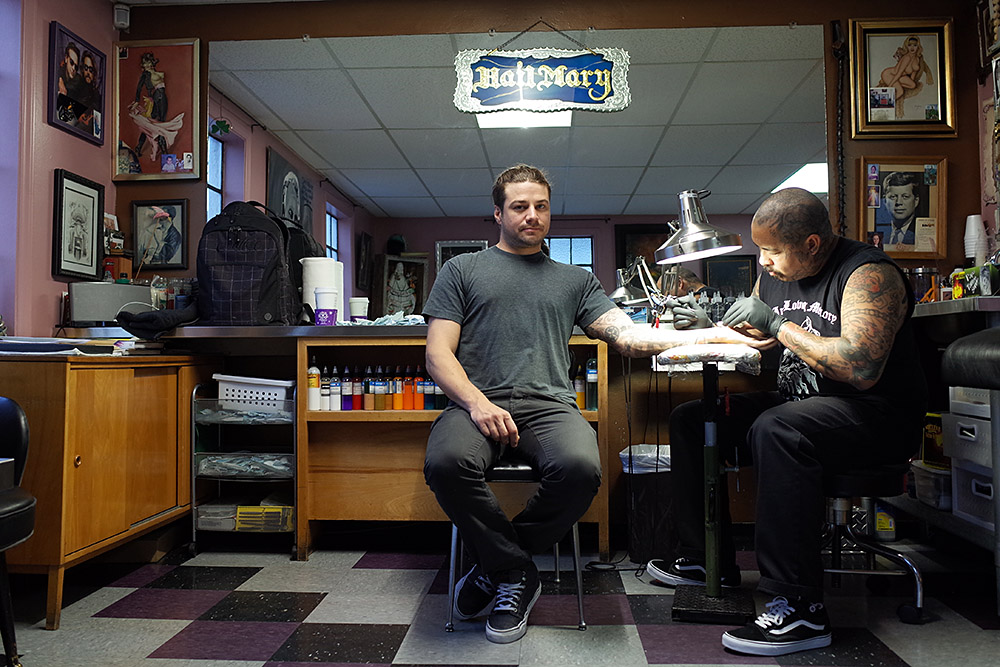 Like myself, Big Island travels a lot for tattooing as well as his side job as an X-Games judge. It's a strange thing when you've been all over the world, so you start to realize there really isn't a best place.
"I will always love Hasting, England, because of Ian Morris (Untied Bikes) and Stu Dawkins. My new favorite is Shanghai, China, cause my tattoo homies, Dylan at Shanghai Tattoo and it seems like anything goes there as far as riding through the streets. Brazil is also amazing, but it is hard to pick a place when you are from Hawaii."
I've had Big do some pretty cool stuff on myself, but I've also seen him do a ton of truly amazing portraits. While he can do just about everything, he seems to especially love portraits:
"I love doing portraits and fine line black and grey tattoos, it's all about the little details that amaze me."
As we talk about how rad his work is, it dawns on us that I'm having him put a fucking snowman emoji on my wrist. So I asked him, "Why don't I ever have you do cool shit on me?"
"What? I love the Shadow Conspiracy BMX chain on you…"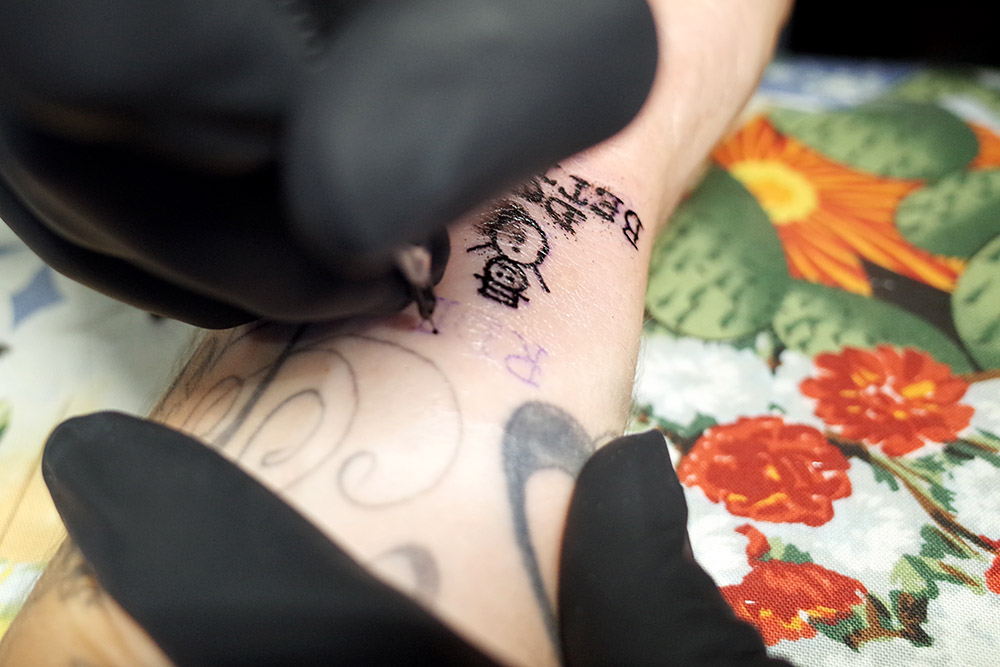 I have to agree that chain piece really helped tie my arm together. But now, on the topic of terribly awesome tattoos, I wanted to hear about some more:
"Off the top of my head, "alright, alright, allriiigghhtt" Kevin Hart quote on Ben Hucke's chest. My friend lost a bet and got my face tattooed on her arm."
Being present for the Kevin Hart tattoo, I remembered how much fun the whole scene was. It's basically a perfect chest script piece, but with the most ridiculous quote ever. We spent at least 20 minutes discussing the proper spelling of the last "alriiiiight."
Asking for a few more stories, Big grins as the overwhelming slew of awesome tattoos he's done flashed before his eyes:
"Too many to mention. [Laughs] Well, Leigh Ramsdell (professional bmxer) met Lemmy from Motorhead at the Rainbow and got him to sign his existing Motorhead tattoo and we went straight back to the hotel and tattooed the autograph. I tattooed the Rodney Mullen graphic on Weeman and when Rodney saw it, he cried cause he was so stoked. I tattooed Travis Pastrana in the Anaheim arena minutes before a Nitro Circus Live Show... those are a few I can remember."
Our mutual friend, Mike Escamilla (Rooftop) showed up for a tattoo. With Mike being an actor, host, stuntman, and professional bmxer, the conversation quickly turned to tattooing athletes.
"I love tattooing action sports figures, we seem to be on the same wavelength and have tons to talk about while I'm tattooing them. Going from my passion of riding to transitioning, to my passion of tattooing, it's great to keep/share that bridge/bond between the two."
Even Big's first tattoo is a nice anecdote:
"I did my first ever tattoo on another human in a hotel room in Dallas, Texas, on Rick Thorne during an X-Trials, an X-Games qualifier."
And the time he got tattooed by bmx legend Mat Hoffman:
"We were in Mexico City for the South American X-games and Mat ended up tattooing a bunch of riders that night... I got his 6th tattoo, so he incorporates the number into each of his tattoos. So, I drew it in the mirror in my fuckin' armpit – fuck that hurts! Anyway, he tattooed me and after it was all done, we figured out I drew the 6 backwards."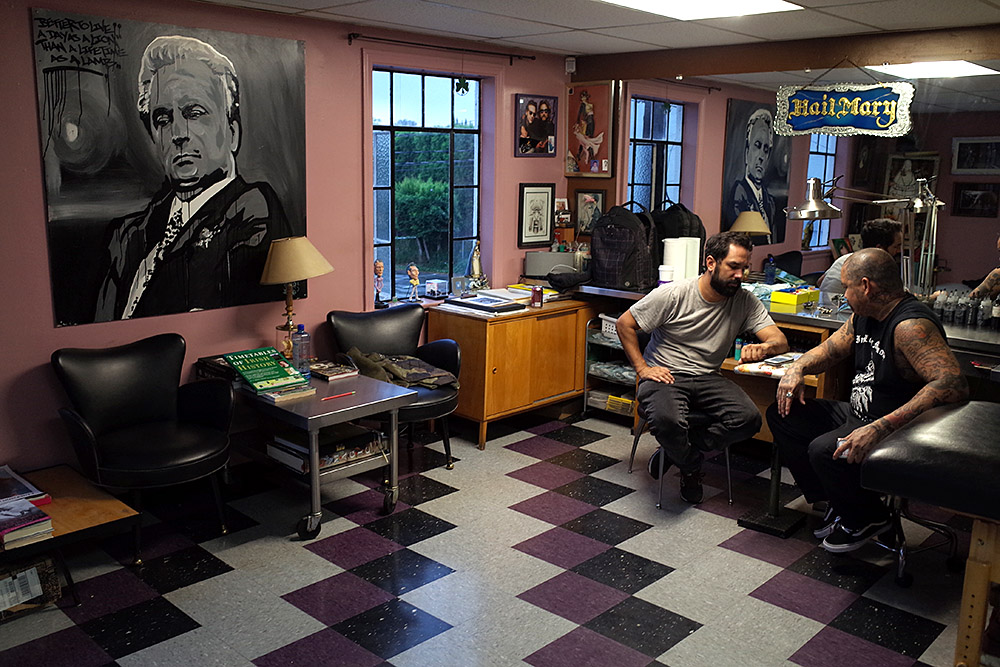 Big and Rooftop planning out a pretty amazing old school bmx tattoo.
We usually grab a drink after we are done at Shamrock, so I ask Big where he likes in the neighborhood and his answer is simple.
"Gotta love the Rainbow. Nothing but history and class there and Gil Turner's liquor store for everything else."
On that note, we crossed the street headed for our usual: the Rainbow Room.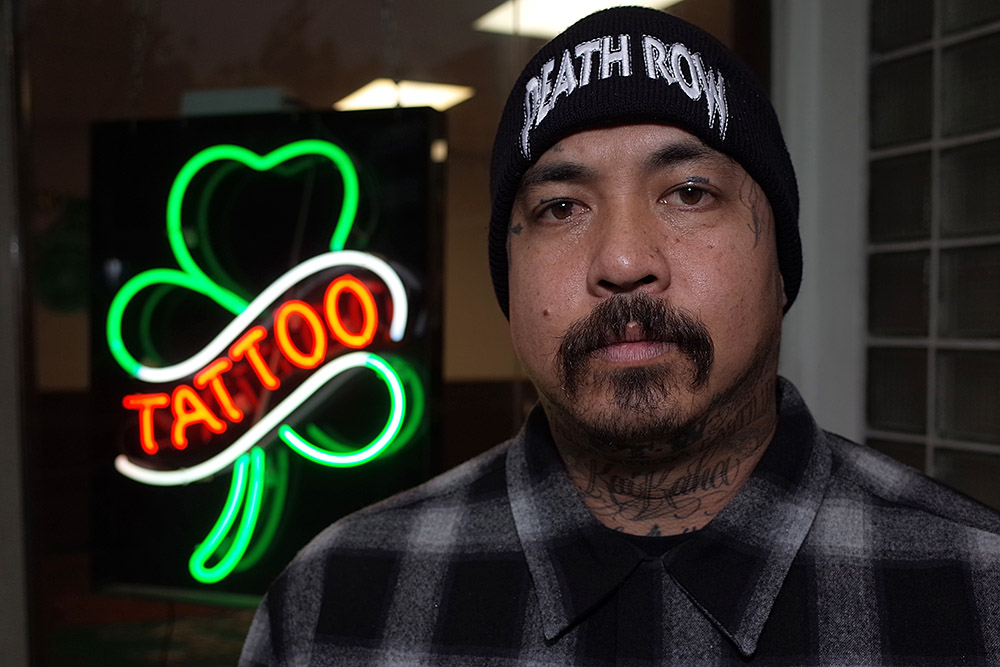 @BIGISLANDMIKE on Instagram