The author of The Hundreds' daily streetwear, fashion, and tech report "The Feed," Peter Yeh, now brings us a weekly round up of the best of the best releases of the week every Saturday.
Play Cloths Spring 2015 Delivery 1 Lookbook – Just pleasantly surprised with what Play Cloths did this season. For the most part the Pusha T backed brand follows the usual hip-hop trend train, but this season they went off. Playing off that dark aesthetic the brand went in and showcased a gritty collection of cut-and-sew, outerwear, and graphic essentials. I gotta admit that this brand really caught me off guard, and I look forward to whatever they got coming out.
I gotta admit that Play Cloths Spring 2015 Delivery is making me feel some type of way. I can't put my finger on it, but I like what Pusha T and Malice has done with this side project of theirs. The collection is filled with iconography, but instead of being formulaic, it feels raw. The collection extends beyond the graphic T-shirts, and really showcases how the brand has grown. From the button-downs to the light outerwear, Play Cloths is hitting their stride.
Source: Play Cloths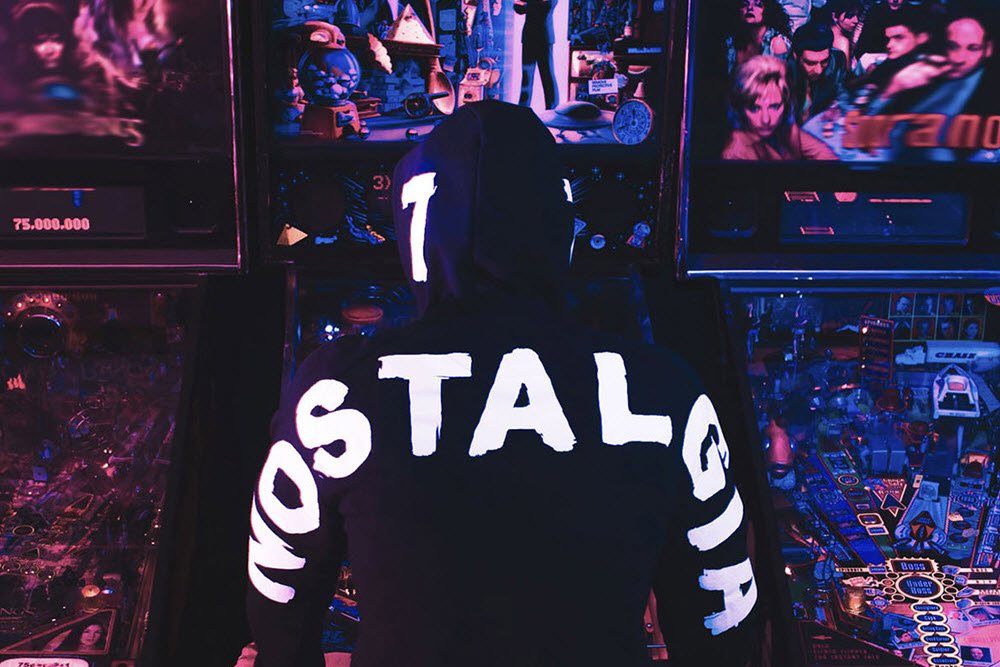 Swyp – If you ever had a little two much to drink you'll know how irksome it can be to call all the bars you were in the night before to locate your debit card. The Swyp will get you just as drunk and the alert function on your phone will tell you when the card is more than 6 feet away. Besides this nifty function the Swyp stores 25 credit cards, loyalty cards, and secret elite club memberships. It can organize your wallet, and keep it filled with cash and receipts instead of stacks of plastic.
Those looking to slim down their wallets need to take a look at Swyp. This metallic device comes with a screen that transforms into the card you want to use. Whether its that Amex Platinum or a Vons reward number the Swyp programs all that information across the magnetic strip for you. To prevent identity theft, the Swyp is paired with your smartphone, and cannot complete charges when your smartphone is more than 6 feet away. The Swyp is currently able to load up 25 different credit cards and loyalty cards. The left and right toggles will allow you to sort through your cards, and plans to hold more than 25 are already in place.
Source: PSFK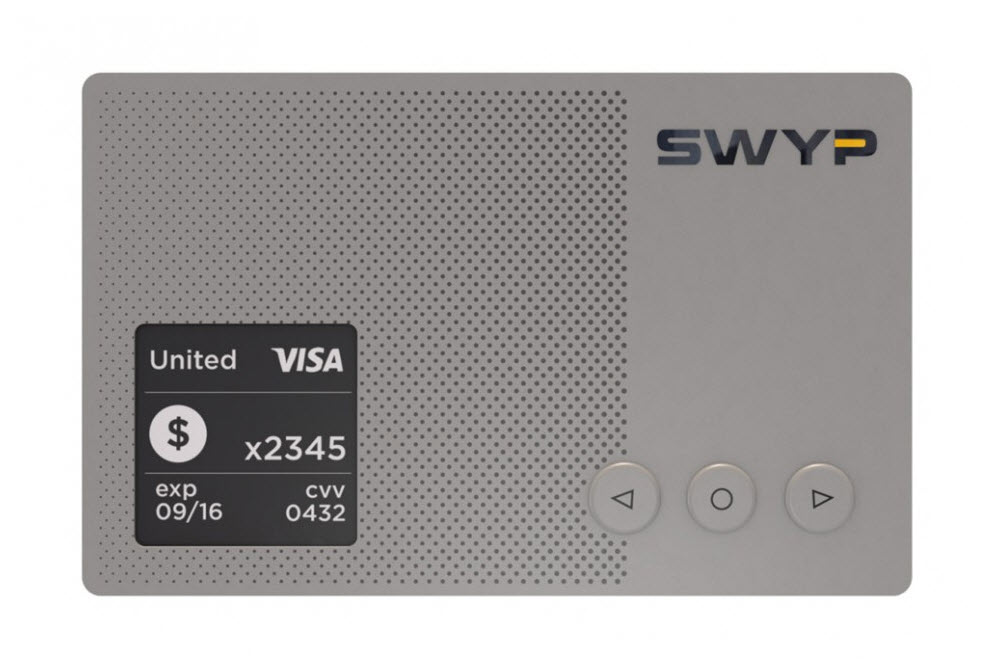 Prometheus Design Werx Griffin Skeleton Knife – If you read The Feed, then you already know I have a penchant for knives. The Prometheus Design Werx Griffin Skeleton knife really caught my attention with the beveled blade. Most knives specifically tell you that the warranty is voided if your fuck with the tip, but not Prometheus. They want you to stab, pry, and point with the Griffin and the tip has just a little bit more heft. Put some ripcord around this bad boy and you got yourself an all-around adventure knife.
I like to conceal my pocket knives, but when it comes to stabbing and twisting, (always stab and twist, only pussies slash) the fixed blade is the way to go. When the zombies come at you, grab the Griffin Skeleton Knife by Prometheus Design Werx. This is a precise blade cut from high-grade Bohler M390 steel and comes with a combo pry tip and cat paw nail puller. The holes in the handle cut the weight down, but rest assure that it still backs a wollop.
Source: Prometheus Design Werx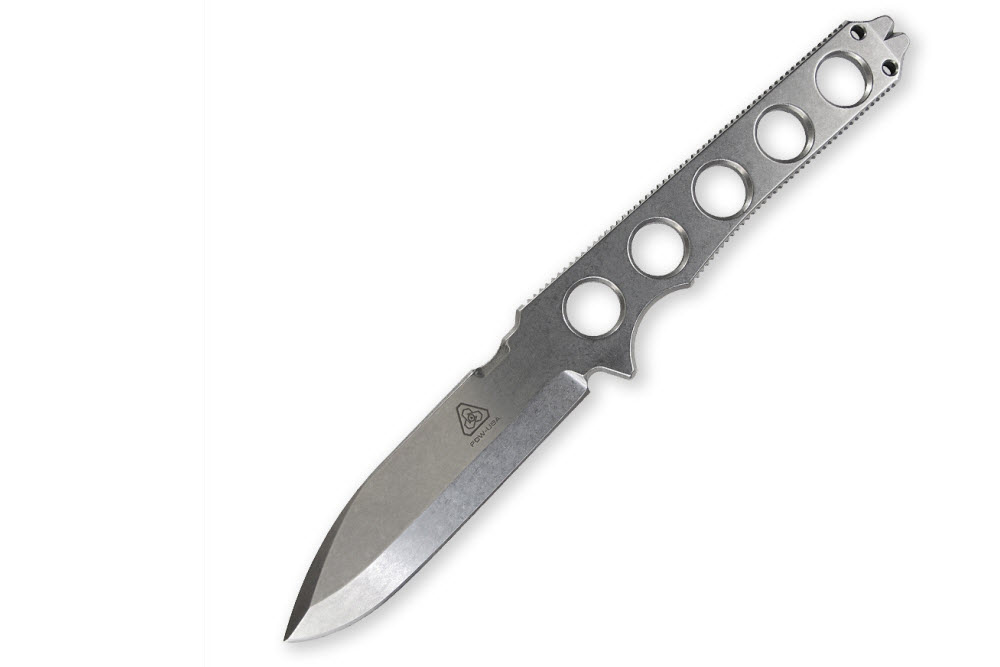 Moment iPhone Case – I'm not an iPhone user, but if I was I would get this case. That's because I can't stand touching the screen to take a picture, and rather enjoy the whole multi-state shutter button. Blending the power of the iPhone with the ease of a conventional camera hits the sweet spot for me, and I hope that Moment does this for Android really soon.
The one thing I am always envious of with the Apple iPhone is their camera. The Palo Alto company just does a great job with sourcing the glass and complementing it with the right programming. The Moment iPhone case is looking to add to the powerful camera with a case capable of DSLR functions. Besides offering additional protecting with its tapered bottle and rubberized grip, the case comes with a multi-state shutter button. The case and companion app will allow your smartphone to have a half-press focus and exposure lock; identical features found in a fancy DSLR. The case even knows when you attached an additional third-party lens, and can suggest extra features.
Source: Moment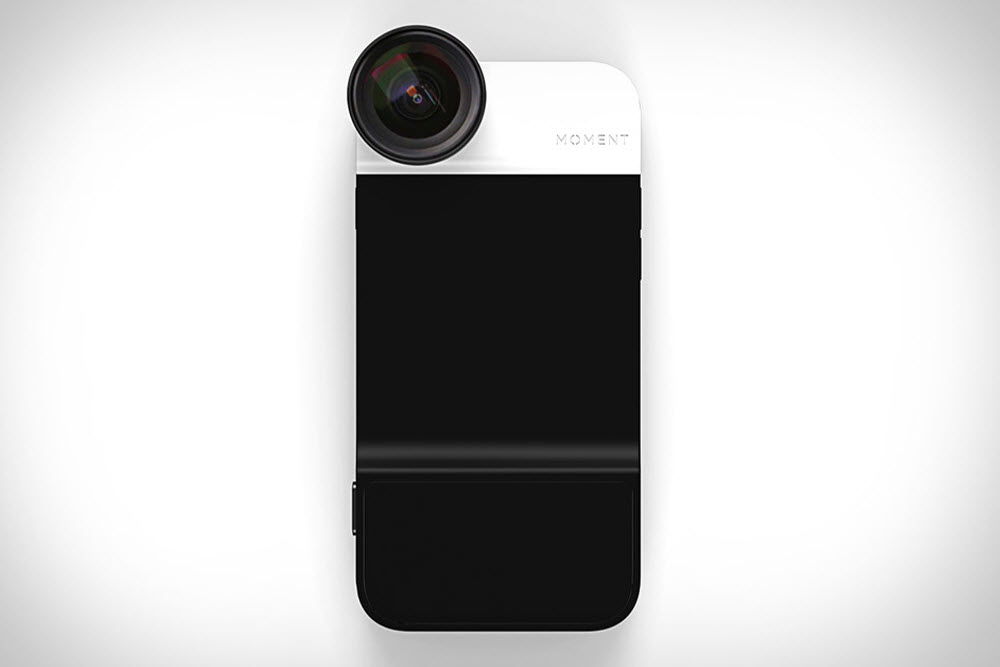 Glow Laser Headphones – Running at night is awesome. But, there's been times when Kendrick is blasting and I almost get clipped by a Lexus RX (I live in Diamond Bar, and 1 out of 4 cars is a Lexus SUV). These Glow Laser Headphones might just save my life. I don't know if I care to have the lights pulsating, but having them light up while I run seems really cool. That 5-way controller seems pretty interesting as well, but that's really just an afterthought to the laser lights.
While other in-ear monitors like to focus on the size of drivers, Glow is more interested with the cord. They're the first company to put a laser light into the cord and the lights pulsate in sync with the music playing. In addition to the laser lights the headphones also have a intuitive 5-way controller that offers media playback, answer phone calls, voice assistance, camera shutter, and quick text message. The Glow Laser headphones has already exceeded their Kickstarter goals and will be available in three different laser colors.
Source: Kickstarter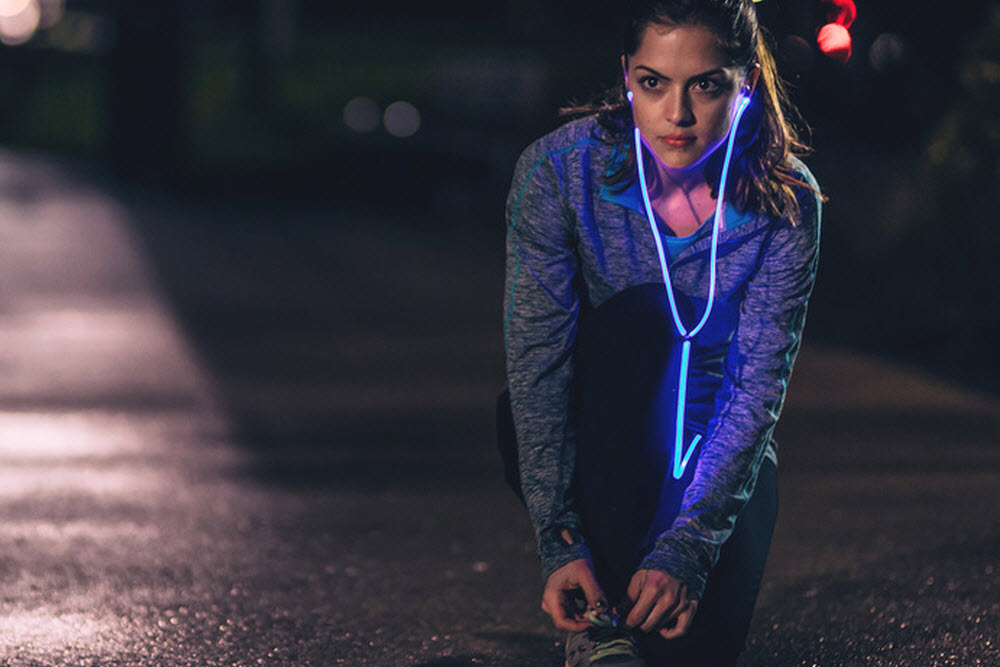 Outlier Strongwork Pants – I sit in an office most of the day, but that doesn't stop me from wanting a pair of pants that can take a beating. The problem with pants that can take abuse is that the cut is shit, and they feel even worse. It's nice seeing Outlier devote their attention to creating a pair of quality workpants that don't look like typical workpants. Another huge plus behind this recent release is that Outlier has made their product more affordable with a pre-order process.
Outlier make some great stuff, but their price points can get pretty OD. This latest release may change all that because the Strongwork Pants are currently available for pre-order at under a hundy. For these workwear-inspired pants, Outlier chose to use Strongcloth, a Scandinavian air forged canvas that  is woven with thick yarns. These fine air forged Supplex fibers are twisted together to give the exterior a tough rugged feel, but for your legs they feel as soft as brushed cotton.
Source: Outlier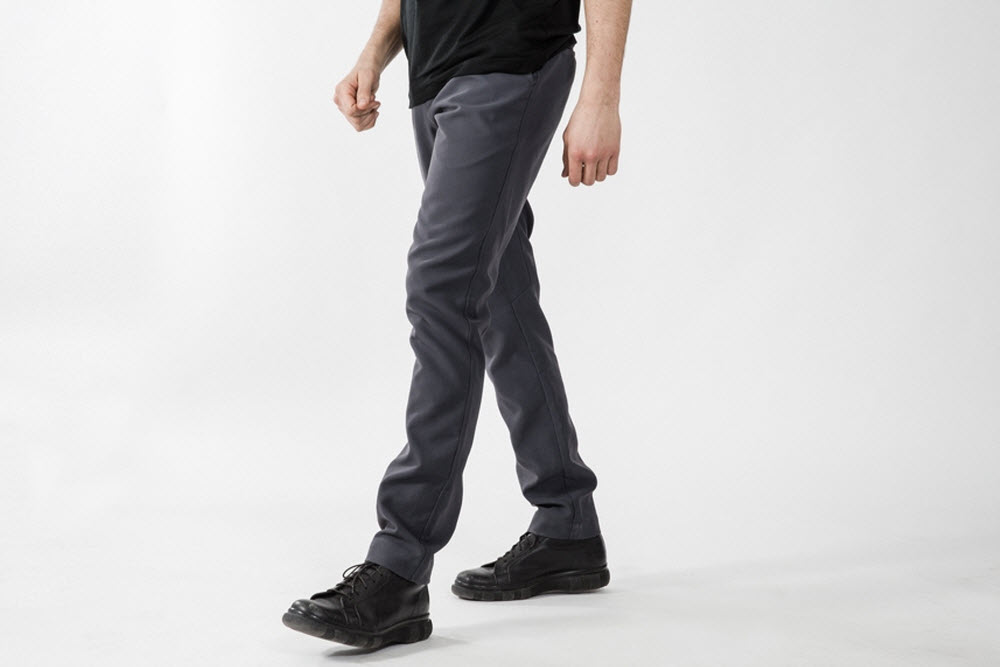 Feature x Saucony Barney –I have a biased view on Saucony because I am a huge fan of the big boxy runner. Like the squarish Benzs from the late eighties, I like my running shoes with a little heft. Saucony has mastered that silhouette in my opinion and the recent colorways are getting better and better. The "Barney" model with sneaker boutique Feature comes with some beautiful detailing, and the selection of violet hues and soft purples was outstanding. I'm always looking forward to what Saucony has coming, and the "Barney" is proof that creative coloring is still a huge draw for sneakerheads.
Coming off of the "High-Roller" project is sneaker boutique Feature and Saucony with an all new "Barney" model. Using the G9 Shadow as their canvas Feature draws inspiration from the purple $500 chip and equips these runners with black and pink accents against a beautiful purple suede backdrop. There's even a little reflective 3M and speckled detailing thrown in there for good measure. Look for this collaborative project to drop exclusively at Feature on January 31.
Source: Feature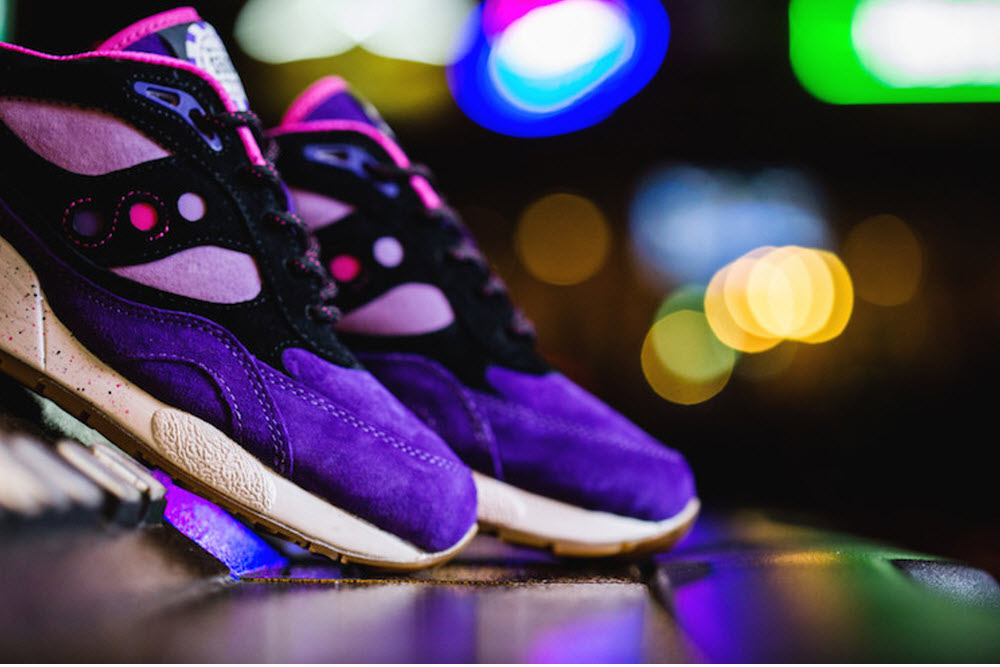 Supreme Spring/Summer 2015 Teaser – There was a discussion about whether Supreme has lost its edge, and it is apparent that they have not. I know that high sell out rates is not a barometer on the health of a brand, and even with fuccbois and hipsters jumping on the Box logo bandwagon, Supreme is still going strong. This quick teaser is evidence that Supreme has their heart set on representing New York, and it'll be business as usual with or without the bandwagon.
We're still a couple of weeks from Supreme's first delivery for Spring and Summer, but they have blessed their fans with a quick teaser. The varsity jacket is back, and for the first time in a long time it is draped in leather. Not since the early 2000s has Supreme gone with the full Wilson leather look, and this time it features a large New York Yankees logo and Supreme across the top. I don't know if these young Supreme kids know how dangerous it is to wear an all red leather jacket can be, but there's no doubt that the varsity will sell out.
Source: Supreme