No one wants to consider themselves basic. However, if the 40-oz. promotional Koozie fits. Kidding(-ish). I will openly love the shit out of a well-done Old Fashioned with locally-sourced ingredients. I will equally relish some nice rock salt chandeliers and bar-side TVs streaming obscure, early '80s funk music videos. I will eye-fuck all of the well-dressed, seemingly-employed patrons of both of these establishments I just now made up. But. I gotta say, nothing is quite like the stale air hanging all DGAF in an ego-less dive bar.
Dive bars get me, and I get them. No one needs to get dressed to even the fours (halfway, keep up with me) for entry. The lighting is dim to non-existent and who knows the last time a semi-clean rag swiped the seat of that vinyl booth you're now kinda laying in. There are no expectations, which means there's no room for disappointment. Just you, your pitcher, and all the fellow barflies (about whom I do not recommend eye-fucking with wild abandon… it would benefit you to be a bit choosier in such establishments). May I now present to you a great starter list of Atlanta's best dives — because, well, no one here is about to judge your laundry day bikini-top-as-bra:
RIGHTEOUS ROOM (Poncey-Highland)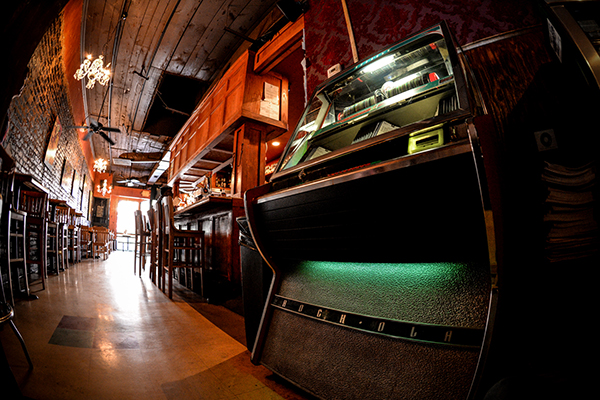 A fully-stacked jukebox – holding such gems as several Jonathan Richman/Modern Lovers albums—sits at the back of this narrow bar. The patrons call the soundtrack and dog companions strut freely through the smoky space. Their food menu is mad decent, offering insane shit like vegetarian chili cheese fries and salmon quesadillas. Then there's the $12 bottles of wine (!!). The volume is low enough to carry on a non-screaming conversation, but loud enough to obscure the specifics of said conversation. Perfect!
THE LOCAL (Poncey-Highland)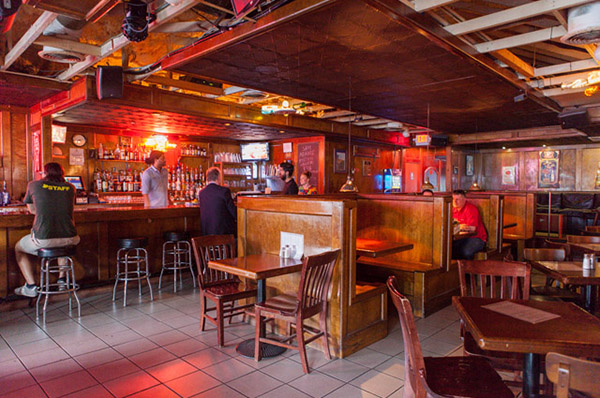 I turned 27 in the line to use the bathroom here, so, obviously, it holds a special place in my hardened heart. It's a literally dark place with ample booths and an ill-advised stage. That's because The Local is notorious for its nightly shitshows – sometimes starring you! It's the perfect spot to chill with a cheap pitcher, no-judgement hot dogs (vegans welcome!), and ample opportunity to make out with a person you will hopefully never see again! Just kidding, you'll definitely see him again. And again and again. But it's OK, because you don't visit The Local to have a memorable time – chances are you'll have no recollection.
97 ESTORIA (Cabbagetown)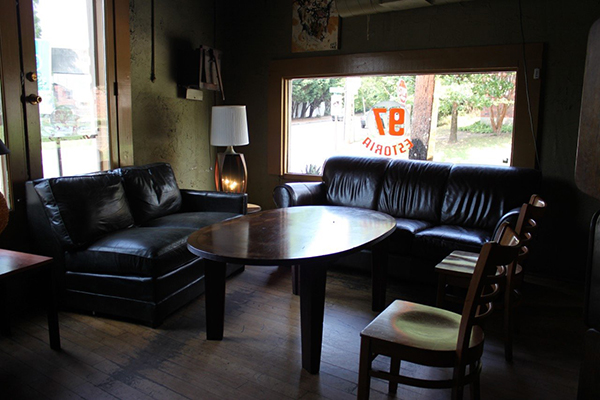 Estoria, once championed for as a sure-fire spot to score blow until a recent bust, is still an ideal day-drinking watering hole. For starters, sunlight diffuses in in a subtle way that allows you to remember, "LOL, oh yeah, it's not night yet," but only if you want to. The bartenders are scruffy babes with heavy-pouring tendencies and are on-the-ready to match your tequila shot with their own whiskey one. The womens' bathroom has no mirror, but that's probably for the best. It's like how casinos have no clocks. It's in everyone's best interest, really. Try the pimento grilled cheese… it is perfection.
MORRIS'S RESTAURANT & LOUNGE (Kirkwood)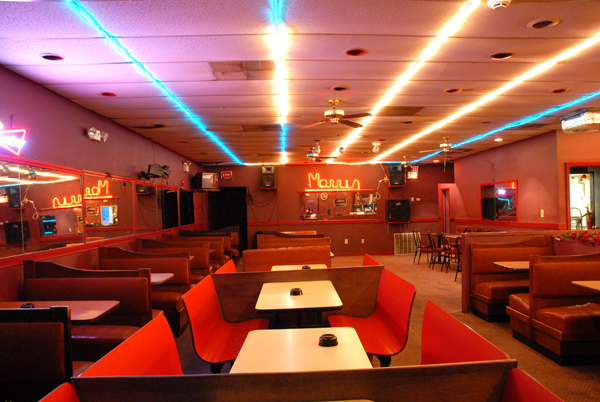 I have lived next to this place for six months without knowing about it. It's an embarrassing reality for which I'm working on forgiving myself. From the outside, it looks like a visitor center – all white cinderblocks and iron-wrought window gates. The front door isn't even unlocked without the combination of DJ/bouncer/concierge deeming you cool to enter. Once in, it's not unlike a late '90s-era skating rink birthday party with a playlist to match. Like, the same Usher song more than twice in a 1.5-hour block. But I'm not complaining! Decorative balloon pillars shoot up to the ceiling from the slick, black high-top tables. It's cash-only, so come prepared (or face the wrath of the ATM's $3 service fee and Comic Sans screen text). If you grew up the kind of kid who kicked ass at Warhead challenges, I recommend the margarita – sweet and sour as all hell and served up in a comically large wine glass. Also, the women's restroom is impossibly Pepto pink. Like, very, very committed to this color. It's wonderful.
THE EUCLID AVENUE YACHT CLUB (Little 5 Points)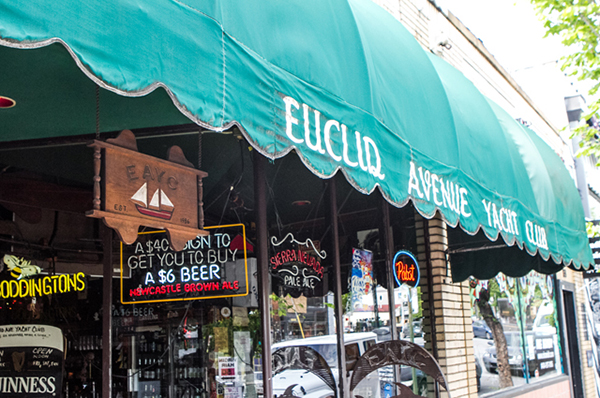 I swear to Bradford Cox someone's sole job at this place is to light strategically-placed cigarettes around the bar like a semi-sane person would Nag Champa. I'm not complaining, but it's worth a note for the slightly-asthmatic reading. Their beer menu is half-baked and far from exhausted – halting at just under a dozen bottle options that don't span everything you see the patrons around you holding. The guac is mad decent, so grab some of that. Same with the boiled peanuts – you're in the South. It's OK, I promise.
ELMYR (Little 5 Points)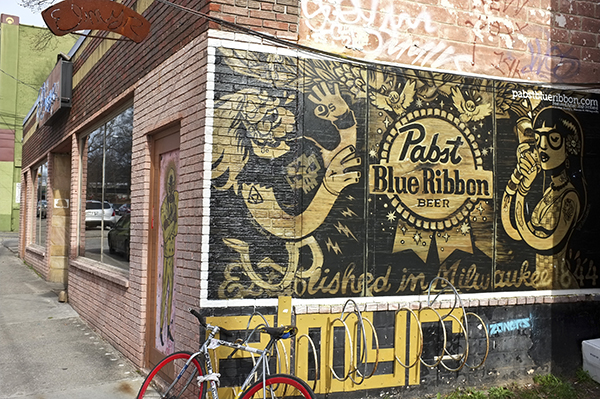 Within easy stumbling distance from Yacht Club, Elmyr goes deep on a gringa-ified Mexican menu. Pitchers are cheap as hell and pretty much make the inevitable bathroom line wait worth it. The clientele, however, is some of my least favorite. Remember that dude you used to hook up with in college who was pretty into himself and then you could never properly avoid at another party since? Imagine a mid-sized bar full of iterations of that dude. So if you do go, bring an artillery of non-douches so you're not forced to mingle with some of the worst people in Atlanta.
THE ALBERT (Inman Park)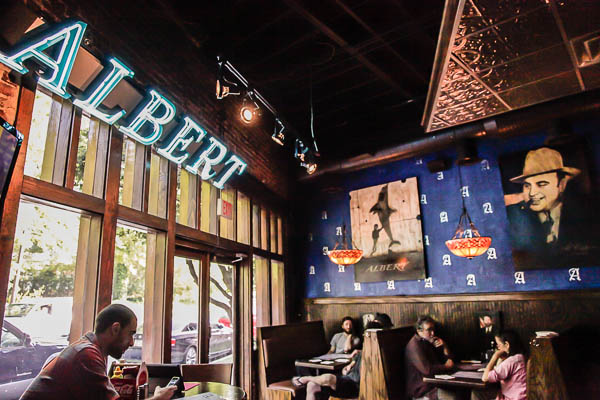 Here's a great, dank dive with killer cocktails. They're super into rosemary-sage simple syrup and so am I. It's the kind of deep watering hole that lets you maintain a little dignity (unless you're willing or aiming to shed a layer or two of that heavy, annoying thing). Be but warned if you hit the joint on a hungover Sunday afternoon, NFL sports noises will blast THE FUCK out of you. Commercials included. Stick to non-sports meeting times (maybe call ahead) and enjoy the otherwise chill 'tudes.
ELLIOTT STREET DELI & PUB (Castleberry Hill)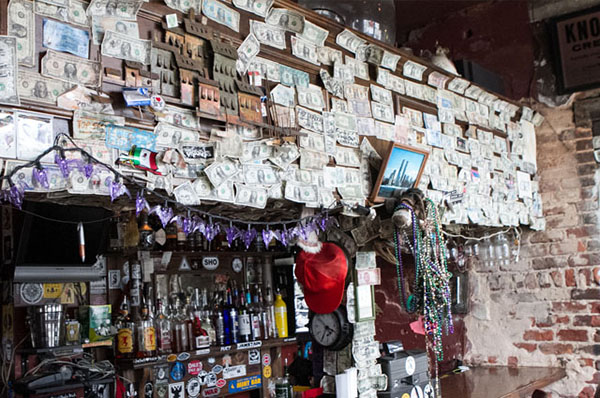 One of the great qualities of Elliott Street is it's a bit of a destination bar. It's no bigger than your average coat room, but somehow fits at least a few dozen people in each weekend night. Sometimes there's live music – usually something falling under either jammy or jazzy – which makes the alcoholic game of Sardines all the more thrilling. They serve what I'm told are delicious meat-heavy sandwiches (not my thing) and I can attest to their very legit, copper-mugged Moscow Mules (def my thing).
SOUTHERN-COMFORT RESTAURANT & LOUNGE (OTP, Conley)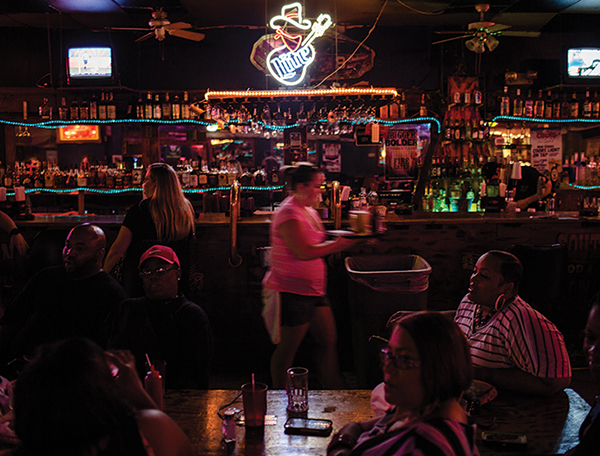 OK – so, this is technically OTP (that's Outside The Perimeter for you outta-towners; also, the Perimeter is I-285, a major highway here). But it's worth the hike. First things first, this is a trucker bar. Its parking involves an enormous, dusty lot filled mostly by semis. Immediately upon entry, the stale cigarette smoke will shoot towards your body like mosquitoes to a buzzing, purple light. It's huge inside, with plenty of family-style seating for a bar that seems to keep a steady stream of thirsty regulars flowing throughout the day. Sunday nights, though — that's when shit gets real. And by that I mean the regular pool of stereotypical Georgian folk gets diluted by hipsters driving down from ITP (Inside The Perimeter, keep up, please) for karaoke madness. There's a dance floor. There's uninhibited dancing. There's QUITE a mix of patrons. And cigarette machines. Essentially we found El Dorado, folks, and it comes complete with a big screen in the back streaming Faith Hill music videos.