You may recognize comedian Ben Schwartz from many things. It could be House of Lies. It could be, and mostly likely is, as Jean-Ralphio from Parks and Recreation. Or you could be one of the lucky few that caught his turn as the sidekick to host Adam Pally, during their special one-night hi-jacking of CBS's Late Late Show earlier this month. But no matter what you know him from, you at least can recognize that he's one of Los Angeles's funniest emerging actors. He went from comedy intern to comedy star with the same attributes your Varsity football coach swore would make you a better player: persistence and hard work. He's a rather inspiring dude, so I sat down with him to talk shop and find out exactly what he's up to. SPOILER: He ends up hating me at the end.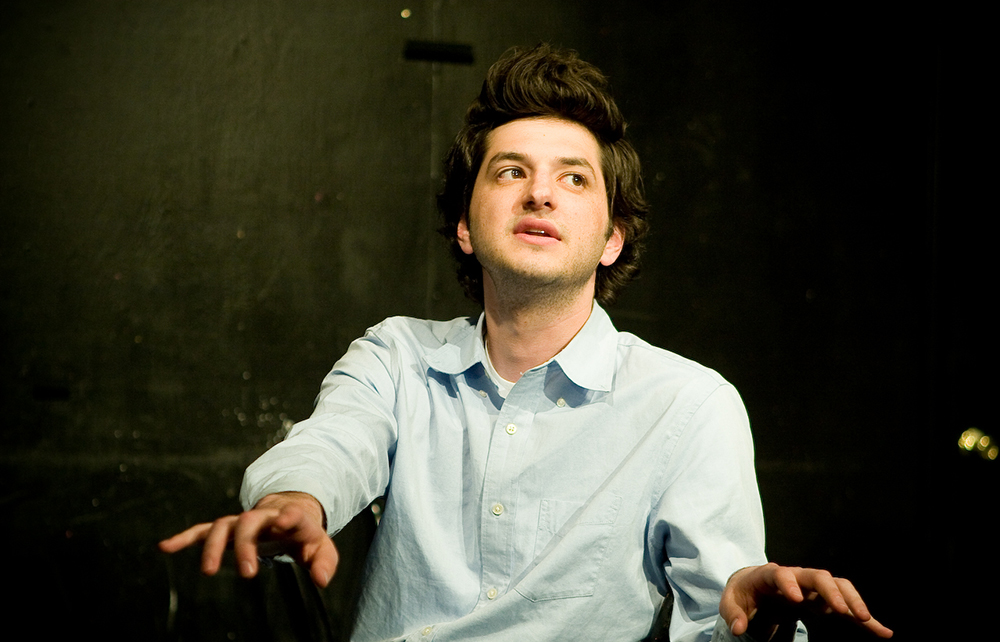 JENSEN: First off, last month you were a guest on the Late Show with David Letterman, which was a beautiful full circle of life since that show is where you started your career in TV as part of the Page Program, helping audience members find their seats. How crazy was the feeling of looking out from the stage now years later, while remembering what that theater used to mean to you as an usher?
BEN: It was crazy and surreal. All of the crew and security that was around when I was a page visited me backstage beforehand to tell me how proud they were. I may have been the first audience page to make it to the guest chair. I remember seeing the pages against the walls and thinking how it took 11 years to move 40 feet from that wall to the chair. My family and best friends all live in NY and a lot of them were there on the balcony in the theatre, so it was pretty great to share that with them.
During your time as a page, you started writing jokes for Dave's monologue, which seems like a pretty big jump. How did that happen?
I didn't know anyone in entertainment, so I got the page job by walking into the theatre one day with a bunch of resumes and asking for an interview, etc. Then after I was working as a page for a bit, there was another audience page, Greg Volk (thank you, Greg), who used to be a production intern for the show. He had just gotten the opportunity to freelance jokes (send them in via fax) for the monologue and I asked him if he could maybe get me the person's email so I could ask as well. I was performing a bunch at UCB and was writing quite a bit. I remember emailing and being turned down a few times until they had room. Then I faxed in jokes, got some notes from Steve Young, who was in charge of the monologue at the time, and honed my jokes to get them in Letterman's voice. A few weeks later, I got my first joke on and went on a little bit of a roll, getting something like 21 jokes on before I stopped a couple years later.
Do you remember your favorite joke that ever made it air?
It was so weird, for the pre-interview for Letterman, they asked me about the first joke I got on and I realized I had no idea any of the jokes I wrote that got on because I was doing a website (rejectedjokes.com) devoted to all the rejected jokes and I couldn't use the ones that actually got on air. I did some research an hour before going on the air and found some. Here's a few:
A study shows that having a TV in your bedroom halves your sex life. A study also shows that having a TV in your bathtub can kill you.
Governor Arnold Schwarzenegger received 15 stitches in his lip from a motorcycle accident. I hope the stitches don't make it hard to understand what he's saying.
A 20 year old student set a new world's record after solving the Rubik's Cube in 11.3 seconds and ladies – he's single.
In Athens, a taxi driver returned an Olympic silver medal left in his cab. Unfortunately, the world will only remember the driver who came in seconds earlier returning the gold medal.
You graduated from college with a double major in Psychology and Anthropology, making sure you had a back-up in case comedy didn't work, like the good Jew you are. Did your background in either of those fields end up helping your acting skills?
I think they were super helpful. For work and for life. But I have no idea what I would have done with those majors. I just picked subjects that I liked and kept taking classes in them, having no idea what I would do when I graduated. Where I grew up – it was insane to think you could be an actor or a screenwriter. It was like saying you wanted to be an astronaut. It's a job that people had, but nobody actually becomes an astronaut, so growing up and going to college, it wasn't something I chased. It was only during senior year at Union when my girlfriend at the time forced me to audition for the improv team that I started down the path.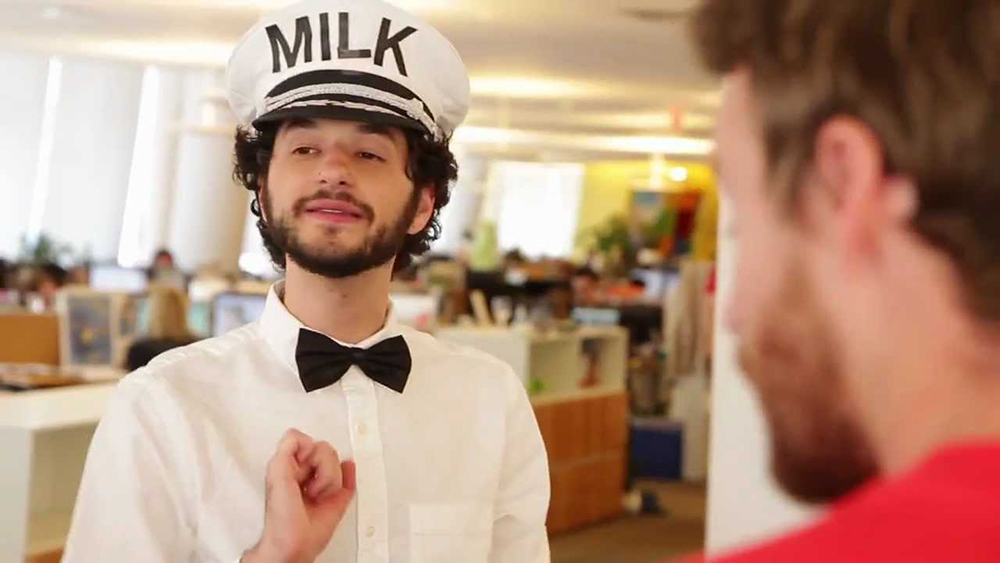 You currently can be seen as Clyde Oberhalt on the Showtime series House of Lies, alongside Don Cheadle. Like Boogie Nights Don Cheadle. Hotel Rwanda Don Cheadle. What's it like on the 1st day of shooting when you find yourself in a scene with him and you have to suppress the feeling of "Holy shit. That's Don Cheadle."
Right before I met Don for the first time, I didn't allow myself to re-watch Hotel Rwanda or Boogie Nights or any of those films because it would make me too intimidated. He's just so incredible and can do anything. When we first met, I had already booked the role and I looked at him and was like, "Holy shit, that's Don Cheadle." And then after we chatted and became friends, that goes away and you just relish in the fact that you get to do scenes and learn from one of the best.
You now have "Snowpants," your own improv night at the UCB Theater that has quickly become one of the hardest tickets to get your hands on. You've had Blake Griffin, Kristen Bell, Michael C. Hall, and Donald Glover all stop by to be special guests and do improv with you. It seems like the whole thing developed so organically and is now is a must-see show at the theater. How do you get these stars to come play with you in a 100-seat venue?
I do a bunch of shows at UCB but "Snowpants" is one of my favorites. I only do it once every few months to make it feel a little special. I love watching people who have never done improv before team up with some of the best improvisers from the theatre. Every guest who has done it is someone I got in contact with personally and asked if they wanted to be a part of it. I tell them how much fun it is, how freeing it is for an actor/director to play in that space and invite them to a show, so they can see what it's like. I think it also gives a lot of dramatic actors or athletes the opportunity to perform comedy alongside people who have been doing it for over a decade. Also, it's just fun. It's a bunch of people messing around on stage and there is no photography or video, so when it's over, it's gone forever. The more stars we got to do the show, the easier it got to book guests but still, it's unbelievable to me that these amazing people jump in the show. Joseph Gordon Levitt, JJ Abrams, Jane Fonda, Helen Hunt, Henry Winkler, and dozens more have all gotten on that stage. It shows you how much trust they have for the form and the players around them because when they are getting on that stage, there is no script, they have no idea what to expect. Most of them have never even seen an improv show before. And almost every single one of them, the second the show is over, ask me immediately if they can do it again.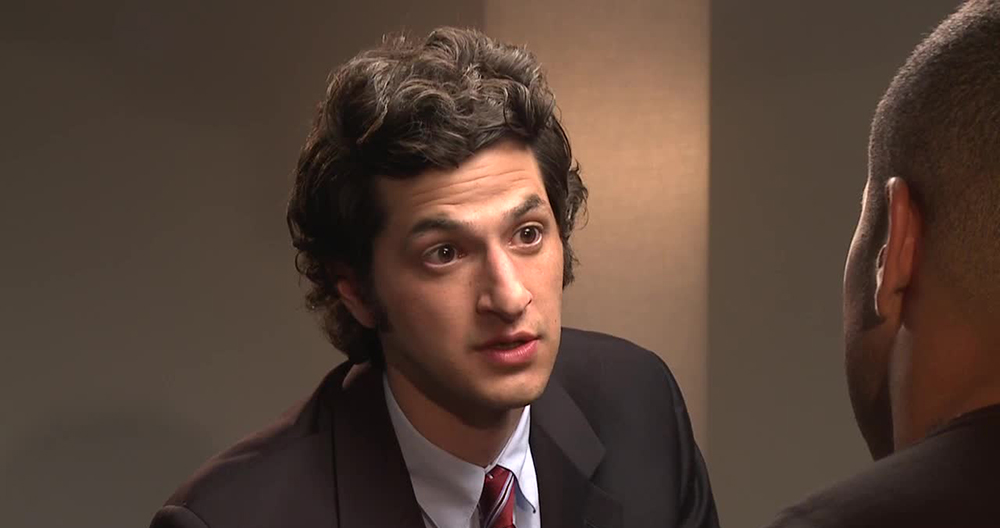 You came up within the Upright Citizens Brigade system of comedy, and I assume you've probably seen some amazing comedians and shows during your time there. What are some of your favorites that helped shape your sensibilities and humor?
At the beginning, I was an intern at UCB, doing the garbage and giving out the tickets, for free classes. I was lucky enough to intern on Sundays in NYC, which was Asssscat. That show had the funniest people in the universe in it. I was like a sponge. I would watch every week in awe, trying to learn everything I could. The rotating cast included Amy Poehler, Ian Roberts, Matt Walsh, Matt Besser, Rob Riggle, Paul Scheer, Jack McBrayer, Seth Meyers, Brian Huskey, Rachel Dratch, and hundreds of others. It was insane, the talent that showed up every week, underneath a grocery store, to perform comedy for free.
Most people reading this will recognize you from your role on Parks & Recreation as Jean-Ralphio Saperstein, a standout guest who has so many memorable scenes with Aziz Ansari's character, Tom Haverford. As cartoonish and ridiculous as both those characters are, they seem represent a really endearing quality of entrepreneurship and a DIY ability that people flock to. Do you ever get people telling you Jean-Ralphio has inspired them to start their own business?
I have never once had someone come up to me and tell me Jean-Ralphio inspired them to do anything outside of sing like an idiot or grow their hair out like a muppet. I think Tom is the brains behind the operation and the real mogul while Jean-Ralphio is there…like a puppy…excited to be close enough to the action that it looks like he's doing work.
I remember you once sat courtside at an NBA game, and I was like, "Oh look, there's Ben!" And then Twitter went ape shit talking about how "Jean-Ralphio is courtside." It was as important as who won the game. He clearly is a cult favorite and the fans who love him, LOVE HIM. With Parks & Rec ending after this season, is the role something you're sad to say good-bye to, or is it something you're relieved to move on from?
First off, how insane is it that I ever got to sit courtside at an NBA game. I've only done it once and it was because I did a big show for a company for free and they rewarded me with those tickets as a gift. It was amazing. I couldn't believe my feet were on the court. You are talking to a RABID Knicks fan who never would have dreamed that he could be courtside at any game. That was insane. Okay, sorry, I just remembered that moment and got excited. I am so incredibly sad to say goodbye to Jean-Ralphio. Since I've moved to LA, in the TV world, I've done a pilot that didn't go, a show from JJ Abrams and Josh Reims that went 13 episodes, and House of Lies for four seasons, but the one constant has always been Parks and Rec. No matter what other writing or acting job I had, I was always so excited to go to that set, be around all those people, and act like a crazy person. I'm going to miss it so much and I don't think it will really hit me that it's over until that final episode airs and next year comes along and I'm not on set. That show was just so fucking funny and every writer and actor was perfect.
What can we expect from the send-off of Jean-Ralphio?
All I can say is that I love Jean-Ralphio's last scenes in the series. They're perfect. I can't wait for people to see them.
 You recently filmed a movie called The Walk, with Joseph Gordon-Levitt and Ben Kingsley, written & directed by Robert Zemeckis, whose resume includes Who Framed Roger Rabbit, Flight, and Forrest Gump. More importantly, he did Back To The Future II. Did you talk to him at all about the BTTF movies or is that an easy way to be super annoying on a movie set?
My favorite movie of all time is Back To The Future. I've seen it so many times. I've built Lego models of Deloreans, etc. And I LOVE Who Framed Roger Rabbit, Forrest Gump and Cast Away. All of his movies are so unique and amazing. I think he has the most incredibly mind. So, after I became friendly enough with Zemeckis, I asked him some questions about everything and he was nice enough to give me a slew of answers that made me smile for days. But I'm sure if I bee-lined to him after getting cast and just asked him 100 Back to the Future questions, he would have been like, "uhhhh boy."
The Walk is based on a true story about a French high-wire artist who attempts to cross the Twin Towers in 1974. Who do you play? What was filming that like?
I play a character named Albert who joins the group and helps set up the rigging on the towers. He was interviewed a bunch for the documentary Man on Wire. We filmed in Montreal and it was amazing. We all grew out our hair to look like we were from the '70s and wore these amazing outfits. I looked exactly like my father in the '70s. The story and the script are so good, it almost plays like a bad ass fairy tale.
What's the most adventurous thing you've done in your life?
I once ate pop rocks and drank a soda.
Okay, unrelated: You have to only 3 R&B songs you keep on your iPhone from throughout history. Other than those 3 jams, you CAN NOT have any R&B in your library. What are those 3 songs?
I hate this! There's no way to pull this off. Even if it was just R&B from the past two years. And is soul music and Motown bunched in with this R&B? Because how in the hell am I going to fit only three songs from Stevie Wonder? That's insane. Then there's Sam Cooke, Jackie Wilson, Bill Withers… you are being such an asshole right now. This interview is over.
::
Follow Ben Schwartz on Twitter @rejectedjokes.