Few streetwear imprints have left such a lasting impact on hip-hop as A Bathing Ape. As far as examples of hip-hop's obsession with Japanese clothing labels, A Bathing Ape stands out amongst the rest as an entity with staying power, remaining influential for over a decade. It isn't difficult to cite examples—new and old—from Notorious B.I.G. in the mid-'90s rocking the classic ape head camo to Korea's Keith Ape as a more contemporary instance. But from a lyrical standpoint, here are 10 of the most important BAPE moments in hip-hop.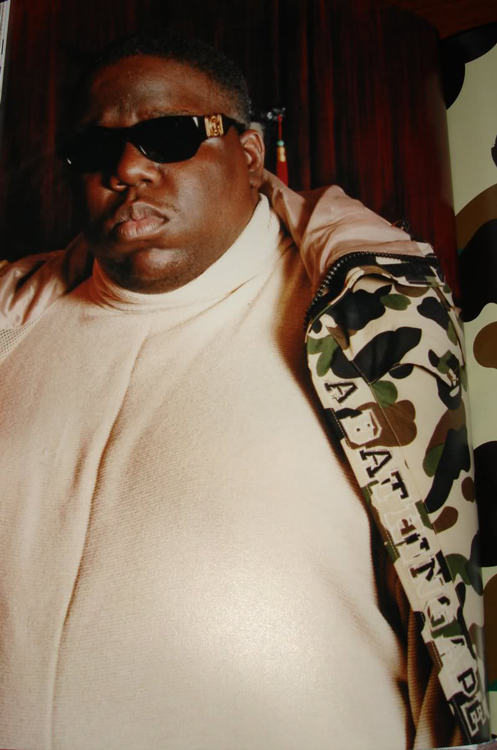 Photo: piclist.com
Young Jeezy – Bottom of the Map, (2005)
"Evisu jeans with some Bathin' Apes"
When Jeezy was still Young, the Snowman released Thug Motivation 101 in 2005, which included "Bottom of the Map." Absolutely one of the most memorable lyrics on the album—citing A Bathing Ape and Japanese denim brand Evisu—is a testament to the Japanese streetwear fetish that rappers at had been developing at the time.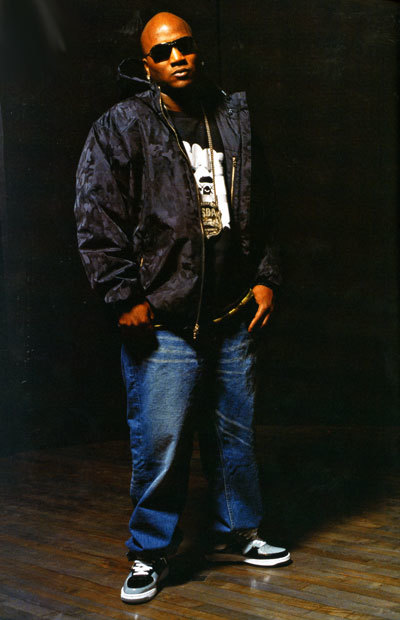 Photo: complex.com
Lil Wayne – Hustler Musik (2005)
"Bathing Ape, Yves St, Evisu what I stay in"
Lil Wayne was seen draped in BAPE on the cover of Vibe magazine, as well as wearing BAPE clothes in his "Hustler Musik" music video. In reaction, Clipse made a dig at Weezy with "Mr. Me Too."
Pharrell – Best Friend (2006)
"Cause you both on BAPE, BBC, and chainless"
Always a proponent of A Bathing Ape, Pharrell namedrops the label alongside BBC, his own brand with NIGO, on his debut studio offering In My Mind.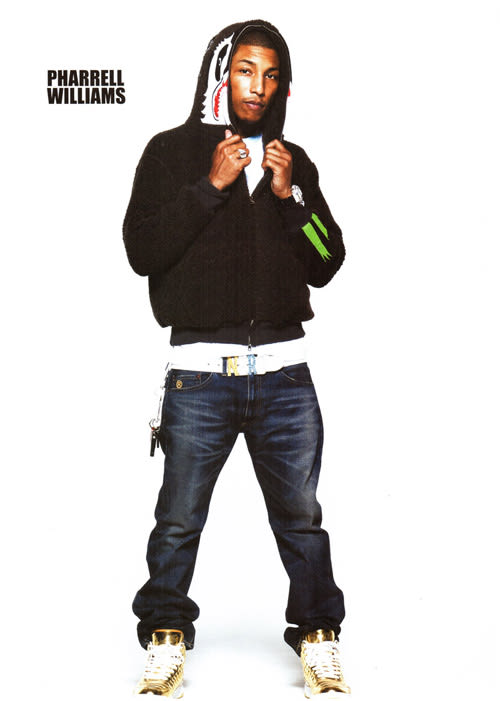 Skateboard P in the Bape 2008 catalog. Photo: complex.com

Clipse – Ain't Cha & Wamp Wamp (2006)
"Patent leather BAPEs, Closet like planet of the BAPE"/"Strictly Bathing Ape, Ice Cream and BBC rocker"
In 2002, Pusha was getting boxes of BAPE gear from NIGO direct. BAPE supporters from day one, Pusha T, Malice, and Pharrell reference the American cult film that became the inspiration for Nigo's brainchild in the stanzas of "Ain't Cha" and "Wamp Wamp" on 2006's Hell Hath No Fury.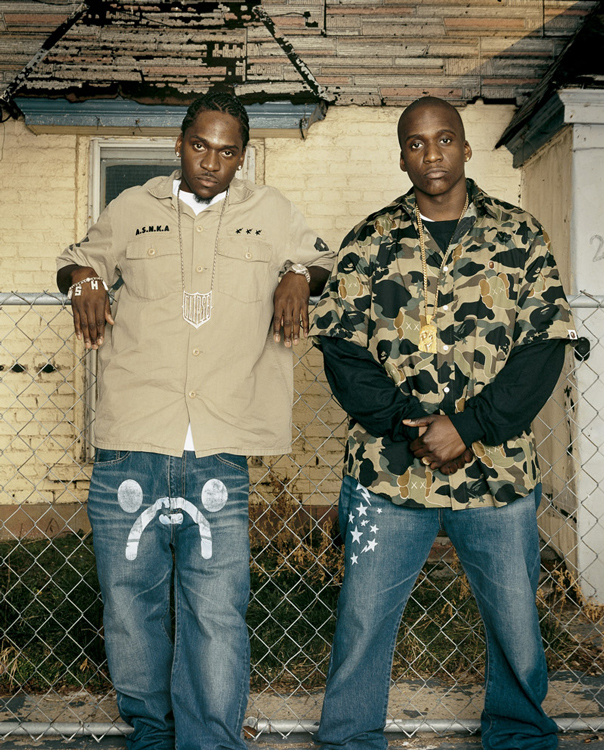 Photo: massappeal.tumblr.com
Soulja Boy – Crank 'Dat (2007)
"Haters get mad 'cus/I got me some Bathin' Apes"
Unfortunately, this lyric became part of the steel drum-powered viral hit that was "Crank 'Dat," largely due to the infectious nature of the accompanying dance routine. It made for a great ringtone, but… *sigh*.
Kanye West – Stronger (2007)
"So go ahead, go nuts, go apeshit/Especially in my pastel, on my BAPE shit"

Ye's affinity for A Bathing Ape is no secret at this point, but in this line from the Daft Punk flip "Stronger," Kanye places A Bathing Ape and his (at-the-time) forthcoming clothing label on the same level. In 2010, Kanye also starred in BAPE lookbook.
Tyler the Creator – Slow It Down (2008)
"My T-shirts are bathing, a bathing gorilla"
Tyler shouts out BAPE in this early Odd Future track with Hodgy Beats in 2008. Tyler has always had a BBC affinity, so showing some shine to A Bathing Ape in his lyrics makes sense.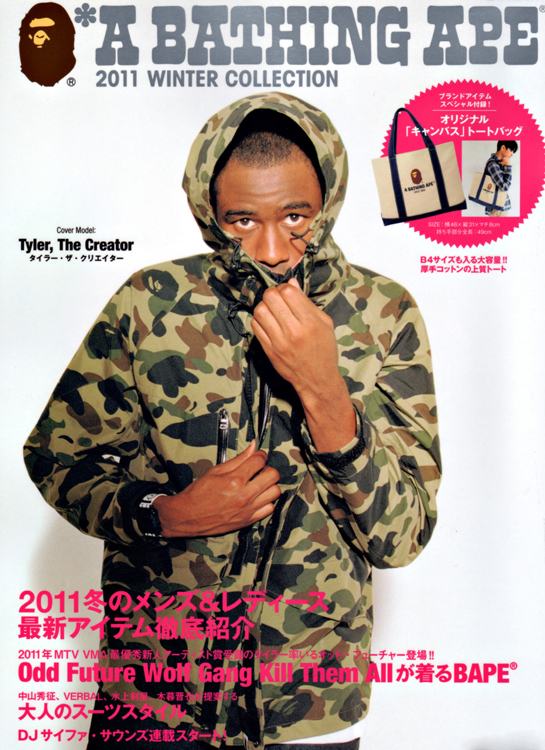 Photo: hipsters-are-fags.tumblr.com
Kid Cudi – Cruising (2010)
"Cudder lean got 'em in my Bathing Apes"
Sonically, this track is everything Cudi, and as the Cleveland-born artist started his career working at the BAPE flagship in SoHo, this lyrical nod is surely of importance. In the same year, Mescudi even collaborated with A Bathing Ape on a line of T-shirts.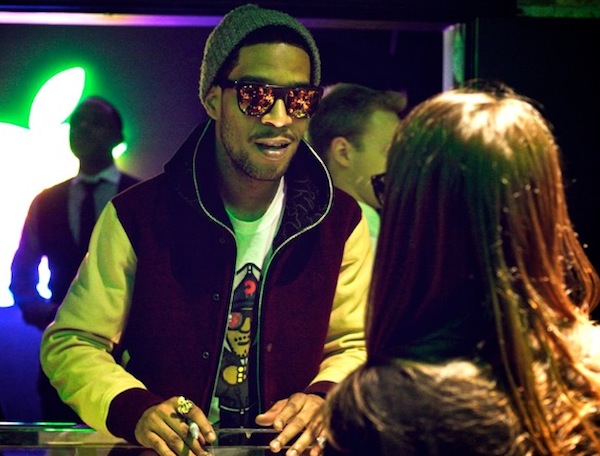 Photo: upscalehype.com
A$AP Rocky – Brand New Guy (2011)
"Camo down to my boxers, gold teeth, A Bathin' Ape"
In a hip-hop climate that was becoming continually obsessed with designer labels, Rocky reminds us of BAPE's place in the culture, and why the brand's importance is unswayable.
Drake & Future – Digital Dash (2015)
"Got BAPE on my back with some Act' on me"
If you think back a few months, you will recall Drake and Future's collaborative mixtape What a Time to Be Alive, on track #1 of which, Future spits about the iconic Japanese label that he is often seen wearing.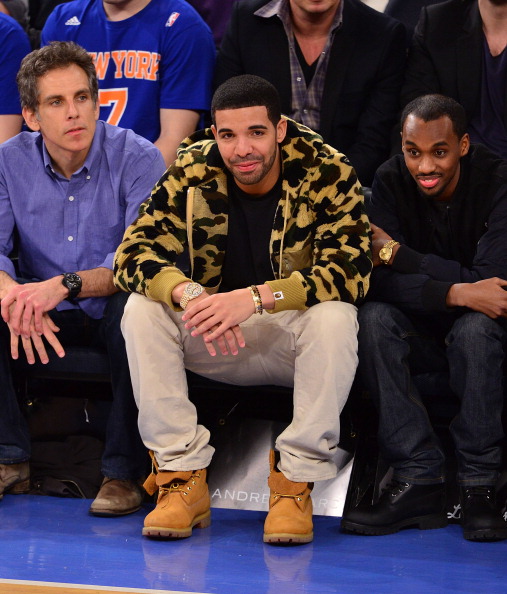 Photo: wordonroad.net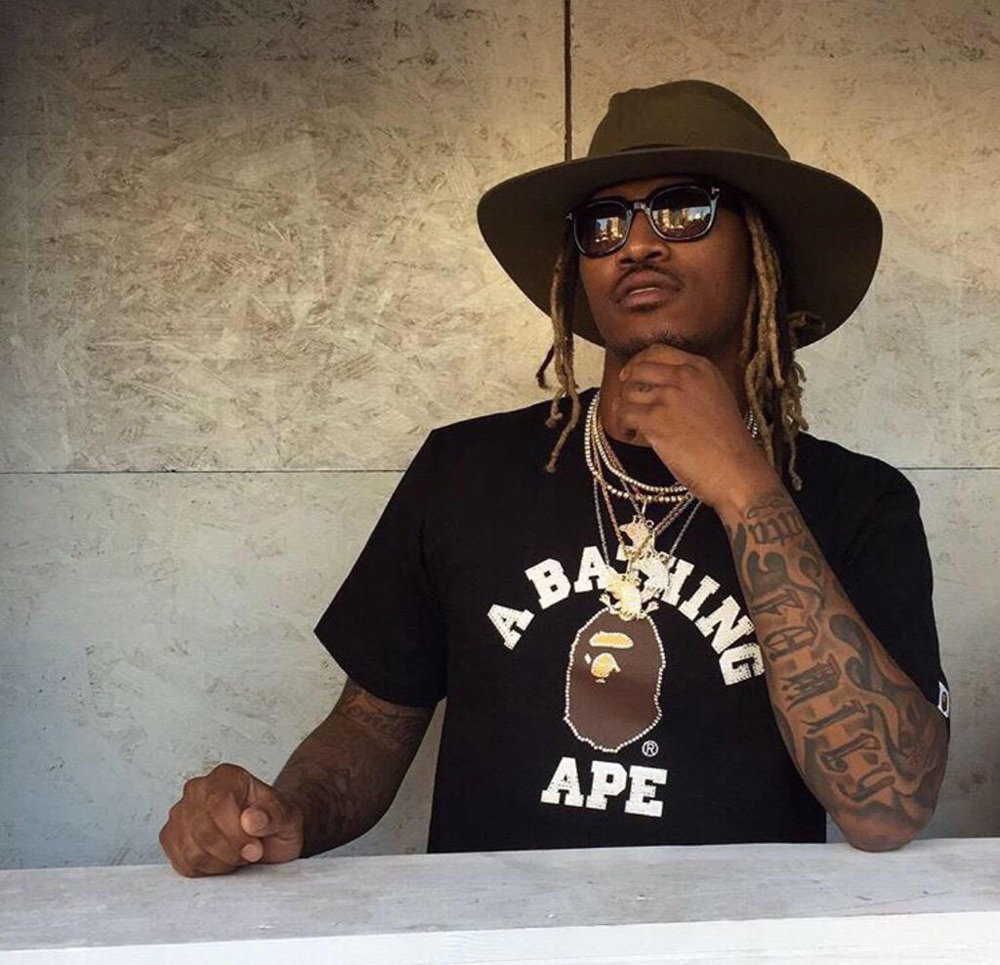 Photo: twitter.com