The Hundreds is proud to announce the second drop from our two-part adidas Skateboarding collaboration, the "Crush" pack, available now at all four flagships (THLA, THSF, THNY, THSM) and the Online Shop. Following the "Bruder" Pack, The adidas Skateboarding product collection references the brand's soccer heritage and pays homage to two favorite youth activities of The Hundreds' founders. "We wanted to make a shoe that had emotional resonance and substance," Bobby Hundreds said, "Something that made sense with the brand's folklore and aesthetic, but also is wearable and smart."
"There comes a point when many soccer kids draw back from team-oriented sports and gravitate towards individual activities and independent culture.  And for most of them – like myself – skateboarding is the answer.  Ask an American skater today what they did on Saturday mornings growing up and chances are, they'll recount stories of slide tackles, halftime orange slices, and the unforgettable smell of fresh-cut grass at their cleats.  Soccer taught us the lifelong benefits of cooperation, team play, and camaraderie.  But skateboarding showed us how to collaborate with your best friend and compete against your worst enemy: Yourself." -Bobby Hundreds
Read the rest of Bobby's words on the collaboration and backbone of the collaboration here.
The Adi-Ease shoe design and construction is built for skateboarding, while taking key design cues from adidas soccer footwear archives. Inspired by vintage soccer shoes, The Hundreds incorporated a stitched pattern on the toe, customized heel overlay, and an extended tongue designed after adidas' iconic Samba.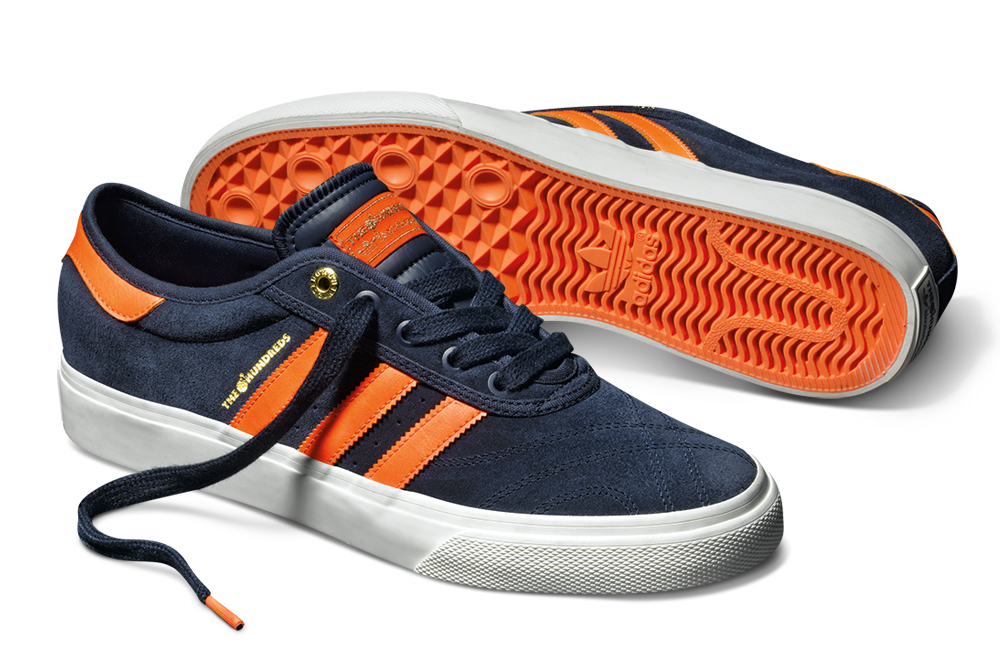 To celebrate the release of the Crush pack, adidas skateboarding and The Hundreds collaborated to produce the RSWD Invitational, a unique soccer tournament featuring teams spanning skateboarding and streetwear cultures. The six teams, captained by Bobby and Ben Hundreds, adidas skateboarder Lucas Puig, long time TransWorld Skateboarding editor Skin Phillips, photographer Van Styles, and rapper/artist Alexander Spit competed for the title at the legendary Hollywood High. Along with our photo recap, a full video recap of the event will air on the next episode of Ghetto Bird on youtube.com/adidasskateboarding.
The adidas skateboarding X The Hundreds Crush Pack is available at The Hundreds' retail and online stores February 5th, and worldwide February 10th.