Natasha Case initially started the architecturally-inspired ice cream brand Coolhaus with a simple focus in mind: to find a way to share her passion for architecture with everyone else. After graduating from UCLA with a Masters in Architecture, she began to grapple with the noted lack of human connection in the field. She noticed that it seemed to exist on the other side of the academic chasm, isolated from the general public's understanding or interest. People just seemed confused by architecture. She wanted to make it accessible. And fun.
From a series of what she calls "simple and strong gestures" that reflect her attraction to minimal aesthetics and a lifelong passion for food, Natasha and Freya Estreller started Coolhaus. They first bought an old postal truck from Craigslist with money saved up from their day jobs and converted it into an ice cream truck. The two debuted their creation at Coachella, selling handmade ice cream cookie sandwiches made from scratch. The results were viral. On marrying her background in architecture with ice cream, Natasha says, "I think so many different backgrounds can be re-imagined and re-purposed successfully in alternative ways." The Coolhaus brand itself does its own re-purposing with punny names for their flavors like Mintimalism and Frank Behry (a strawberry-flavored play off the name of contemporary architect and pioneer Frank Gehry).
Natasha opened up shop in Culver City with Coolhaus's first brick and mortar location after posting up several more ice cream trucks in LA, Austin, Dallas, and New York City. They continue to champion the lesser-known historical locales of LA by parking at curated architecture pit stops. It's just another way that she and Freya have shown how carefully they've crafted their brand and how each move they make comes out of a labor of love for design and food.
We've had Coolhaus host several The Hundreds events and they always come through strong with inventive flavors like Beer & Pretzels (dark stout ice cream with pretzel) and Peking Duck (Chinese five spice ice cream swirled with plum, Peking duck skin, and fortune cookie crumble, DAMN!). Recently, they unleashed hand-dipped ice cream bars and have expanded into nationwide grocery stores with packaged sandwiches and pints. Still out there educating the masses, they're dropping the Coolhaus Ice Cream Book on May 20th, available for pre-order now. Check out Vito's photos and our interview with Natasha below: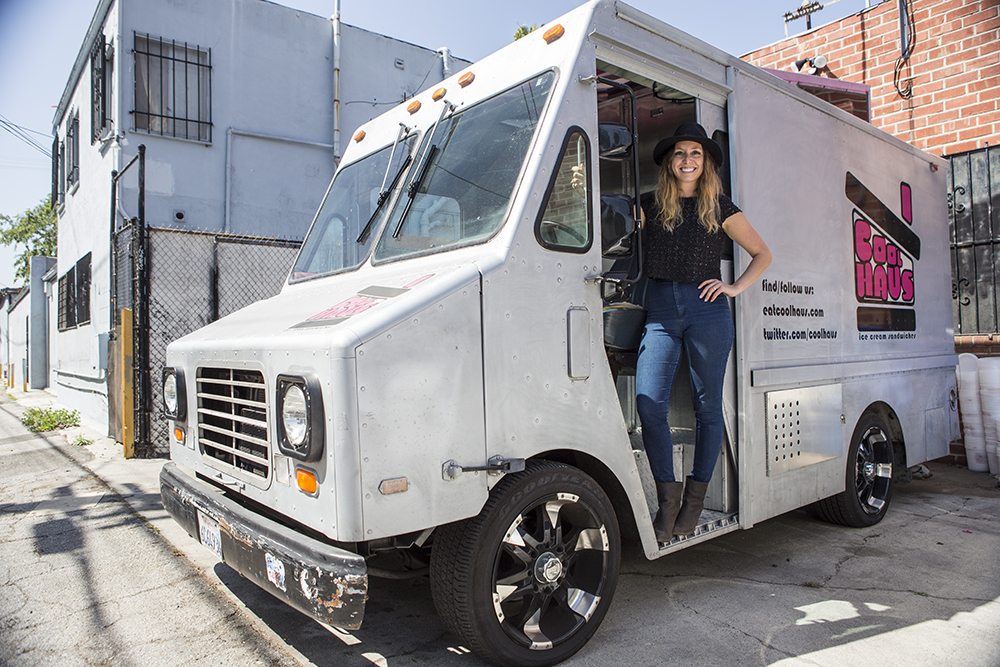 You've had such a cool, concise brand vision from your debut at Coachella. Were you very conscious of this when you started Coolhaus? How has your original vision changed as Coolhaus grows and grows?
We also wanted to achieve a kind of 'architectural' industrial, cool, minimal aesthetic–using nice materials with simple focus to achieve a visual language (this was also inspired by my time in Italy in college where it's all about using simple but profound ingredients in food and design and letting them speak for themselves)–in the beginning, we did the best with what we could because we were seriously bootstrapping; so I think we had the brand vision foundation but less polishing (which gave it a certain charm). Today we have really strived to evolve that vision and grow it into different categories (i.e. from a truck to 2 stores and now pre-packaged items in 2,000 grocery retail locations, hotels, venues, and quick service restaurants)–particularly with the packaging design for retail–this has been a great place to bring the 'brand vision' to a mature place where it is scalable, but still look quirky and cool. And yes, having it all start at Coachella was the perfect petri dish for making the magic happen!
Your father was an architect and you also studied architecture for 7 years. Not many people are able to take their background and remix it in the way that you did. What advice do you have for our readers who might be aspiring entrepreneurs?
I think so many different backgrounds can be re-imagined and re-purposed successfully in alternative ways. Architecture training, for example, gave me a great foundation for creating a visual identity for a brand, communicating a story, working with clients (architecture practice requires clients). I think we all can take a broader approach to our education and backgrounds and find creative ways to plug in to different fields–to think outside the box.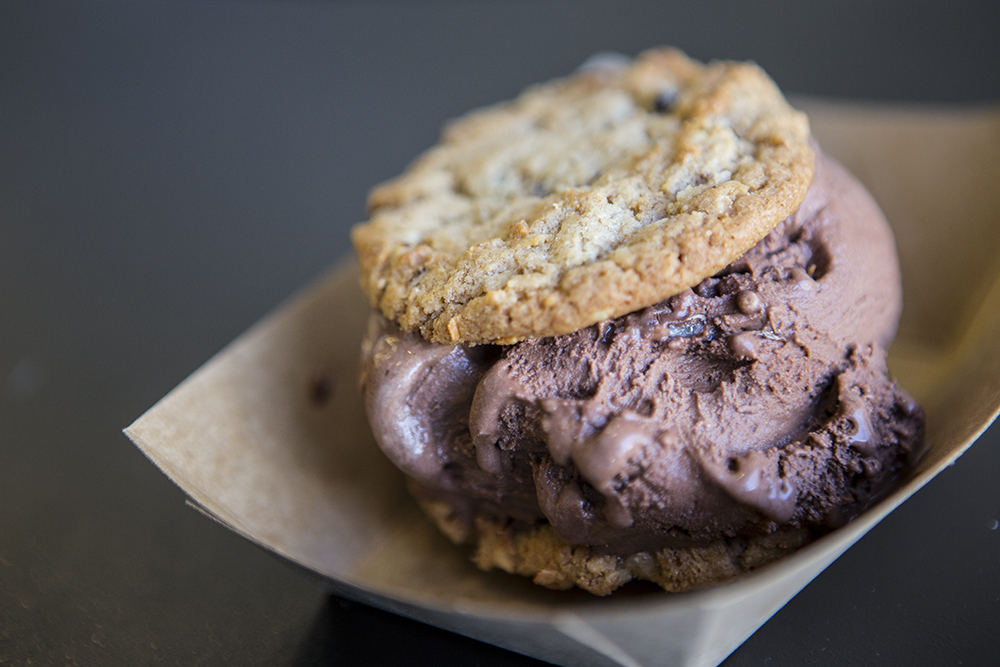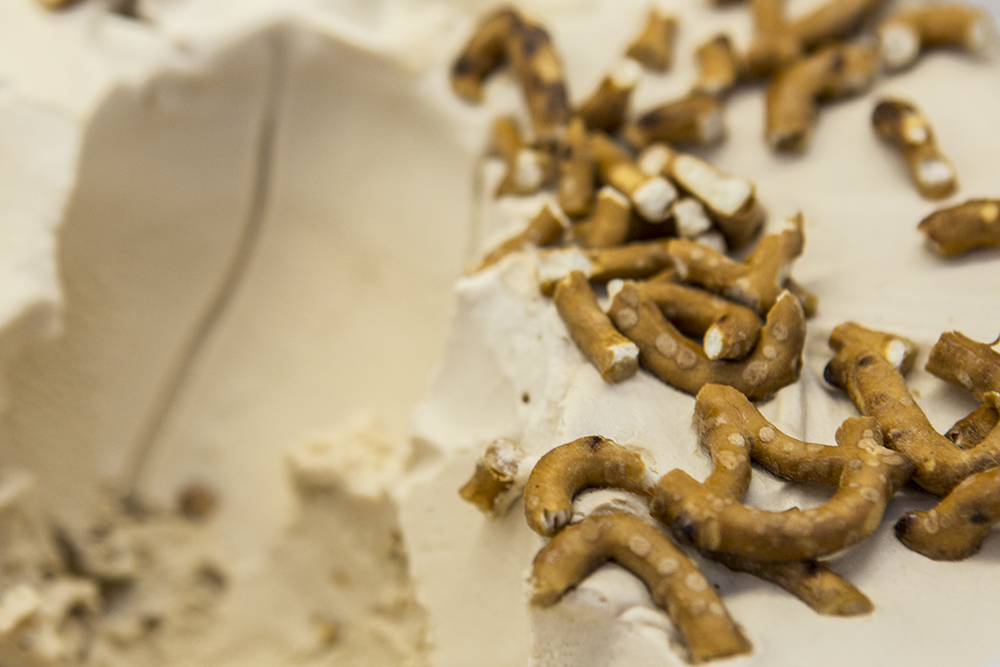 On the same note, how did your friends and family react when you started Coolhaus? How did you deal with any doubt you might have encountered?
My parents basically had an intervention with me! I had studied architecture for 7 years straight, and I had been on such a 'path' towards a professional objective; they couldn't believe the "left turn" I was making! But I assured them we would laugh about their doubts in a few years… and here we are today! To be honest, I don't know how or why, but we just believed we were onto something; we saw the writing on the wall and nobody could talk us out of it. Plus, Freya kept her other job as did I when we started, so we tried to be smart about the transition and mitigate the risk.
The original Coolhaus truck was a converted postal truck that you bought on Craigslist. How did you decide on the design of the truck and what were you inspired by?
A lot of the design choices were made with budgetary constraints in mind–we knew we had to make simple and strong gestures. We wanted a 'bright shiny object' kind of deal, so we went with keeping a lot of the original chrome and aluminum, and painting the rest with shiny silver paint. The trademark magenta was about wanting to have accents of fun and bright!
Does the Coolhaus truck still post up at lesser known, historical LA spots like Barnsdall Park? We can't think of any other trucks that curates locations in such a conscious way.
Yes, absolutely–from a branding perspective, taking the truck to architectural spots or events is our bread and butter. We recently catered a party at Michael Lehrer's office for Harvard GSD. The architecture community always has a special place in our hearts–and we make an effort to connect. Michael's wife, Mia Lehrer, also has a flavor: "Cara-mia Lehrer," Snickerdoodle cookie + Salted Caramel ice cream… one of our best and top-selling! By the way, there is a special flavor for the Hollyhock House at Barnsdall: "Honeyhock"! It is honey ice cream with honeycomb made by Free Range LA.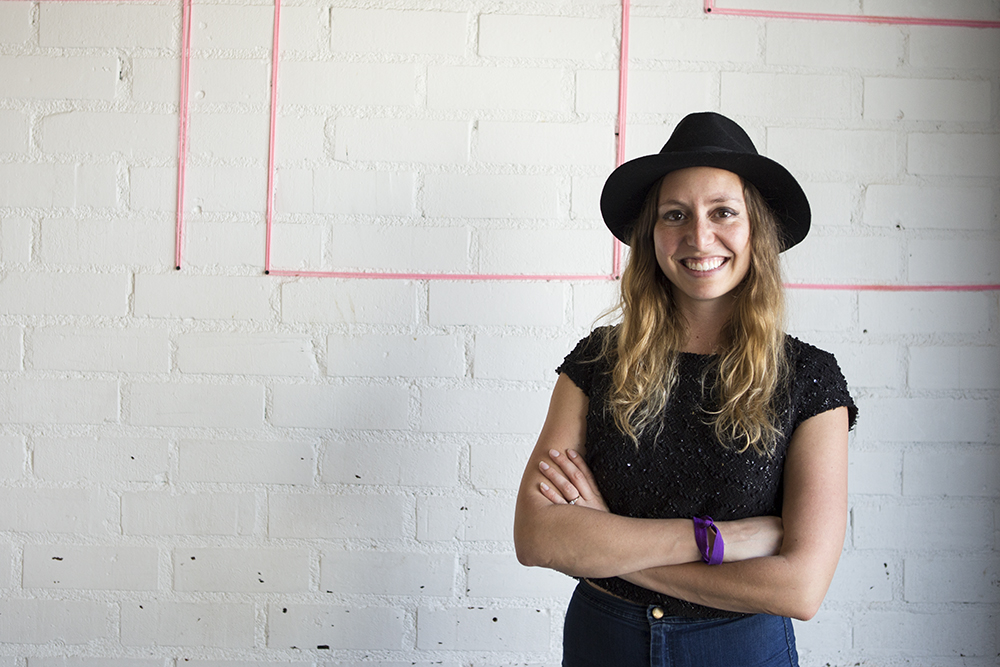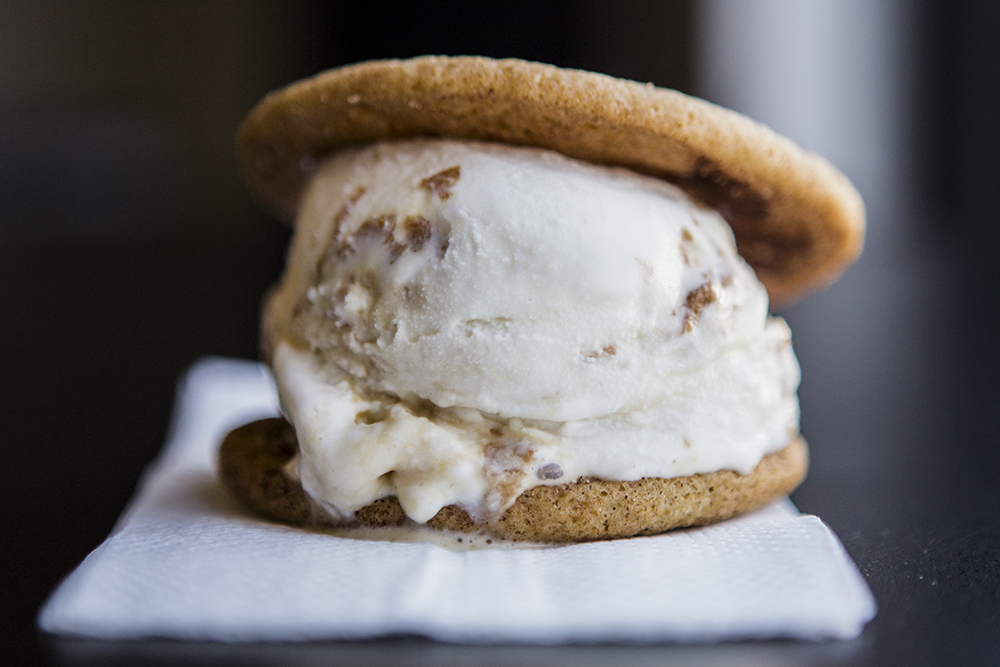 You're launching a new Coolhaus ice cream book! Can you tell us more about it?
Yes! [The publication] date is May 20, but the book is available for pre-order on Amazon, Barnes & Noble and Indiebound. We will be selling the book on HSN May 5 as well! The book is, to me, more than even a cookbook: it has the story of our brand, amazing food and lifestyle/action photos, 100 recipes of cookies, ice creams and toppings, architectural anecdotes about flavor inspirations and architectural sketches to help readers learn about design! The book could be in a serious at-home cooks library, or an architecture office… or an entrepreneur's 'how-to' collection.
Coolhaus is all about puns (Mintimalism, Coolhaus/Koolhaas, Frank Behry/Frank Gehry). Have you always had a love and talent for words? What are some of your favorite recent puns?
I love puns forever and always–it's just how my brain is wired! I'm the pun-isher… how's that for most recent: on the spot!
You started from humble truck beginnings with handmade everything, to 11 trucks, to brick and mortar, to packaged sandwiches sold at SoCal Whole Foods locations, to a book. What's next? Do you have a 'dream goal' for Coolhaus?
On the wholesale side–we are really focusing and continuing to grow! We are going to be in 2,000 markets by the summer, and are even securing our first international deal! We just want to continue to grow in the channels we are in, and grow the channels. We want to also evolve our product line: this year we launch hand-packed pints and hand-dipped ice cream bars on sticks. We look forward to other frozen products and even growing outside of frozen! Coolhaus global domination is in our minds (but never sacrificing the quality of sourcing or product!)… I want everyone to have access to the best ice cream and ice cream novelties possible.
What's the next crazy flavor deconstruction you have up your sleeves?
We just launched Coffee & Donuts, Butterscotch Budino, Apricot Sorbet, and Salted Chocolate Almond Joy for our spring menu… all are amazing! We are also launching "Dad's Secret Stash," which is brandy and smoked salt, and bringing back Cuban Cigar.
Lastly, top 5 favorite favorite things right now? Go!
Harem pants, bourbon manhattans, Foodshop (Venice Beach supper club), jumprope, and Pizzanista!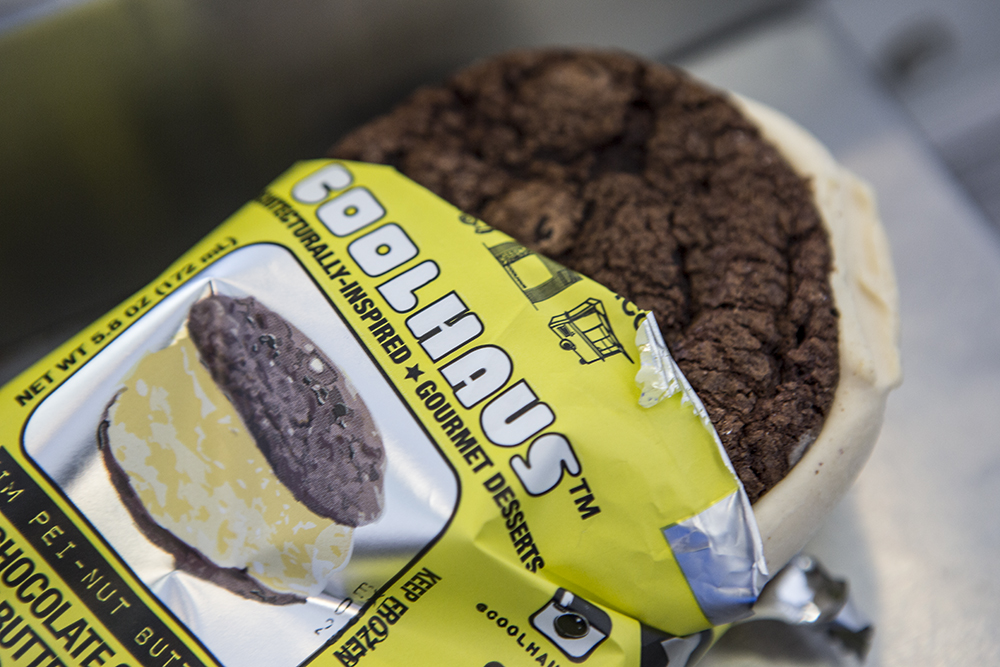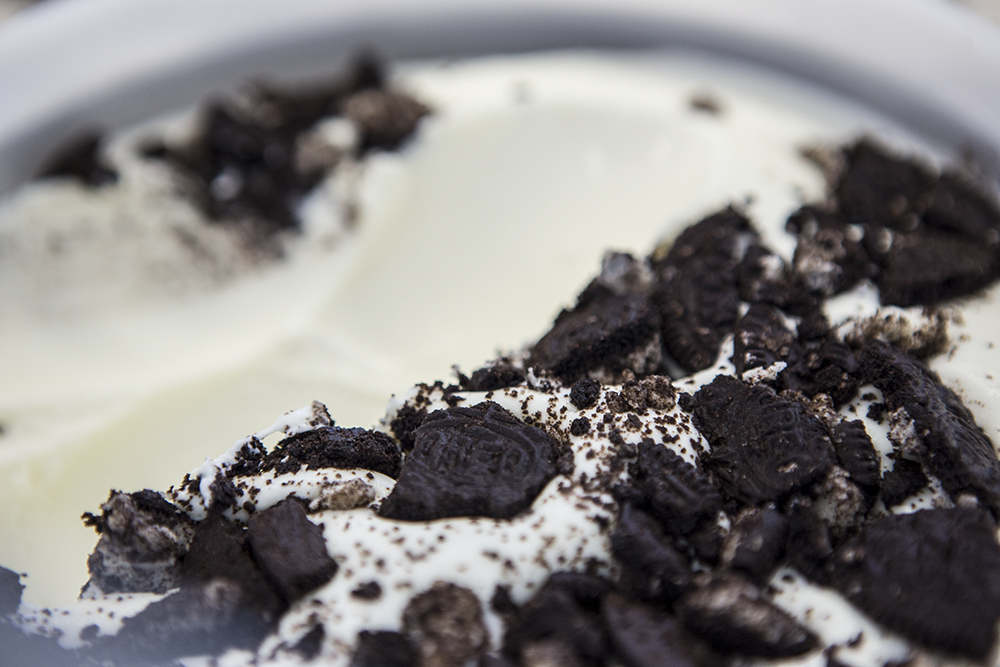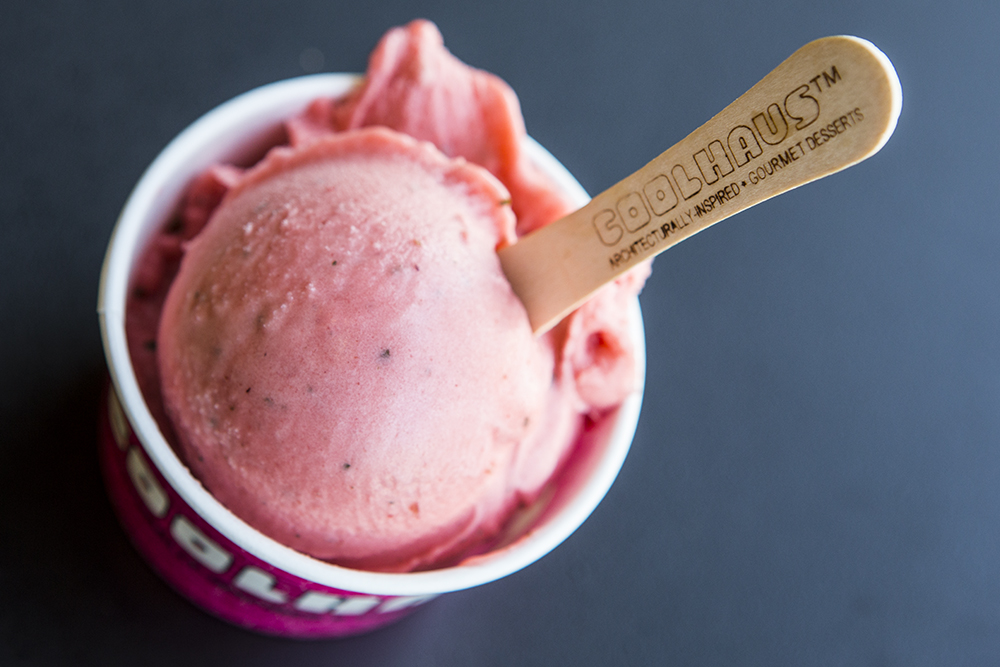 words by Alina Nguyen