I met Vane over a decade ago in the city of Barcelona, Spain. She's a girl that lives to skate, and will always carry a huge smile and positive vibe with her. We worked together for some years in a skate shop downtown, and shared some of the best laughs and memories. We split in different directions, but have always crossed paths in random corners of the world, or found a way to do some low-quality Skyping. After all these years, I still have stuck in my head one of the first things she told me: "Work little, live a lot." Those words will hunt me down forever. This past month, she came to England for a visit, so I took some pictures of her, did this interview about her budding sock brand AparTTogether, and got to be a sock model.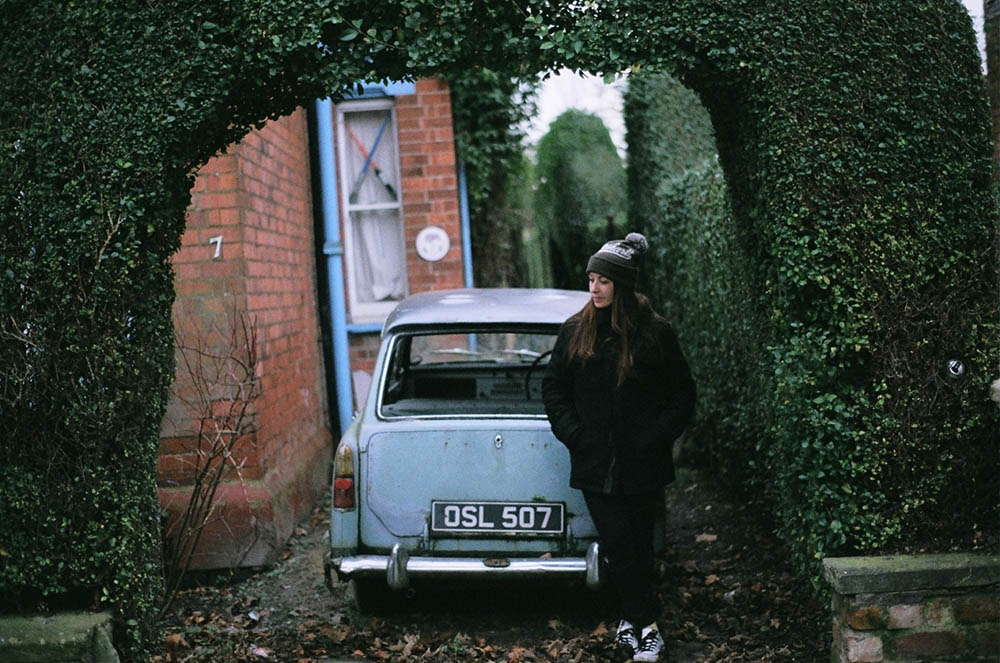 JULIO PARDO: When did you realize you needed to make socks to express yourself? Tell us how this sock romance started, what inspires you, and what you get out of it.
VANE: I've been working since I was 15, and I've been through so many different jobs, enjoying some and taking with me so many great experiences. But since I came back to Barcelona 2 years ago, I've noticed how much the lack of job stability has grown, and how getting any professional job will be out of the question. So, I decided to grab the bull by the horns and do my own thing – and since socks have always been one of my favorite items, I started asking for budgets and samples, and save some money. I worked very hard, as always, but this time for me. And, in six months, I found a way to avoid manufacturing in China. I started to design socks, and now I'm learning how to manage a little company on the way, finding stores, and all of that.
My inspirations are my everyday things: skateboarding, drinking coffee, fooling around, and enjoying nature and the moment.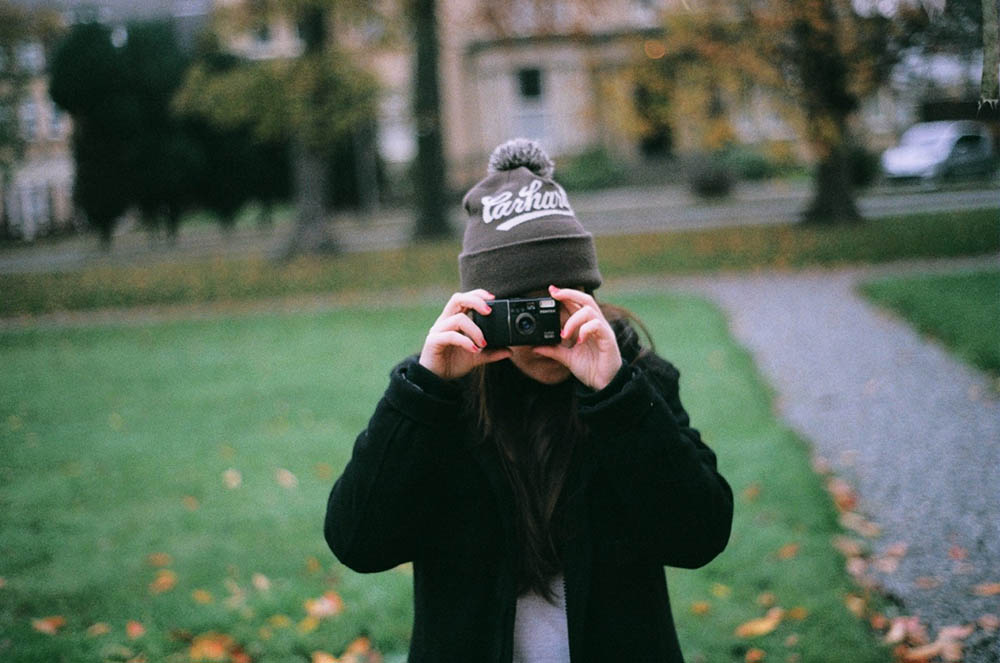 You have lived in some very different places; we both worked and lived together in Barcelona. Is the name APARTTOGETHER a tribute to all of your friends around the world? How do you manage to tell a story through a pair of socks?
Absolutely, that's what APARTTOGETHER is about. Especially living in a city as "pass-by" a skate city as Barcelona, so many people will cross your path, but will live thousands of miles away from you in the future. I can say that some of my best friends and family don't live in my city, and distance is that mark that is sometimes so hard to move on from. Those are the important people that you may not see everyday, but the affinity you have with them will always be there, no matter how many months or years; we will always be APARTTOGETHER.
Do you think that being a girl skateboarding amongst boys since your teenage days has made you stronger and more secure when it came to starting your own business?
Overall, skateboarding has brought me so many good things, and given me so many positive values, but the strength and the confidence to do what you love will always be there if you do it with heart.
I've been very lucky; I had the best homies, they never questioned me, and they always treated me as one of them. But, I've also got so many strong women around me that have truly inspired me to do what I love.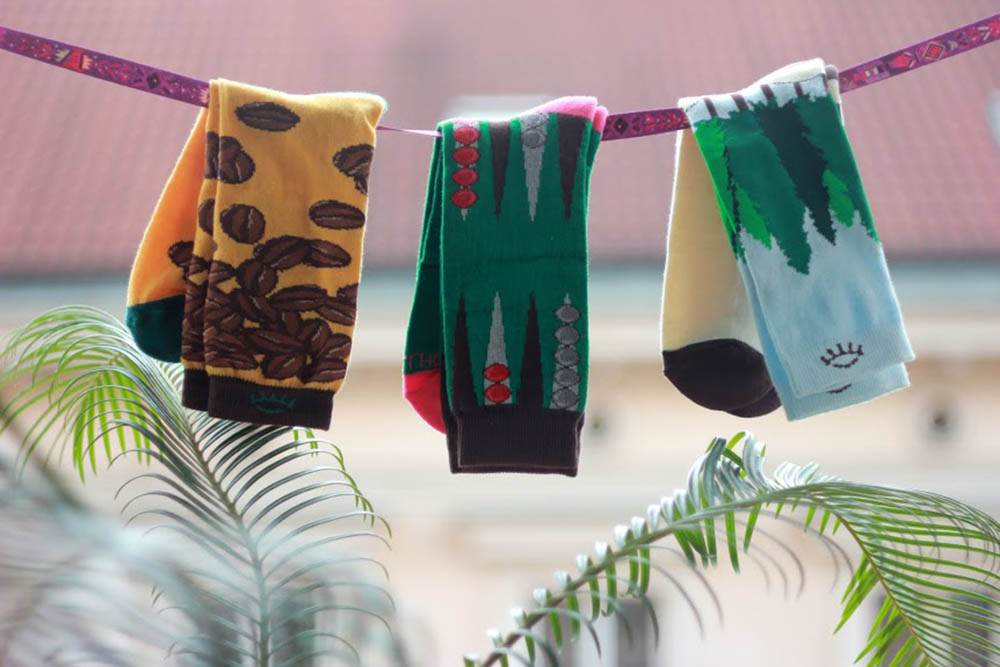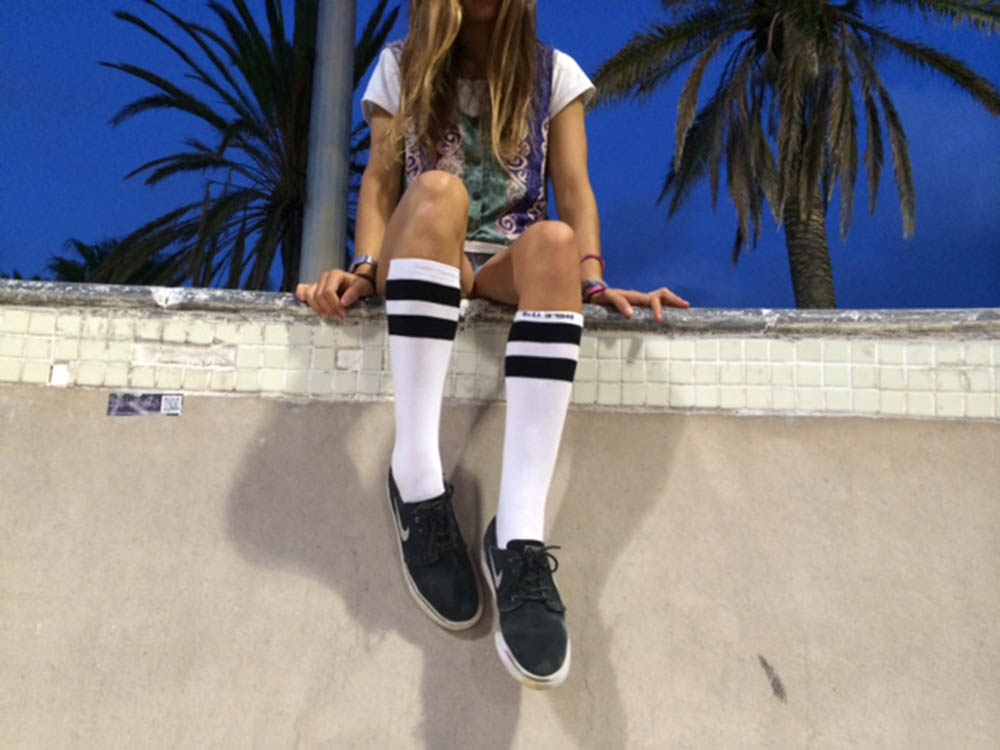 I've known you for a long time, and you are always drawing on little books or some canvas at home that you don't like to share very much. Actually, only a handful of lucky ones get to own one of those pieces as a birthday gift. Do you think APARTTOGETHER helps you to open up in a way, and maybe share your drawings in the future?
[Laughs] I wouldn't call them "lucky ones," but I guess that everything created on your own comes from the urge of expressing yourself and being out there. It can be drawing, singing, writing, photography, or whatever. I create socks about the simple things around me, and I guess that's why a lot of people feel identified with them.
You have had collaborations with artists and skate brands. Tells us how some of these ideas came up, and if you can give us a sneak peek of what's next for APARTTOGETHER.
When the brand started to get popular, I got offers for collaborations and brands that saw socks as a good thing to add to their collections, but most of them came from old friends from the skate scene. So, it has been such a pleasure to work with friends. The first one was Suichi For Fun, a brand that represents everything that skateboarding means to me: fun and friends. The second one was with Blast Skates from London; working with Bromley has been a boost of inspiration. And, last but not least, a collaboration with Rufus Skate Shop that will be out any time soon.
I did get offers from people that had nothing to do with me. I reject them all. I do this with heart, and to enjoy every piece of it. I love seeing new independent and underground brands coming up with a deep meaning or story to tell.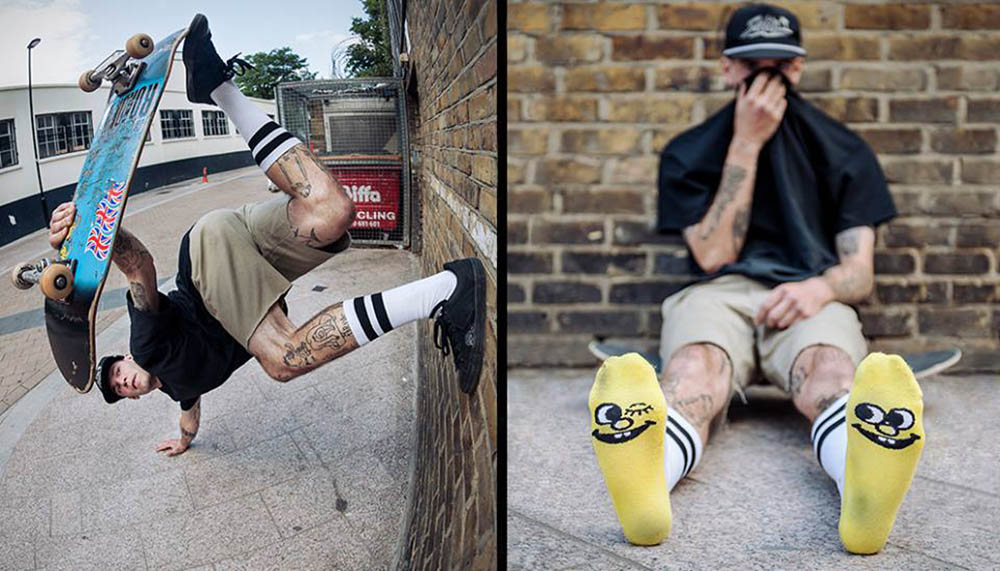 ::
Nowadays, you can find her at the studio she shares with the Pau de la Creu crew in the heart of El Raval, pushing around the city or sharing a beer with her close ones.
Dont forget to visit www.aparttogether.es!