With the tattoo industry constantly evolving and being much more acceptable this day in age, it's intriguing to see how far it has come. Los Angeles alone is home to some of the world's best tattooers in the business and also artists who helped pave the way for what the industry is today. Antonio Mejia is without a doubt one of the few individuals that has done just that. Featured in Eric Schwartz recent film Tattoo Nation, Antonio has played a major part in tattoo culture. Known for his hand drawn Chicano-style tattooing, Antonio's flow of work has sparked interest in many artists and collectors worldwide. I stopped by his private Los Angeles-based studio and conversed about what invoked his career in this industry – an industry which he tells us to treat "like you would a family member that you love – don't abuse it, don't try to squeeze it for anything. Just enjoy it. Be glad you can be around it." Read more of his wise words in our conversation below.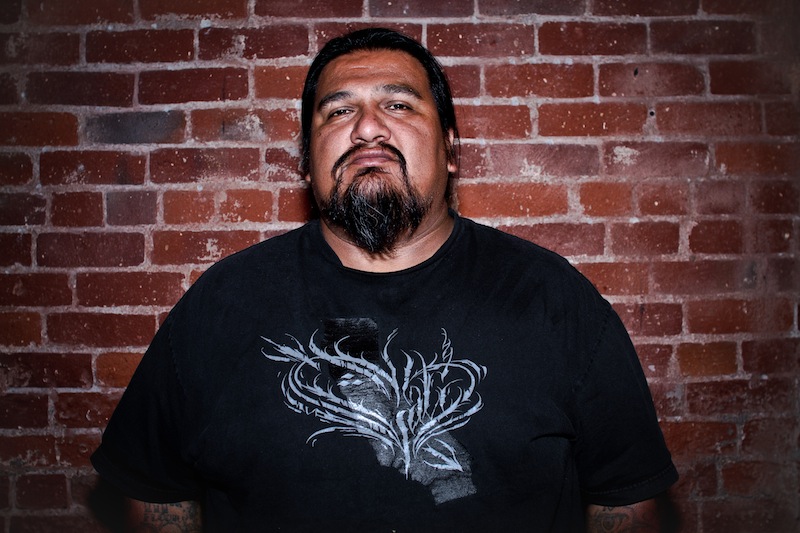 MATT HASSOUN: At what age did you start tattooing?
ANTONIO MEJIA: I was fifteen when I first broke the skin like that. Professionally, I've been tattooing since 1995. I've been drawing shit since I was little. I had an older brother that would draw little cars since I can first remember, back when I was about 3 years old. We grew up in a yard with a bunch of cars so I think that was the first thing we were drawing. We got older, started drawing in school, making fun of people [laughs], making fun of friends, banging on each other, "Ey, draw this, foo!" And then once I got a little more serious, I ran into somebody that had tattoos and I was like, "What the fuck?" It's not like I hadn't seen them growing up, because I had a lot of family and uncles that had tattoos, but once I was in high school, I was really trippin' on that shit. I was like, "Man, I can draw on paper all day, but that guy's drawing on skin!" And then to see how permanent it was. It made a big impression on me.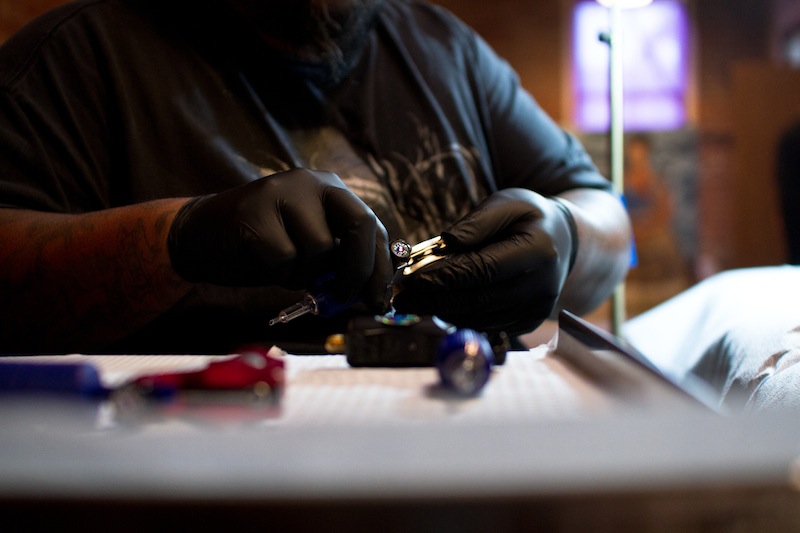 What got you into the industry?
I walked into this local shop in East LA. I hit them up and they looked at my work and they said I could hang out in the back, so I did that for a little bit. They seen me working and eventually moved my way up to the front. Those were my first steps. Then I started working at Good Time Charlie's Tattoo Land and also Diamond Club Tattoo. Those are the places I would say I call home.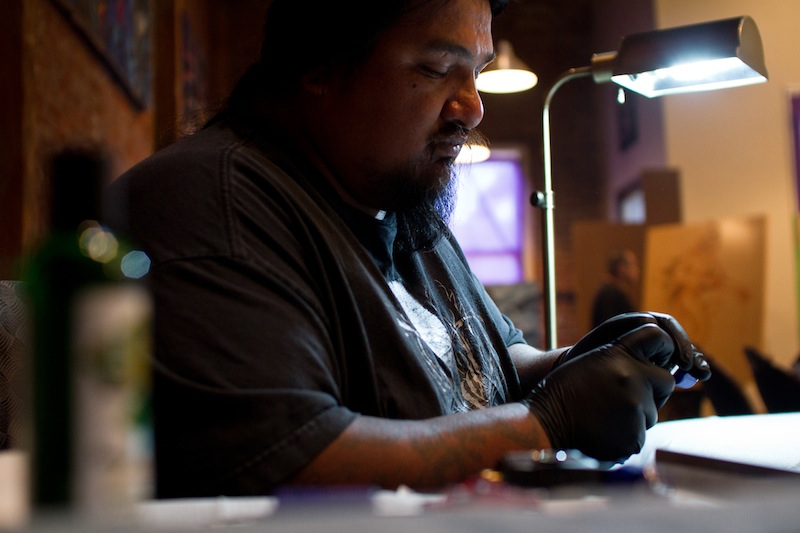 Who influenced you at the time when you first started tattooing?
Hmm, I've always had a lot of cool folks around me. As far as when I first started messing around when we were kids, I had a homeboy Marco that was also learning to mess around with it too – that motivated me. There was Fly, Pequeno from Lomas, and all these different cats that were all neighborhood tattooers. They were the early influences. I got lucky, I had a friend that was getting tattooed by Stan Corona and I ended up going over there and hanging out with him through my friend. That was back in '93. Anyways, Stan has always kinda been the one I looked up to since then.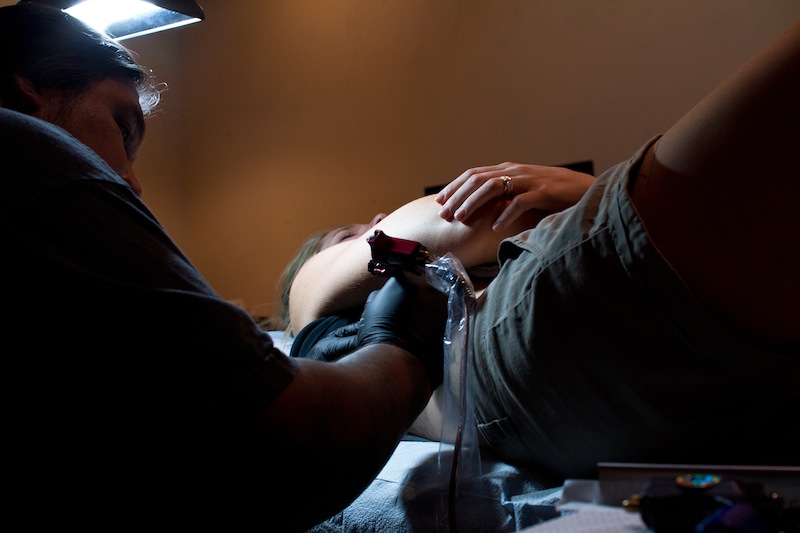 Have you always free handed every tattoo?
Nah, not every. When I was younger, I would have to do a lot of that because I didn't know any better [laughs], then once I figured it out, it was too late. I kinda liked it – I was used to it already. I make stencils now and then, but I'd have to say a good 90% of my work is hand-drawn.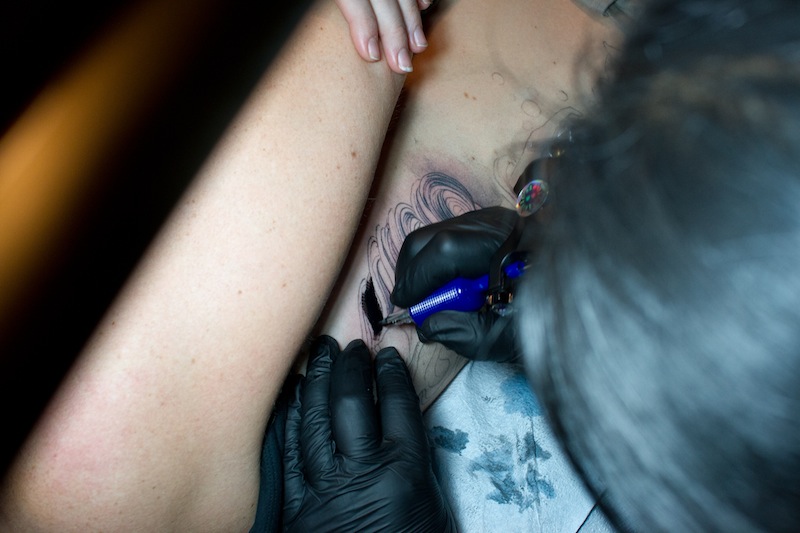 How would you say the tattoo game has changed since you first started?
Oh man, well... People don't make needles anymore [laughs]. I had to make needles for the first 8 years that I tattooed. There were very few outlets. Basically, you would order a bunch of needles and you had to solder them all, so things like that – the hands on part of the work. Building machines and maintaining them. Which, again, Stan Corona made a lot of my machines growing up and later on learning all that stuff. That's the part that seems that might be getting lost a little bit. The whole art of making the needle to building the machine.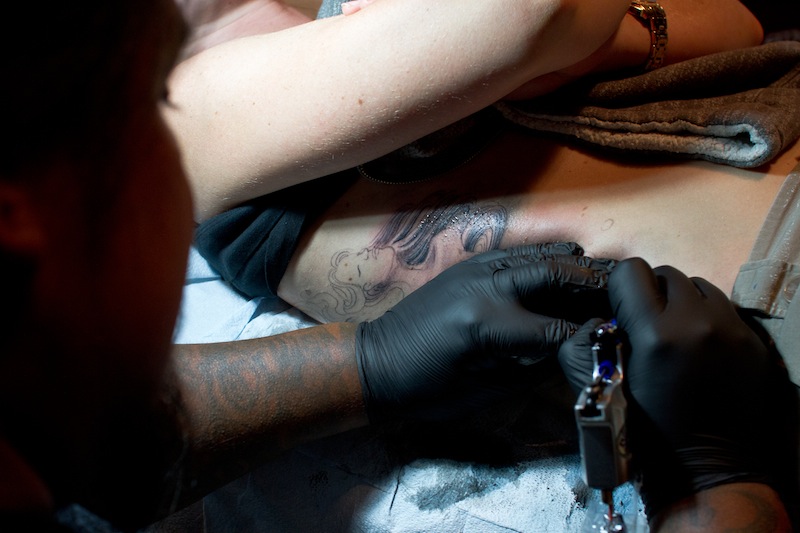 What's your main style of tattooing?
I pretty much always did black and grey stuff, especially in the beginning, to say the least. Using AA batteries and real rotary motors. The colors were very limited as far as what a kid can use.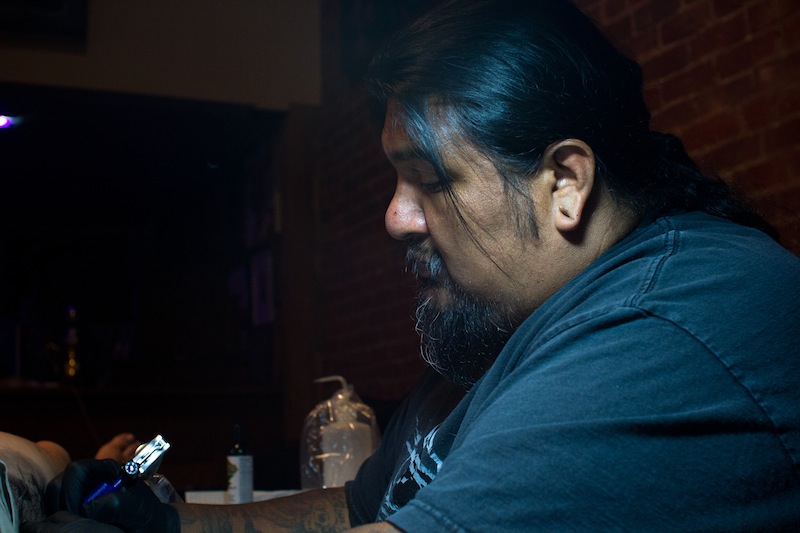 What complications have you came across in your life being a part of this industry?
I haven't come across too many complications, it's been cool, man, fucking rad. Met some of the coolest folks I know. Many of them are family now, and yeah, it seems like if anything good does come out, a lot of it comes from tattooing. If there's any good in our lives, a lot of is due to tattooing or a direct result of tattooing.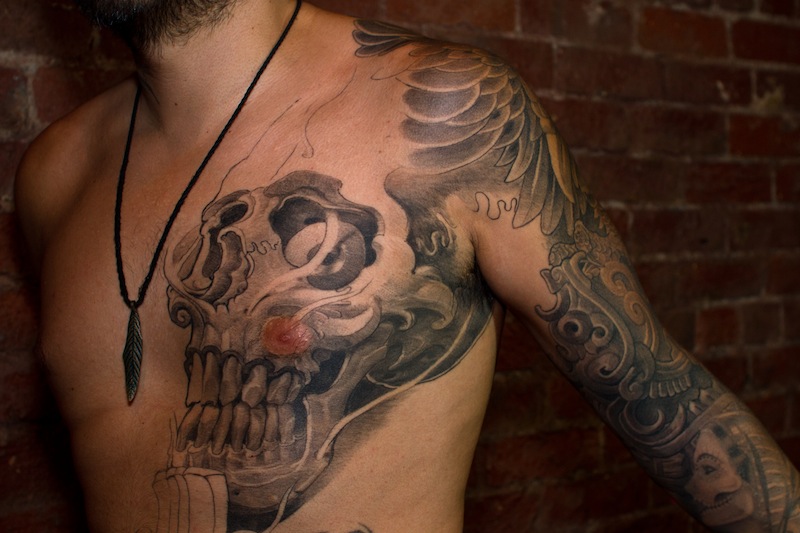 How did you feel about working at GTC's Tattoo Land, one of LA's first, most prominent tattoo shops?
Good Time Charlie's Tattoo Land is the shit. It's credited with promoting the professional technique of tattooing in black and grey. There was plenty of black and grey tattooing before the shop, but none in a professional environment. They pretty much started forming a dream team with some amazing folks involved in the game and single needle tattooing. Charlie, having like a really solid way of being – he's really kind, really honest. And I guess when you're really down to earth and honest, you attract a certain type. The strong guy that he is, he attracted all the right people and was able to brew this fucking perfect storm of street culture, basically like Chicano-style. They were in the area, so thats what the community was going to ask for.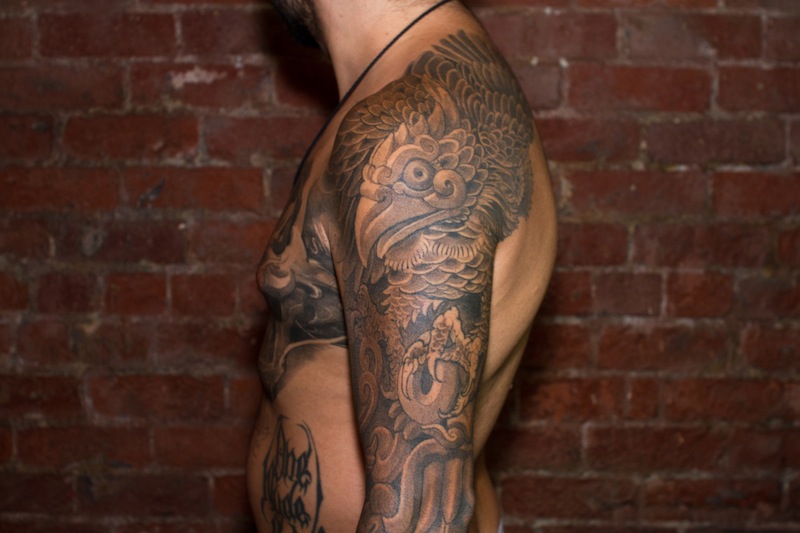 Hand drawn by Antonio on tattooer Stigma One.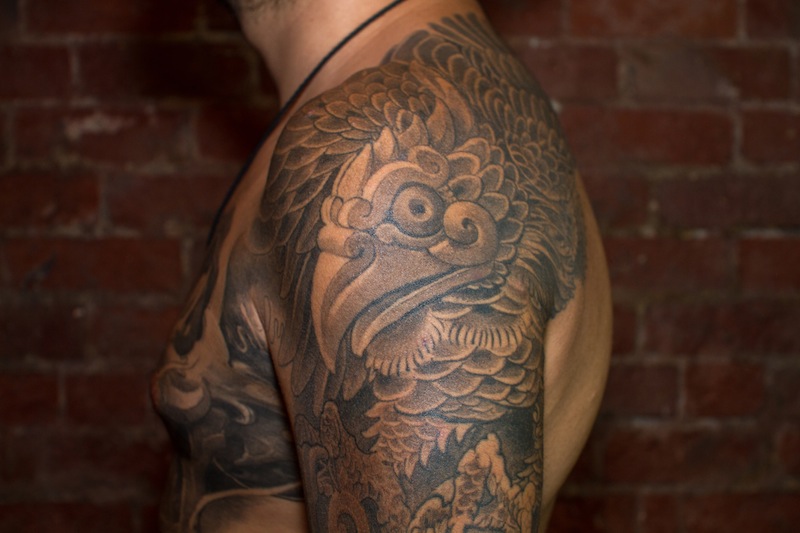 What direction do you see the industry going from here on out?
Uh, not sure man. They say history repeats itself and all that, but I'm not sure where it's going right now. I know that I can't really speak for everyone just in my own family, but my son's studying it and pretty involved and determined to learn the history and technique of different applications and what not. So that makes me feel real proud and even hopeful for the future for this industry.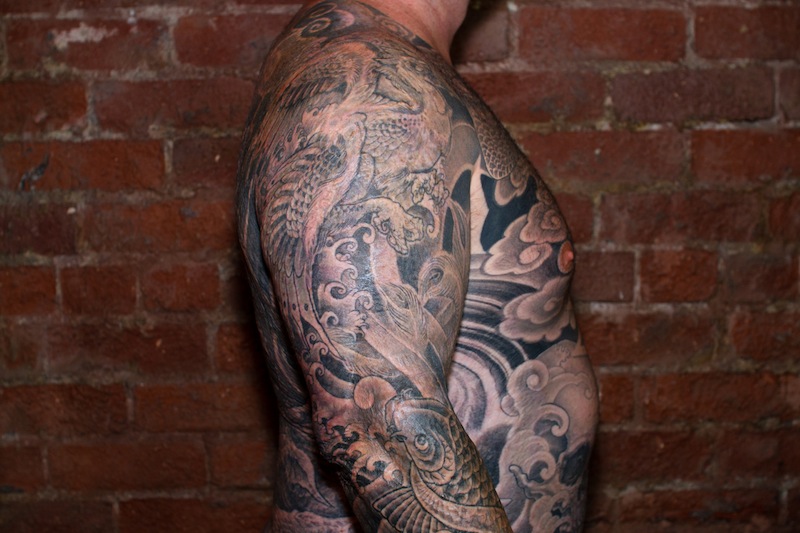 How old is your son?
He's fourteen now.
And how long has he been tattooing?
Since he was 10, at a very slow pace. You know, tattooing since you were 10 sounds super amazing and fun. But the reality of it is, he started off single needle hand poking, which is a very tedious and grueling technique. Within the last four years, he's completed 7 tattoos, so he's on the extended long term continuation school program [laughs].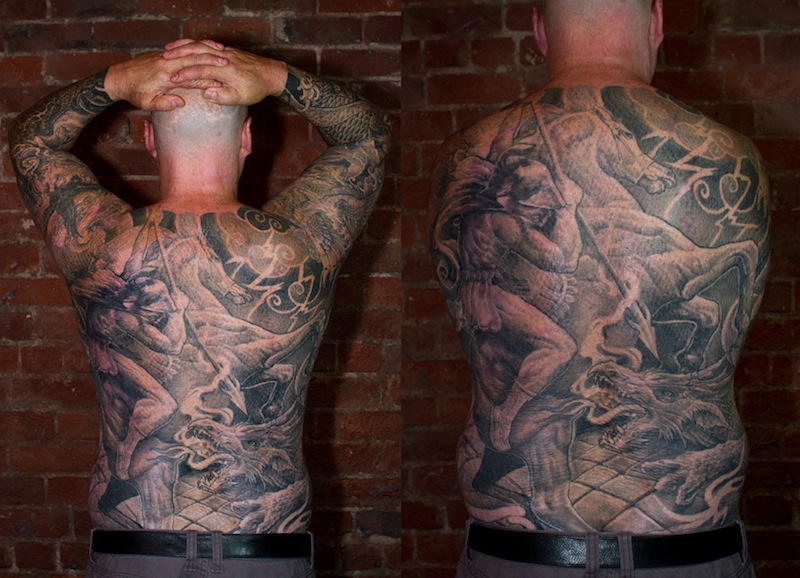 What advice or tips to you have for upcoming artists in the tattoo industry?
I would suggest to go back to school [laughs]. Nah, I'm just kidding. Nah, you know, just be cool, man. Be cool. Treat the tattooing like you would a family member that you love – don't abuse it, don't try to squeeze it for anything. Just enjoy it. Be glad you can be around it. Treat it like a sacred bundle.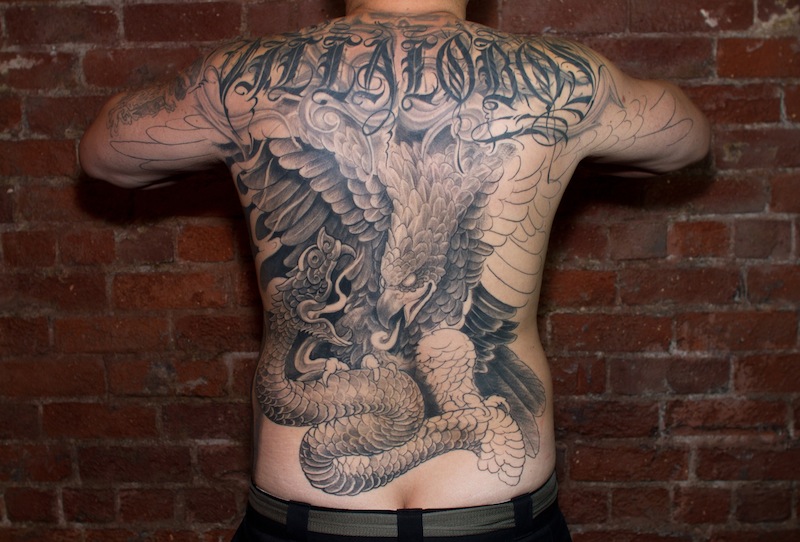 ::