Andy Rementer's drawings are characterized by heavy outlines and block colors. At a first glance, the protagonists living in the snapshots of city landscapes he creates seem to be innocent characters he made up – anthropomorphic animal figures walking in the city going about their normal business. The more you observe his work, though, the more you realize how much they resemble ordinary people – figures you stumble upon in the street or the subway. They share the same concerns like all of us and are often troubled, caught in a relationship gone wrong, wondering about common issues.
His drawing style can resemble children's books, while at the same time incorporating a lot of complex underlying meanings and situations, enhanced with hand-made typography. Rementer divides his time between drawing, painting, and animating, has shown in various spaces around the globe, such as Mondo Cane in  New York and Everyday Mooonday Gallery in Seoul, Korea, amongst others, and has contributed to magazines such as the The New Yorker and Apartamento. His visual universe is full of clever, hidden references and details, so the best thing you need to do is look at his work very, very closely.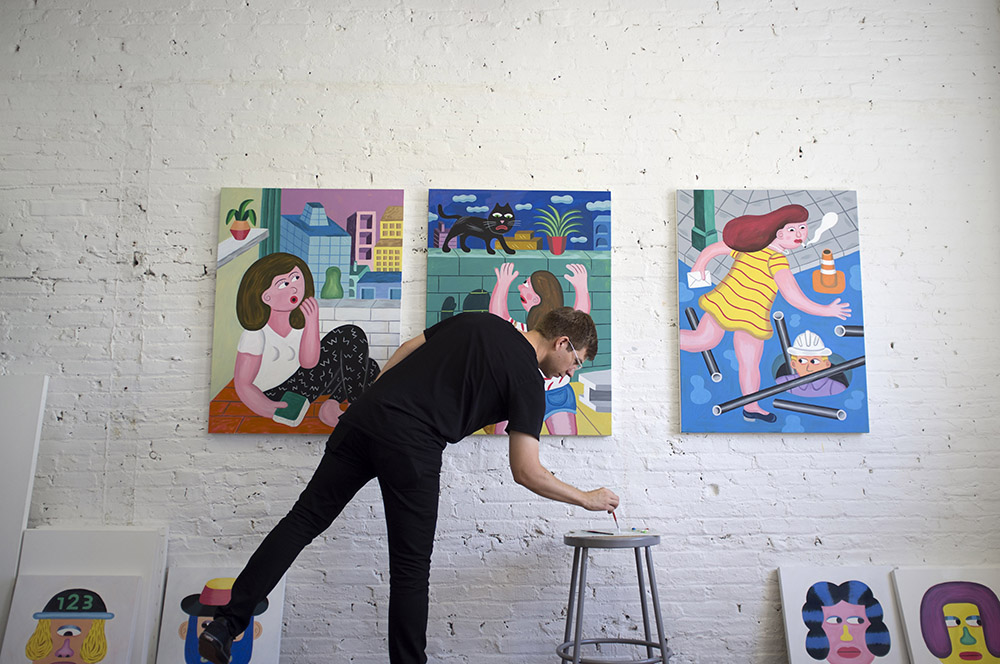 TASOS & MARINA: When did you start to draw?
ANDY REMENTER: I've been a doodler from an early age, but at university I studied graphic design. I've always kept a sketchbook and drawing in it continues to be a big part of what I do.
You collaborate on a regular basis with Apartamento, can you tell us a little bit about this series of stories you have illustrated for the magazine?
Together with my partner Margherita Urbani, we have contributed comic stories for the last five issues of Apartamento magazine. Each short story centers around a very hip mouse-guy who has great taste in furniture but complicated issues with relationships. It's a great platform for us to dive into two things we love: storytelling and the design world. Though the stories are short and seemingly simple, we often draw on real life experiences and emotions and try to put as much as we can into the limited space.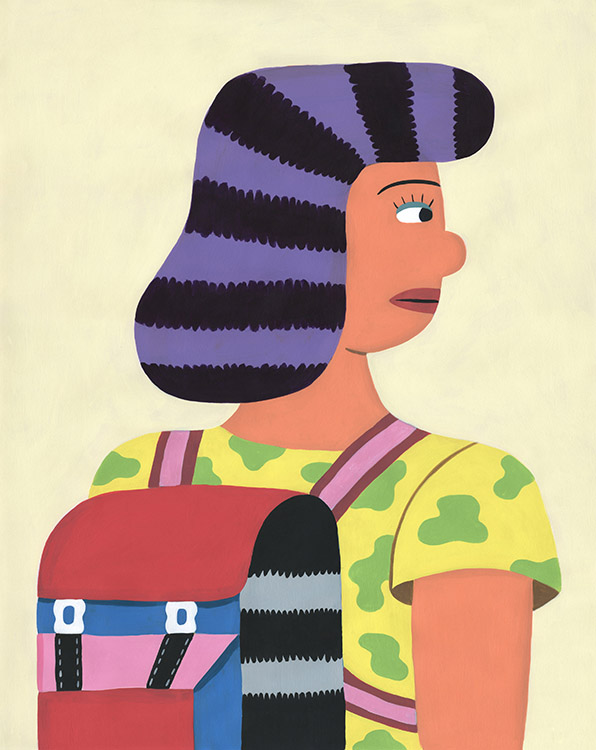 "I'M DRAWN TO THE MANY CHARACTERS FOUND IN CROWDED ENVIRONMENTS. THERE ARE SO MANY STORIES HAPPENING AROUND YOU."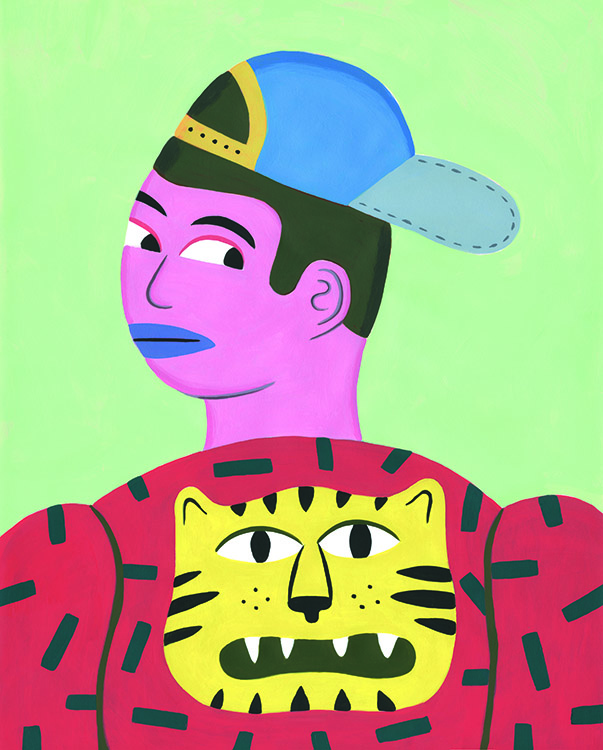 How have cartoons influenced your work?
Naturally I grew up watching cartoons new and old. As a I kid, I would spend countless hours learning to draw humorous characters and facial expressions from quirky "how-to" cartooning books and videos. I also loved reading the Sunday comics and made many fruitless attempts of creating my own. As I went on to art school, I sort of had to un-learn all of that. But I'm grateful for it, as after I finished my education, the cartoony stuff came back into my drawing, though in a much more organized way. The design approach had merged with the cartoons, and helped path the way to my current visual language.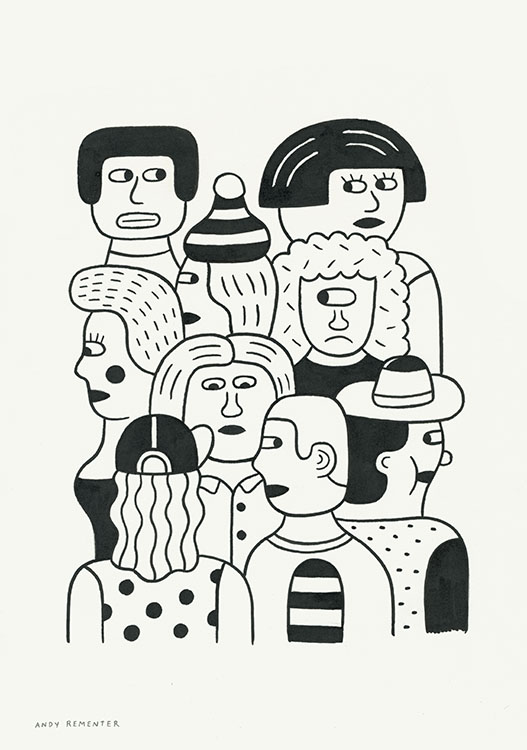 Where do you find your inspiration for your patterns?
I'm always looking for sources of new inspiration, whether it's in reference books, walking through the city, or on my travels. I get a lot of inspiration from textures found in the urban landscape. Medieval art is also very important for me, and I always look back at early fresco work as well as Byzantine mosaics.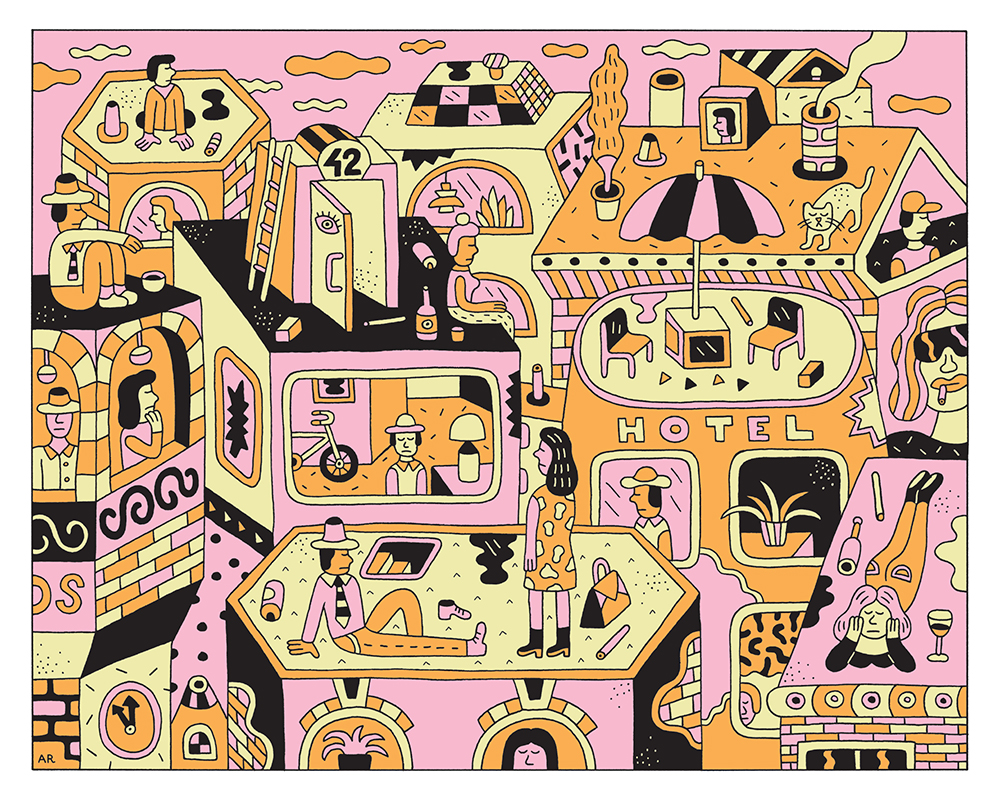 You have created a series of figures, People Blocks, how was that project realized and how was the experience of working in 3D?
I developed the People Blocks series with Case Studyo, who are based in Belgium.  I've been a fan of their output of artist sculptures for years, and we began talking about a collaboration a few years ago. After passing ideas back and forth, we landed on the concept of stackable wooden characters. The process took about a year, with the handmade production taking place entirely in Belgium. The first series launched late 2013 and sold out rather quickly. We have just launched the second series, and an animated trailer too.
You are based in Philadelphia, how does the city inform your work and the environments you create?
I enjoy being in a city environment, and traveling is also very important for me. Having grown up in a suburban environment, I became enamored with living in a city after I went on to university. As you might be able to tell from my sketchbooks, I'm drawn to the many characters found in crowded environments. There are so many stories happening around you, that I can't help but bring the energy into what I do.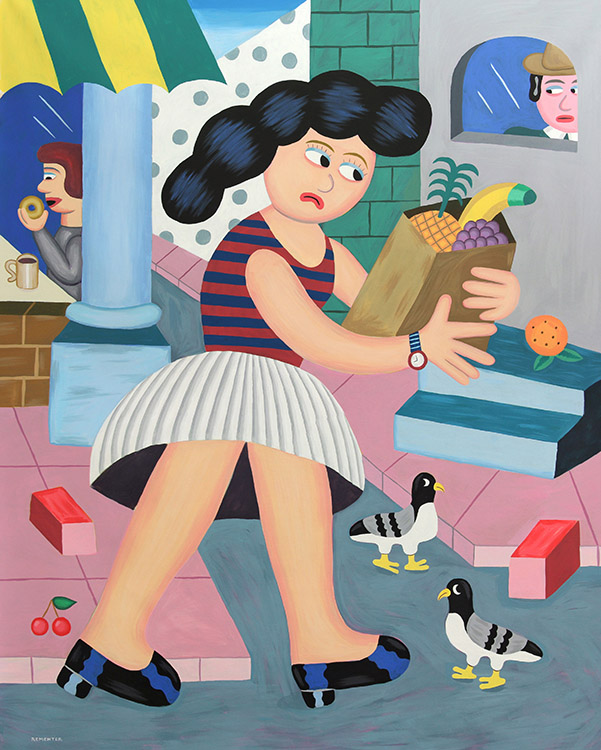 You work on illustration as well as animation and painting, how do you feel working between those different mediums?
Working in different mediums is what really drives me forward and I find it refreshing. I love seeing what's possible within my visual language while utilizing different approaches. Besides my personal aesthetic, I think there is a common narrative thread that holds together my work, whether it's a painting, comic, or animated piece.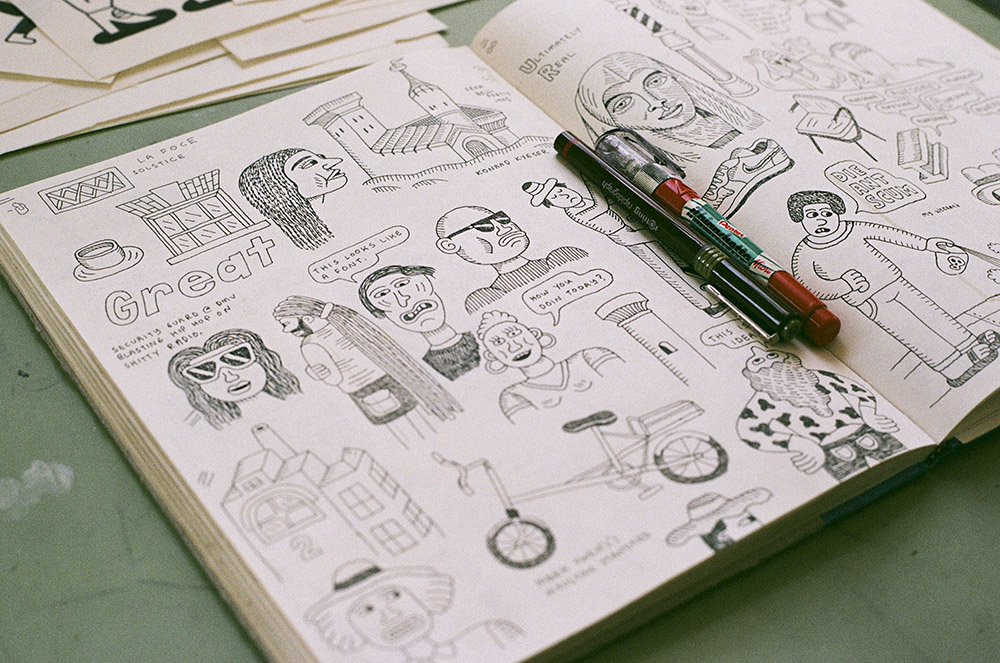 What was the last piece of music you listened to? When and where was that?
I recently had a show in Korea, and while there, I was exposed to a lot of great new music. I'm kind of sentimental for "Yangwhae Bridge" by Zion T. Pop is not my go-to genre, but it was the last thing I listened to in Seoul on my way to the airport.
::
Photos by Ryan Strand Greenberg.