Since the days of LaFace that brought us a diverse cast of stars from TLC to Usher and Outkast, Atlanta has consistently displayed its cultural impact on the music industry and played a heavy role in shaping the future of hip-hop. The last 10 years have been a Southern takeover, and the focus of hip-hop has shifted away from the traditional dichotomy of NY vs. LA – proving that Southern culture is deserving of just as much attention. Atlanta in the last decade, especially, has eclipsed the more-known musical hubs of rap to become the Nashville of hip-hop. We are witnessing history being made in a land where strip clubs have the power to make or break new records; it's a perspective foreign to many, but obviously one that resonates heavily with the youth.
In a Southern rap universe already overcrowded with raw young talent, Rome Fortune is a eccentric representative of this new generation of Atlanta rappers – much interconnected with the likes of OG Maco, ILoveMakonnen, and others, and yet standing clear in his own very eclectic lane. Basing the usage of that term thoroughly off his wild output alone from the Beautiful Pimp series to his recent critically acclaimed mixtape Small VVorld. In a city synonymous with that heavy trap hi hat-obsessed sound that is now ubiquitous within hip-hop, it would seem counterintuitive to not follow this expected sonic template if you're trying to advance within the music scene.
However, finding an artist who purposely and tastefully goes left field with each of his releases – (each graced with covers that bring to mind a hip-hop ode to Peter Gabriel,) collaborating with producers of the likes of Blood Diamonds, Bassnectar, and Four Tet – deserves some recognition. This is a man who is clearly making his own unique roadmap to success. While in New York a few weeks ago, I got the opportunity to see him perform live at Webster Hall and he shut it down, bringing some flavor that the Yanks weren't used to. The South has risen again – maybe not in the way D.W. Griffith expected it to. We sat down at this cafe in Union Square and talked about the effect the Internet can have on one's career, his surprising jazz lineage, what it means to be an artist, being a creative and searching for new music, and the life of an unsigned hype.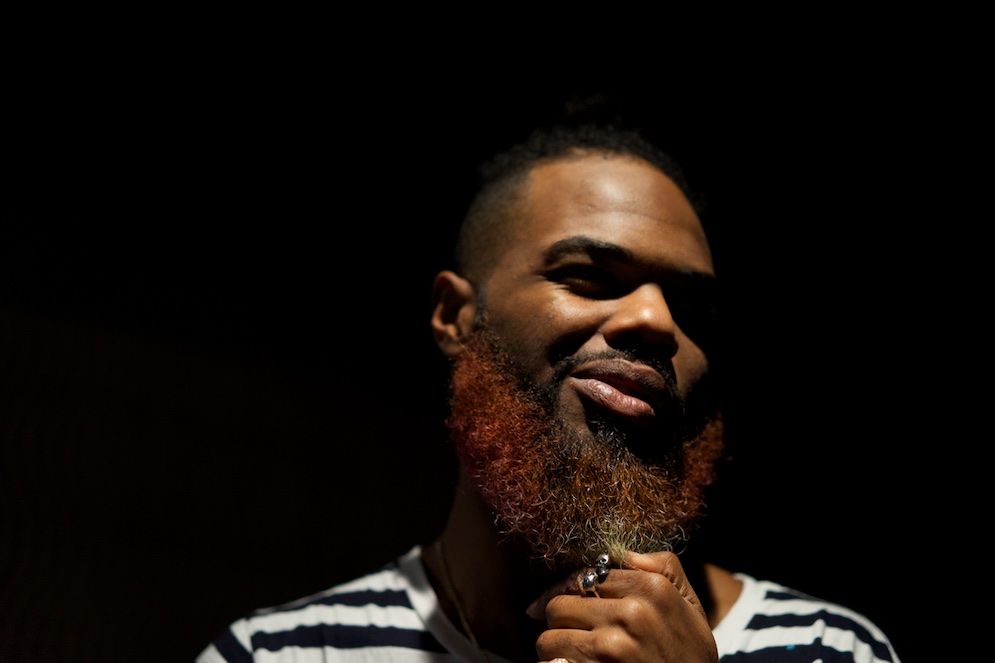 SENAY KENFE: So we out here in Manhattan in Union Square at the Union Café with Atlanta's very own Rome Fortune. How's it going?
ROME FORTUNE: Pretty good – perfect, actually, minus the snow.
Yeah, there was an unexpected snowstorm here that you brought in when you came in to take over.
I've been known to do that.
It's kind of like that one line of yours about turning – the borough across from us broke wind –
Exit your mind –
Into Jumanji. You see how I did that? Connected it. How do you feel about the weather because it's not what you usually get out in Atlanta?
It's cool, but in New York it doesn't stop anybody; weather don't stop anybody. That's why I like New York so much, the constant flow of energy. So as long as people aren't scared to come out to the show and turn up with me, I don't care.
This show is towards the end of the tour that you did in the Fall for your latest album, Small VVorld. You wanna talk about that album?
Yeah, Small VVorld was pretty much a project that we put together to continue to keep my name circulating. We did a string of very continuous releases all year so I just wanted to do another one for the Fall and just get people talking about me more and show my versatility.
I definitely think it was a prime example of how versatile you are in terms of this new Atlanta movement that the media is creating. But in regards to your place in this new line of movement, you've definitely shown yourself to be capable of taking more chances. You had production by people like Four Tet and Blood Diamonds and even Bassnectar. You want to describe how those collaborations came about?
Four Tet I released "Beautiful Pimp 2" in February this year and maybe a couple of weeks after we released that, he reached out and said he wanted to work. I hadn't been familiar with his work prior to, I just knew the name was big so I did some homework and I was like, "Hell yeah I want to do some stuff."
With Bassnectar, we just had a mutual friend that we randomly had dinner together and he said he was supporting what I was doing. So you know. Pretty much, the Internet is the bottom line. The Internet is the connector for all of it. There are isolated incidents where I can say, "Oh, I met this person during this." But everything boils down to the Internet and people reaching out through that.
How important do you think the Internet has been in terms of your success and the momentum that you now have?
I think it's very – one of the main things for me and any artist. You can't shy away being an Internet artist because that's what the world is, we live in a digital world so you can't shy away from wanting to be an artist on the Internet. It just expands the world and makes the world smaller at the same time. So right now, we're just using it to our advantage, just using it as another tool.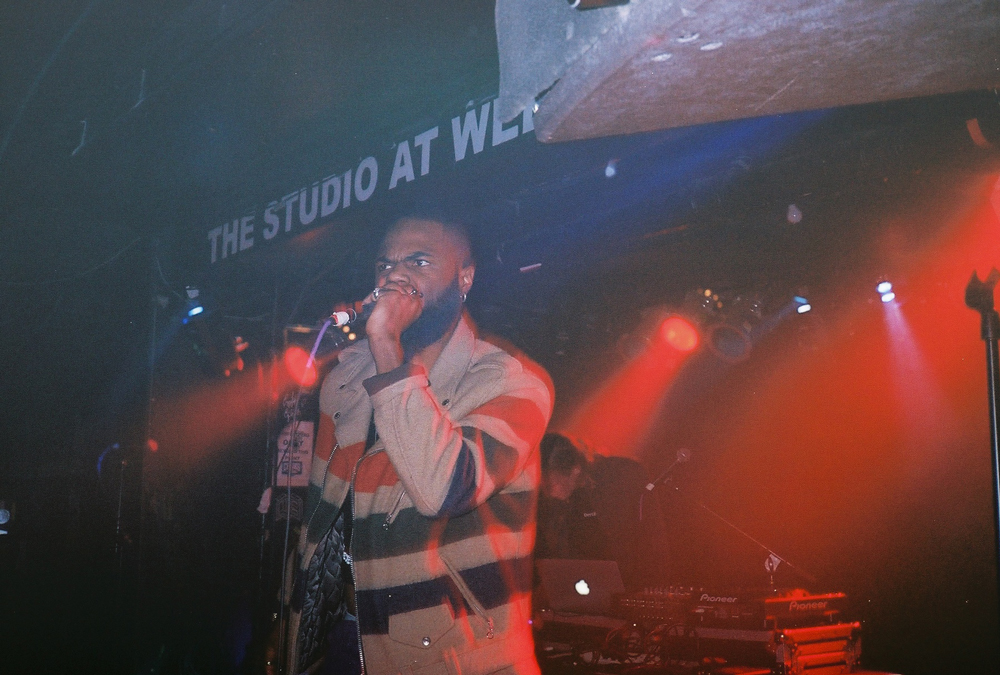 I would say consistently within the last two or three years through the mix tapes that you've been putting out – Beautiful Pimp 1, Beautiful Pimp 2, and now with Small VVorld – you have shown that the buzz that you have surrounding your name is very deserved. Earlier you said you've been putting out continuous amounts of releases – why do you think it's important as a new artist, for people to be regularly reminded of who you are?
Until people are saying my name without me releasing a song or I'm always a topic of conversation, then you have to keep people reminded. Keep your name circulating until it's like, "Okay, what is this person? What is he doing?"
So we were talking about your latest release that just came out, Small VVorld, and talking about the collaborations with it. I think an important thing to note – I was talking to your manager earlier and we were talking about covers, which are amazing by the way.
Thank you.
He said, for the most part, you conceptualize them. We've already seen them – Pitchfork put them on a list and I think a couple of other publications put it on a list of best album covers of the year. You want to talk about what comes to mind with the album covers that you design?
The project statement – what am I saying with this project? Then the title comes from that. Then it's like, "How can I make a visual that's very eye catching, but at the same time captures all of the points that I want touched in that artwork?" Pretty much, the actual visual composition is the last step in everything. It comes naturally because everything else like the concept of the project, everything is all ready set in stone. So it's just like, "How do I want to paint this picture that I've made a statement for?"
I always try to go with something that's – if you're, hypothetically speaking, if you're on a website that has a bunch of album covers or mix tapes or something, if you're scrolling through I want you to scroll back up and go, "Oh, what is that?" I just want it to stand out. So it's just a bunch of different points I try to hone in on at once.
What do you think throughout history, in terms of you as a listener, has been album covers that you saw and maybe you didn't even know who the artist was or the type of music, but you saw it and were like, "Oh, what is that?"
Recently, it was Sky Ferreira, I really like that one just because it was so plain but it was so vulnerable. So stuff like that… FKA Twigs. I really like stuff that you really don't have to do that much to digitally, it's just a real image that says a lot because people can relate to a real image a lot. And it makes the thought behind that artwork that much more impactful. Opposed to – don't get me wrong, we do stuff with digital artists and stuff like that but for albums artwork I really like it to be an actual photo. Because can relate to it much more.
I really dig David LaChapelle's work a lot.
I can see that in the Small VVorld cover.
Yeah, so I really like his work. So really just grabbing inspiration and molding it to your own vision.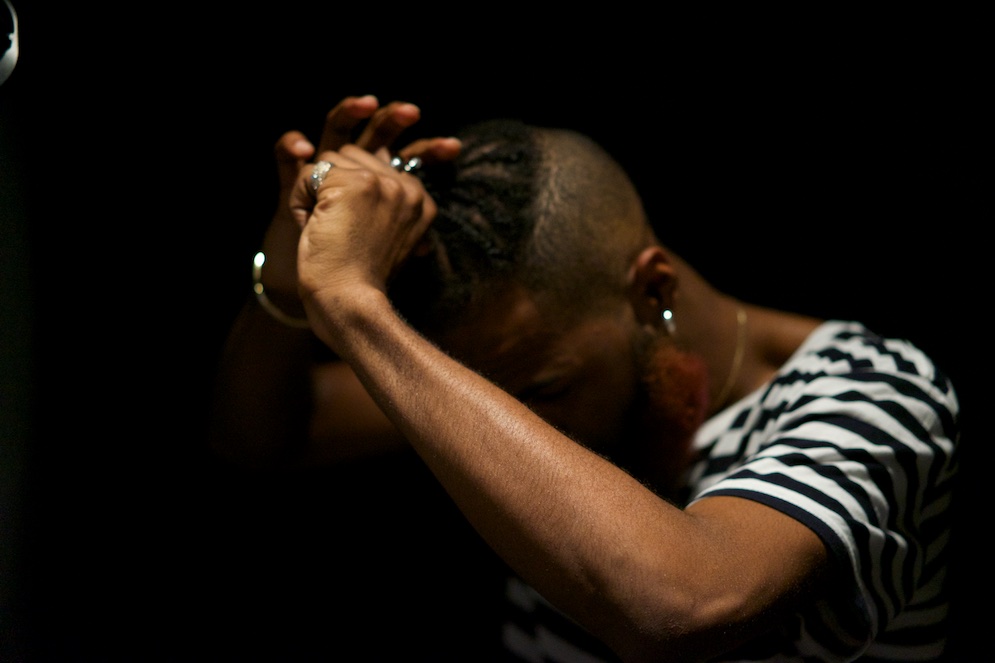 Speaking of inspiration, for the people that don't know you, you have a particular jazz influence that reverberates through all your music. In Beautiful Pimp 2 there was a vibraphone that was very pronounced and present. Do you want to talk about that?
Yeah, that's my grandfather. My grandfather's side of the family is a bunch of jazz musicians. Nat and Cannonball Adderley, my grandfather's Richard Adderley, they played with Miles Davis. So that – I know with Beautiful Pimp 2 people were expecting more so a Beautiful Pimp 1 replication. A bunch of different turnt up beats fused with weird stuff. But I wanted to just be totally vulnerable and personable and I feel like a jazz instrument would've really brought that out. And my grandfather, he's a beast so.
That's crazy. I've always been a big fan of Cannonball and all those dudes – that Zodiac album. That's crazy, I never would've guessed that. How does your grandfather feel about your music?
He gets it and he thinks it's important. He sees what I'm trying to be, you know what I mean? And that makes it more important and it's easier to make music with him because he gets what I'm trying to do.
So would you say you've always felt like you've been encouraged to be a creative.
Yeah, most definitely because – it didn't really come until later. When you're surrounded by things as a kid, you kind of take them for granted just because you're so used to them; so accustomed to them. But as an adult I look back on all the influence I have and it just really makes me more confident in being an artist.
What do you think this new focus on Atlanta is stemming from? Because, for the most part, regionalism, in terms of music, is kind of dead. People can come from a different country and sound like they're from Atlanta or sound like they're from Chicago. So what do you think this new focus is on what you, people like OG Maco, iLoveMakonnen, and all these artists – where do you think that stems from and how do you feel about it?
I think it just stems from Atlanta being so prominent in mainstream radio and culture so the eyes are on Atlanta. But the eyes are picking up a totally different side because you do have your Young Thugs and TI's and stuff like that, but it's a young culture there. Everybody's not trapping, everybody's not doing this, so I think the fact that Atlanta is so hot in general brought more eyes to what people like me are doing. It's just different stuff coming out, so I say it's pretty much taking the attention that Atlanta already has on it and putting it on to what's going off for real.
In Atlanta, would you say there's a disconnect between this overconsumption of what is trap music and – I don't want to say you're left of field but – different voices within the city?
Yes, most definitely. Atlanta is a huge appreciation because you've got the weird kids like Father and they love Gucci. So the influences are there, it's just, I don't think there's really been a time where people have had to show that different side. Because there's a vast group of different artists coming out right now. Or other periods where Atlanta was hot, I would say it's a couple artists that are doing different things, but not different enough to make people take their eyes off the trap or the snap or whatever the trend is at the moment. Now, there's just hella people doing their own things, so you have to take notice to it.
How have you been able to connect with these other artists? Because I wouldn't say it seems like you guys – I mean there's the Awful Records guys and the Internet Collective, so I wouldn't say you guys are all in a collective. But for the most part, it seems like you guys have some sort of working relationship with one another. How is that a possibility?
Atlanta's just a small city and on top of that it's a music city. So the awareness is really high of one another. A lot of artists who are buzzing right now in the city pretty much came up together doing shows here, so everybody knows what each other are doing, that awareness, and a lot of people are just cool. It's a strange, unique time.
When I first saw you, I saw you this summer in LA, you were performing at the Fool's Gold Day Off. Can you describe how that relationship with A-Trak led you to performing in LA and also at the Day Off that they had in Atlanta?
Earlier this year, right after Beautiful Pimp 2 dropped, he was in Atlanta and I came through to the studio with him, Lex Luger, High Classified, and I used to work with them. And ever since then we just kind of kept in contact and I was in LA during Fool's Gold and he was like, "You down to rap?" I was in Atlanta during Fool's Gold there – it's really just like, that's my homie and he puts me on to shows and stuff and gets people to look at me.
That's one of the things I like about you, I feel like you are amongst a few artists who are very willing to connect with these outside worlds and outside music worlds and create relationships with artist that might not even be doing the same thing as you. Why do you feel like you have the openness?
Just because I want to exist in multiple worlds. I got friends who do everything under the sun and none of my friends are the same, none of the people I hang out with are the same as the last one and their backgrounds really vary. So I want to be represented by that musically. And you can't really do that by sticking to one sound, you can't say, "Yo, I want to talk to these types of people and I want to talk to them this way and I expect them to listen to me." Just understanding how to exist in multiple worlds and the willingness to talk to different people – wanting to talk to different people.
So would you prefer to be called a rapper or an artist?
An artist definitely.
Why so?
Just because I do more than just rap, literally. Not even just musically – from the art direction of my stuff, we conceptualize a lot of videos, the music – I got a lot of new stuff where I'm singing. So it's just like rap was obviously my starting point, but definitely not my ceiling.
You would say that as a creative person you have multiple avenues of expression?
Yeah, exactly.
I think that's important to note. I feel that, for me, I think hip-hop as a culture and a musical tradition is a high art, but I feel like a lot of people – for example, you can be a rock star and you can have a fashion line, you can be a model, and no one looks at you like, "What's this rock person doing?" Versus a rapper, people have such a low regard for rap music so then when rappers who – I'm not saying you – maybe went to a magnet school, went to an art school, they have multiple ways that they express themselves and start doing it and people are like, "What're you doing?" What would you say about that?
I would just say – I'm not really focused too much on a title or anything as long as it doesn't take away from the impact that I'm giving. Call me a fucking astronaut, as long as I'm still having that impact, it's whatever.
With the momentum that's coming behind you, you were telling me earlier that there's going to be label people at the Webster Hall show tonight. How does that feel when, after all these years of grinding, you start receiving that attention? How does it feel to be put in that place and how does it influence you and your future progression?
Pretty much, it gives me that extra assurance and confidence that I'm doing what I need to be doing, I belong where I'm at right now. So it's more so that I micro manage myself even more, the more attention I get. I think it's a good thing because I'm constantly thinking of ways to make myself better and have a better impact. So it's been a really positive thing for me.
Sometimes it makes you eager because that next step could be tomorrow, could be next month, could be next week, could be a couple hours from now. So you're always on the edge of your seat, you're not expecting anything, but you're always on the edge of your seat. Ultimately, it's just a good, good impact on me.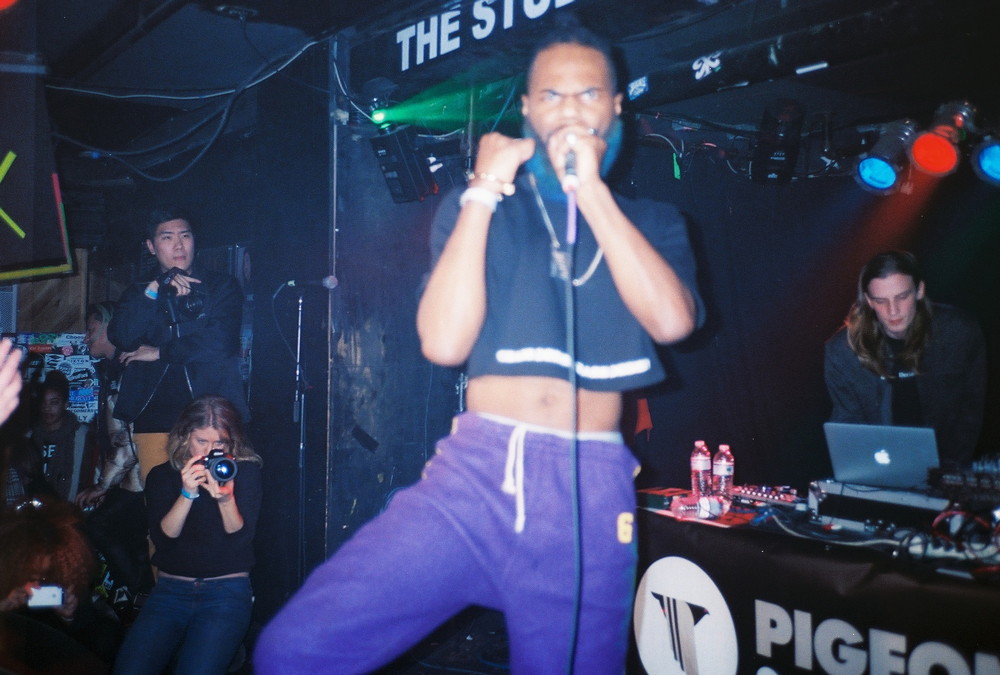 What was the last album you listened to?
Future Monster Tape.
That was a banger, I was surprised by that.
Yeah, that was a real good one. Lately – I tell everybody, it's just Soundcloud, man. You can just find the most amazing stuff that hasn't even been discovered yet on Soundcloud.
Can you go into detail about the power of Soundcloud in this new generation?
Soundcloud, that's the way to go, man, as far as sharing music and having it spread so fast. It's literally become a social music platform, which there has been a real void for. A lot of different brands and entities have tried to take a stab at it, but Soundcloud is just for the artist. It's like you can really get your stuff out there, I love Soundcloud. I think it's important, really important. It's like a Twitter or an Instagram in my eyes.
Do you spend a lot of time on social media?
I do.
Has social media gotten you into any trouble?
Yup, just with girls though, nothing deeper than that.
I think that comes with the that you live in as an ascending artist. I ask because we always get told about crazy stalkers, people trying to rob you. I was reading this article about Drake, before people come into his house he has his security guards do a wave baton around them. I could never conceptualize that because I don't live in that world. But I can see why you would get to that world.
Yeah, you don't want people taking pictures. It's like everything you do, especially somebody like Drake, is put up in a magnifying glass. So he can just do any time of facial expression or whatever and people will [camera noise] "Cool, Draked it." The thing about it is, is that especially with music and being a public figure that he is, a lot of the time when it's a picture or something like that, you can't – there are no two sides to the story. It's just what the picture depicts and that's what it is. You don't get to defend yourself.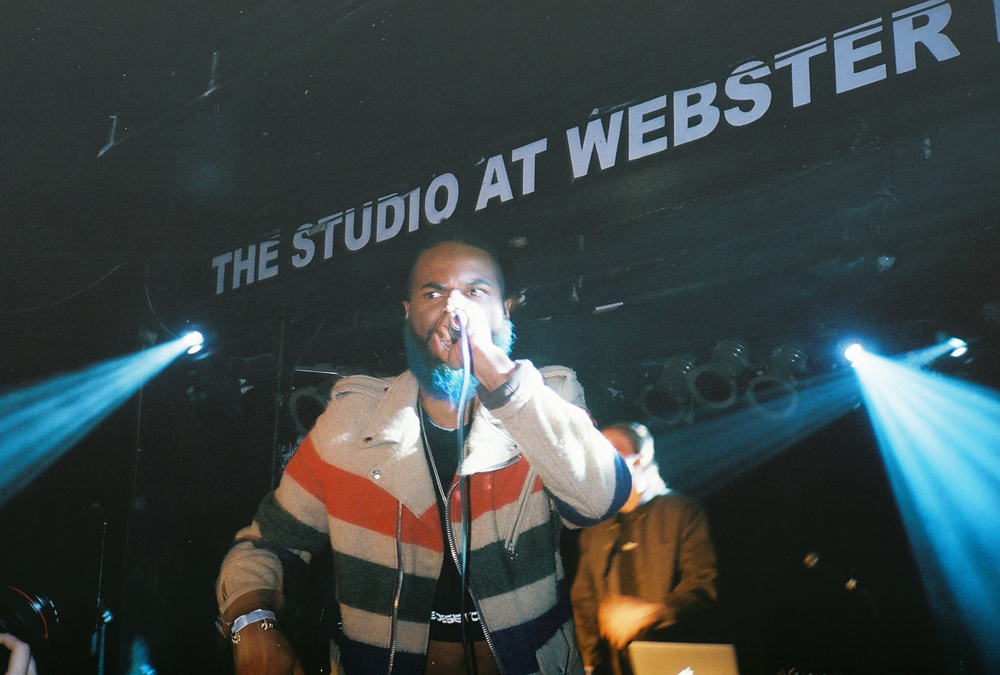 How important would you say your public image is to you? In terms of how you are perceived? Because you have a green beard, I would say you dress weird, but you definitely dress different than what people think of with rappers – why is that important to you?
I just want to be a literal representation of doing what you want. Don't do anything for outside approval, if something makes you happy then do it. If you like it, just do it. There's too many artists who are living out somebody else's image. Like 95% of the rappers now are only rapping about stuff or dressing the way or doing anything the way they've seen it done. I want to be a new mold, a new example. The new mold of not being a mold.
So you're more invested into, "What is the future?" Rather than this constant obsession with trap music – not just the music but the image that comes along with it. As well as even this '90s resurgence.
Exactly, man.
What would you say is the future of Rome Fortune?
I'm going to be like the biggest fucking thing to come up. That's how I feel, that's what I want people to start saying because it's true. I just want people to see how good I am because I constantly work, man. I'm always trying to get better, I don't stop working or obsessing over this. I stay up until 5 or 6 in the morning scrolling, researching, applying, studying.
Have you played overseas yet?
Coming soon, very, very soon.
What're some cities that you look forward to visiting?
The whole country of France. We get a lot of love over there. France, Japan, London, I want to be everywhere. Sweden, South Africa, North Africa, East Africa, everywhere.
Any new music people can look forward to? Want to announce anything?
Got a new project coming called Lava Room. We're touching it up and making it better, we're adding stuff – it's going to be really, really good.
I think that's pretty good. Anything you want to touch on or say to the fans?
Just keep supporting me, thank you, thank you, I don't take it for granted. Even though I don't respond to every Tweet, I see it and it makes me want to never fall off.
::