This week's contribution comes from DJ Dyer. A native of Baton Rouge, Louisiana, the multi-talented creative has been holding it down at The Hundreds since 2009, while running his own Drum & Bass music label, Prestige Music, avidly collecting vinyl records and actively DJing for the past 15 years.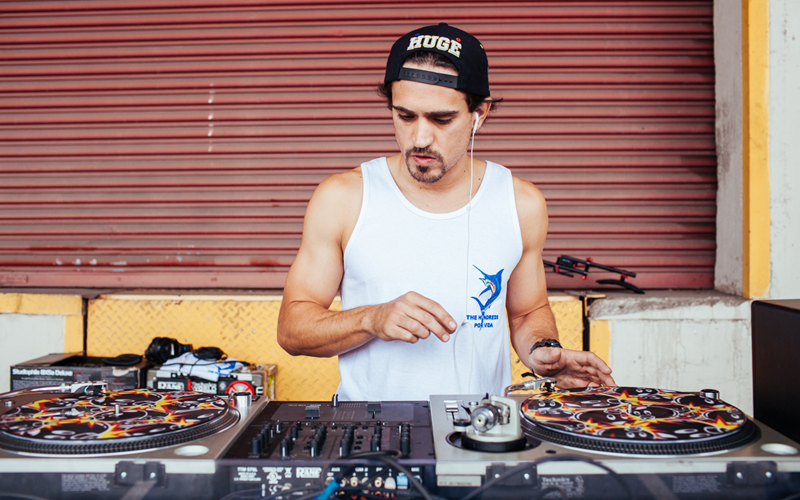 The Roots feat. Patty Crash – Never
The Roots are like my Zeppelin. They're the greatest band in Hip-Hop history and among the greatest groups this generation has ever known. Black Thought is probably the most underrated MC, and if he's not in your top 5 I feel sorry for your mother. Of course, things didn't fall off for The Roots with their recent rise to the Tonight Show fame. This album is moody, enthralling and downright brilliant.
Roc Marciano feat. Knowledge the Pirate – Slingers
Roc Marciano is also certainly in my top 5. Although he only just got on my radar last year, this dude has been at it for a long time unbeknownst to me. Had no idea he was actually a member of the Flipmode squad and the U.N.! That's so serious! His debut LP Marcberg in '10 was a superb first outing, followed by Reloaded which is hailed as a modern-day classic. The Pimpire Strikes Back mixtape serves as a precursor to this third LP Marci Beaucoup out last year. This dude is singlehandedly keeping NYC Boom Bap rap current on my playlist. AND he does nearly all the production himself. All praises due!
Evidence & Alchemist (Step Brothers) feat. Rakaa & Blu – Tomorrow
Been a fan of Evidence since Dilated Peoples, back during my high school days of yesteryear. But now after teaming up with The Alchemist to form the 'Step Brothers' for this Lord Steppington LP out this year on Rhymesayers, I have no quarrels. Alan the Chemist has already been producing some of my favorite projects as of late, such as Rare Chandeliers for Action Bronson and Albert Einstein for Prodigy, and his discog goes back just as far as Ev. These two teaming up is about as right as rain. Hope they keep it coming with more Step Brothers heat!
Blu – The Return
Blu is an amazingly overlooked talent. Sure he gets good write-ups and reviews in LA Weekly and such, along with hordes of local support. But Blu never really rose to the ranks expected of him by the industry. Some say his lack of mainstream appeal results from his reluctance and discourse for the music industry as a whole. Who can blame him for such hesitancy. But for the die-hards out there such as myself, this Good To Be Home LP out last month on New World Color shines the light in splendid fashion. Literally each track knocks and there is not even one throw-away tune in the bunch. Highly recommended is the collectors pack complete with Vinyl box 4×12″, Cassette, T-shirt, Sticker pack, etc. Big up Mainframe on this as well!
Freddie Gibbs & Madlib – Deeper
Any real beat head knows the name Madlib. If not, then there's no helping you! But who you may not be that familiar with is Freddie Gibbs. This Indiana-based rapper has released nearly a dozen mixtapes and has had even more features on releases from prominent artists the likes of K.R.I.T., Dom Kennedy, Curren$y, and more. But nothing has propelled his career as much as this very recent Piñata LP out on Madlib Invasion, produced exclusively by the one-and-only Madlib. Adorned with critical acclaim, this is most certainly a viable vinyl cop for any of those wax collectors out there. Instrumental LP also available on vinyl as well.
Mobb Deep – Taking You Off Here
Havoc and Prodigy fell off for years and years. Most of the '90s babes will only recall a few of the gems you'll hear still getting play from time to time. Not a fan of just about anything they released as a part of G-Unit. A few projects P dropped most recently such as H.N.I.C vol 1 – 3 which were also kinda lackluster. Eventually some Twitter beef (lol) escalated to an indefinite hiatus. Prodigy finally reconciled his relationship with Havoc, and fans could tell they'd been gearing up for this The Infamous Mobb Deep LP for a long minute. It's a 2xCD and I have yet to see on vinyl, but it would be at least 4 plates I'm sure. About half remixes of old classic material and half new original boom map rap. "Taking You Off Here" is one of the stand out cuts. Gully rap is back!
Machine Drum – Gunshotta
Machine Drum has a ridiculously long discog, through a wide range of genres. Mostly on the experimental, left-field, trip-hop, downtempo side of things. I can honestly say I was not all too familiar until this tune "Gunshotta" came out. It basically slapped me in the face and I now consider it to be the best Drum & Bass LP of 2013. I've always been a fan of Ninja Tune, but mostly for artists such as Scruff, Kid Koala, DJ Shadow, and the like. Although this album has lots of varied style and does not stray too far from his OG formula, there is enough 170+ for me to consider it a DnB LP. Vapor City does not disappoint!
Ivy Lab feat. Frank Carter III & Lucy Annika – Make It Clear
Stray, Sabre, and Halogenix pretty much make the best multi-producer collaboration outfit in recent DnB history. A dream team, at least in my mind. And any time they team up with Frank Carter lll it's purely magical. I would expect nothing less for their contribution to the most recent various artists LP out on the legendary Metalheadz imprint. Vibes all day long! Make sure to look up their work on the typically exclusive Critical Music label, that is if you are a fan of the sounds you're hearing here. Classy bass music plain and simple.
::
::
Check out previous installments of 8 Tracks HERE.