Sales at privately owned Patagonia reached $575 million USD in 2013 while their main competitor, The North Face, made $2 billion USD during that same period and forecasted earning  a whopping $3.3 billion by 2017. While one would think that Patagonia would be ramping up production and looking to close that widening divide between them and their notable competitor, the Ventura-based company is not in the business of growing just for the sake of growing. In fact, that is against their core tenet as a business and why they've remained a viable entity in fashion for 43 years and counting. As others zig, zag, and eventually go belly up, Patagonia has continued a steady ascent without ever abandoning its core principles—making it unlike any other American sartorial provider.
Patagonia is the brainchild of Yvon Chouinard, who forged a path as a climber in 1953 and a 14-year-old member of the Southern California Falconry Club. By 1970, his Chouinard Equipment brand had become the largest supplier of climbing hardware in the U.S. However, it had also become an environmental villain because its gear was damaging the majestic rock formations in our national parks. Thus, Chouinard eventually left the climbing business and decided to focus on "Active sportswear" which resulted in creating products like durable rugby shirts and corduroy pants that climbers would wear, as opposed to tactical equipment.
Yvon Chouinard
Photo: Lifegate
They just needed a name for it.
"To most people, especially then, 'Patagonia' was a name like 'Timbuktu' or 'Shangri-La,' far-off, interesting, not quite on the map," the company's official history says. "Patagonia brings to mind, as we once wrote in a catalog introduction, 'romantic visions of glaciers tumbling into fjords, jagged windswept peaks, gauchos and condors.' It's been a good name for us, and it can be pronounced in every language."
Despite its early success, by 1991, Patagonia found itself overextended after a recession in the country and rapid expansion during the final years of the 1980s after making Inc. Magazine's list of the fastest-growing privately held companies. Things were in fact so dire that Patagonia that Chouinard recalled that his accountants took him to meet someone in the mafia who offered a loan with an interest rate of eighteen percent. In the end, Chouinard borrowed money from another outsider source but still ended up having to lay off twenty percent of their existing workforce—many of them friends and friends of friends.
"It was hard," Chouinard told The New Yorker. "I realized we were just growing for the sake of growing, which is bullshit."
Knowing something had to change, that same year, he released "The Next Hundred Years" in the Patagonia catalog which outlined a new direction for the company which lay the groundwork for what is deemed as an "anti-growth" framework.
To have a business doesn't necessarily mean a CEO must act like a businessman. Chouinard solidified that notion in his 2005 memoir, Let My People Go Surfing, writing, "I've been a businessman for almost sixty years. It's as difficult for me to say those words as it is for someone to admit being an alcoholic or a lawyer. I've never respected the profession."
If you were ever considering opening up your own business, Patagonia is a good reminder that it's a marathon and not a sprint. Although that may seem cliché, fast fashion entities have a great chance at failing because they are forced to hit a moving target, unlike Patagonia, who know exactly who their customers are and what is expected of them as responsible environmental partners.
Here are five pieces of branding gold from Patagonia.
Be good all along
In 1970, Milton Friedman wrote an essay for The New York Times Magazine titled "The Social Responsibility of Business Is to Increase Its Profits." Friedman criticized companies' charitable efforts, arguing that it's the sole duty of a business executive to maximize profits for shareholders.
"In a free-enterprise, private-property system, a corporate executive is an employee of the owners of the business," he wrote. "He has direct responsibility to his employers. That responsibility is to conduct the business in accordance with their desires, which generally will be to make as much money as possible while conforming to the basic rules of the society, both those embodied in law and those embodied in ethical custom."
Patagonia on the other hand—and more recently TOMS and Warby Parker—have always used philanthropy and environmentalism as something that is intrinsic to their brands as opposed to stunt marketing. Additionally, Levi's has spent the past 18 months redesigning processes to save 45 million gallons of water, along with the energy that would have heated that water. Not only is this good for the environment, but it's good for their bottom line as well. "The business savings costs are real," says Michael Kobori, Levi's V.P. of social and environmental sustainability.
"The capitalist ideal is you grow a company and focus on making it as profitable as possible," Chouinard said. "Then, when you cash out, you become a philanthropist. We believe a company has a responsibility to do that all along—for the sake of the employees, for the sake of the planet."
"Most people want to do good things, but don't, he adds. "At Patagonia, it's an essential part of your life.
Subversive advertising strategy
Patagonia caused both shoppers and competitors alike to scratch their heads during Black Friday in 2011—a period people will recognize as the epitome of consumerism and excess where the allure of marked down items causes riots throughout the country.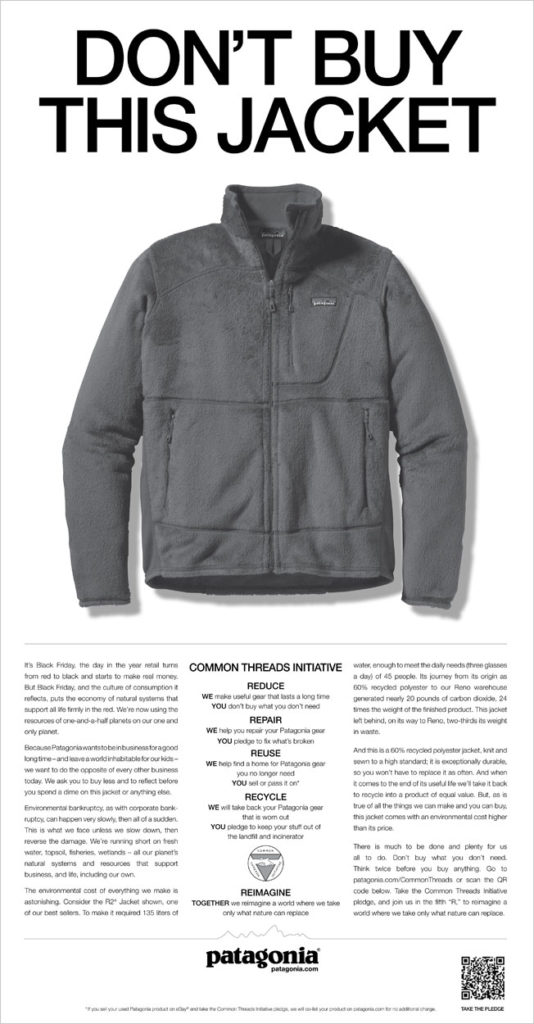 Photo: adweek.com
The company opted to take out a full-page advertisement in The New York Times that read, "Don't Buy This Jacket." The ad's text broke down the environmental costs of the company's top-selling R2 fleece sweater and asked consumers to think twice before buying it or any other product. The attention the ad received helped to bump Patagonia's 2012 sales significantly and saw its revenue increase 30% from the previous year's Black Friday.
"I've never seen a company tell customers to buy less of its product," said Harvard Business School professor, Forest Reinhardt, who co-authored a Harvard Business School case study of Patagonia in 2010.
Renew and recycle
Company records available as of 2015 indicate that Patagonia recycles about twenty thousand pounds of clothing per year and repairs some forty thousand garments as part of their "Worn Wear" program. Their Reno repair shop is the largest facility of its kind in North America and looks to curb the vicious cycle of, "see that thing, want that thing, tire of that thing, see that [new] thing."
"We live in a culture where replacement is king," says Patagonia CEO, Rose Marcario on Quartz. "We do routinely fix big-ticket items, like cars and washing machines, but primarily it's easier and cheaper to go buy something new. There are other reasons to avoid repair, including labels warning that repairing a product on your own will void the warranty, or the lack of access to the information and parts necessary to repair something ourselves. These conditions create a society of product-consumers, not owners. And there's a difference. Owners are empowered to take responsibility for their purchases—from proper cleaning to repairing, reusing and sharing. Consumers take, make, dispose and repeat—a pattern that is driving us towards ecological bankruptcy."
The company supported this goal in 2015 with a cross-country tour in a camper nicknamed Delia, collecting people's used Patagonia items for recycling.
M.B.A. – Management by absence
As CEO, a person can either trust that he's hired the right people, or he/she can torture himself/herself by trying to micromanage each department. The latter is probably what creates the most friction in a workplace environment.
Chouinard is known to employ a strategy where he lets his employees figure out the best course of action to take given the expectations for the task at hand—favoring answering the phone in the Patagonia's Ventura headquarter lobby to barking out orders.
Photo: Hypebeast
In turn, Patagonia's combined voluntary and involuntary turnover in its retail stores was around 25 percent, while it was only 7 percent at headquarters. Conversely, the industry average for retail is around 44 percent.
His flex-time policies allow workers to come and go whenever they want—telling them to get outside and enjoy the surf or hiking while also creating a nice situation where employees can field-test gear.
Chouinard's wife, Malinda, was also instrumental in making Patagonia one of the first companies in California to provide on-site, subsidized daycare.
At a certain point, growth creates more problems than it does solutions
Despite harnessing a strategy that is unlike most clothing outfitters, Patagonia is still in the business of turning a profit. However, they still want to achieve it by remaining true to the core vision.
In a supply and demand sense, what Kanye West is doing with his YEEZY silhouettes at adidas actually mimics Patagonia's growth strategy. They believe greater individual consumption is bad for a number of reasons. Not only does it create more disposable products which is bad for the environment, but it also lends itself to creating shoddy products. Patagonia seeks to make less products—albeit more high quality and at a higher price point—so that consumers buy less, waste less and are more satisfied because they've bought a product that they can keep for decades, unlike fast fashion products who trade quality for speed. This has caused many to ponder whether Patagonia is actually a luxury brand and has earned them the nickname "Patagucci."
Photo: Hypebeast
"There is a point out there where our own growth is going to likely create more problems than it does solutions," said Adam Fetcher, the company's director of global P.R. and communications. "But as far out on the horizon line as we can see right now, we're continuing to produce products that allow people to live a more responsible life with the apparel that they choose. As long as there's a lot of other people out there that don't do that, and that are creating more problems than they are solutions, then we should be."
***