The first time Kreayshawn and her girls (WHITE GIRL MOB) made it onto this blog was in February, and then she surprise cameo'd THSF's 3 year anniversary, but she's been riding with us for a lot longer than that. (Remember when she made her own un-commissioned The Hundreds commercial last year?) The rapper/director has been groundswelling up in the Bay Area for some time now, making music, videos for Lil' B,.. but she recently made the move down south to build in Los Angeles with the cast of The Hundreds' characters like Alexander Spit and Jay Ughh. Not only does Kreayshawn have the West Coast covered, but the entire world's been hooked as well, with the literal overnight success of her recent "Gucci Gucci" video. In a matter of 2 days, everyone from Drake to Snoop to The Weeknd were tweeting at her, all the key music media have linked her (Complex, Pitchfork, Fader), every major record label has made a call, and that's just the beginning. And that "Gucci Gucci" video? At half-a-million views in less than a week. This girl's so viral, it's sick.
This Friday night in San Francisco, The Hundreds is proud to showcase WHITE GIRL MOB to the world once again, but this time onstage in concert. Lil Debbie will be there as well as the elusive V NASTY. Buy tickets HERE.
This is the part where years later, you get to say you knew about Kreayshawn and WHITE GIRL MOB first.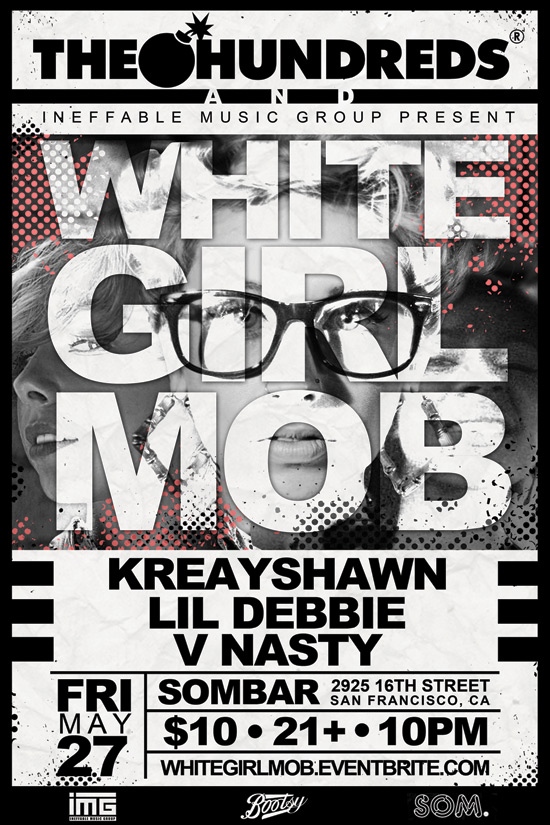 by bobbyhundreds