We've all been invited to speak at UCLA.
(No, not at the same time.)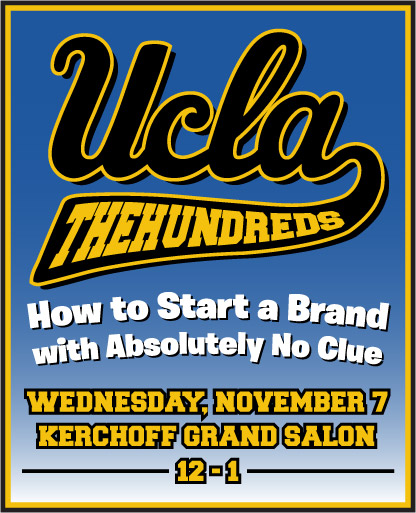 Of all the email I receive every day, aside from the CIALIS spam and obscene inter-office messages, I get a few messages that go something like this:
B. Hundoz~!
Yoooo DAWG, iM comMin wit dat HOT FIYAAAHHHH. How do I run a CLOTHING COMPANY like y'aLL and make a bazillion dollaz? Get at me,
Rick Springfield
Hot FiyaHH Clothing.blogspot.com
*I'm gonna be RICH!*
or it's along the lines of this:
Hey Bobby,
Can you tell me how to start a brand? And give me all your manufacturing contacts overseas, all-over-print silkscreeners, webhost information, and anything else you think I should know. Oh and your Australian distributor. And make my logo for me.
Or else I won't support your brand.
Rick Springfield
p.s. Don't forget where you came from.
but it's usually just like:
To The Hundreds,
My friends and I have a great idea for a clothing line but we don't know how to get started. We don't have much money, experience, or industry connections. What we DO have is a great idea. Any advice?
Thanks for your time,
Rick Springfield
p.s. Back to the Future II is the greatest movie of all time.
Which is why, when UCLA formally invited us to speak on-campus and share our story with the students, the only thing I could really think about discussing was how to do what we did. For years, there was only one real way to enter this arena. You had to either be loaded, know the right people, or come from a family background in the industry (of course, there are some major exceptions to the rule. But you know what I mean).
Until the Internet and downloadable design programs came along and leveled the playing field. As it did with the music industry, the web suddenly gave a voice to the voiceless. And before anyone knew it, if you were talented enough, all you needed to survive was a great concept, passion, and a healthy work ethic to make moves. (Of course, the older generations lament the Gold Rush of the new millenium, but at the end of the day, as history has always proven, the fittest survive and the C.R.E.A.M. rises to the top.)
But at least everyone can now say they have an equal shot at following their dreams.
If you're in the area, come see us speak at the Kerchoff Grand Salon, which is located in the center of UCLA's campus next Wednesday from 12 to 1. I'll be going through a brief history of the brand, and doing my best to share what little knowledge we've gained over the years. Hopefully it'll be worth your time. If anything, you can take a photo with Scotty.
by bobbyhundreds