My friend Leah first turned me onto West L.A.'s iconic guerrilla artist Robbie Conal years ago. It was the season leading up to Bush's re-election, and Robbie's voice was being heard loud and clear on the streets of Los Angeles, via dynamic posters and street art in public spaces.. Distorted portraits of the nation's President juxtaposed with bold double-entendres..
Perhaps you're familiar with his celebrative "WATCHING / WAITING / DREAMING" series, but Robbie is best known for his satirical perspective on, and resulting grotesque caricatures of, political heavyweights. He's kinda my hero, the way he amalgamates his political opinions with a healthy sense of humor into an artistically skillful work. And having fun doing it. ALWAYS having fun with it. I guess I try to remember and follow his mentality when it comes to my own work.
Robbie's studio's just a few streets away from me so I dropped by ground zero to give you a closer look at one of L.A.'s living legends.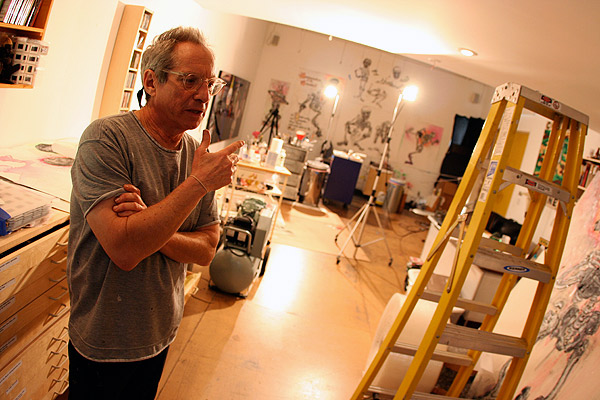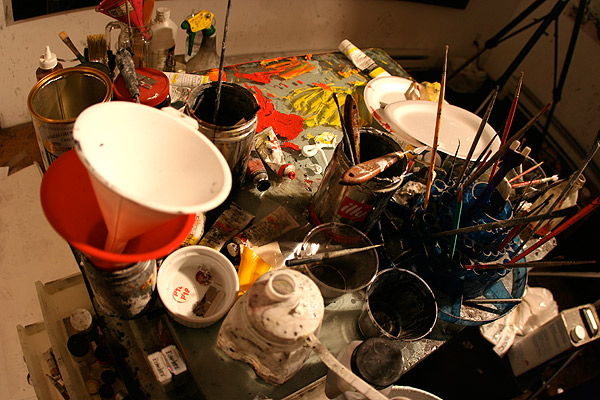 This poster was part of the 2004 "Be The Revolution" campaign with Shepard Fairey and Mear.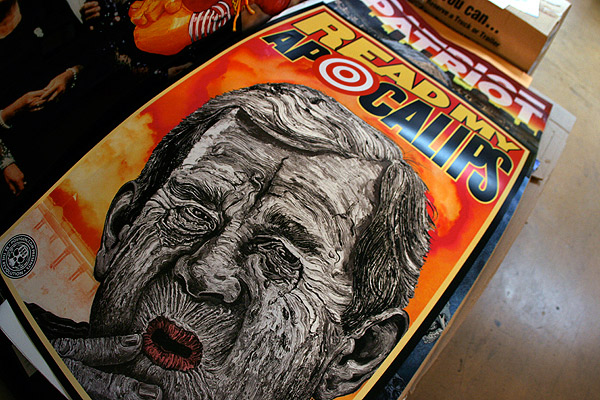 And this is the newest poster out on the streets. Literally.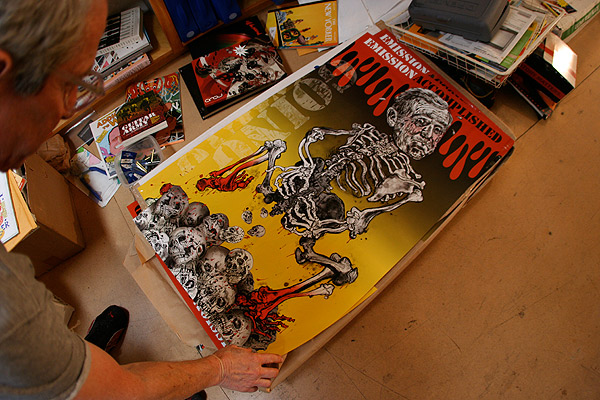 Here you're looking at the beginning stages of a great process. Something about Dick Cheney being a gangbanger..?? I mean, c'mon, that's just amazing, right?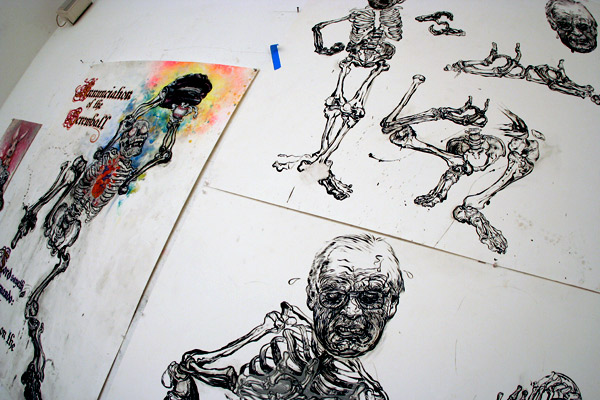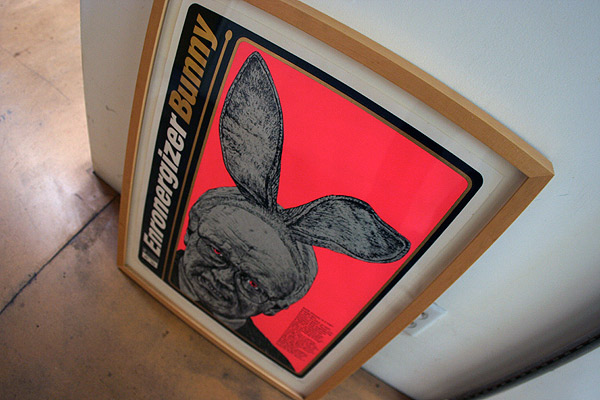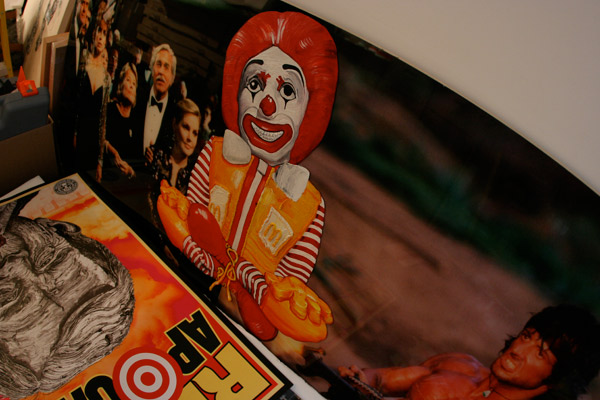 He's really gotten into baseball art lately. What's the political statement with baseball? "Nothing," he replies matter-of-factly, "I just like baseball." (He actually played, himself, in the Canadian leagues. Oh, and he was a genuine '60s San Francisco hippie. But that's a story for another day.) And because no other high-profile American artists and galleries have properly paid homage to our national pasttime, Robbie's making it a point to do so with his latest endeavors.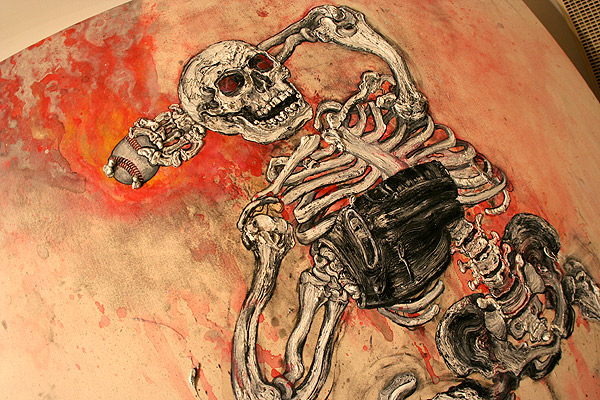 The one thing that I (and most people, for that matter) never realized about Robbie's art by just pouring over it in books and print publications, was the amount of texture there is to his surfaces. In fact, he was trained his entire life as a fine artist, and it certainly shows once you can see his technique up close.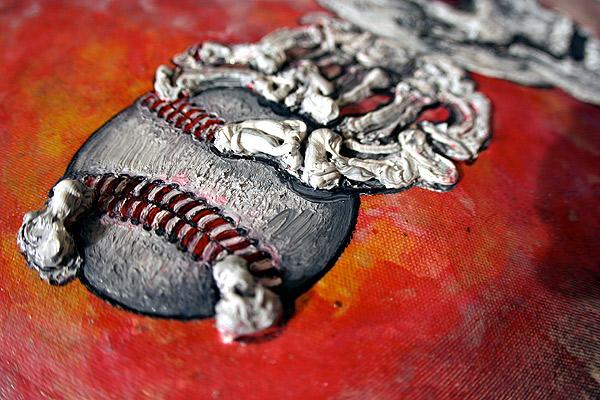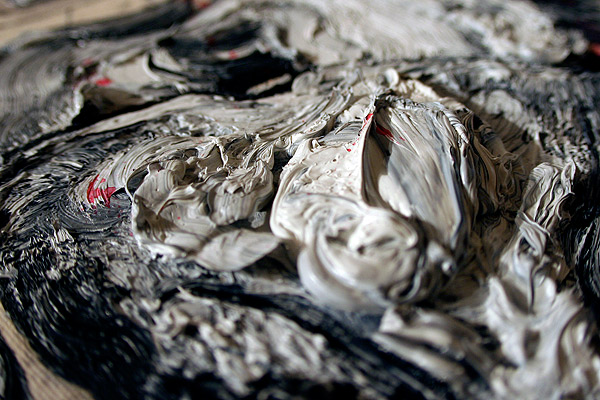 I like this one, with the iridescent paints and mixed-in glitter. Depending on how the light hits it, it pops off in different ways.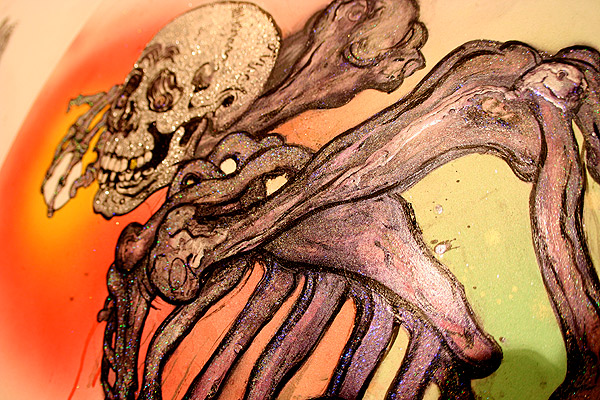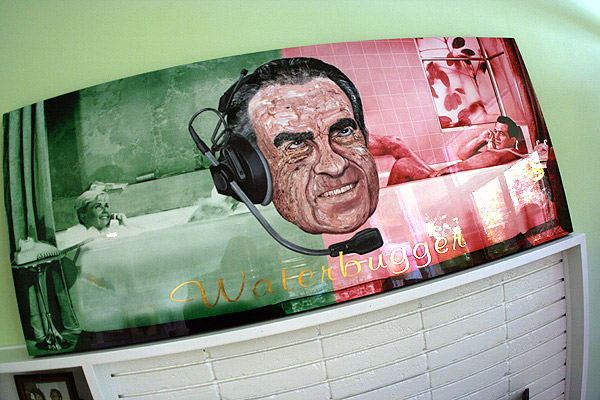 Again, with the texture. I asked Robbie if he was straight taking the tubes to canvas, but he actually uses those cake icing baster things.
How long does it take to dry? That must take forever! "We don't talk about that," he quickly responds.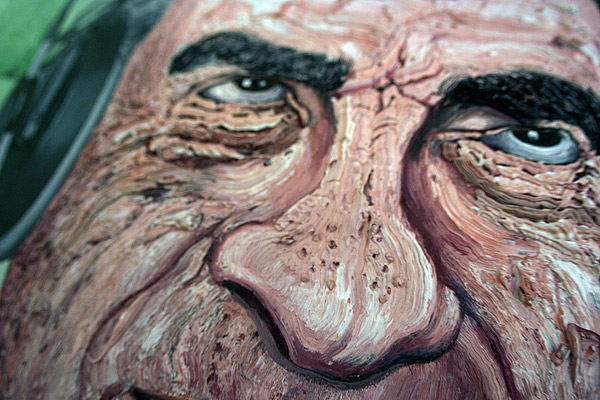 Awe. Inspiring.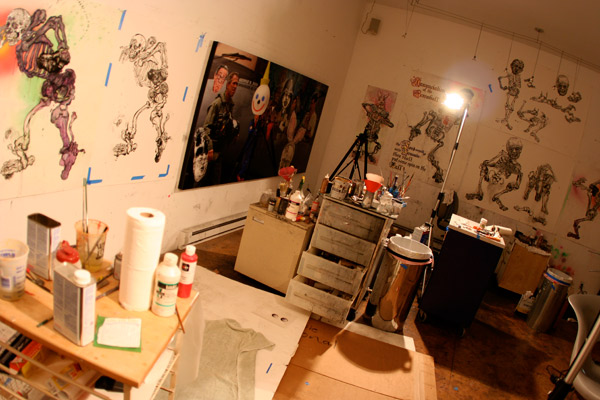 by bobbyhundreds