It's been a while since I've watched a good mainstream film in the theatre, one worth mentioning on the blog anyways. "Rachel Getting Married" opened this past weekend and although I don't necessarily consider it as typical fare for the TH crowd, I do think it may be worth a head-nod. The story revolves around ANNE HATHAWAY's character Kym returning home, interrupting a lifelong stint at rehab, to participate in her sister's wedding and resurrect all sorts of family crises and dysfunctional chaos. It may scare some, considering the handheld-cam Cloverfieldy cinematic style and the nontraditional approach to storytelling (the film plunges you into the dark stories of a coping family and rips you right out by the closing credits). But it's good, kinda weird and prolonged in some stretches, but good.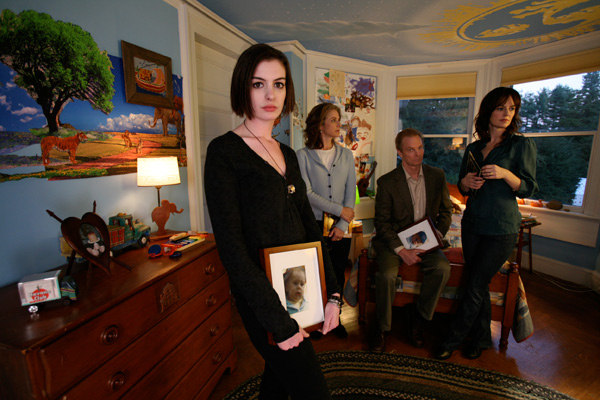 And if the storyline (or my weak synopsis) doesn't capture your intrigue, how about the following?
1) Fab Five Freddy is in this movie, and plays the role of a close family friend. As himself.
2) Director Jonathan Demme has laid off of fictional movies, preferring documentaries, since he won awards forThe Silence of the Lambs and Philadelphia in the early 90s. This is his first fictional film in 5 years.
3) Sidney Lumet's (12 Angry Men) daughter wrote Rachel Getting Married.
4) Tunde Adebimpe from TV on the Radio has a major role, and destroys with it.
5) Neil Young. Unknown Legend.
Oh and) Did I mention Anne Hathaway is in it?
by bobbyhundreds