I'm lost. I always lose my way around Silver Lake or Echo Park or wherever I am. Google Maps is of no help, either. I criss-cross the cemented path, rewind my steps, start back at my car again. Maybe I should just call Elgin.
"It sounds like you're right in front of my place! I'll come down."
He's wrong. I've confused myself halfway down the block, on the wrong side of the street; but I see the musician-turned-filmmaker in a sleeveless band tee, waving his bare tattooed arms. The irony strikes that this is the exact sidewalk he was walking his dogs three years ago, when a bevy of federal agents approached.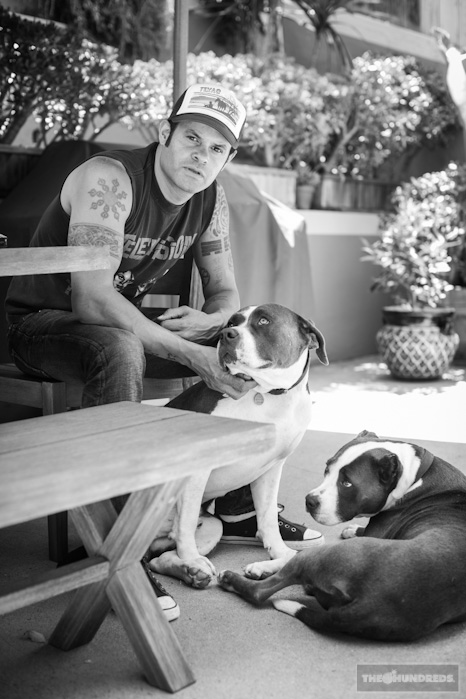 Instinctively, his first concern was those he cared for. "My dogs are friendly," Elgin disclaimed to the men, "My dogs are friendly," to protect them (the dogs, (and maybe the FBI)) from needless harm. This is how he thinks and operates. Loyalty to his loved ones, even at the cost of his own well-being.
As a child, Elgin entered an abusive universe, pinballing between foster homes and orphanages before settling in a New England home with civil rights activists. He turned to Straight Edge and vegetarianism and like many in the hardcore culture who question everything – including the punks who already question everything – took it to extremes. His crew, FSU (Fuck Shit Up) directed their angst towards the outnumbering neo-Nazi skinheads in the Boston community, his handful of friends tearing apart local shows and brutally attacking any semblance of racism in the punk scene, practicing a violent means to achieve vigilante justice. The paradoxical moment came when FSU attracted so many recruits that they were now the dominant force in the Boston hardcore scene. The underdogs had come out, strangely enough, on top.
Most of FSU's founders would graduate to the Outlaws motorcycle gang, but Elgin was uninterested (Simply put, he wasn't attracted to their women). Although he played pivotal roles in bands like Wrecking Crew, 454 Big Block, and Righteous Jams, he believed his life to be devoid of worth. In a turning point, his mother fell sick and Elgin apologized for his perceived failure, but she most elegantly reminded him that it was never too late to change.
When Elgin was growing up, films were an escape – from the domestic chaos and more obviously, the physical ticks his body suffered from the trauma. So he turned back to movies as an escape once again, now as a man seeking higher ground, now equipped with his mother's advice. Elgin blindly trekked to Los Angeles to become a filmmaker and begin the next chapter of his life in Hollywood, without friends or connections or money, but also without the carnage afflicting his past.
Almost immediately, he was sucked into a Nick Cassavetes project based on his own life. The script even had Justin Timberlake as James. But a hardcore kid at heart, he couldn't assuage the guilt of selling out. His friends, his family, and his ideals deserved much more than a romanticized box-office rendition. "This is my life," he defends to me, after recounting the moment the cast and crew read aloud the script and marginalized his mother's passing. His girlfriend supported his decision to pull out and do it the right way. From the heart, DIY, and true. Just like he'd always done.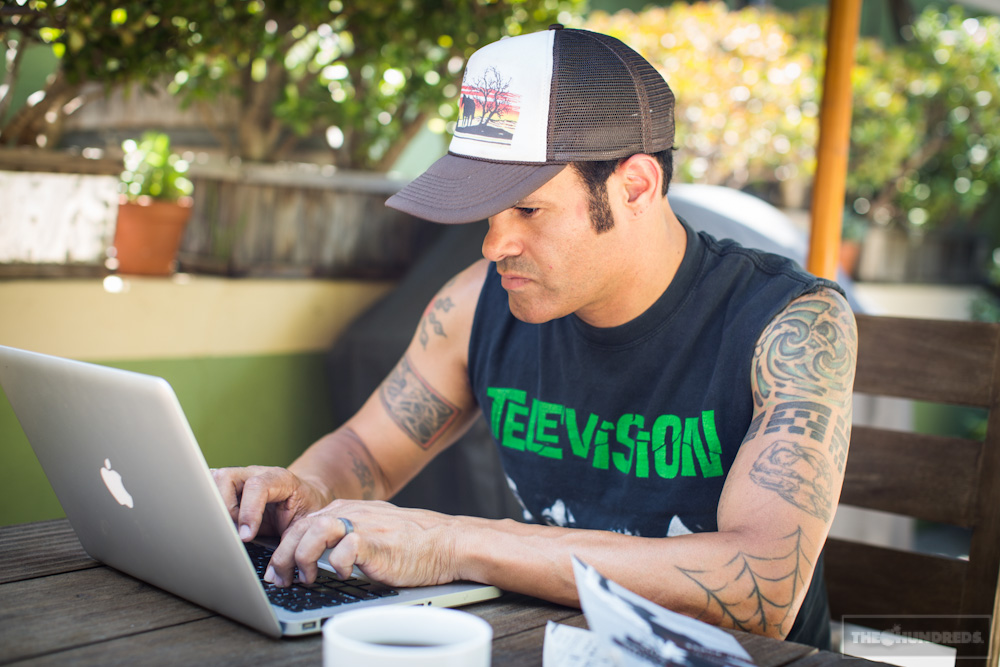 So he wrote another movie, once again inspired by his own life. But this time, he did it his way. No mentions of FSU or his punk background. Nothing about his violent past or fighting skinheads. Actually, he's nowhere in the movie. Surprisingly, "Little Birds" is about two teenage girls from the Salton Sea, one blonde and one brunette, doe-eyed and trailer parked, fenced in by socioeconomic pitfalls and empty family existence. Lily (up-and-comer Juno Temple) and Alison (Kay Panabaker) play off of each other as all that they need and all that they need to get away from. It's a raw slide extracted from a visceral teenage relationship, and it's easy to see how Elgin's history colors the backdrop of the narrative.
That backdrop came crashing down on the film before it even began. In 2009, Elgin James was arrested for the attempted extortion of a musician with a history of racist involvement, stemming back to an incident when he still lived in Boston. But instead of resisting, Elgin acknowledged full responsibility for his actions, and dove headfirst into his film, racing to finish before impending incarceration. He fought back industry stigma and peer criticism, the media's scrutiny, and studio execs' attempts to pry the talent from his set. Along with producer Jamie Patricof's (Blue Valentine), lead Juno Temple's, and newfound mentor Robert Redford's undying support, Elgin completed his movie with the understanding that it might be his last; In 2011, Elgin James entered federal prison for a yearlong "sabbatical."
The film won over Sundance that year and upon Elgin's release this past March, he was right back at it again. The director has nothing short of ten concurrent projects attached to his name, he's recently rescued two pitbulls (Bonnie and Clyde), and is now married to that girlfriend who believed in him all those years ago. The man whose life was bent on unwavering loyalty finds himself here today, a new man — liberated and accomplished — because of the dedication and support of people he barely knew. It's a tale of redemption, humanity and the power of human relationships, not unlike this sweet indie movie about two girls from the desert:
by bobbyhundreds