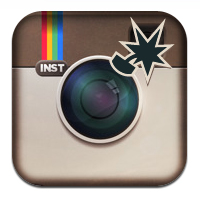 This weekend, I tweeted, "Have you upgraded to the new Twitter? It's called 'Instagram.'" The irony being, of course, that I used Twitter to disseminate my half-joke, and that the only negative feedback I got was from people who abuse Twitter and over-Tweet (we all know who they are) and were afraid of being silenced.
Of course, the top irony being that I don't believe Instagram is a Twitter-killer – it's just different. Sometimes you wanna go to a name-dropping party in the Hills where everybody is self-promoting, talking at once, and not really listening to each other. And sometimes you want to go to a quiet and tasteful art gallery. For years, we've been sucked into the noisy club scene of Twitter and honestly, who isn't getting sick of each and every person they follow by now? If Twitter has shown us anything, it's that we're all a lot more boring and obnoxious than expected, and maybe inner thoughts aren't always meant to be externalized.
I love Instagram, as do more and more others, because it encourages everyday people to try their hand at the arts by shooting and manipulating photography. It's a great creative experiment, we're all handed the same iPhone device and given a pre-determined set of filters, and that's it (Of course, some people go overboard with the Photoshop and Lightroom plug-ins, or import outside photographs from the web, but that aside…). For the first time ever, I'm seeing so many of my friends and colleagues expressing themselves through photography and digital editing and it's interesting to see the results. I've been shooting photos for over half my life now but already I can see peoples' eye and style develop (no pun intended). It's not exactly photography, it's iPhoneography, but that doesn't cheapen it's craftsmanship by any means.
The best part about Instagram? If utilized in it's rawest form, it's the most honest and authentic representation of self and personal narrative. It's exactly what you're seeing at that given moment, with maybe a '70s haze glossed over it. No filler, no pretense. I think that's why celebrities are having a difficult time gaining traction in the Instagram world, because so much of their presence is manufactured through publicists, it's all appearance and arranged delivery. Perhaps Instagram is too invasive into their world – where we can witness the ho-hum lives they truly lead.
Oh, and the other best part about Instagram? Silence.
______________________
MY TOP 21 STREETWEAR INSTAGRAMMERS
– Brooklyn Dom (brooklyndom) : Dom Deluca of Brooklyn Projects takes you on a harrowing ride of hesh, backstage laminates, and naked groupie shots from his MTV heyday.
– 13th Witness (13thwitness) : When professional photographers find Instagram, it's either a good thing or a terrible idea. Without their professional equipment, sometimes you see the shutterbugs for what they really are. But the true talented photographers, like Tim McGurr, have the eye and conceptual capacity to get the most out of their phone-cam.
– Bobby Tribal (bobbytribal) : Bobby from Tribal Streetwear has a unique and decidedly Latino-culture oriented Instagram; plenty of lowriders, brown babes, and street art from one of the O.G.s in the Cali game.
– Jeff Staple (jeffstaple) : Don't expect anything less than well-curated and manicured Instagram shots from the New York design guru.
– Stash (mr_stash) : Everyone knows Stash the graffiti artist, and then there's Stash the sneaker demigod, but the real heads know and love Stash the photographer. Like 13th Witness, his photography translates seamlessly through the iPhone.
– Huf (keith_hufnagel) : Beer, skate, art. Just some of what you'll get from the mastermind of the Dirt Bag Crew.
– Edison Chen (edceezyyy) : The actor, musician, and CLOT captain is perhaps the most jet-setting person I follow on Instagram. Half the shots are from the plane, the other half are famous people and landmarks from all points of the world.
– Benny Gold(bennygold) : Constantly updated, Benny Gold's Instagram is nonstop San Francisco skateboarding and Streetwear.
– Ben Baller (benballer) : It's as if Instagram was made with the celebrity jeweler in mind. K-town's finest floods his stream with pricey rocks and all-star cameos. Wanna know what Justin Bieber or Pusha T are doing today? Check Ben's feed.
– Talisa Monet (talisamonet) : Talisa is the queen of Instagram. At 20,000 followers, the tattooed model not only takes you behind the scenes of L.A.'s street and skate life, she brings a softer side to Instagram with family and friends. Oh and by the way, everyone is beautiful.
– Sagan (saganlockhart) : This is my favorite Instagram to follow. If you ever wanted to know what was really going on inside that twisted head, Instagram provides that window.
– Alyasha Owerka-Moore (stackaly) : The designer's been there, done that, and doing things now that you'll be doing tomorrow. Read up on his Instagram so you can get a head start on the rest.
– NA (deadlineltd) : NA isn't just The Hundreds New York. NA is New York. The THNY manager and Deadline head honcho's Instagram is NYC life, all day, everyday.
– NIGO (nigoldeneye) : if you've ever wondered what life was like in Nigo's Bape STA's, here you go. The founder of A Bathing Ape publishes 1-on-1 shots with Pharrell and Jebbia, sneak peeks at his vintage label Human Made, and choreographed product shots of the beverage he's drinking. Very specific, very deliberate, very Nigo.
– Jun Cha (jun_cha) : Since our collaboration with Jun, the L.A.-based artist has reached epic levels in the tattoo world. Aside from his artistry and undeniable skill, so much of his success can also be attributed to his taking advantage of the web and social network platform. Jun's Instagram is the story of the art and culture which inspire his tattooing, as well as daily pieces he's signing off on.
– Emil (emilcrooks) : There are a lot of proficient foodies on Instagram (Milhouse of LRG (milhouselrg) is a shining example), but Emil takes the cake (literally). The Crooks & Castles designer proudly presents butter scallops, Foie gras pork belly terrin, and salmon cream cheese handrolls before he devours them. You can get fat just scrolling through Emil's Instagram.
– Nick Diamond (nickydiamonds1) : Diamond life, son. Diamond life.
– Jessica Clark (jessicapuss) : Our magazine cover girl posts photos of herself, Streetwear, and herself. She also throws in occasional shots of her boyfriend to break your heart.
– A-ron (aaronbondaroff) : If there's not a photo of you on the Downtown Don's Instagram, then you're not that cool.
– Graham (grahamversus) : Us Versus Them's founder lets you in on his design inspiration, daily life detailing, and art he's perfecting to be featured in the Versus line.
– Bam and Lanie (gpprco)(misslawn) : The husband and wife duo behind GPPR and Hellz, respectively. 2 different perspectives from the same vantage point.
– Honorable Mentions : I knew I was gonna blank on a few. Also, follow Erik Brunetti (erikbrunetti),Ray (mightyhealthyny), Eddie Cruz (eddiecruz1), and Frankie (eiknarf) !
______________________
And follow The Hundreds: Ben (benhundreds), Scotty iLL (thetrillz), Jon (archwood), Ashley (cilantrokiller), Switch (Switchundreds), Tony (dgaf_ynot), Pat (lovelikelightning), Lil Mike (lilmikehundreds), Nate (nathannice), Chelsea (chelgreen), Umi (srhomme), Rob Heppler (robheppler), Nelson (nlsn_clsc), Josh (clscjosh), Bonnie (bonchron), Alex Corporan (peanut186), Tal (tallywood), Natalia (nataliabrutalia), Rahmin (rvaziri), Micah (micahaza) and Dave (deejaydyer).