DeLorean Motor Company is located deep in a rural suburb of Houston, Texas. Literally, right off a dirt road. Yet, they still get eavesdroppers and lurking visitors on a daily basis. Parents teaching their kids about a pop culture relic, Japanese tourists armed with cameras, and of course, the DeLorean fanatic like me who is in 7th Heaven.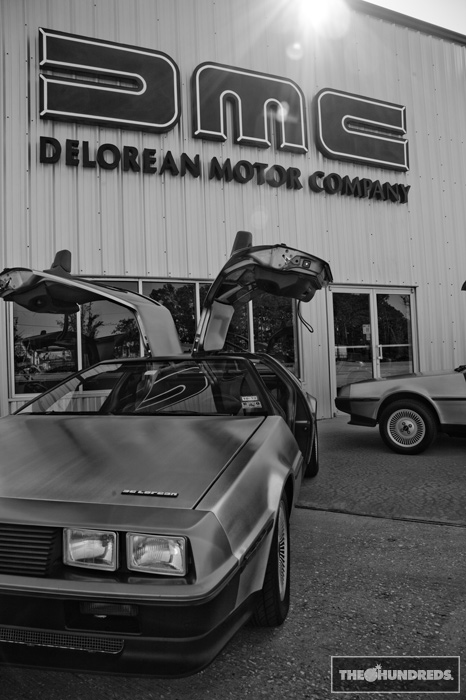 This is the main showroom. The guys recounted a story of a local school teacher who is a regular DMC visitor. She first came into the shop as a college freshman and let it be known that it was her dream to leave the lot with a DeLorean one day. Every year since, she's come in, sat in the driver's chair, and vowed to come back the following year.
2 months ago, she came in and bought a DMC-12 with her savings. That's how a typical DeLorean owner's story goes.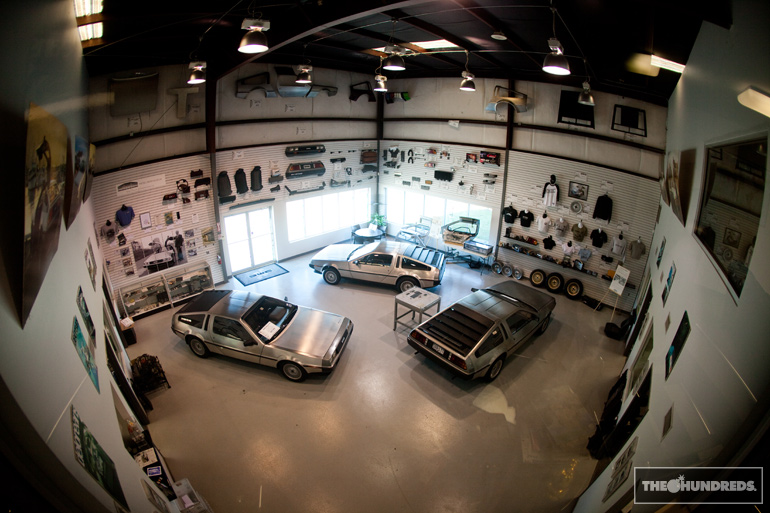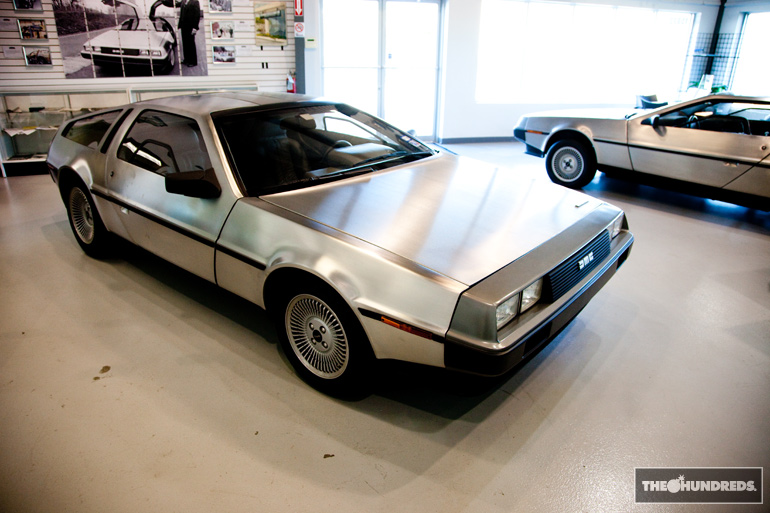 Like I was saying before, there are many signature accents that are unique to a DeLorean.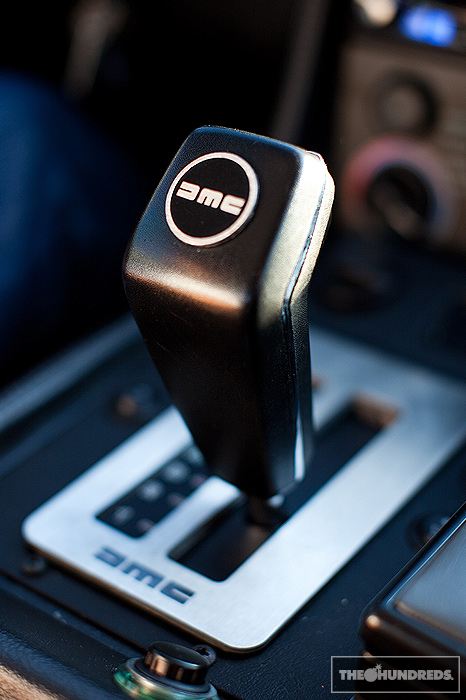 The middle console's buttons are another unique attribute. The first and last buttons are for decoration, but the arrows operate the windows.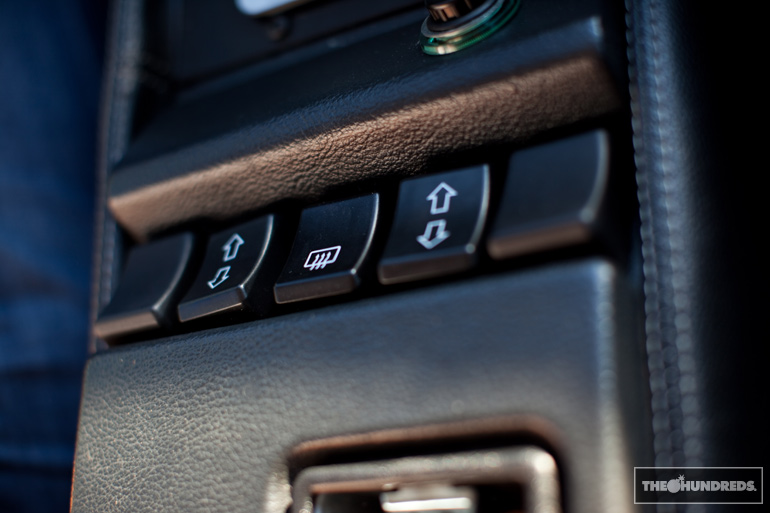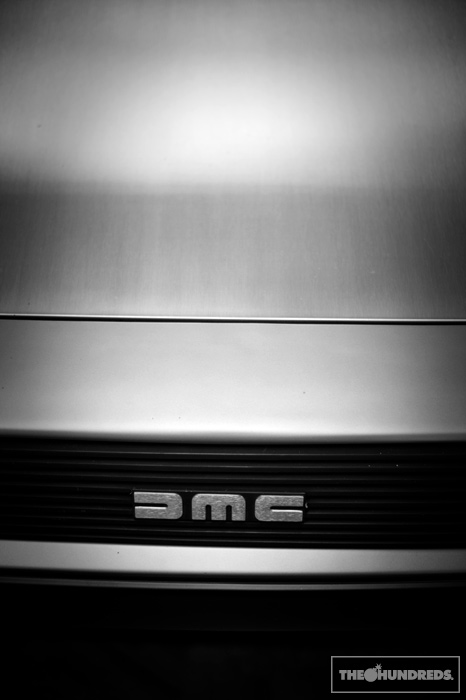 Inside the showroom is also the DeLorean Museum, chronicling the story of the legendary car and the mythology enveloping its creator and legacy.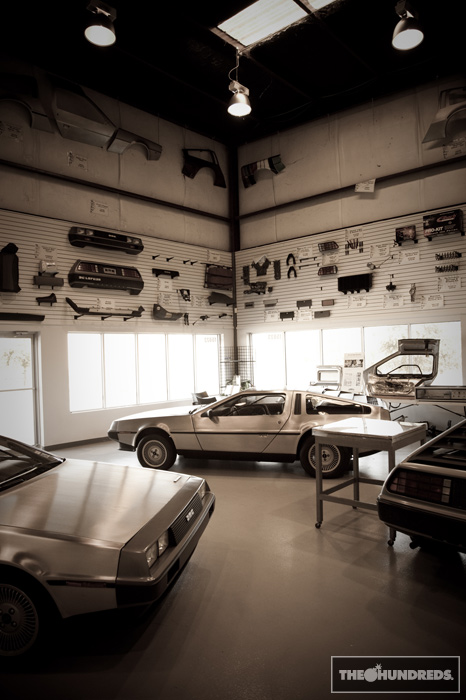 For example, all DeLoreans have the same grey interior, but John DeLorean had plans of different colorations. Here are the prototypes for red parts.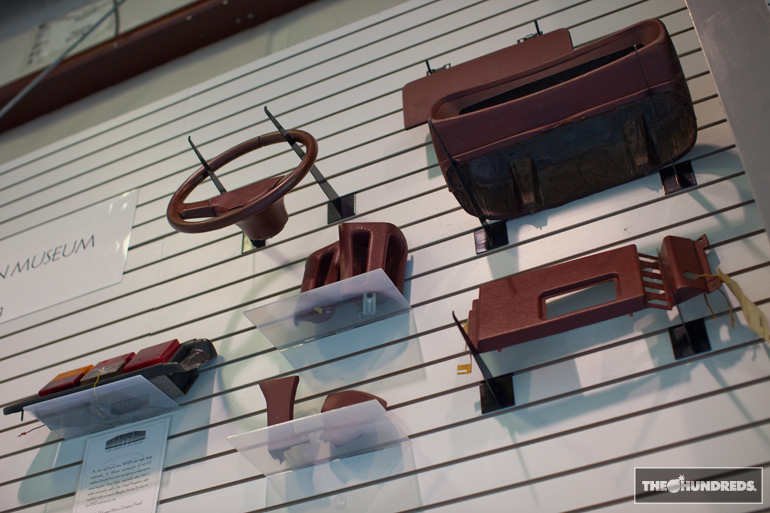 And there was never anything but a stainless steel exterior in the original production run. But they had plans for painted colors, and here are 2 panels that indicate what they were working on before shutting down.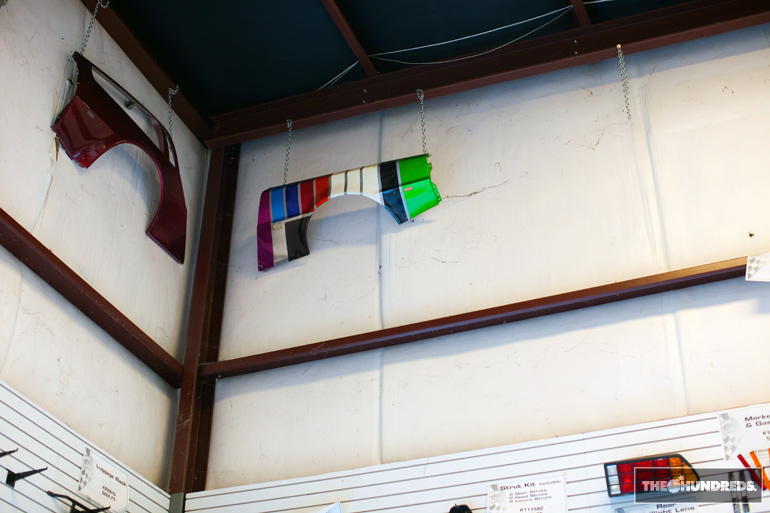 One of DeLorean's greatest stories is the legend of the gold car. In 1981, DeLorean and American Express worked on a cross-promotional campaign to introduce the Gold Card to the public. You could purchase a 24k-gold-plated DeLorean for $85,000, but you had to buy it on an American Express Gold Card. They planned on making 100 cars.
Only 2 were ever purchased. 1 sat in a bank vault in Texas for years, before being donated to the Petersen Automotive Museum right down the street from THLA on Fairfax. The other is sitting at Harrah's in Reno. It was bought by a doctor who used the gold DeLorean as a daily driver on his commute into San Francisco. But he eventually had to give it up because the insurance on a gold-plated car was exorbitant (Ya think?).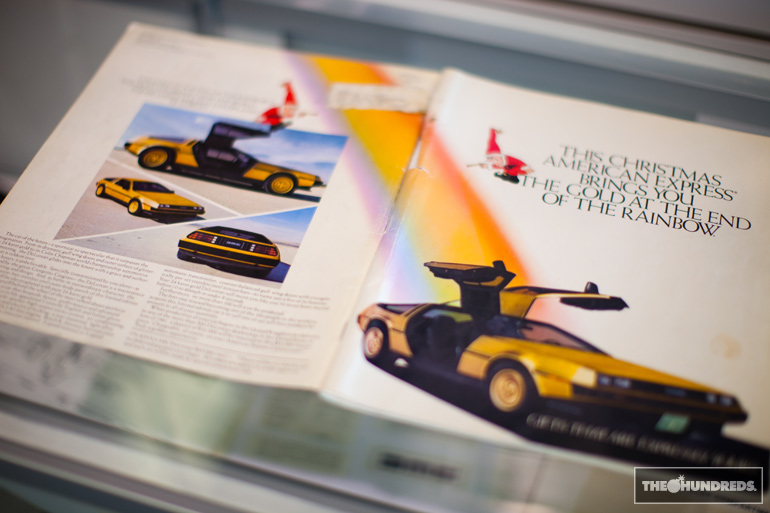 Although only 2 gold DeLoreans were ever produced, at the time, DMC made enough gold-plated panels for the 2 owners in case their cars were ever damaged. BUT, they didn't have a spare for 1 of the doors. Somebody bought the panels, and actually constructed a 3rd gold DeLorean, but the door is noticeably off-color. To this day, a private seller in Maryland is hawking his makeshift gold DeLorean for no less than $250,000.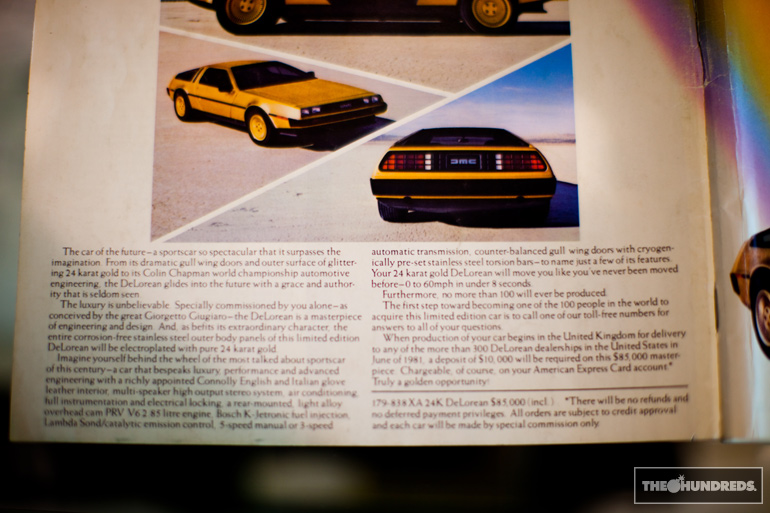 Next, we'll step foot into the body shop…
by bobbyhundreds