Last night, I was wandering the halls backstage at Jimmy Kimmel Live!, and was really impressed with what the comedian has done with his short career. As a teenager, I used to listen to him as the sports guy on KROQ's morning show, Kevin & Bean. Then he kinda took the Comedy Central path to stardom, and it's as if he were built for his own talk show. He's always been the underdog in the late-night circuit, but a definite fan favorite, and reliably funny. Slow and steady always wins the race.
Anyways, that's Jenny McCarthy's room in front, and to the left was Ron Artest's.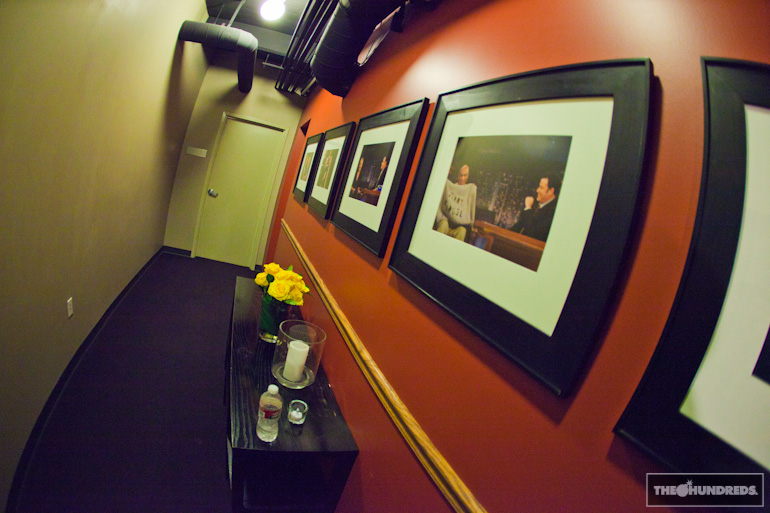 We were actually there for Die Antwoord. So considering the crazy Playmate pinup, crazy Laker, and crazy South African rap ninjas, it was a random mix of associated guests backstage in the green room. Blondes, record execs, Bam Margera (why do I keep running into this guy wherever I am in the world? I see this Jackass in 3D everywhere), and Asian artists.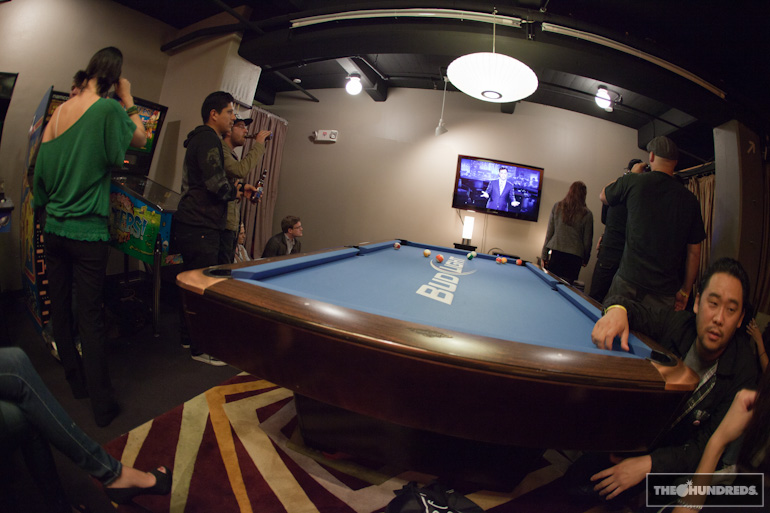 Die Antwoord killin' it as usual. You can watch the episode onlineHERE.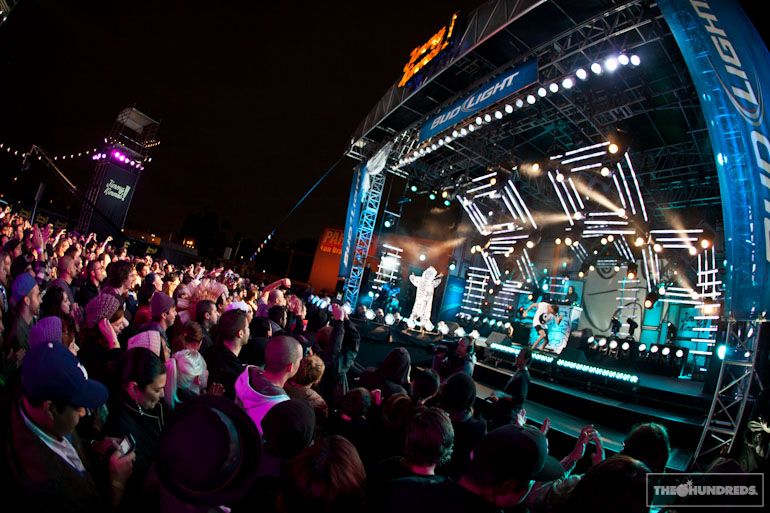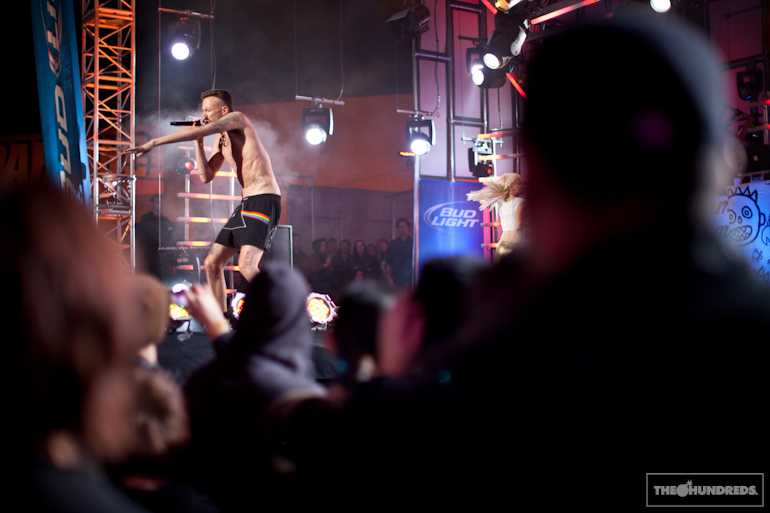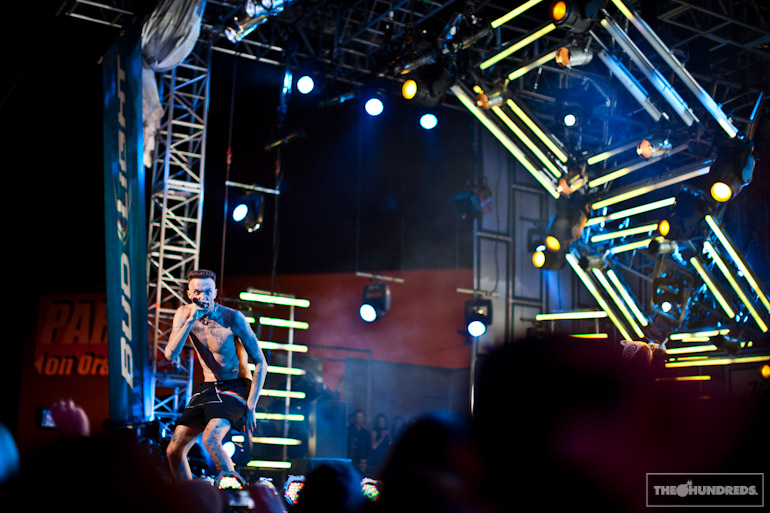 Speaking of watching online, have you seen Die Antwoord's latest music video for "Evil Boy?" Probably not if you check Youtube, who had to pull it due to complaints.
After their set, we ducked into their dressing room, and Ninja threw Dave Choe into a sleeper hold. Dave's the honorary fourth member of Die Antwoord if you haven't figured it out by now, these two are inseparable, clearly.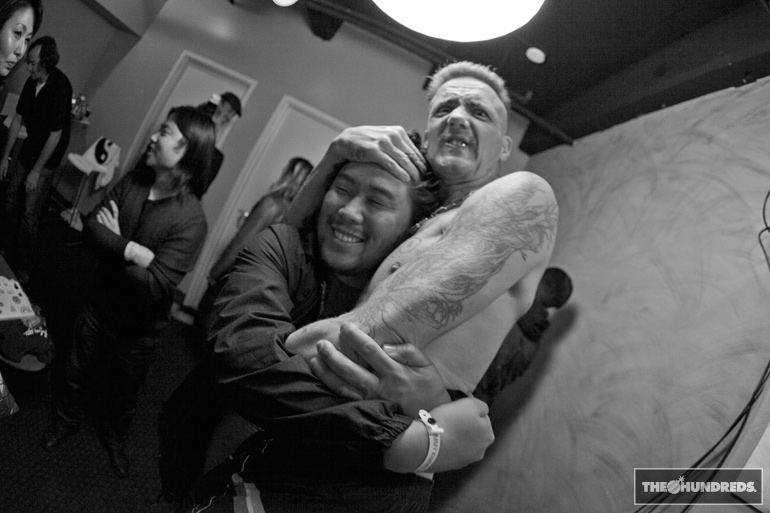 Enna, Yo-Landi Vi$$er, Dave, and DJ Hi-Tek unmasked on the right, but alas, still faceless.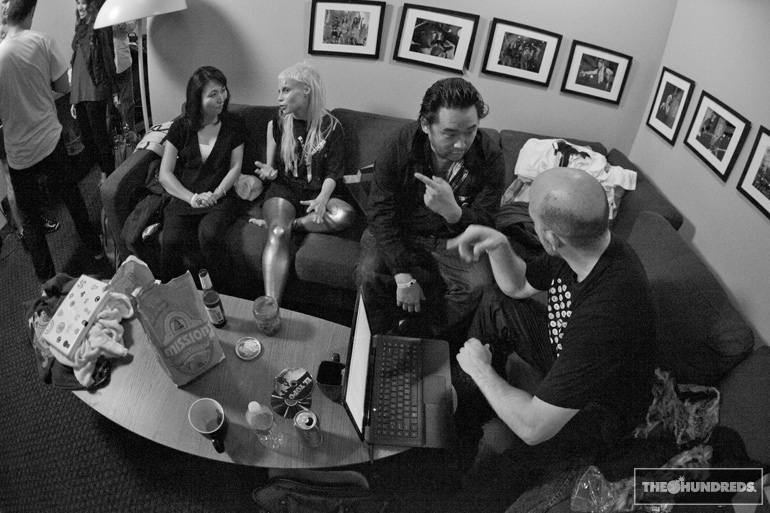 Then Ninja and Yo-Landi wanted to ghostride the whip. Ninja loves stainless steel, says it's his thing… something about how in Afrikaans, "stainless steel" rhymes with "erect penis." ??? Seriously. I dunno.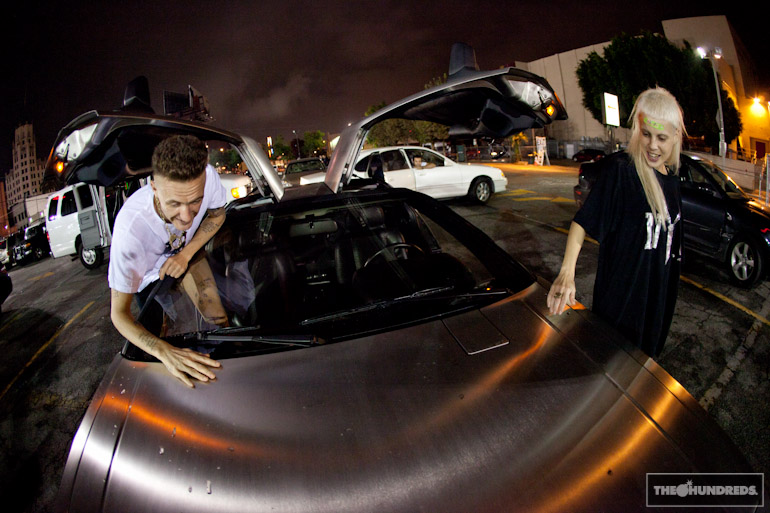 So I think we're gonna get Yo-Landi a DeLorean as her first car ever. Done deal.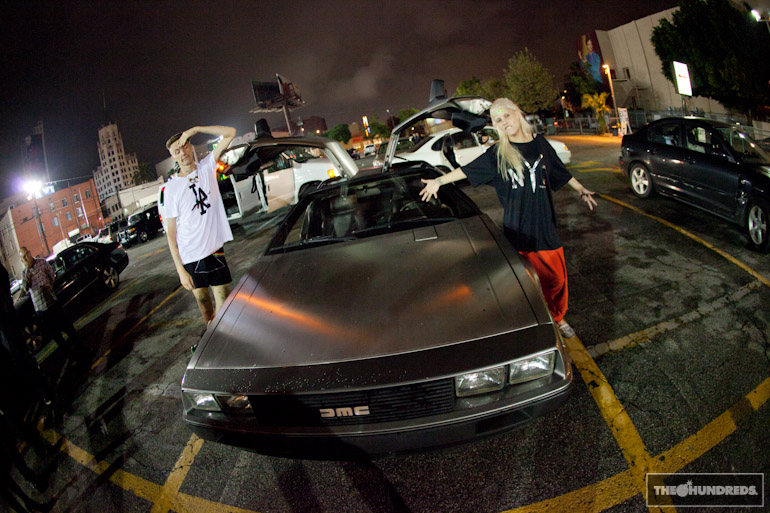 "Jealousy….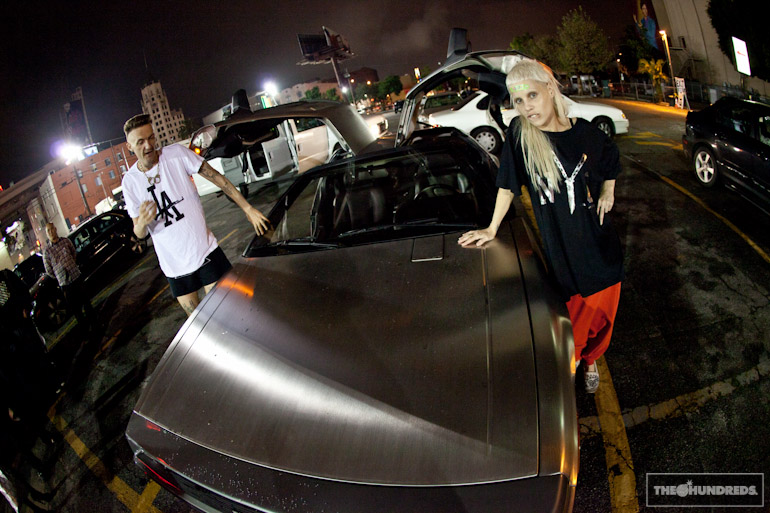 …makes you naaaasty….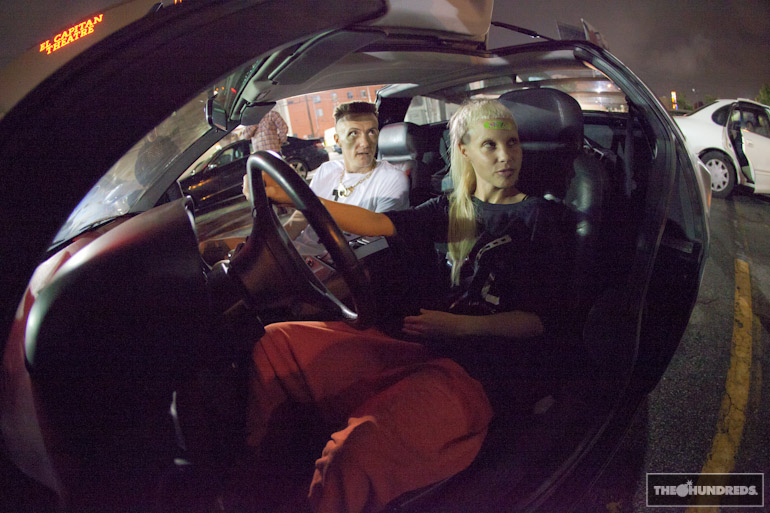 …in your FACE!…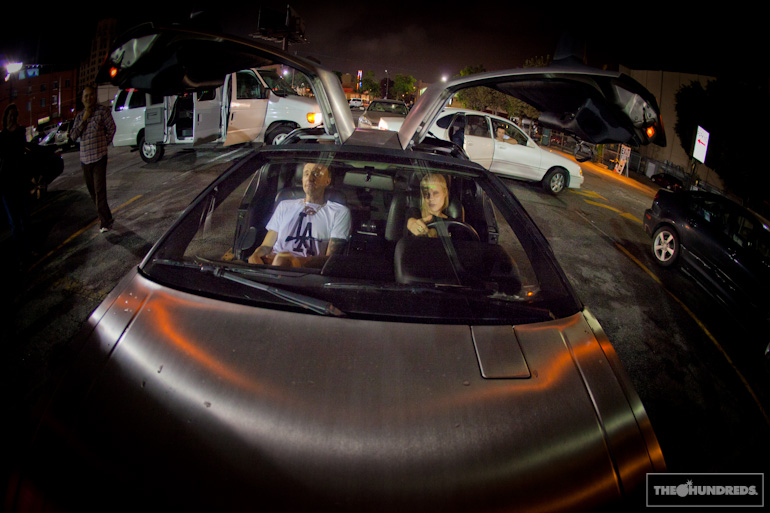 …IN YOUR FACE!"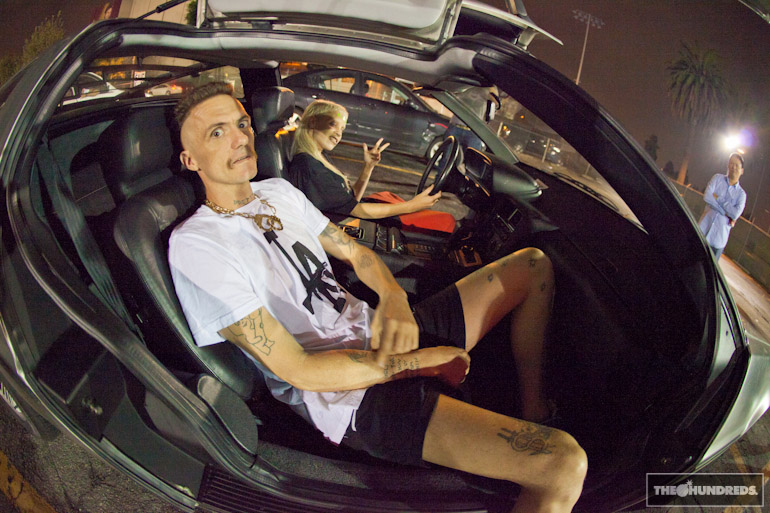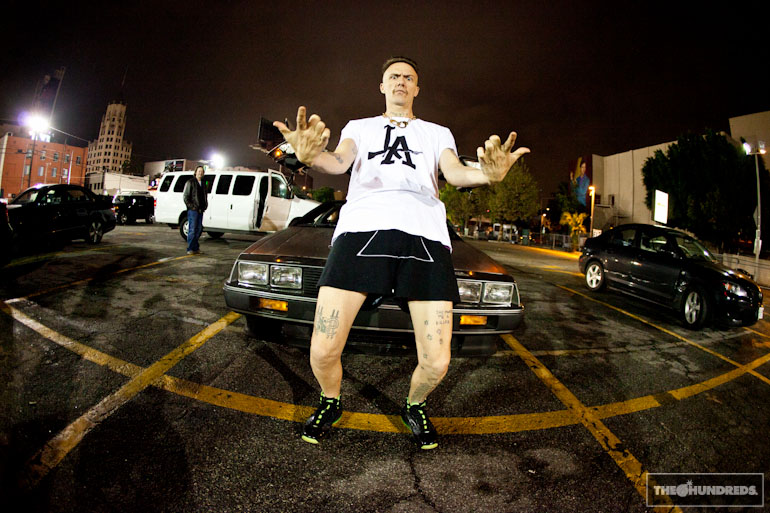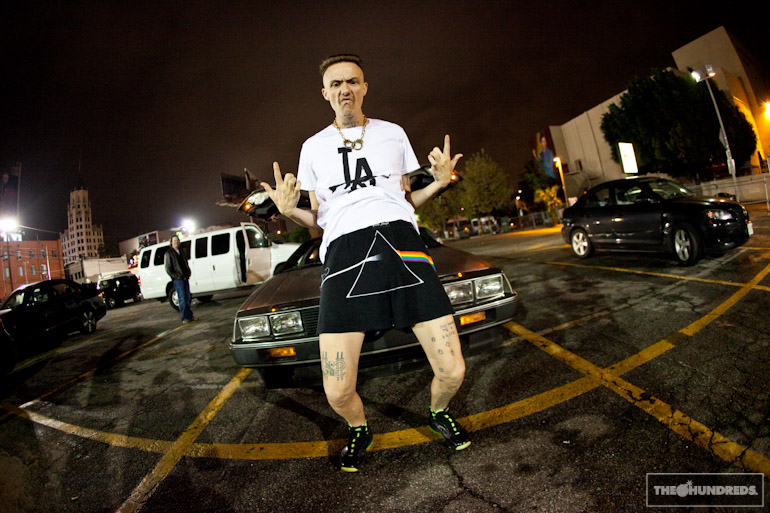 Ninja, Yo-Landi, and Hi-Tek are on a flight right now to Chicago. Catch 'em on tour!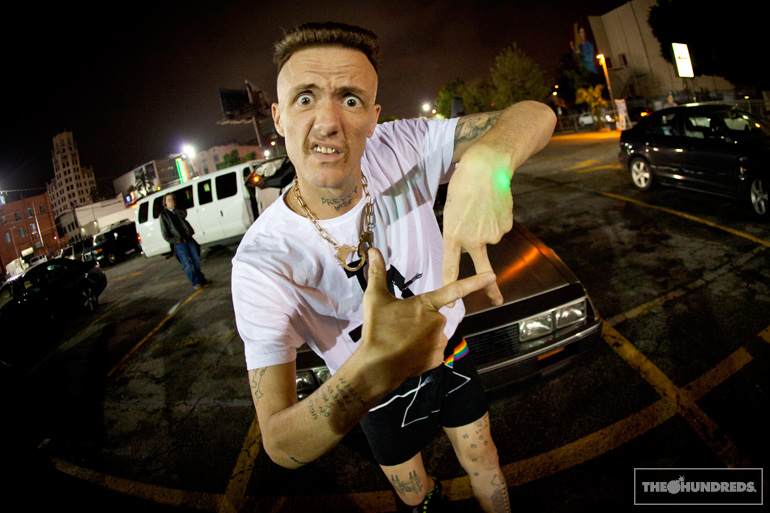 by bobbyhundreds