Don't you always wonder why there's not a consistent print magazine covering t-shirt culture? Of course not. Because all day long you ponder if unscrewing your belly button will make your butt fall off. But for the rest of us who have always gone to Japanese publications to get our diet of cool t-shirts, there's now a phenomenal book out there called "T: The Journal of T-Shirt Culture"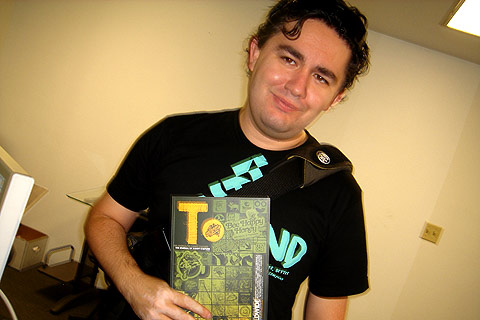 Eddie here runs T out of Australia along with Mel in London. Not only does the content fall into Everything You've Always Wanted to Know About Your Favorite T-Shirt Brands and Designers but were Afraid to Ask, the design layout is king, and the information is unique. Already 2 issues deep, Eddie's covered everything from a feature on design stronghold Imaginary Foundation, an A-Z of the best t-shirt designers worldwide, and the evolution of the printed ape (Fuct, X-Large, Bape, Paul Frank). What's more, T takes a different angle on your typical streetwear stories, investigating why Freshjive has a different perception in Australia as opposed to the rest of the world, a story on Obey — and not so much on Shepard Fairey, but Erin, the influential women's designer, and 10 Things You Didn't Know About Stussy.
Check out T's website for more information..
by bobbyhundreds