So every year for the past however many years, I've traveled to Tokyo to research fashion trends in both streetwear and contemporary design, to gain a perspective on our brand direction over the course of the next 4 seasons. This time around, The Hundreds' apparel designer Anti-Orange Pat and our accesories designer Vito have accompanied me. And Ben is here also so we can study retail buildouts and shop experiences. In the past couple days, we've stepped foot in probably 50 stores, .. here are some of the more visually captivating ones.
This is the Undercover shop in the Aoyama district. The layout's always switching up, but consistently minimal and design-oriented. The new Undercover range is nice, but a little too technical for me. Felt very Diesel circa 1999, but to each his/her own. I really dig the texture and emotion of the ceiling installation.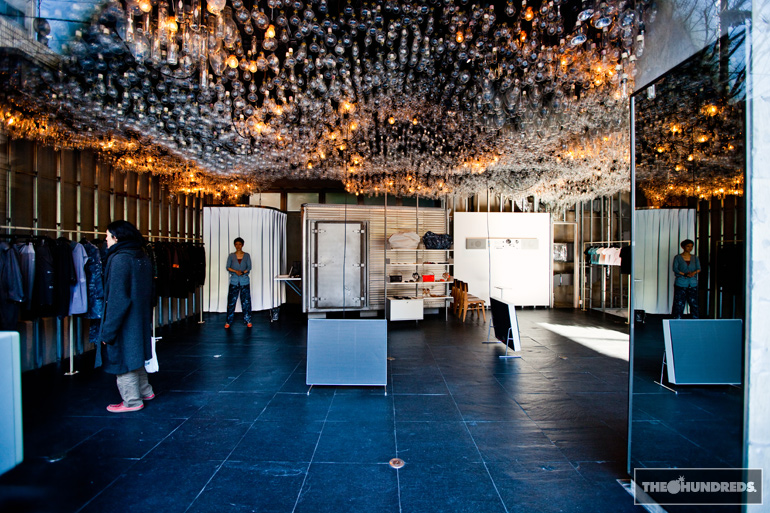 Black Flag. This is the streetwear coolguy's dream, a collaboration store between Neighborhood and W)Taps. The jackets were the highlight.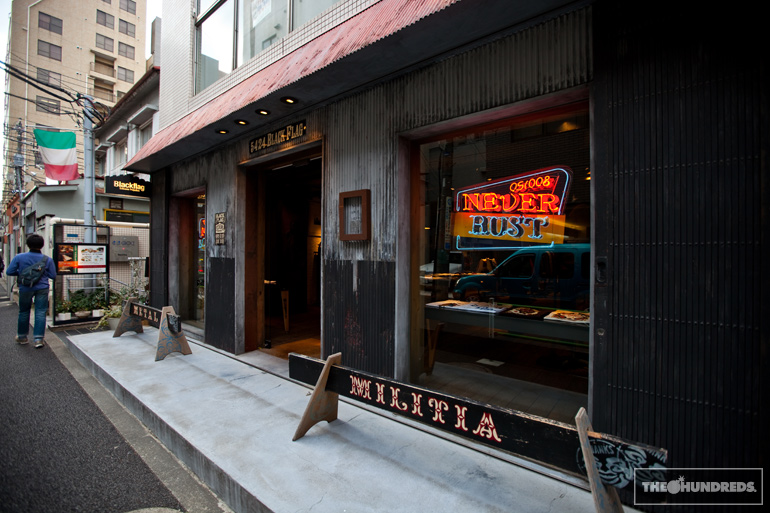 As I've mentioned many times before, one of my favorite retail boutiques in Tokyo is Loveless. The overall product selection is a nice mix of street and fashion-forward labels, and the buildout is very themed and dramatic.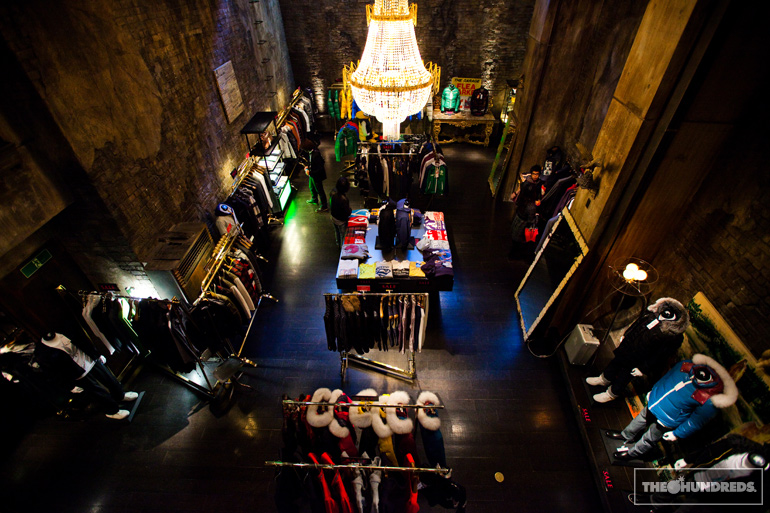 The Rick Owens store: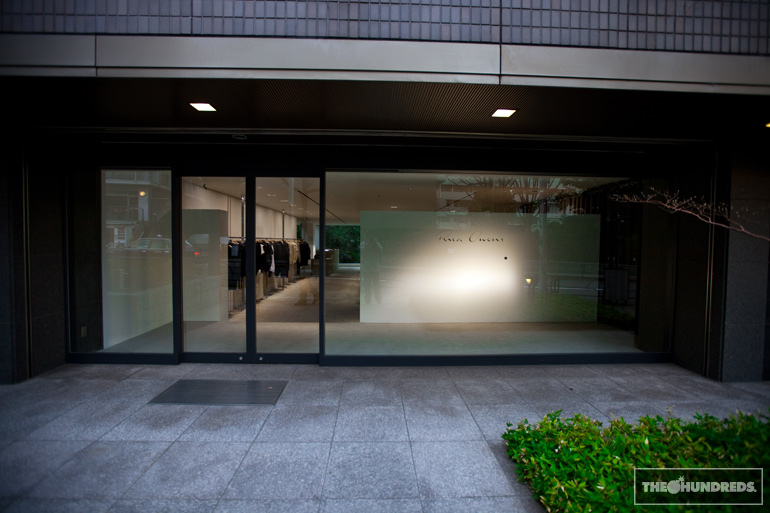 This trip, I'll say that Rockin' Jellybean's shop/gallery EROSTIKA! is my top pick. Too bad all the prints I wanted were sold out.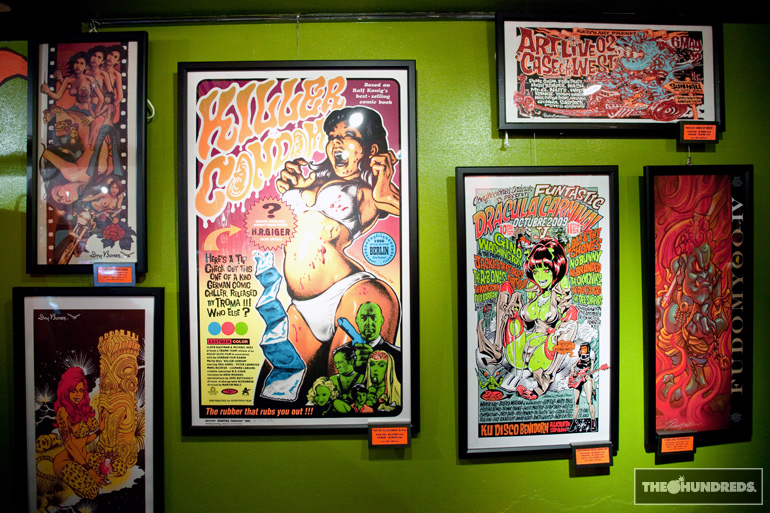 Speaking of which, the two SOLD OUT! posters above her head are encased in coffin-shaped frames. How cool is that!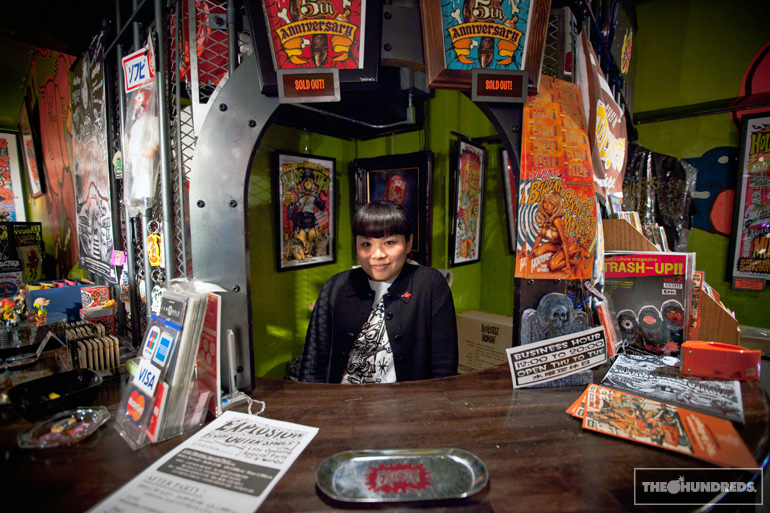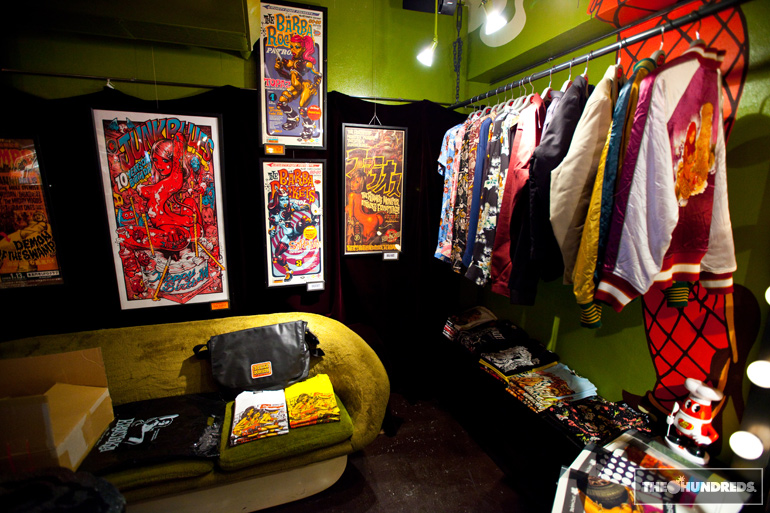 Of course, we visited a few A Bathing Ape stores. Bape is the cornerstone of Japanese streetwear, and their Wonderwall-built shops are some of the most impressive retail experiences in the world. This is their mega headquarters in the Harajuku district, employing a lot of curved glass, Americana-themes, mirrors, and stainless steel.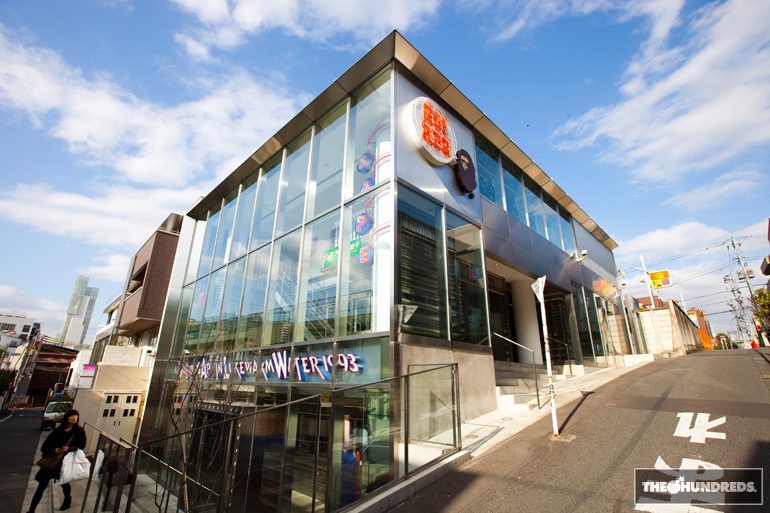 This is the entrance to the Bape shop in Shibuya. The light grid flickers and pulsates, sometimes color-coordinated, othertimes randomly blinking. It's pretty insane, dude.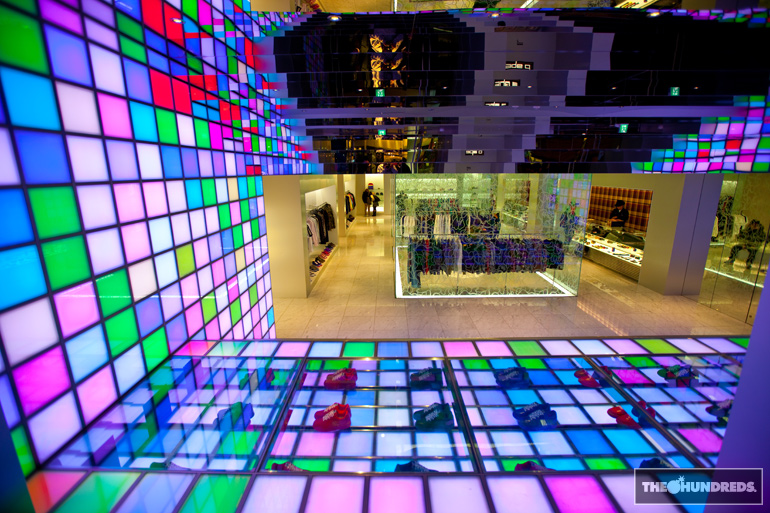 Kaws' Original Fake. Maybe a bit on the smaller scale compared to some of the bigboy shops, but what it lacks in size, makes up for in attention to detail. Also, one store that has withstood the test of time in a finicky streetwear market. This Cool doesn't fade.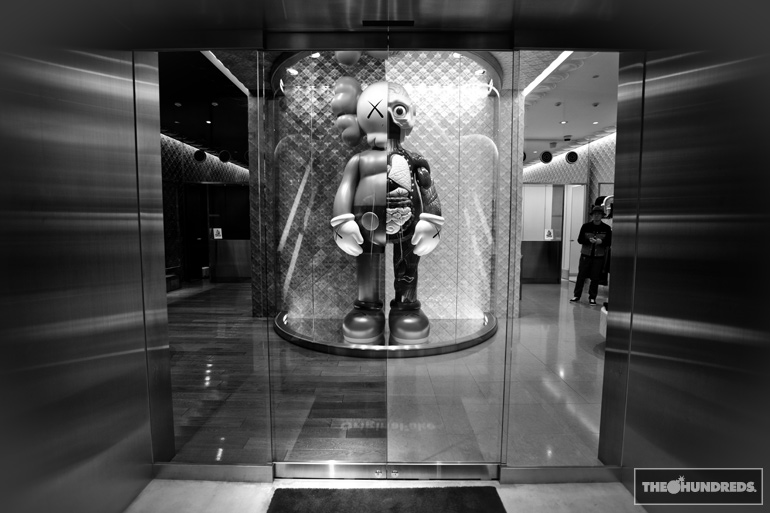 For all you grown-ups who appreciate this kinda thing, the Ralph Lauren mansion in Harajuku is a treat. From room to room, painstakingly designed and merchandised around a particular theme. A careful blend of fine furniture, beautiful custom cabinetry, and meticulously dressed mannequins add flavor to the recipe. I could spend all day absorbing this shop.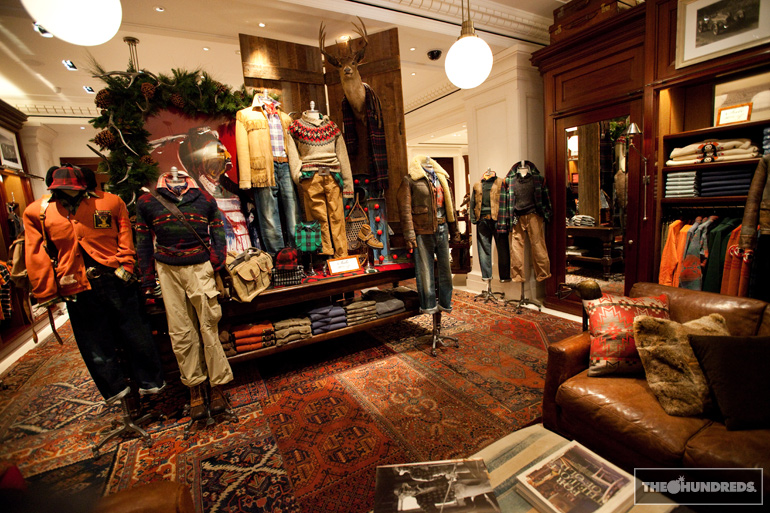 There's good food everywhere. Kaiten sushi, ramen houses, street snacks, you name it. Tokyo dining is fine.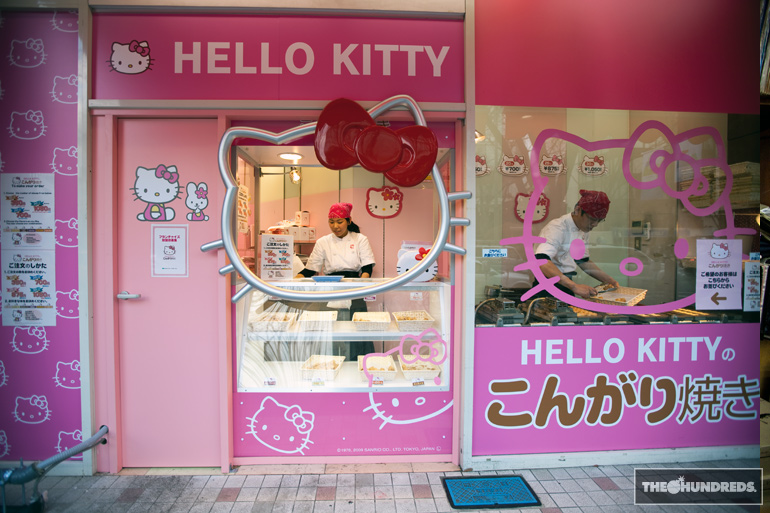 Pat's buddy hooked it up with the bomb gyoza joint right off Omotesando.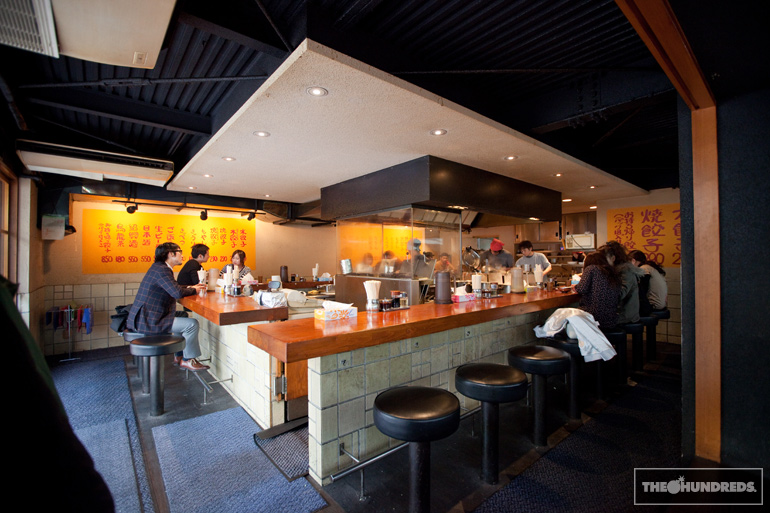 Steamed dumplings, fried dumplings, a little soy sauce and vinegar. Go Japan.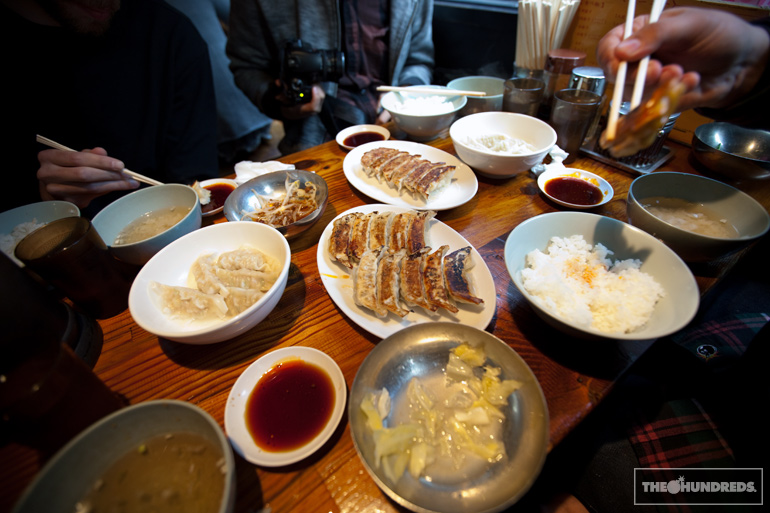 by bobbyhundreds