There's not much to blog about tonight. No random visits from derelict friends, no mania on Rosewood. No pets. I do feel somewhat content with the way the universe is going today, so no whiny essays that no one reads except .. Actually, you're right, no one reads them. No amazing food,.. we did eat lunch next to David Arquette today, but no camera, so it basically didn't happen (right?). I haven't really moved from my desk all day so for all I know, the planet exploded and I'm left to procreate the next human race with this pack of sweaty man-pigs in our little studio.
I've been digging through boxes of my old photos to reference for a project we're working on for winter of next year, and I came across a few stories to tell. So I guess that'll do for now.
I took this shot when I was 15 years old, on a late afternoon at my high school, Riverside Poly. Obviously, you only stuck around campus afterhours if you were in detention or played a sport. So while the jocks were slapping each other's butts out on the field, a few of us would congregate to play our own sport. Between trying to learn heelflips and pulling up my size 40 pants, I'd fiddle around with my dad's camera to document what was going on (and you thought this blog thing was just a phase). I couldn't afford an actual fisheye lens, so I bought an $80 video-camera fisheye and used a converter to smash it on the end of my Nikon.
That's our friend Sam who was churning out all kinds of craze that day. My alma mater was actually pretty awesome to skate, what with all the cement banks, range of stairs, rails and hips, but it wasn't long before Sam got bored. So he started setting up the lunchtables against the stairs to manual and grind down. And then he got really creative and flipped one over. It might be commonplace now, but he's doing a feeble grind down the rail there, which was kinda crazy to see back in the day. The crouching tiger with the legitimate fisheye lens is Zach Cordner, who was the guy who actually got me into photography. The difference is that he actually ended up doing something productive and amazing with his camera-work, while I take pictures of my drunk employees everyday.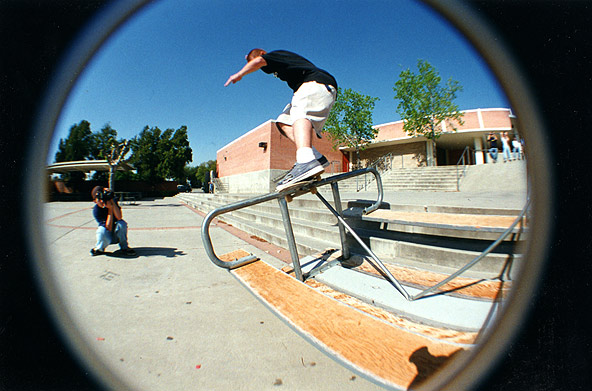 There wasn't much to do on weekends (is there ever when you're a teenager?), so our stomping grounds were local smalltime concert venues like The Barn at UCR, The Glass House in Pomona, or this place, Showcase Theater in Corona. We used to pay $5 tickets to see punk, ska, swing, emo, and hardcore bands play. Some of them went on to bigger and better things (some bands called Sublime and No Doubt), but most were just kids having fun, hitting the road, making music, and chasing dreams. This was the last time I saw this band play, Texas is the Reason. They formulated from Krishna-core bands Shelter and 108 and put out a really great record called "DO You Know Who You Are?" But not long after, in typical indie fashion, they split up and went separate ways. I think Jets to Brazil arose from the rubble, but not really sure what else happened after that.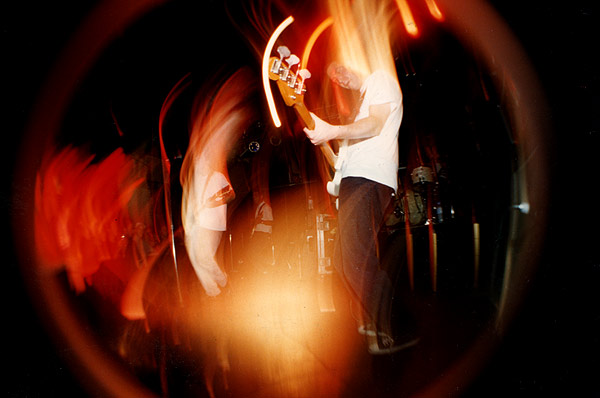 We didn't live far from the mountain, so whenever Thanksgiving rolled around, it meant only one thing: Snow season. Of course in Southern California, by "snow" I mean man-made slush (or ice depending on the time of day), but a trip to Snow Summit was just an hour-and-a-half away. What we'd do is head up after school got out, get a night ticket, and ride until the park closed down. Then we'd hide out, wait until the ski patrol left, and session the jumps over and over into the early hours of the morning by just hiking up the mountain since the ski-lift was shut down (easier said than done). If my memory serves me correctly, the year this photo was shot was the first year that there were more snowboarders than skiers at Summit on opening day. And that might have also been the first year that they built this retarded jump called Wiseman's right in the heart of the snowboard park. I remember seeing an 8-year-old Shaun White wearing a helmet hucking himself off this beast, which is probably nil by today's standards. Anyways, if you look closely, you can see my friend Isaac launching off Wiseman's here. Yeah, I was a fan of the long-exposure.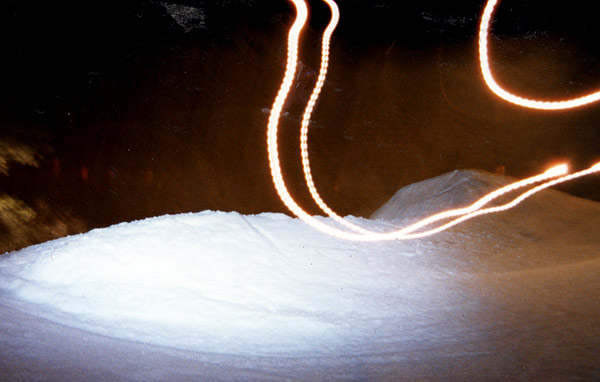 Speaking of snow season, it's that time of the year again, and all you need is MODA3's SHRED SPOTS webpage.
by bobbyhundreds