I'm not one to hate. But I am one to critique.
A popular magazine published an interesting article on their website last week covering their picks for Top 100 t-shirts of the 2000s. That's the BEST t-shirt graphics the past TEN YEARS has had to offer. Did we make the list? Sure. #61 or somethin', with our black-on-black "Nine" graphic from years back.
However, as we rifled through this list, it really started to irk some of us that there were some glaring absences. Not only that, but some questionable inclusions.. For one, how're you gonna include LOGO t-shirts in this list? How come it seems these are more the best t-shirts from the past 5 years, instead of since 2000? And where are these tees on the list?
(Disclaimer: What the "BEST" entails is up to interpretation. In my opinion, these are the most important, the most prominent, the best designed, and the most creative streetwear t-shirts of the 2000s. Obviously, not necessarily t-shirts you would catch me dead in. Also,I'm not sure if these were the correct titles the brands gave the t-shirt graphics, so I apologize in advance.)
1) 2K "John Paul Ringo & George" : No t-shirt in the history of modern streetwear has been knocked more than this graphic. And the beauty of it was how simple of an idea it was. This shirt should be #1 on any Top 100 T-shirts list.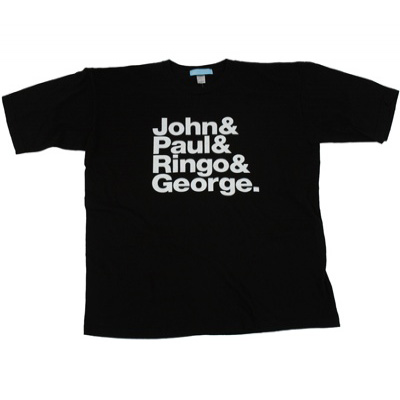 2) Diamond "Misfits" : I see a Diamond shirt on the list, but not this one. The crimson skull with gold foil fronts! Epitomizing streetwear with that perfect hip-hop/punk blend. Was perhaps the hottest t-shirt of that half-year, plus, spawned a host of duplicates. I know how many of these shirts Nick ended up producing, and by numbers alone, it should've been at the top of that list.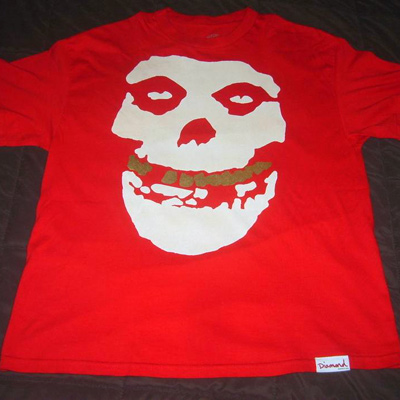 3) Milkcrate "King of NY" : Ok how many Biggie shirts are on this list? But we're gonna leave out perhaps the best-executed and most notorious (pun intended) of 'em all? C'mon, even Jay-Z endorsed it in a feature-length film.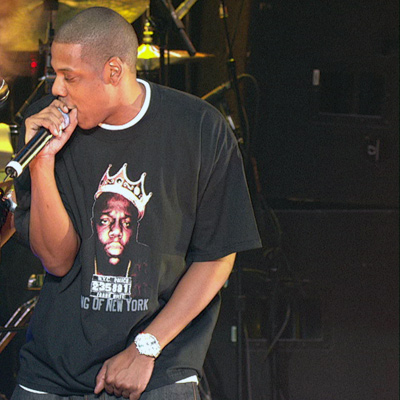 4) Married to the Mob "Supreme Bitch" : In my personal opinion, no one really paid attention to women's t-shirt based streetwear until Leah pulled this one off. And from what I understand, with Jebbia's stamp of approval to boot.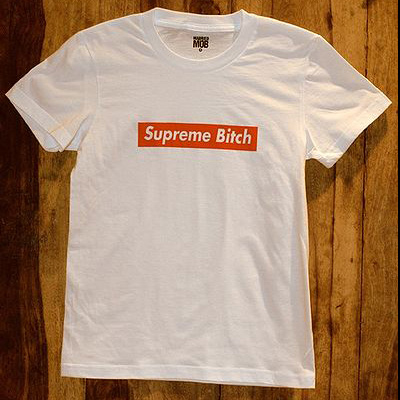 5) Supreme "Someone Talked" and "Kermit" : If I wanted to dedicate the time and energy (which I really don't feel like doing) to making my own Top 100 tees of the decade, Supreme would probably nab 10 of those spots, easy. With the trendy "Stop Snitchin" rules running rampant in the hood, Supreme's response with the wartime-era "Loose Lips Sink Ships"-themed graphic was apropos. And better than the Dipset photo-tee, you gotta give it to Kermit shot by Terry Richardson. Even the Tyson one was iller. (What about the Hirschfeld NWA? Airbrushed Malcolm X? Woody Allen and Richard Pryor side-graphic prints?)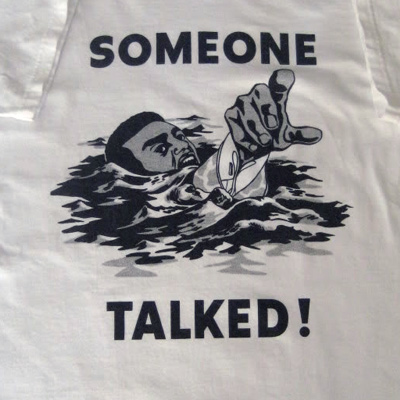 6) Mishka "Tom of Eternia" : First of all, where are the Mishka shirts on this list? Ok moving on, I gotta admit. When Mishka first made this shirt, we were flabbergasted. Certainly, they couldn't be serious? A He-Man rip, except with hidden erect penises laced throughout the graphic!? But on that super homoerotic tip, Mishka gave us all an FU, defined themselves as their OWN brand and carved out their niche demographic. How's that for punk.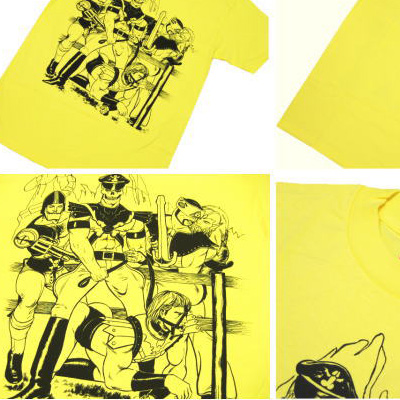 7) Spoonfed "Nike Head" : Not to be taken in any way negatively, but I think even the Spoonfed guys would agree that this shirt defined their brand. It hit at the right time, about 5 years back when the sneaker-collecting culture and burgeoning streetwear brands were colliding. As soon as it leaked onto internet messageboards like Supertalk and Niketalk, it was game over for the rest of us. Kids even overlooked the fact that they were pricey American Apparel-cut tees to lock 'em up with their Dunks.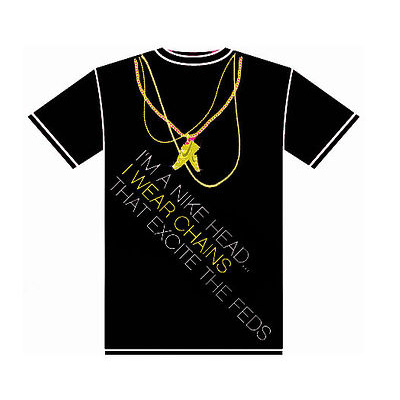 8) Irons "Piece Keeper" : If we're talking the 2000s, then we can't forget what was popping off in San Diego at the beginning of the decade. As far as American streetwear, especially West Coast streetwear, there was nothing stronger at the time then the collective of brands sold on Mathlab's shelves. Fiberops, Irons, Self Discovery.Prj, etc. All the neon prints, guns, and naked chicks that popped off in streetwear in recent years were set in place by Alyasha, Mike Irons, Smalls, and the rest of the gang… 10 years back. So obscure that I couldn't even find a photo!
9) Irak "Streetwear" : Usually, I'm not too fond of streetwear t-shirts that comment on its own, but this IRAK tee did such a bang-up job in painting the process with 4 rudimentary offensive characters that it was impossible not to love. I'm sure it went right over most of the consumers' heads, but those of us on this side of the fence hold this one high.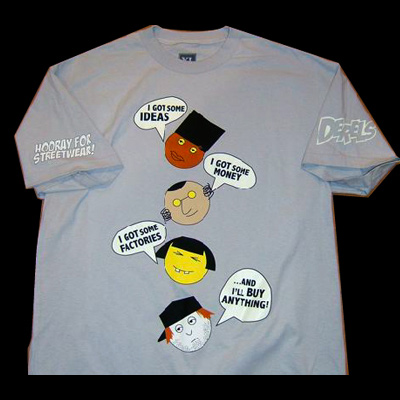 10) My biggest problem with the list was how entire brands were looked over. Especially t-shirt brands that had the most prolific repertoires of the entire decade. Take, for instance, Brknhome and Situationormal/SNAFU. Hands down, 2 of the best t-shirt brands of the 2000s. If you know, you know.
11) The Hundreds "Paisley," "Hip-Hop is Dead," "Make 'em Scream," "California is for Haters," "Usugrow Gold," "Bitter Enemies," "Mousey"…
I mean,…
I'm just sayin'…
by bobbyhundreds