Just got home from the winter MAGIC tradeshow in Las Vegas. Being that this was our 8th time exhibiting at the show, I wasn't too interested in bringing along the trusty SLR and blogging all the regulars again. So here's a sample of randomized action from my point-and-shoot.
This is the usual conversation throughout the week at MAGIC. "What'd you do last night? / What are you doing tonight? / Anything stand out to you at this show?" The first two queries are inconsequential, no one really cares or listens, they're just asking that because they forgot your name. But this time around, I had a proper answer for the third, and that was "Gourmet."
Many of you are already familiar with the footwear, so I'll just add that there are some fresh colorways of existing styles on the way, along with a couple new models that continue to successfully fuse the vintage Jordan/casual look. The apparel's where it's really at, in our opinion, bubble vests that alternate between wet and matte nylon panels, cashmere-lined hooded sweatshirts, an official collaboration with Moncler, an overextended wife-beater.. I mean, they re-thought the wifebeater, folks. It's creative, characteristic design that's re-thinking existing looks with innovation, personality, and Italian-made construction and materials. Even better than that, they got all the right guys behind-the-scenes, along with annals of experience and resume asterisks. Game over.
The first night of the show, Gourmet threw a little shindig for the homeys up in their suite at the Venetian. Lot of important people in this room… Dr. Romanelli, Crooks & Castles, Buscemi… If you'd blown this suite up, there'd be nothing to post on HighSnobiety for 3 months straight.
Still the most-talked-about at MAGIC February 2008. Abby is HUGE.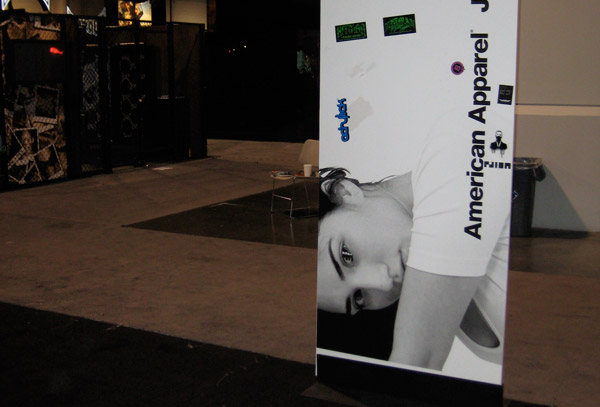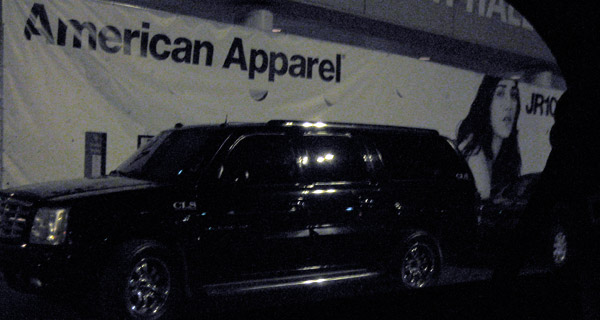 I caught Mighty Healthy loading up on crablegs at the Wynn buffet. But nothing's mighty healthy about that buttersauce.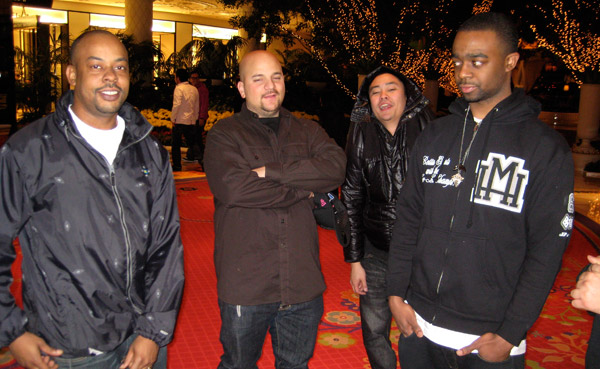 Ben and I wanted to stop by the Project tradeshow to check out Fiberops, Hellz Bellz, FiveFour, and some other friends, but somehow (???) we ended up in Christian Audigier's Cloverfield-sized booth, which was more like 20 booths in one. It was basically it's own tradeshow-within-a-show, with multiple stations for all of Audigier's multiplying sublabels, including Ed Hardy and Snoop Dogg's Rich and Infamous. I mean, as crazy as it is that most of America considers Audigier's labels as the coolest thing since Von Dutch (oh wait), it's intriguing just seeing how over-the-top this guy approaches his branding and marketing. Did I mention that Lil' Jon's been the resident DJ all week, and we saw the guy who played David Hasselhoff's son on Baywatch? Did I mention Audigier came to our store once and bought some of our denim? Is that a good or a bad thing?
The skateboards read, "Punk's Not Dead!"
Cool Hand Mo (Morgan) and Pusha-T (Clipse).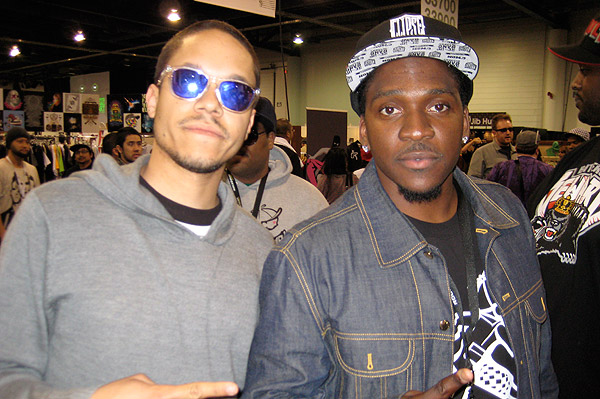 In the ongoing saga of My Blog vs. Southwest Airlines, I had the worst turbulence ever on my flight home this afternoon. At one point I swear we were upside down. I almost fell out the window twice. And since this is the random rundown, that tuft of flaxen hair in front of me belongs to Kristen Cavallari (Laguna Beach).
But that's neither here nor there.
by bobbyhundreds