I think the reason why this one feels so bizarre is because in the wake of such incomprehensible tragedy, we can only remember joy.  Why would a man, armed with so much life, seek refuge under the cover of death?  We felt safe with Robin Williams around.  He was the obnoxious uncle, the warm father, the mischievous friend.  Yes, we always knew he was troubled, we saw the cries churning deep behind his smiling eyes.  But we never guessed it would end like this: interrupted.
On Monday morning, Robin Williams was found deceased in his Northern California home.  At this time, the speculation is suicide, but that's just an asterisk on a Wiki page now.  Instead, we remember his contributions to film, to comedy, to charities, and to our lives.
Streetwear and street culture, especially, have always cherished a fondness for the late actor.  The world can claim that he was one of their own, but deep down, we knew he was ours.  There he was at the local sneaker boutique, absorbing rare kicks.  Robin Williams spotted at Recon!  Niketalk would light up everytime he'd emerge in Bape.  It made us feel not so weird and alone, that the most famous weird and alone guy in the world shared our secret.  Behind the camo and the Viotech Dunks, he was winking at us.
So we lose not just a storied actor and comedian, but a comrade.  On behalf of the Street, we salute you, Robin Williams!  In golden jokes and Oscar-winning performances, in shared fashion sense and eternal memories, Thank You for giving us so much of yourself.  We will never let go.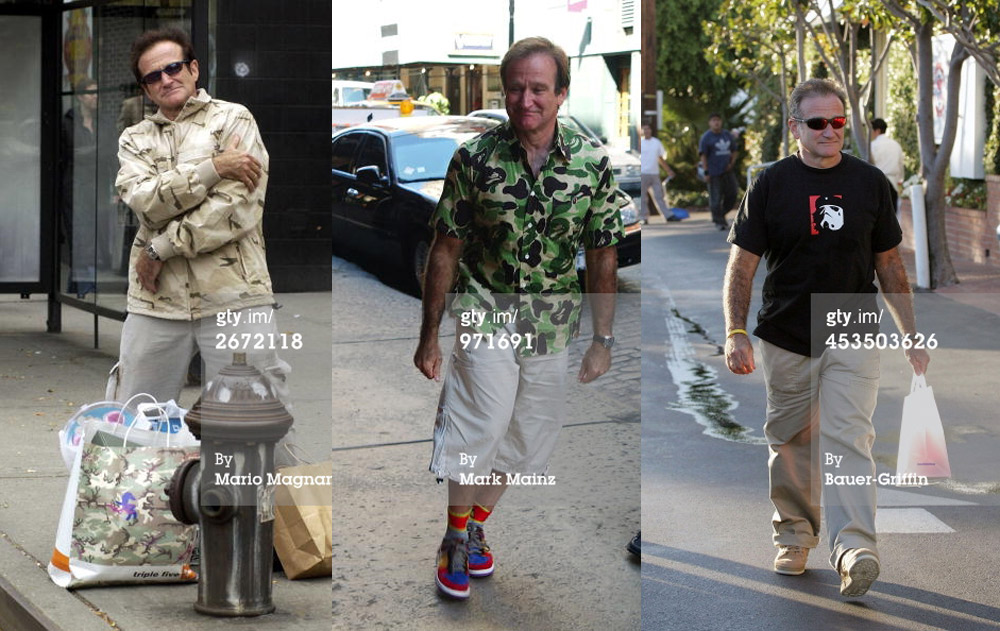 Lee Spielman (Trash Talk):
I went to a stand up comedy show awhile ago in the back of @MeltdownComics off of Sunset & Robin Williams showed up to do a surprise set out of nowhere. It was the best. RIP to a legend… So sad.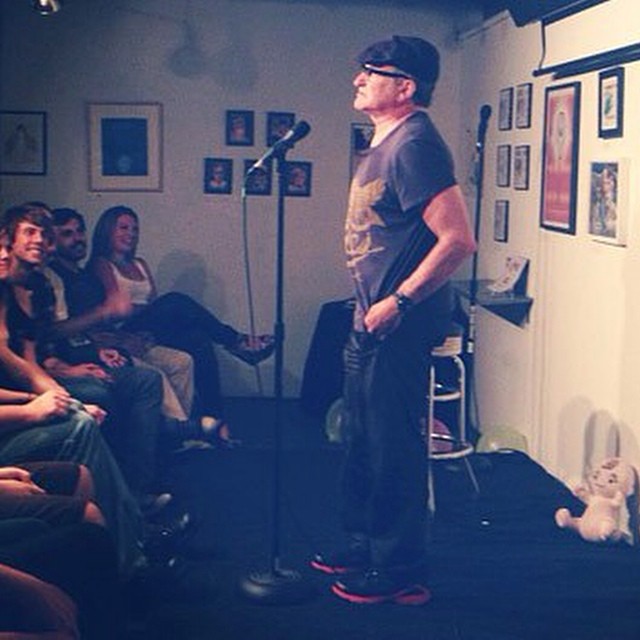 Keola (Fitted Hawaii):
Geniuses are often misunderstood. All I know is Robin Williams was one of my favorites of all time! Rest in paradise!!
Brick Stowell (Odd Future):
RIP to Marin Legend with Ma Dukes & Lil' Kennedy on the set of Jack in Ross. BTS Forever.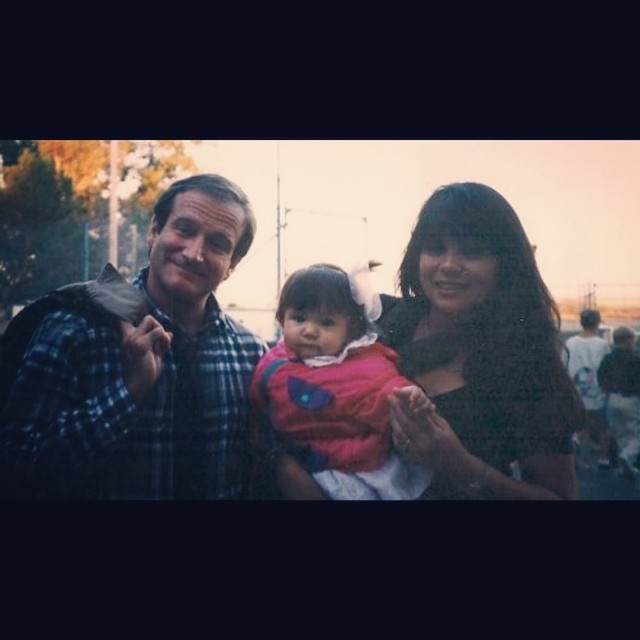 Taryn Anderson (Photographer):
"No matter what people tell you, words and ideas can change the world." / Robin Williams went to the same high school as me.. he was a hero in Marin. What an epic human & talent. Rest in your peace, thank you for all that you gave.
Kevin Lyons (Artist):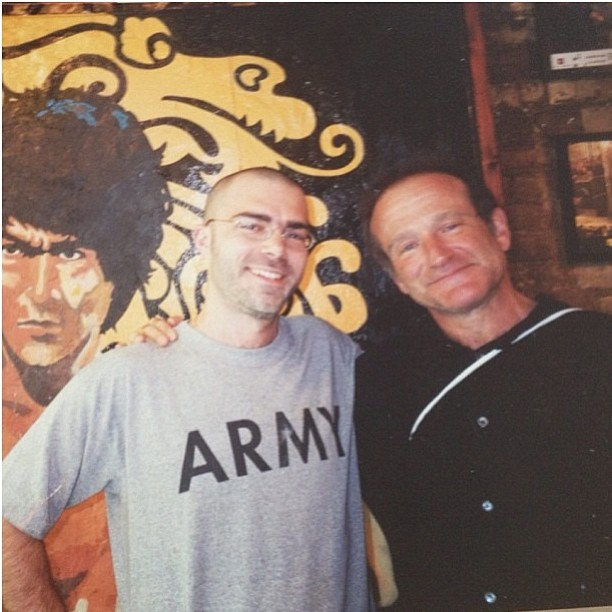 Jamie O'Shea (Supertouch):
Such an amazing guy and a tremendous loss. Juxtapoz was his favorite magazine (he also had a massive collection of vinyl toys) and as the editor, we had several chances to hang out and talk shop. He was the most humble and naturally funny man I have ever had the pleasure of knowing. The world lost a great talent today & he will be forever missed…
Atiba Jefferson (Supreme):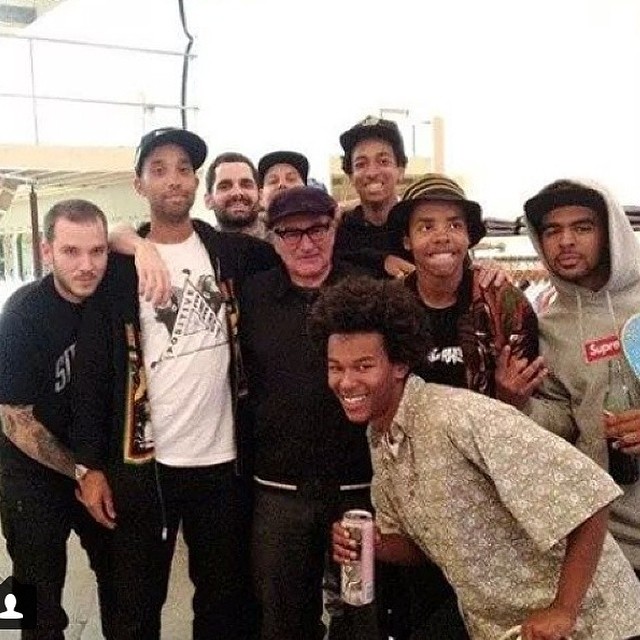 Saber (The Seventh Letter):
Robin Williams Watching My #DefendTheArts Skywriting Campaign Over #NYC Rest In Peace #streetart #art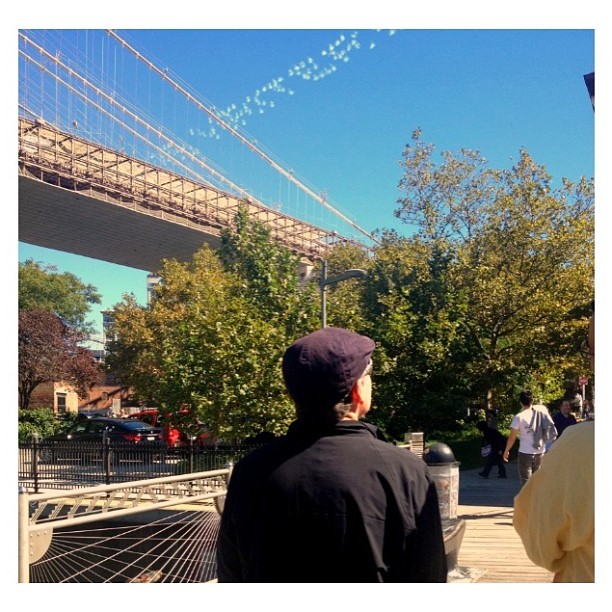 Prodigy (Mobb Deep):
R.I.P. Robin Williams. Saw this movie for the first time while I was locked up. One of his greatest. "What Dreams May Come"
Mark Arcenal (Fatlace):
I grew up watching Mork & Mindy. His comedy was different than others but there was something about it that kept me following him. RIP Robin Williams.
Greg Selkoe (Karmaloop):
Robin Williams the Karmaloop family will miss you besides being a comic genius of epic proportion you were also a Streetwear connoisseur R.I.P.
Tonz (FTC):
Rest in peace Robin Williams.  I will miss you.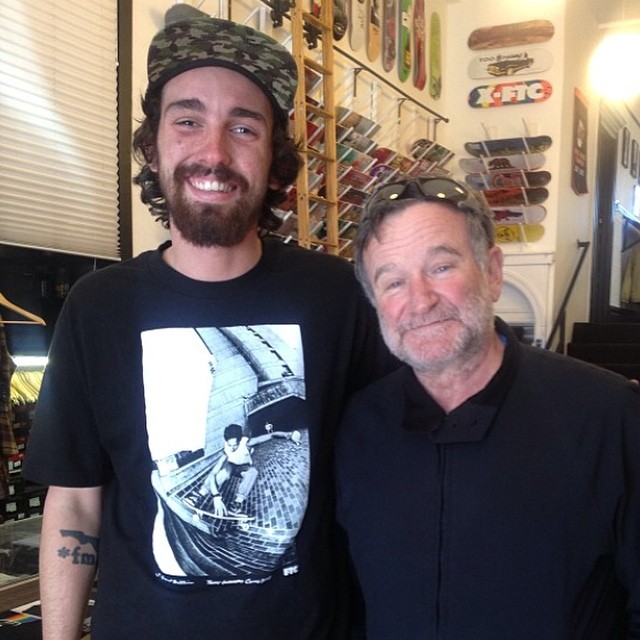 Estevan Oriol (Photographer):
SAD DAY !!! RIP ROBIN WILLIAMS. One of the BEST to ever do it. Thanks for the support!!! Me , Robin Williams and @yone69harajuku at our "show me your heart" art show @fifty24sfgallery , he came thru early and bought some pieces, he used to always go to @upperplayground and pick up some of my gear along with everyone else's and before that he use to buy #JokerBrand clothing from us, I first seen him wearing a joker hat on a trip to the middleEat with the troops.