Ok, first things first. If you haven't already, check our ONLINE SHOP to see our new Summer 2008 Lookbook. And starting today, you can visit The Hundreds Los Angeles or The Hundreds San Francisco to get the entire Summer range of apparel, from denim to button-ups and everything in between.
Alright, literally turned the corner and bumped into Ray (Mighty Healthy) this morning. He was super fashion guy Mr. Mate, decked in Nudies, red Gourmets, Hufzinger, the whole 9 yards.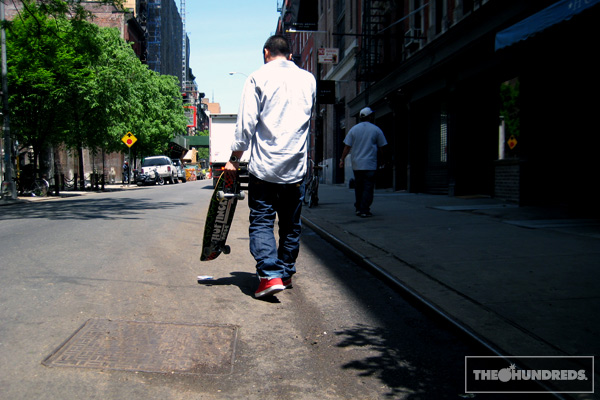 He took us down to into the dungeon, aka the Mighty Healthy studio, which he and Denis share with renowned jeweler Gabriel Urist.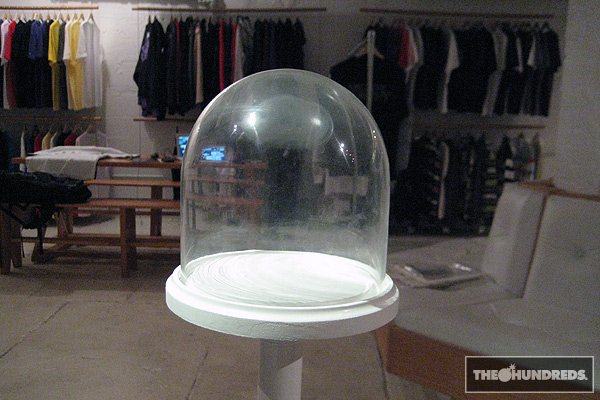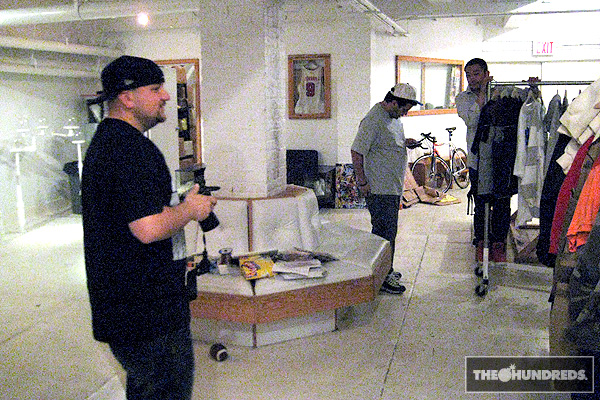 I think we got into 4 different conversations throughout our day about NY vs. LA vs. SF food. But when all is said and done, nothing can fade a New York slice. I dunno what it is about the pizza out here, but I've been chasing this taste for the past decade out in L.A. It's like a Los Angeles burrito, you can't replicate this anywhere else in the world. Denis says it has to do with the city's water and ovens. Whatever it is, I can eat pizza here every meal for a week straight. (Which, correct me if I'm wrong, some New Yorkers do).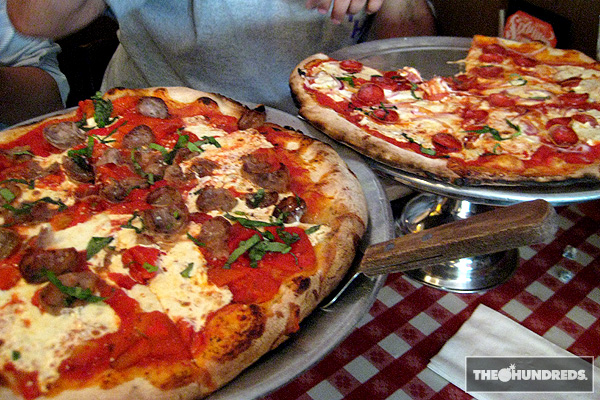 Another one of my favorite things about the City is that due to the sheer amount of people in the highly condensed radius, you're bound to run into familiar faces on the sidewalk. We pounded the pavement for the better part of the afternoon, ran into Scott (Mike23), Jensrocker, and Tony Arcabascio. I would've liked to take photos for you, but it's NYC and I think they kinda punch you in the face for that sorta thing.
The people-watching is unrivaled as well, this dude is my new hero. Selling rare kicks and apparel streetside on Lafayette. Only in New York.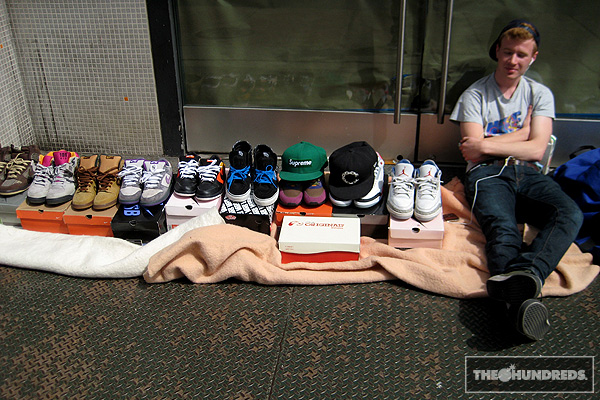 Ended the afternoon at the aNYthing store in Chinatown, to say whatsup to NA. Speaking of Tony,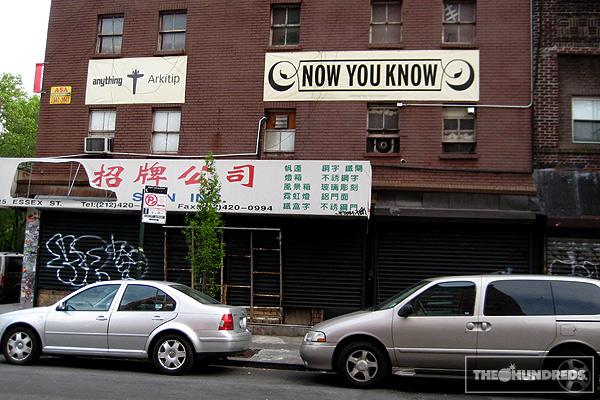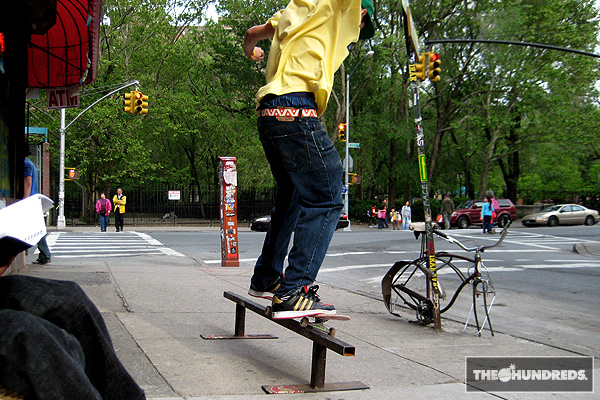 Ok, don't ask me why or how, but somehow we ended up midtown at the Season Finale party for America's Next Top Model (?!????). The models from all the past seasons gathered to watch the new Top Model get crowned, gossip, chew gum for dinner, give each other dirty looks, use wristwatches as belts, and fiddle with their Blackberries. Super super bizarre. And I still don't get this show, because most of these girls look like they fell off the Ugly tree and hit every branch on the way down. Some of them are just branches, period.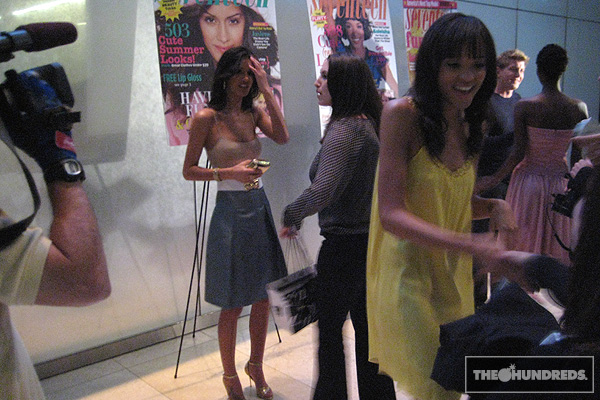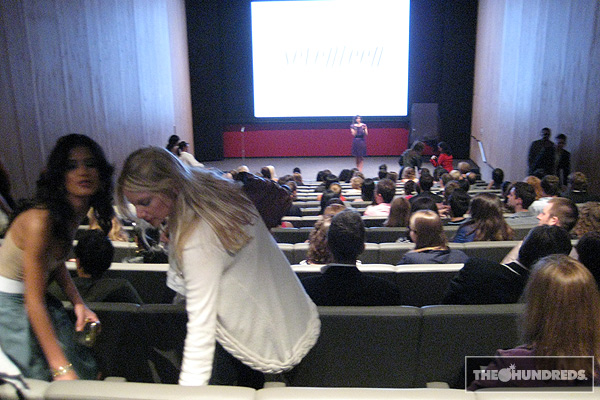 Ok, that's enough of that.
So this year is Casio G-Shock's 25th Anniversary and we have a few collaborative projects lined up in the upcoming months with the historic watch brand. Tonight they invited us to a private gala with Spike Lee hosting, and pretty much every streetwear persona known to mankind was in attendance. Let's just say that If they enforced a dress code of no hats or sneakers, it would've been a ghost town. Lots of awesome C-List celebrities also, like Lindsay Price (half-Korean and recently divorced might I add), Eliza Dushku, and that crazy coach who got kicked off Making The Band, who was dancing like an absolute maniac next to me for 3 hours straight. By the end of it, I was missing an arm and some teeth.
Some A-listers also. Spencer Fujimoto, Nick Tershay, and Ben Hundreds.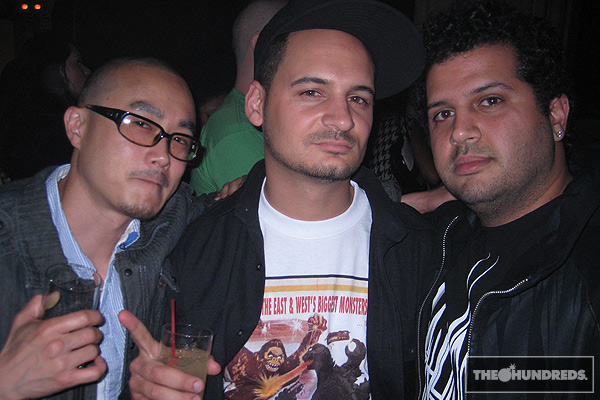 Oh yeah, Kanye West performed. I was fortunate enough to pull off some footage of his performance, which I'll post later on today. 5-minute freestyle, topless girls with space helmets on, even cooler and more impractical sunglasses, this intimate concert experience might have been better than his tour show. He even references Hypebeast, get that.
Until then, just remember, Diamond is the bomb.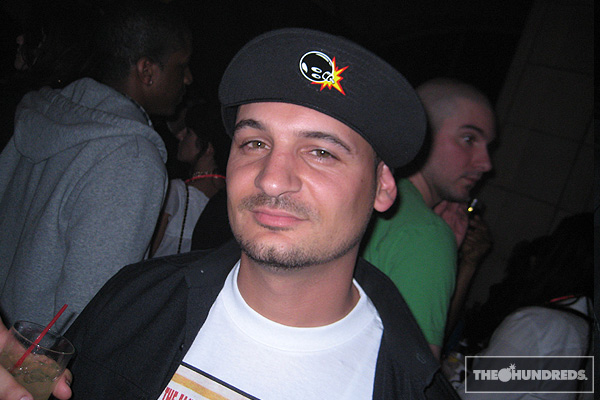 by bobbyhundreds