Yesterday morning, I had a little meet & greet at Livestock's Gastown locationin Vancouver. The event coincided with a limited t-shirt made exclusively with Livestock – inspired by '70s/'80s Canadian sketch comedy show SCTV.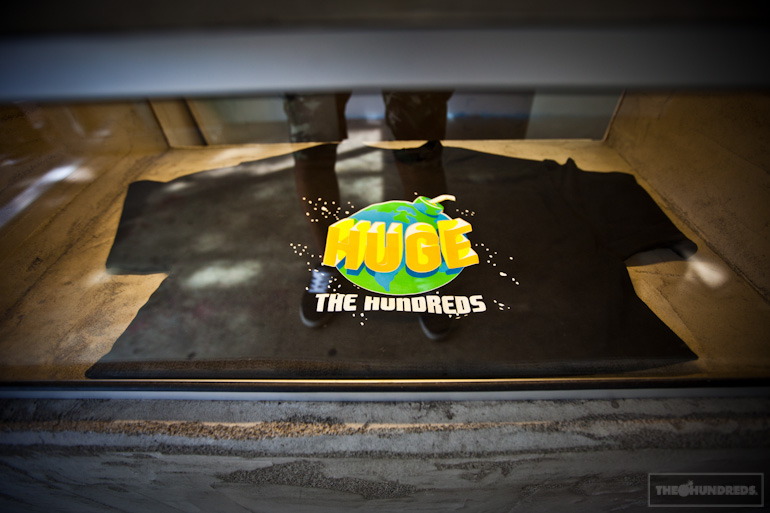 And to coincide with the tee release, was the unveiling of my photo retrospective of The Hundreds' last 8 years: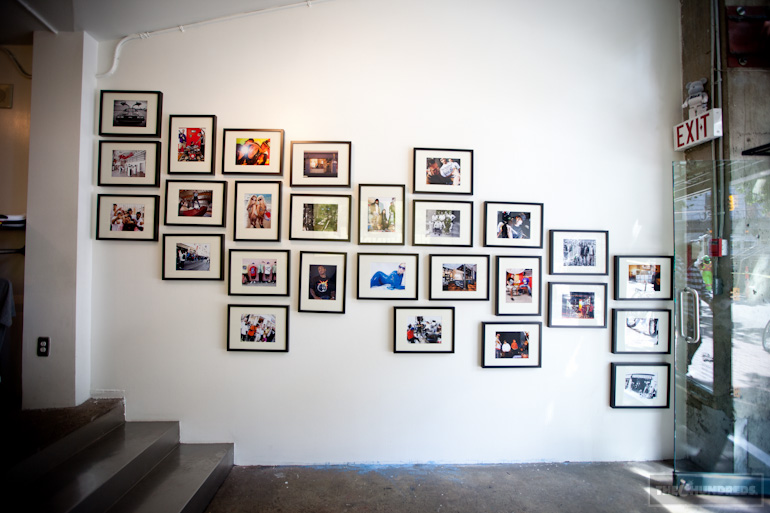 Just a fraction of the Livestock family, who've held us down in the Great White North all these years. Garry Bone (front and center) is The Hundreds' ambassador up in this neck of the woods, and also distributes The Hundreds throughout Canada.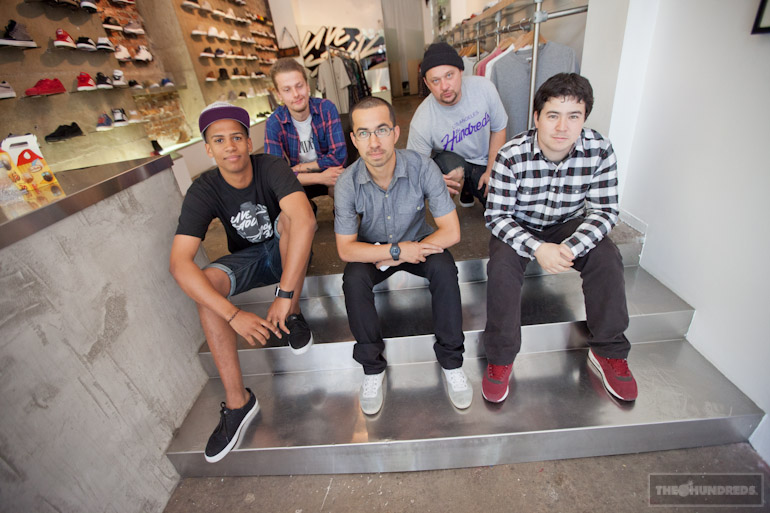 The first person I met and greeted was this fella right here, and it wasn't even at the shop. It was a couple blocks up where I was walking around lost. He caught me on the corner and directed me on the right path. I dig the old-school logo tee.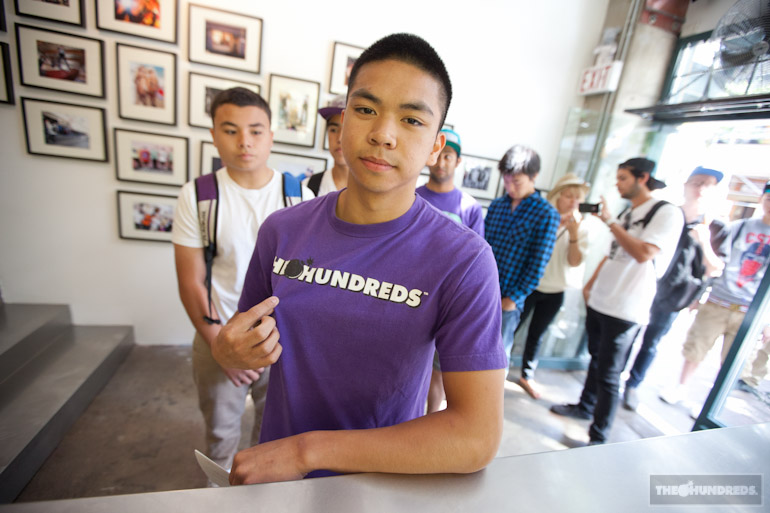 So you're gonna realize that I'm pretty terrible with names, so I'm just gonna be referring to dudes as Dude. So Dude is into MMA and is looking to launch a mixed martial arts-themed line that's actually cool. It's a great idea, and I didn't just tell him that because he had me in an armbar.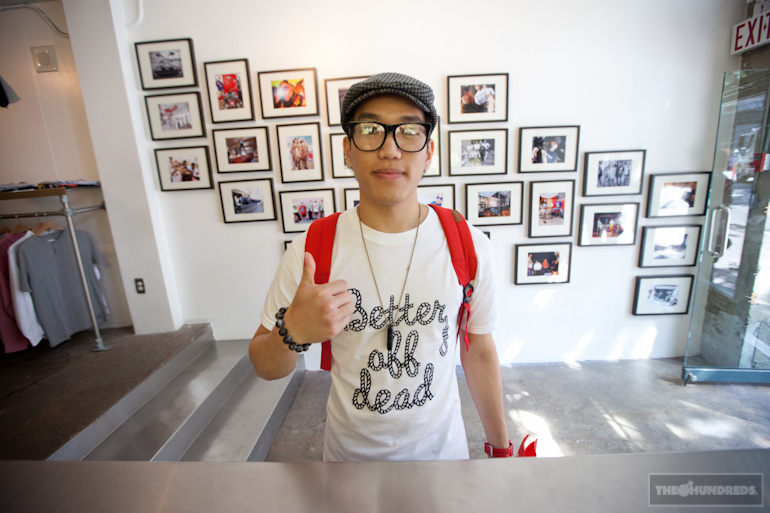 Dude said meeting me was like meeting a celebrity. I laughed and said, "No way!" and then I called my agent to book me aDancing with the Stars audition.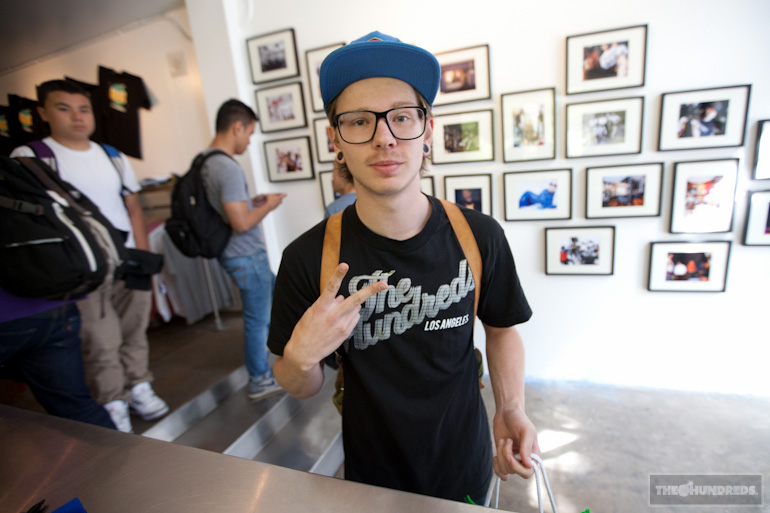 Shota is from Japan and he made me ruin his shirt with an autograph!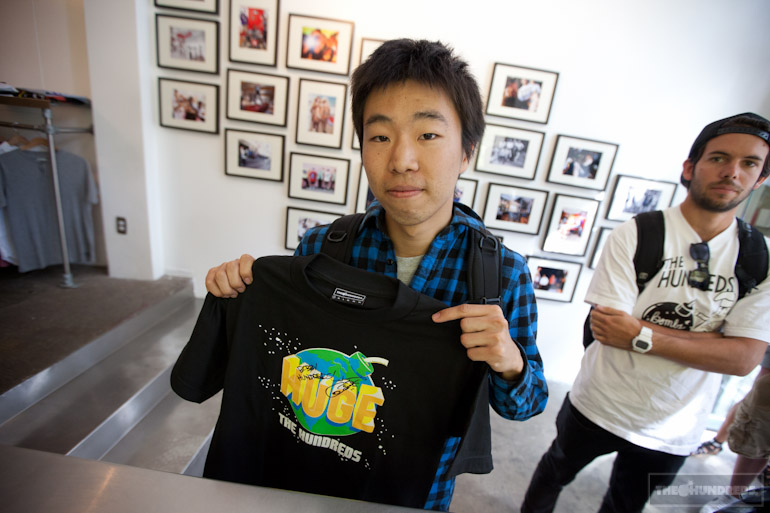 Dude was amazing. He invented the Thuggie, which is like a Snuggie, but a gigantic hoody. He also created the Chuggie: a koozie hoody for your beer can. I wanted to photograph the couple against the Thuggie to throw the perspective off and make them look like miniature elves.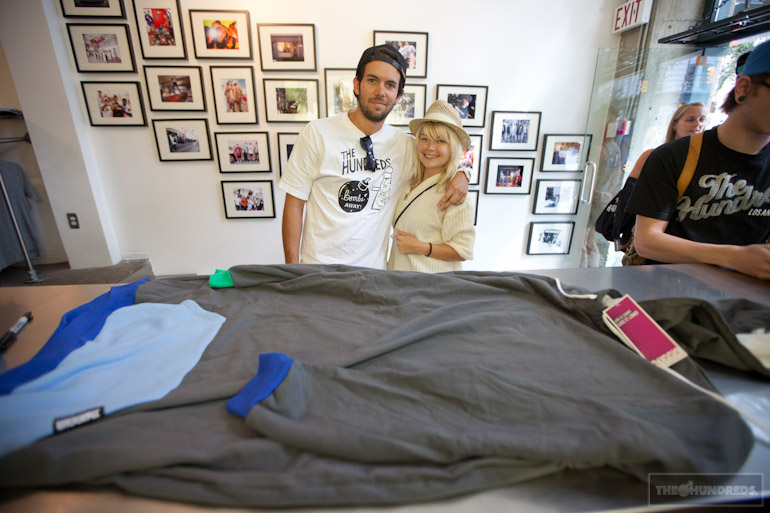 Just realized this guy looks like Vito.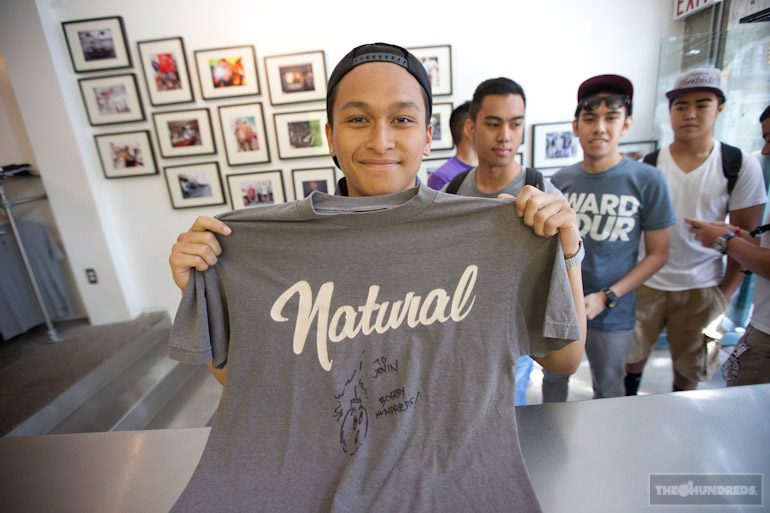 Dudette was a winner. Actually, her husband was. Apparently he was at work but she sifted through his email and saw I was gonna be at Livestock. So as an early birthday gift, she came and bought a tee for her man. Been married for 11 years doing selfless gestures like this. WINNING.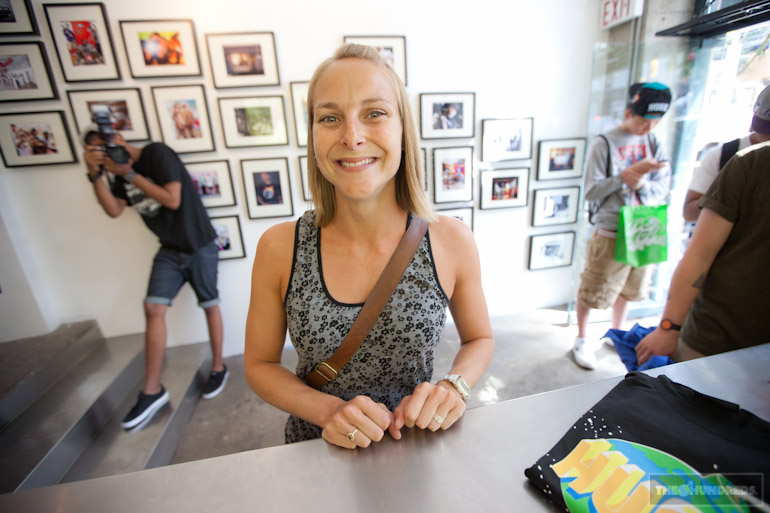 And talk about WINNING, this is Chance (I DO remember his name, because it's CHANCE). He's a film student here, we talked about JJ Abrams' work, and then we discussed my HARD WORK blog post (which a few other people brought up this morning also). It's inspired him to work harder, and straight up, to drop pounds so he can fit into our denim. Homeboy was a giant, I swear he was 8 feet tall. I said if he reaches his target weight, I'll send him a year's supply of our jeans.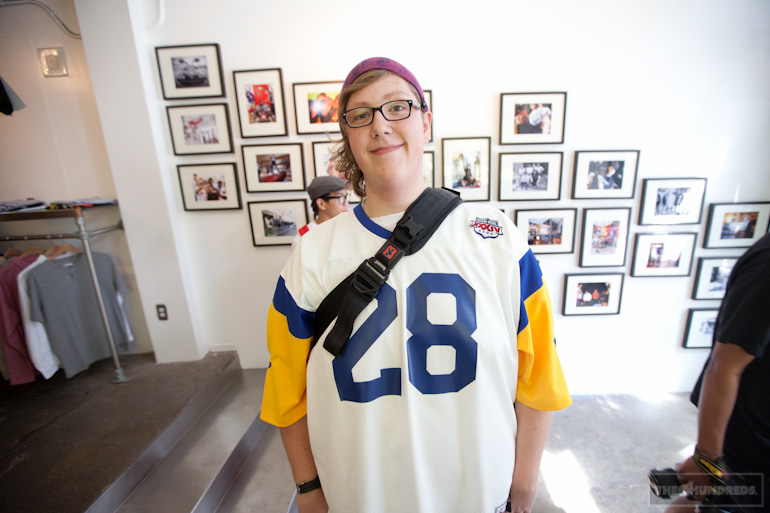 Dude questioned whether I was important enough to ruin his hat with an autograph. He needs to talk to the guy who said I was a CELEBRITY.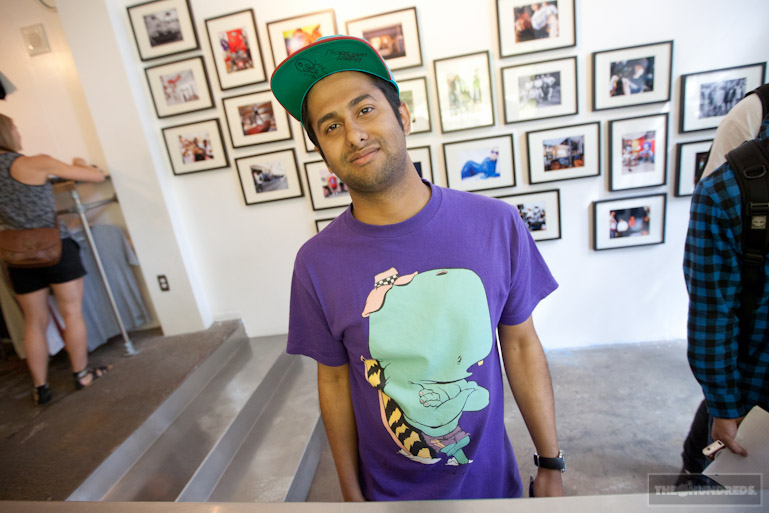 and Dude is working (hard) on his own label, entitled Loose Cannons. Mainly simple 1-colors and silhouette graphics on t-shirts, with attention to the details like the woven label. Right on, Vancouver.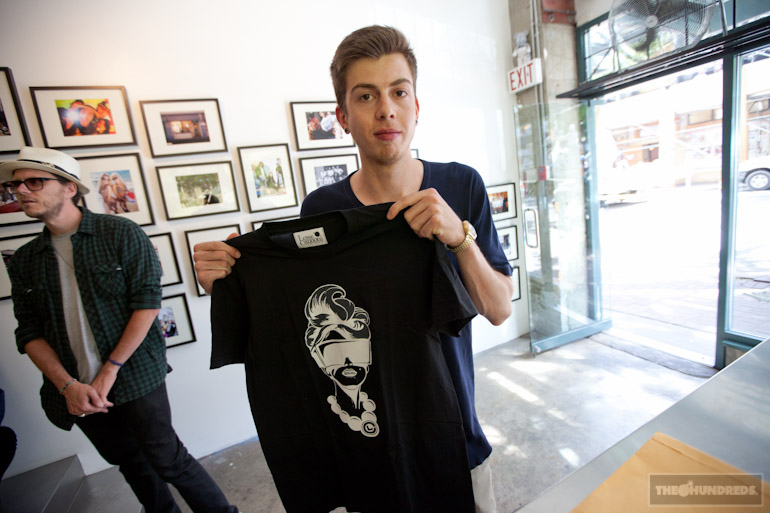 Dude's here from the UK. He reps The Chimp Store, one of our independent Streetwear retailers in England and the underdog against some of the more major retailers out there. Support the Independents, and support The Chimp Store!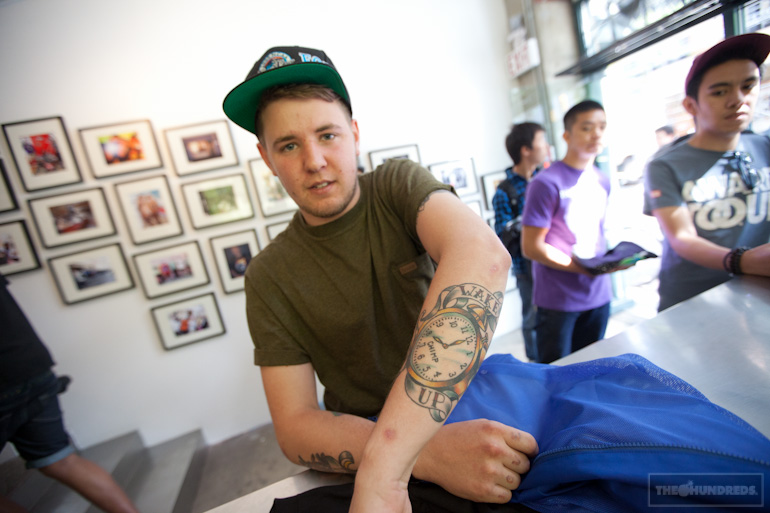 Everybody's starting to look the same!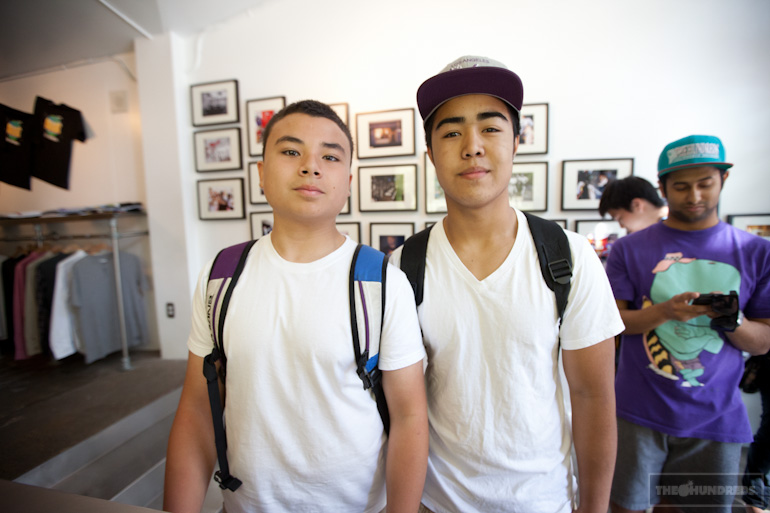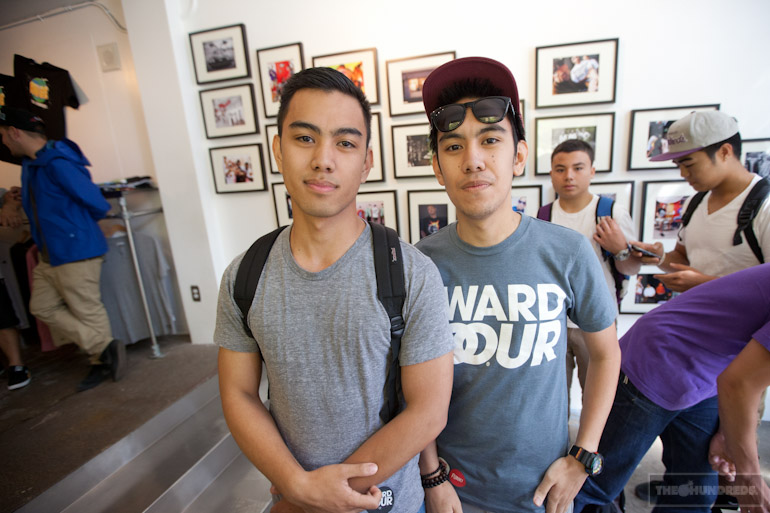 I'm tellin' ya, we have the best fans. Always respectful and loyal, the tried and the true. Thanks fam.
by bobbyhundreds