As mentioned earlier today on The Feed, BKRW just posted The Hundreds interview in their webmag, and it can be read here.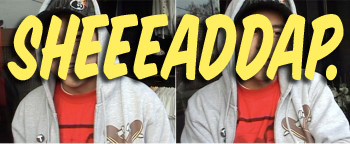 However, more importantly than the video clips, you should pay attention to Greg's (you remember Greg right?) follow-up analysis of the interview. Aside from mentioning how he had a preconceived notion of us as arrogant pricks (doesn't everyone?), he also touches on the discussion we shared regarding PEOPLE over PRODUCT. As great as all this materialism and consumption-driven culture are, at the end of the day, it really comes down to the people behind the brands and the stories they have to share. After all, when everyone's making t-shirts and hoodies, the only way to truly differentiate a brand is to derive the personality from within the product. The creators, their inspiration, and their backgrounds are what captivate our interests. Moreso than any witty graphic or limited edition sneaker.
I know I know. Sheeeaddap Bobby.
by bobbyhundreds