Man. I just saw him in January and he was fine. At the Agenda tradeshow, actually. I photographed him with some other friends, I even blogged it. Jae Bueno — the street savvy photographer — was still round and happy then, big smile, chuckling and chatty — the standard Jae Bueno fare that has traversed all Southern Californian subcultures and politics, cliques and crews. Lowrider culture, graffiti, streetwear, tattoo, Jae stands at the intersection. He's the rare breed that walks the line, bridges the gaps, and glues communities together.
Just a couple days later, Jae feels a pain, and then the sudden diagnosis of Stage 4 stomach cancer… The kind of cancer that can strike and rob in the night, without explanation or sympathy. Man… I just saw him in January.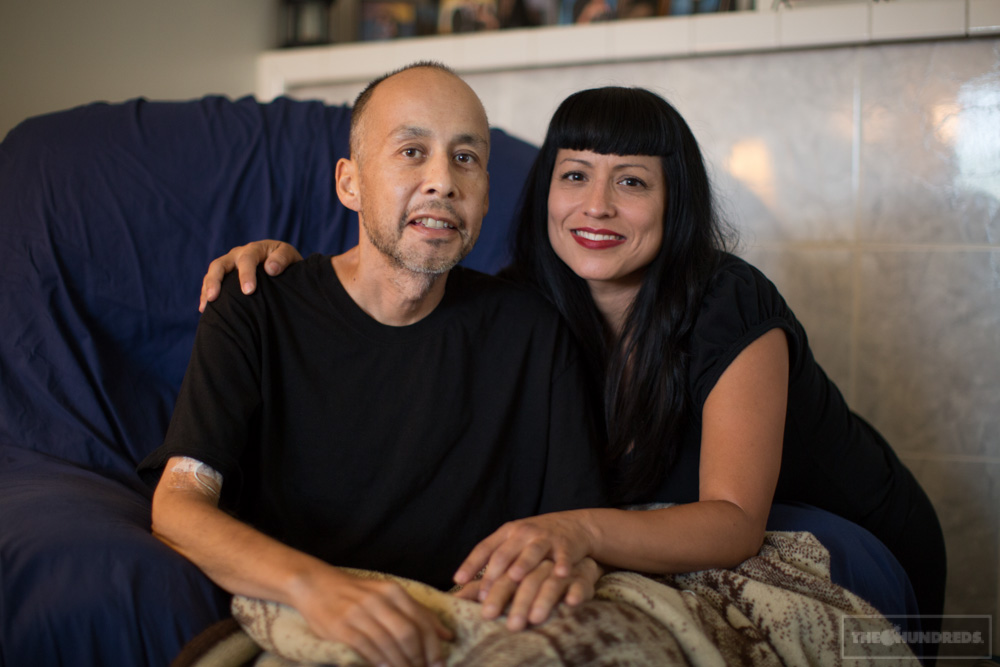 Today is Jae and Steph's 25th anniversary. Not their wedding date, but from the time they met and fell in love as teenagers, drag-raced together, ran with graffiti crews together, and made a family together. She is never not by his side. Ask anyone who's been to a local street-culture event in the past decade and they'll remember Jae. If they looked close enough, Stephanie wasn't far away. Even when they started their photography business together, she insisted that his name remain as the brand identity, because that encapsulated her, and they were a team. Even when the cancer ravaged his stomach, the nausea became a ritual, and going from one room to the next became a chore… Even then, they're in it together.
Jae and Stephanie Bueno have been loyal friends of The Hundreds for as long as I can remember. And so, their battle is not theirs alone, but ours as well. In a couple weeks, we will be hosting a charity event for Jae in our Rosewood gallery, a solo exhibition of his best photography over the years — with all proceeds going to help Jae in his fight against cancer. Tuesday, June 25th to be exact. Stay tuned for more information as we lead up to the show and until then, our thoughts and prayers are with the man who starts every conversation with "Hey Friend."