So Magic Winter 2007 is officially over. As far as a wrap-up goes, I think it's understood that streetwear's proliferation has taken course. For all you corporate pirates who don't wanna pay for WGSN and the trend forecasters out there who pilfer through our sites, I'll do you all a favor and tell you what was hot and poppin' in Vegas this week. Again, this one's for free, friends.
For starters, MAGIC isn't just MAGIC anymore. This time around, there were 4 other offshoot tradeshows catering to the industry: Pool, Project, United, and FoShoFoShow (or something like that). We didn't have the opportunity to visit these other shows, but I've heard mixed reviews from each. Regardless, perhaps it goes to show that streetwear can range across a spectrum of different clientele if each of these shows featured a cast of street-brands in their own right.
The all-over-print's 15 minutes of fame are up. 2005 was the year of Bape-inspired brands, Evius, and Dunk-oriented apparel. Last year, we were up to our collars in all-over-print hoodies and oversized graphics. In 2007, most everyone has figured out that there're only so many monogram patterns to invent, and only so many ways to utilize a belt printer. Back to easier-to-swallow apparel, that has expanded beyond mere t-shirt-and-hoody streetwear lines. Almost every "veteran" brand, and even the fresh indie brands, are offering a wider collection of clothing to distinguish themselves from the t-shirt upstarts.
And trust me, it's getting harder and harder to distinguish yourself as a streetwear brand. Just a few years back, independent 'streetwear' at MAGIC was represented by just a handful of lines like us, Ssur, J.Money, Mishka, and the now-defunct Mato NYC. At this past show, it was mindblowing to see the amount of brands (both long-established veterans and freshmen showing for their first time) that chose to enter the Las Vegas Convention Center. Congratulations to the MAGIC staff (including Katie Schilling and Jenn Klein) who could foresee the future of streetwear beyond the million-dollar urban conglomerate booths, and framed the tradeshow to disperse the traffic through a sea of independently-run clothing companies.
Streetwear, as we've all come to know it, is maturing. The most interesting thing to see will be how upstart brands which have primarily built themselves off of blank-tee graphics and hoodies will progress into the cut-and-sew world (if they choose to do so at all). Everyone can make a loud t-shirt that can crossover every demographic, but once the line expands to a full range, the brand truly takes shape and carves out its niche customer. This is the year that the industry will mold itself, the strong will survive, and countless dreamchasers will lose their footing because of the influx of fellow competitors who also see gold at the end of the rainbow. And it was fun for a while, but I think the long-forsaken business end of the game will be the determining factor as to who will claim stakes in this gold rush.
Anyways, blah blah blah, let's clear our heads with this pic of Scotty iLL and JJ. The resemblance is truly uncanny!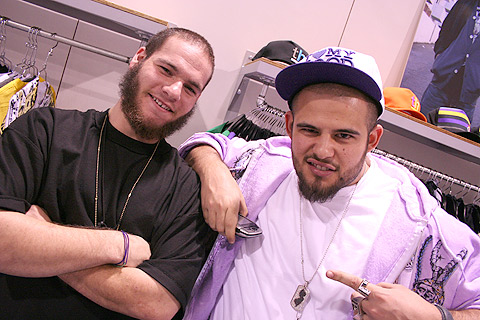 by bobbyhundreds