So Joe (Linkin Park) invited me to come watch his band perform Saturday out in the sleepy suburban brown town of Pomona. He arranged a tour bus for the afternoon, so this is what was awaiting in his driveway by the time I got there. The driver told me that he just took Ice Cube and his family on vacation in this beast, dropped 'em off the night before, came and picked us up.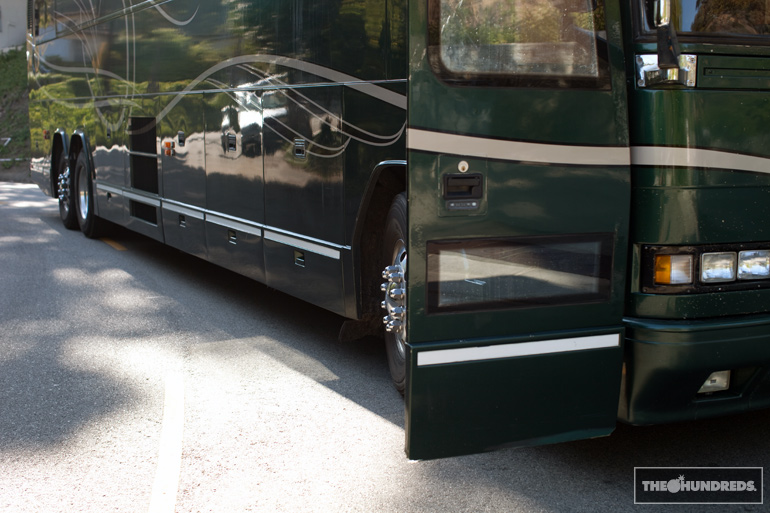 Maybe you'd find it strange that I've never been on a tour bus before, considering my rowdy rock star lifestyle. I'm like the Bret Michaels of streetwear, in case you haven't heard. It kinda felt like a Laughlin Best Western motel inside, but with mini cupcakes, chorizo quesadillas and iced liquor stocked in all the cabinets. So there were 2 of these lounges on both ends of the bus, separated in the middle by a bunkbed room.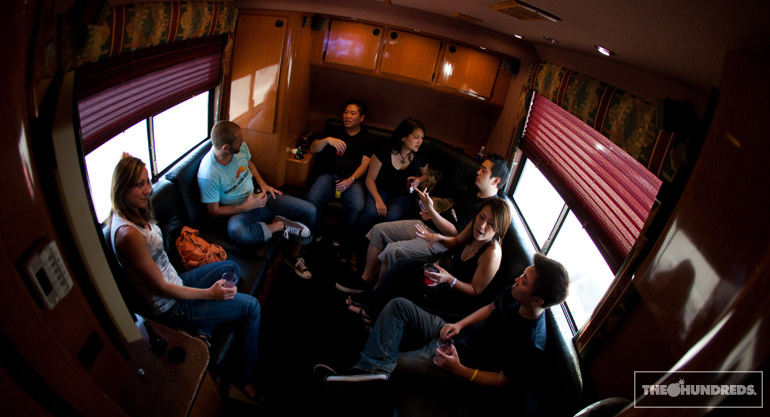 This bus comfortably sleeps 12. Joe and the band's filmer Mark exchanged stories from the road over years of touring. Apparently the beds are really comfortable, each equipped with a screen and DVD player, and you can pull an easy 8 hours with the curtains drawn.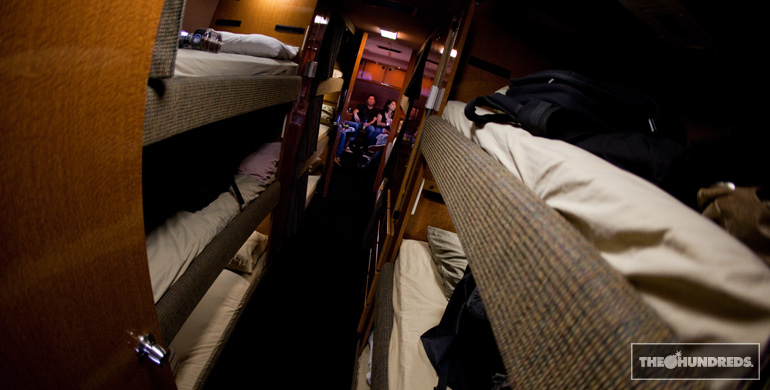 The diamond ceiling mirror was the cherry on top. We were watching Fast Times at Ridgemont High, anxiously anticipating Phoebe Cates' pool scene. But when the moment came, Eric (Giant Robot) accidentally pressed the remote and RUINED EVERYTHING!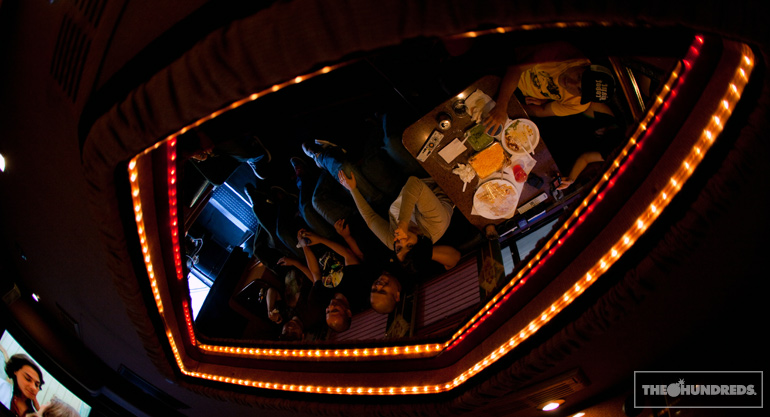 So we reach our destination, on the backlot of a rock music festival called Epicenter. Some concert officials boarded the bus, distributed our passes, and made us feel special. I also hooked up the Media pass so I could score some pit shots for you guys.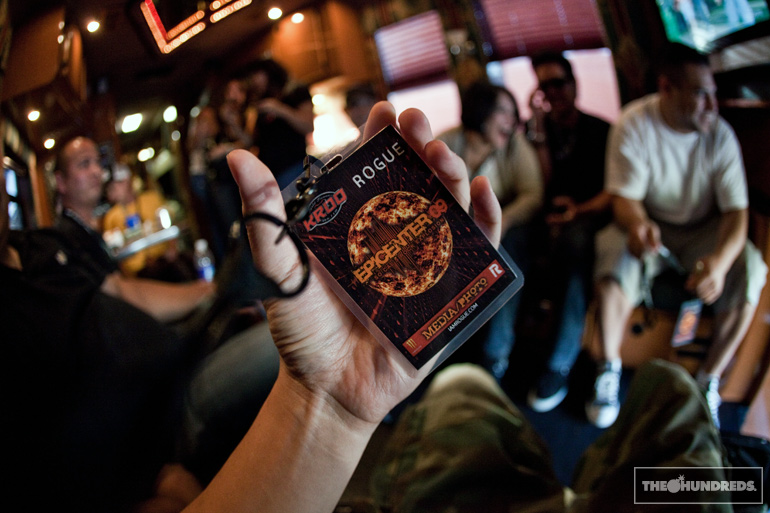 As we de-bus, Mike Shinoda (right) has no trouble convincing Peter (Cassette), Joe, and I to head over to the main stage to watch Alice in Chains perform.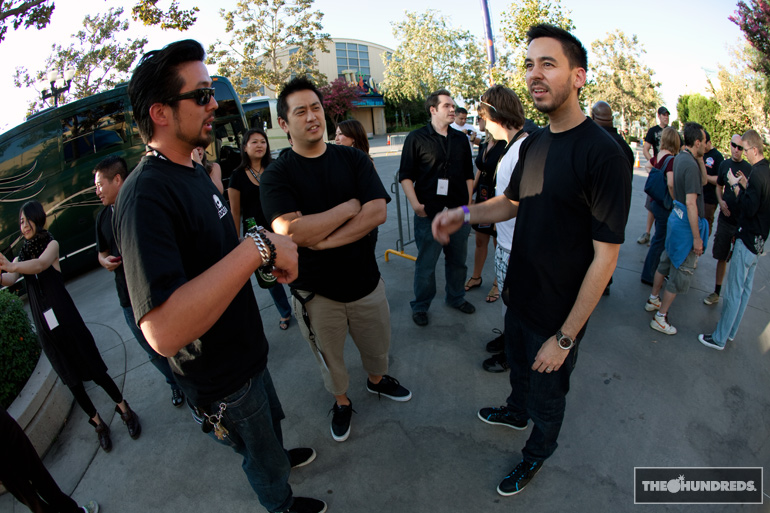 So we piled into an unmarked white van and pulled up right behind the stage. I could hear Alice in Chains jumpstart their set as the doors opened, the gritty smoke mixing with the wafting dust in the air. At this point, I'm feeling REALLY special.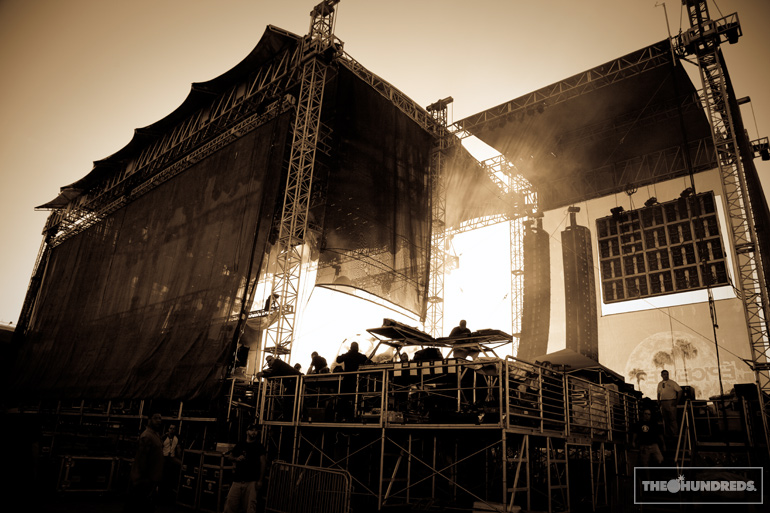 But probably not as special as Joe. I couldn't walk with this guy or Mike anywhere near the concertgoers. Their fans were rabid, no shame, shouting, begging for autographs, super excited and maniacal to see their favorite rockstars. After 2 minutes out of the hole, we had to duck backstage, much to the dismay of underage girls and their cougar moms who were ready to throw their bodies and unmentionables at the guys.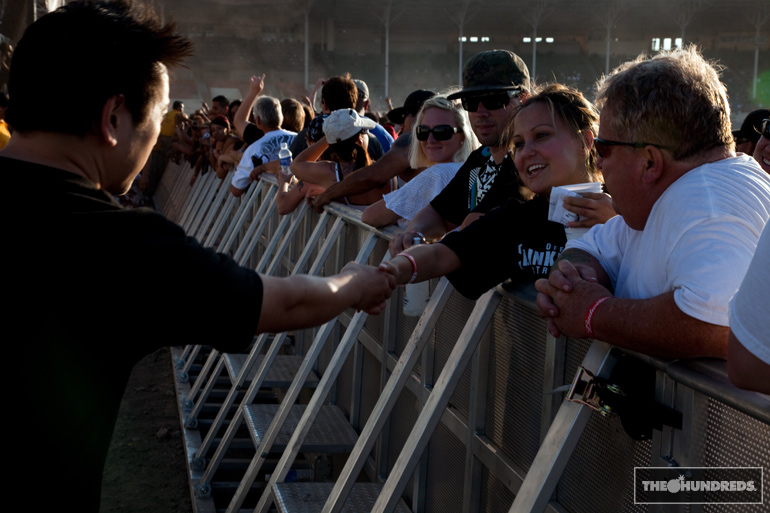 So I had no idea what I was getting myself into. I thought I was gonna spend the day at a regular run-of-the-mill concert. But as we stepped onstage, I looked out on a sea of heads, the brown haze rolling in like fog…
Duuuude: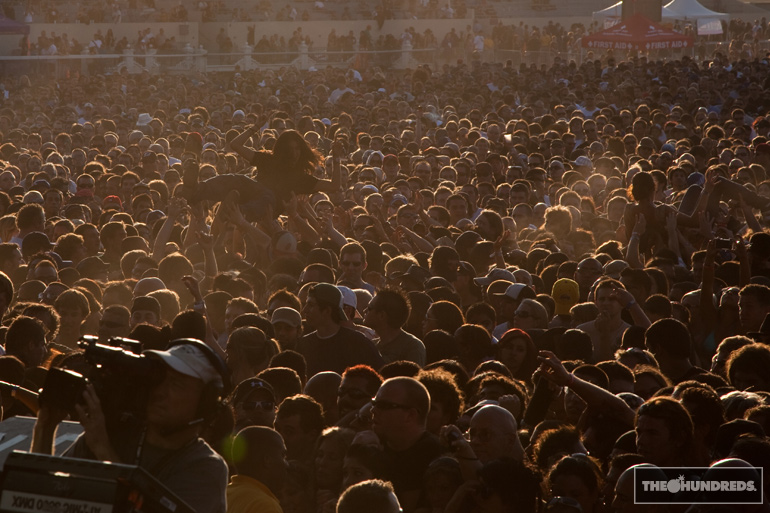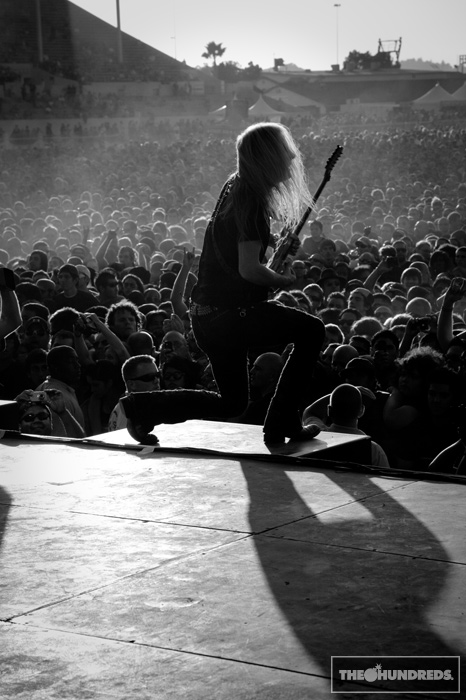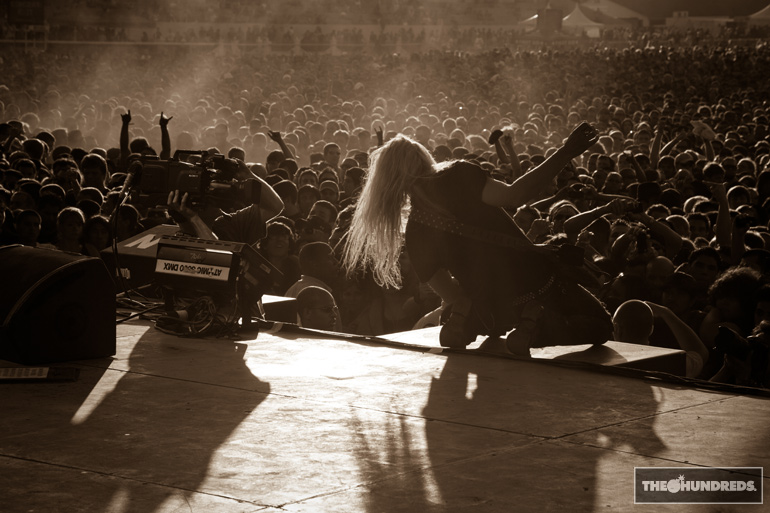 To be continued…
by bobbyhundreds