After work, we headed over to the Subcrew studio to link up with the dudes for dinner.
Right when we got to the crew's headquarters, KS was glued to The Berrics. We all gathered 'round and watched Marc Johnson swiss-cheese fools. Really, best website ever.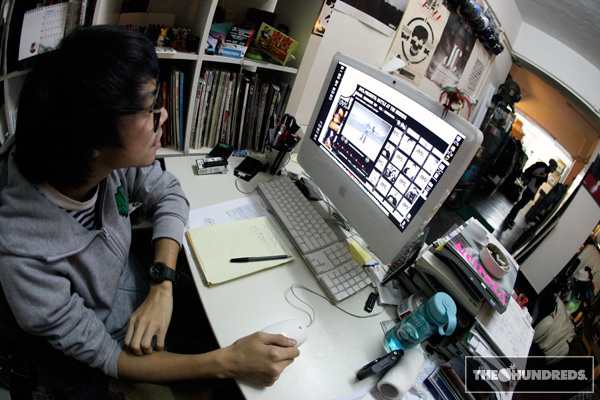 Deacon's (Daily Dozen Creative) always got something to say. He shares the studio loft with the Subcrew guys, where he works on his own fashion range,.. he's a true, thoughtful Hong Kong designer who has a broad knowledge of clothing and style, and an even more extensive repertoire in the global marketplace.
I was browsing through his inspiration board and was curious to know why the fixation with technical, progressive athletic apparel.. for example, imagery of sleek wrestling uniforms or Michael Phelps' swimsuit in the Olympics. He proceeded to expound on the marriage of fashion and technology, why Facebook is key to branding, and why Coco Chanel might very well be responsible for streetwear. Listen:
The guys were hungry, time to hit the HotPot restaurant. It took us a minute to find it, turns out it was in the same narrow building as a "massage" parlor. The sex industry is huge in HK, and in the seedier corners of the city, you'll find neon pink tubes adorning doorways. That indicates that there's a $40 massage upstairs.. except, this massage is less about acupressure and more about cheap perfume, showers, and stilettos.
Season (Hypebeast) and Kobe (Subcrew) point out the obvious.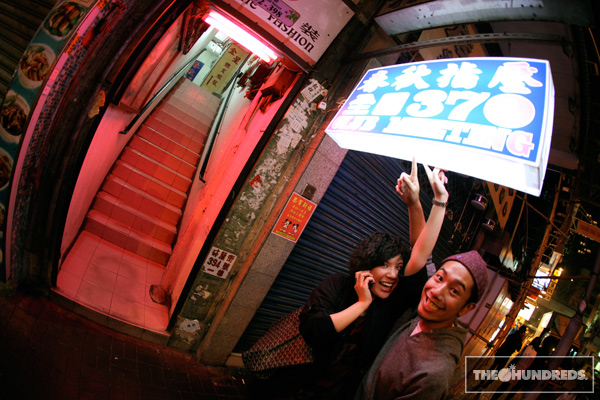 The restaurant was tucked away deep in the corner of a space with 5-foot ceilings… Sorta in-between floors I guess you could say. The low overhangs were padded with cushions, which probably come in handy for people's foreheads after 20 rounds of Tsingtao Beer blow out.
So the HotPot was kinda gnarly, but tasty. The traditionalHong Kong hotpot dinner is kinda like a Japanese shabu-shabu, but with more diarrhea involved the following morning. The waiters bring out plates of raw food, beef, shrimp, dumplings, vegetables, tofu, etc. You dip the food in the communal boiling pot of water in the middle of the table to cook it, then enjoy.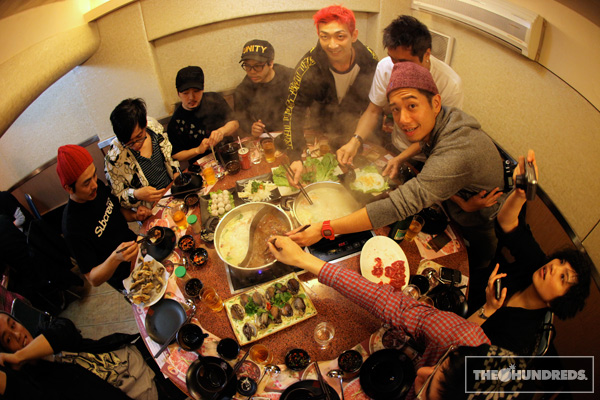 Sam serves up the giant shrimp (which was still alive and wiggling pre-dunkage *gasp*). As I noted the other day, Sam is a huge star in Hong Kong film and rap music. The entire restaurant turned around when he walked in, the pretty girls gasping and giggling at the sight of the youth icon. Sam's story is straight storybook status.. All these dudes grew up being local skaterats (kinda awesome), and Sam was spotted one day skating by a filmmaker who cast him in HK's first true critically acclaimed independent film. From there, he kinda blew up, and now he's a movie star, musician, popular DJ, and oh yeah, he also has Subcrew.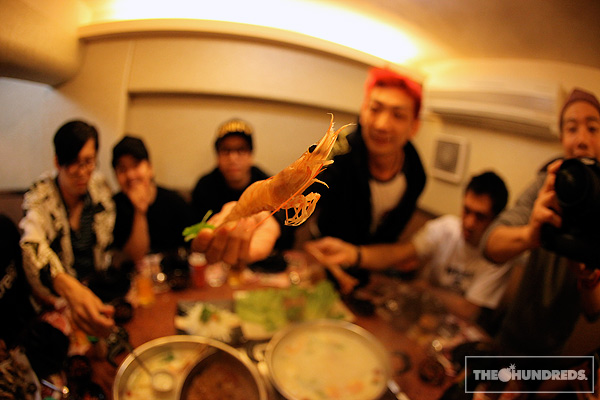 After dinner, we stumbled back over to Subcrew HQ where we cleared out the space for Sam's DJ'ing, a more interesting round of shuttlecock and darts, and a popular HK drinking game involving dice and a lot of screaming.
by bobbyhundreds