I was working in The Store on Sunday, when a customer walked in, fully decked in TH, head to toe (yes, socks). SuperCustomer milled around the shop, perusing the racks (20%-40% OFF ALL ITEMS. SALE ENDS SOON), and then asked me if I worked there.
Yup.
"Cool, I was wondering if The Hundreds has a website?"
…?
…Yeah, I know. But it's actually not as surprising a question as you'd might think. In fact, I'm getting somewhat used to that question these days. We've talked to people who've supported us for years and were completely oblivious to our web presence. (At the same time, we've had internet drones who just assumed we spit out occasional novelty t-shirts on the side). The internet is a wild phenomenon, perhaps the most dramatically influential mark of our generation. Our parents dealt with the Vietnam war, segregation, and free love. We got eBay auctions, Myspace friend requests, and Youtube videos.
Depending on who you talk to, or which way you cock your head, the internet has either blessed or destroyed almost everything important in our lives. From entertainment to education, the immediate accessibility to information (whether verified or errant) has leveled interpersonal walls, made us smarter and ultimately more confused, and equalized the socioeconomic playing field (well, as far as knowledge and information go). As cultures collide, it's becoming a smaller world after all.
As far as subculture goes, webheads might argue that the internet has virtually uprooted any sense of underground anything. When all is out in the open for everyone to see, nothing is truly sacred anymore, right? The mainstream just flooding over the riverbed, submerging all the niches of secret socieites…
I guess if you're looking at life through the screen, it certainly seems to be that way.
Meanwhile, SuperCustomer is perfectly content on Planet Analog, figuring out Life through traditional means, y'know, pre-Y2K. Oh I'm sure Super C is keenly aware of the Internet, but he doesn't let it consume him. (After all, he is the consumer). See, some things about the WWW are certain. The more credit you allot it, the more jaded you become. The more information you absorb and regurgitate, the less gravity and importance they withhold, and the less one tends to cherish it.
Compared to our online-oriented customers, there was something different about the way Super C perceived our brand, the product, and lifestyle. Ironically enough, it was deeper, more comprehensive and appreciative. And upon learning that he had remained devoted to TH for years — without the web influence — I guess I wasn't so surprised after all. He didn't know what it was like to be overwhelmed with new product updates every 5 minutes from new t-shirt brands that pop up every 5 minutes on news blogs that update every 5 minutes. He just liked the designs, the cohesiveness of the brand, or whatever. To him, it was just cool.
I'm sure this is all making complete 100% sense because I'm the Writing Champion of the World, but let me just put it like this. Think of your favorite streetwear news blog. Got it? Ok, good. Now try to remember the top 5 articles you read from that blog earlier in the day. Or even from an hour ago. In fact, it's probably somewhat of a stretch to recall even ONE article you read 5 minutes ago, right?
For those of you, like myself, who were fortunate enough to pour over the pages of print magazines like Mass Appeal, While You Were Sleeping, Paper, and *ahem*Stance*ahem* a decade ago, chances are you still remember the first time you saw the Alphanumeric Dunk or a particular Futura x Levi's denim. Hell, you can most likely envision the page layout. You read those magazines on the toilet, at the beach, in class behind your Trapper Keeper. You fully dissected each product shot, memorized the write-ups, over and over again, so it was ingrained in your memory. 10 years from now, you think you'll remember the glow-in-the-dark sneaker you saw blipped on Streetwear.com this morning?
For all intents and purposes, the Internet is a gift. Even for a business like ours, which is largely propelled by the web, there's not much to complain about. But it should be a concern that our lifestyle's tangible effects are going the way of the buffalo. No more CDs means no more cover artwork, lyric sheets, and liner credits (which are all arguably just as important as the music itself in many cases). No more print magazines means the death of permanence, the ephemerality of information, and the vapidity of quality and substance.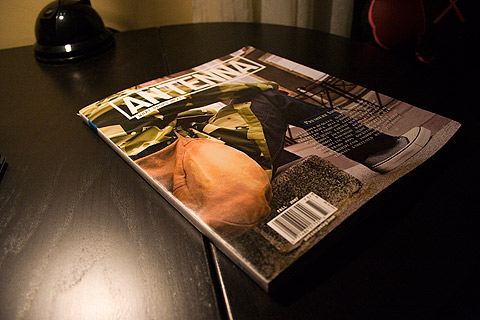 Earlier in the year at the Magic Tradeshow, a couple of genetlemen approached us to talk about a startup print magazine called ANTENNA. After we forged past our skepticism, we realized that this book was something else. From the editorial content to the tactile feel of the magazine, ANTENNA has done a valiant job of encapsualting our entire culture into nearly 200 pages of eye candy.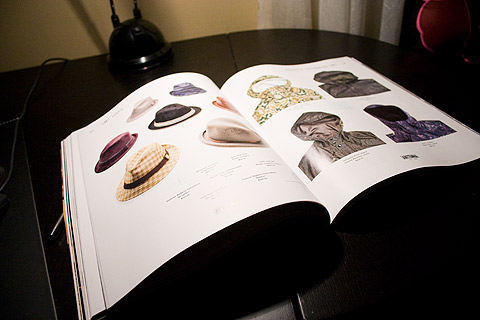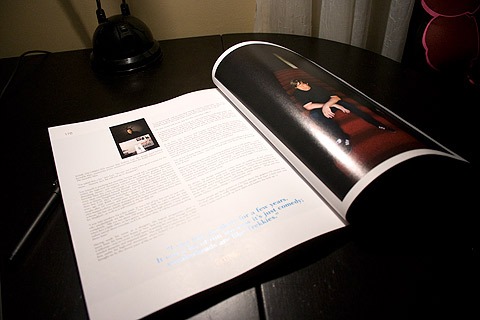 It's not overly pretentious or snobbish, but caters to a more serious and sophisticated consumer. It's not young, but not old either. The premiere issue is launching now at newsstands across America, with a literal A-Z of cool products (a recurring theme which ANTENNA is structured upon), and at-length interviews with James Bond (UNDFTD), Andrew (invisible:man, Commissary), and Jeff Staple (Staple), amongst others. Basically, it's the magazine you've been looking for, plus it's the magazine that you will remember in 10 years' time.
But this isn't a commercial for ANTENNA (NO, they didn't pay me to write this hour-long essay. YES, I have no life). It's just an advertisement for Life outside of web. It's a reminder that there is life beyond the screen, especially when it comes to culture, and that it's moving on. With or without you and your personal computer.
by bobbyhundreds