Last night was the world premiere of "Dirty Hands: The Art & Crimes of David Choe," an 8-years-in-the-making documentary of artist David Choe's turbulent life, as directed by Harry Kim. I'd say my favorite parts of the film, in no particular order, were David and Harry's quest for dinosaurs in the Congo, the shoe falling out of the girl's butthole, and Eric Nakamura's comment on how scary jail looks on TV (just kidding Eric).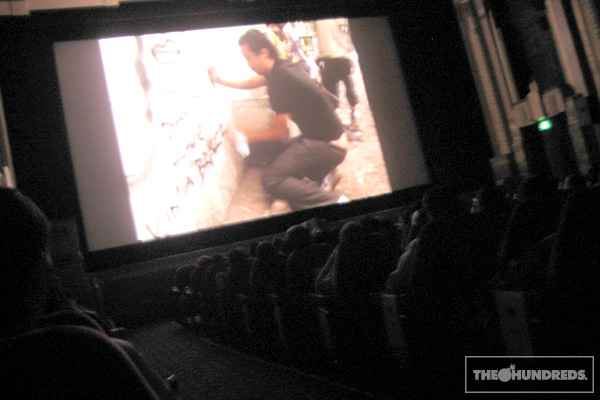 I know one of Dave's biggest fears was premiering the film in L.A. where his entire family was bound to come out and watch the film in its entirety. You'd be buggin' also if your parents were watching you punch yourself in the nose to paint in your own blood, taking showers with African prostitutes, spray-painting behemoth whales on the side of L.A.'s busiest freeways, and sitting in Japanese prison, drawing disturbing graphic imagery of women doing the most perverse things to their orifices.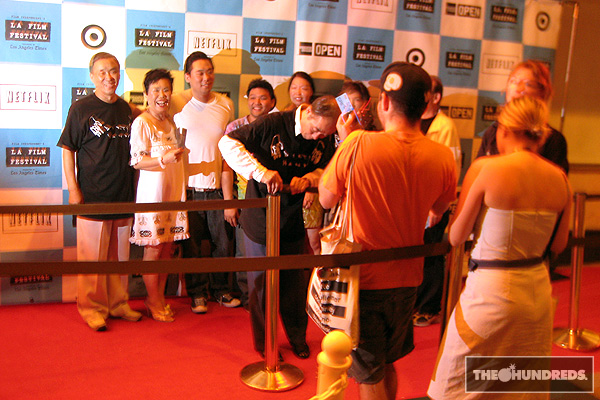 This week, Dave and Harry move on to Germany, to show the film at the Munich Film Festival. Should be interesting. In Dave's words, "I havenÂ't been to germany in a decade, and this german guy, Patrick I met in the congo jungle in 1995, and then try to get at me in 2002 impersonating the vicemayor of Frankfurt, said if I ever step foot on german soil, is gonna send the Russian mafia after me. HeÂ's tried every few years to contact me, I vowed revenge after he fucked me over in that godforsaken jungle all those years ago, IÂ'm on my way bitch, come and get me."
Patrick, you're dead.
by bobbyhundreds