I'd always heard of Meggs, but didn't get to fully appreciate the depth and breadth of his work until I was in Melbourne a couple years ago. Back when I was speaking at Carbon in Australia, I became familiar with his Everfresh crew, wrote about them, and my eyes were opened to an entire new world of street/gallery art.
Well, Meggs is in Los Angeles at the moment, working on his solo exhibition opening this Saturday at Thinkspace, entitled "Heavenly Creatures."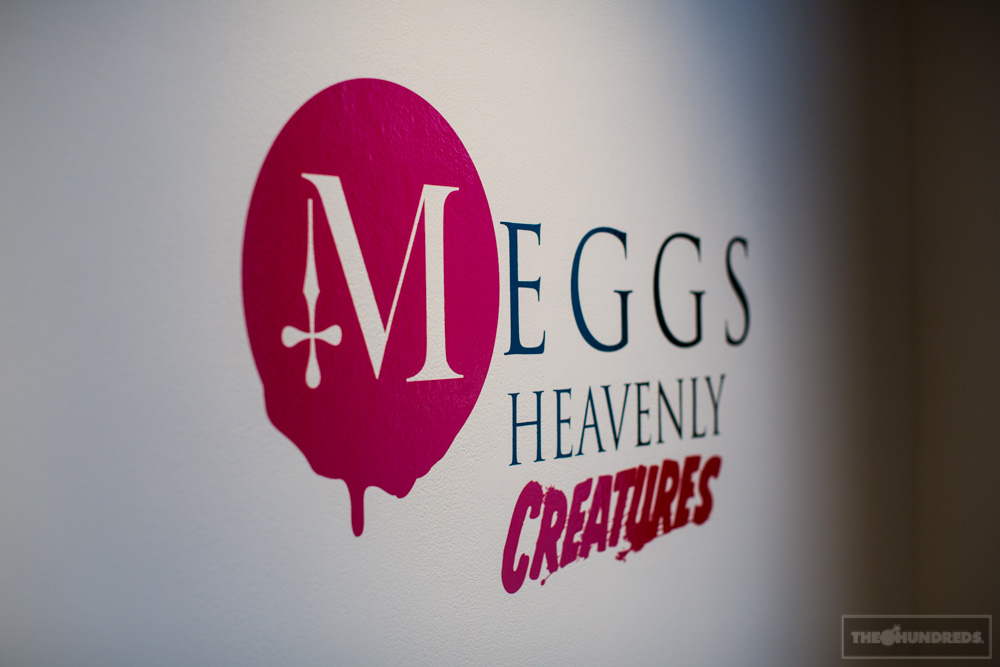 "Heavenly Creatures" showcases Meggs' diverse and prolific style across multiple media – from paintings to sculptures and installations. The theme is that of mythology and belief, with this dichotomy between good and evil. Personally, I'm drawn to all his work incorporating skulls, because I'm really into skulls, and because I had to stop putting so many skulls on t-shirts because MMA brands ruined it for everyone, and apparently streetwear kids are afraid of skulls, but I digress… So yeah, the skulls… Wait, what was I saying?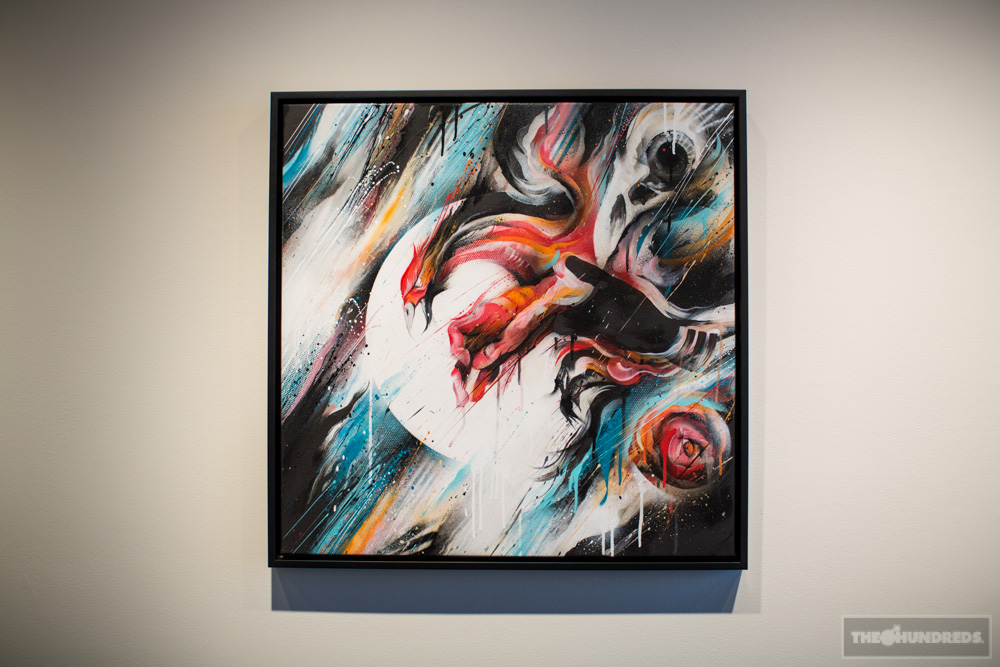 So yeah, this was my favorite piece from the show: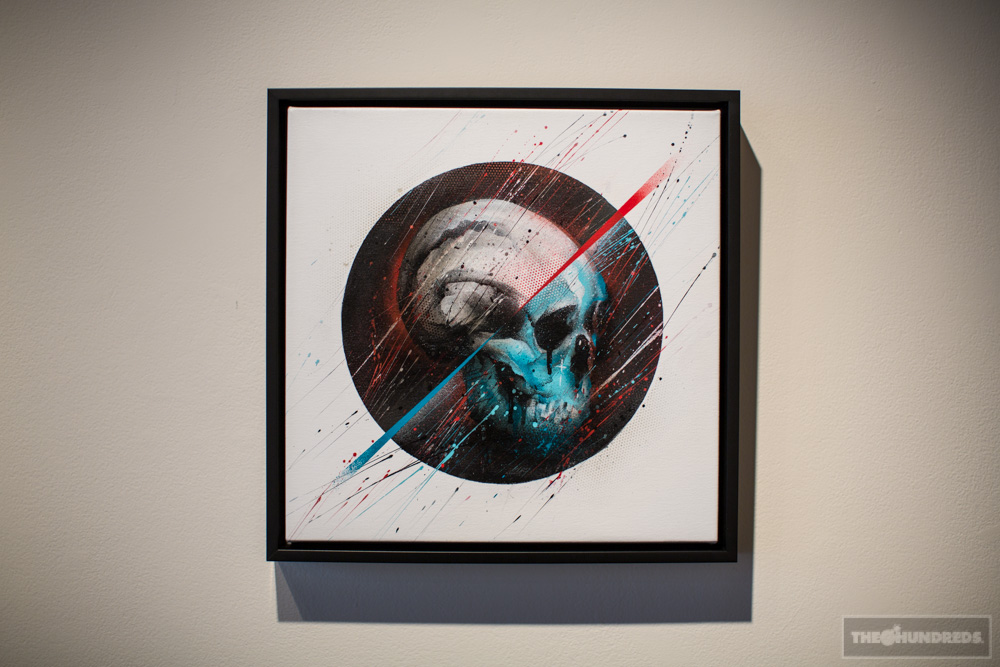 "Heavenly Creatures" doesn't actually open until Saturday night and it runs until April 27th at which time Meggs is off to D.C. to work on a mural, up to SF, and then back here.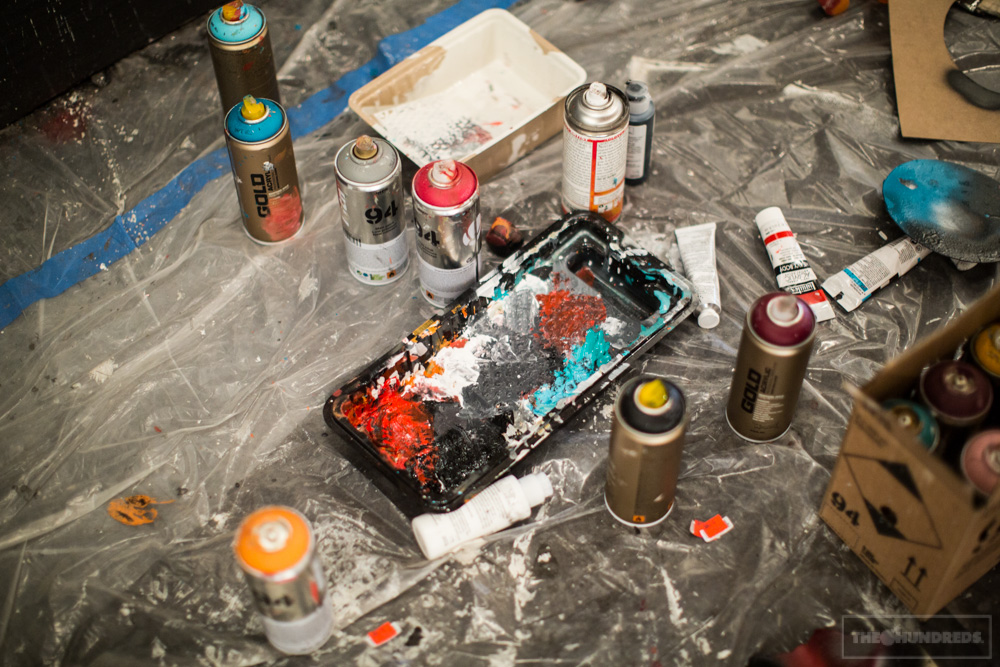 We sat down and interviewed Meggs about the show. Be sure to watch the video to get a better understanding of what he's working with, instead of just reading me complaining about skulls…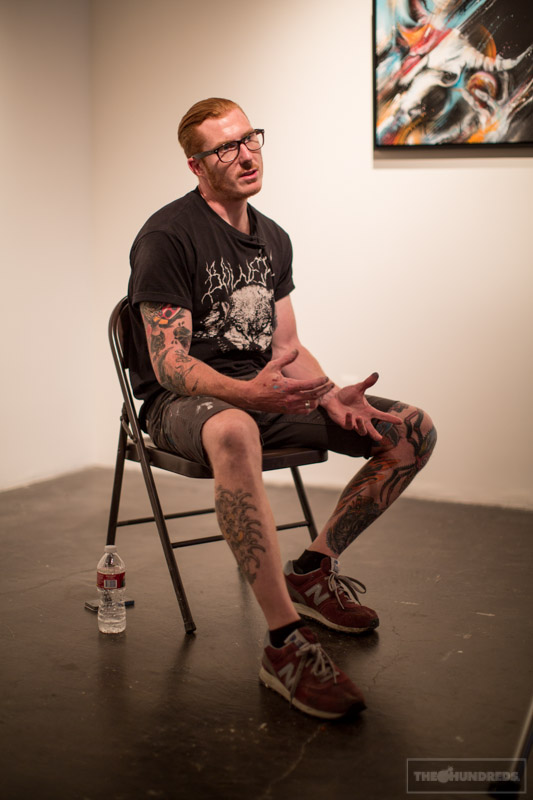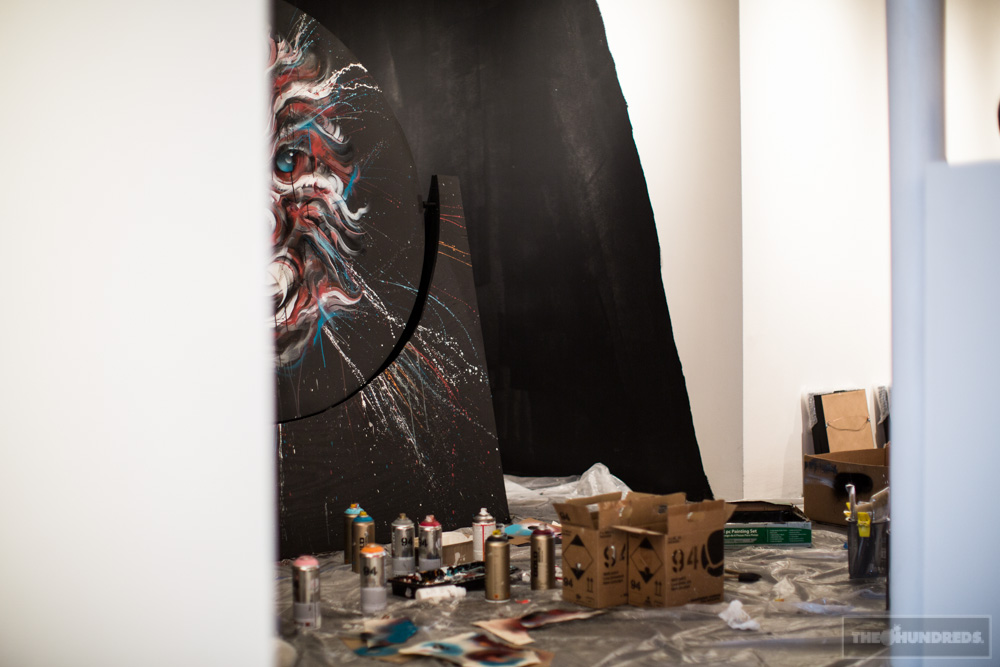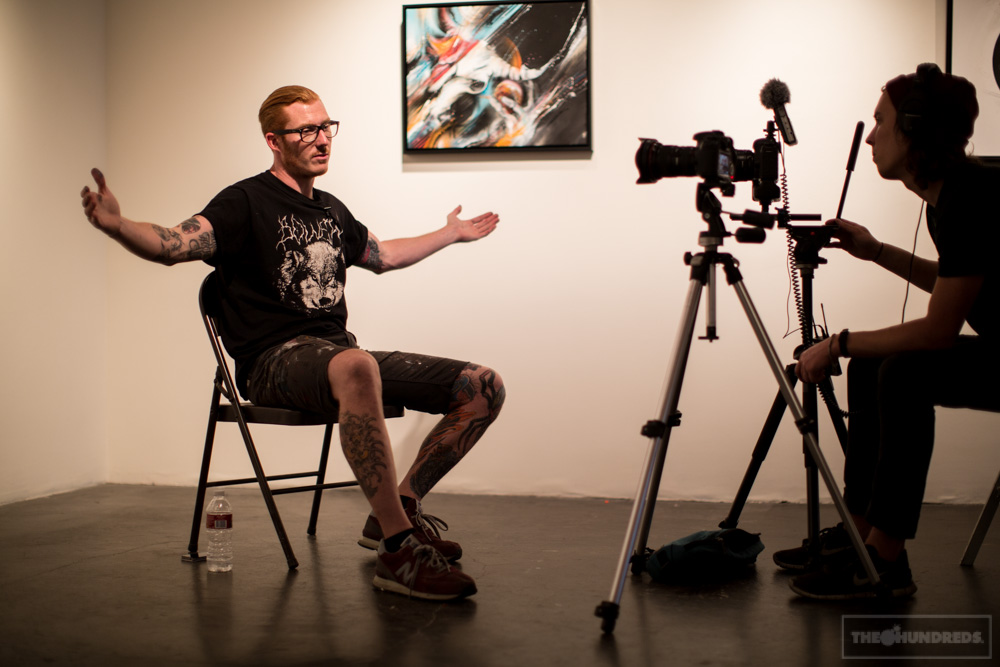 I didn't even realize that Dabs and Myla were painting inside the bathroom, which can be a dark place to be if Meggs has eaten too much spicy Indian food.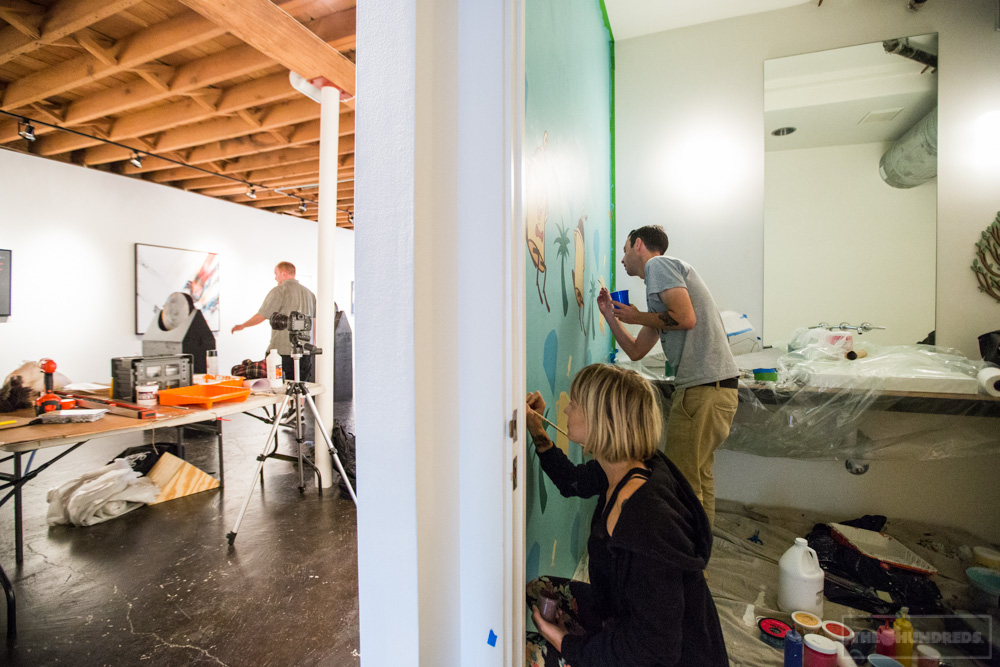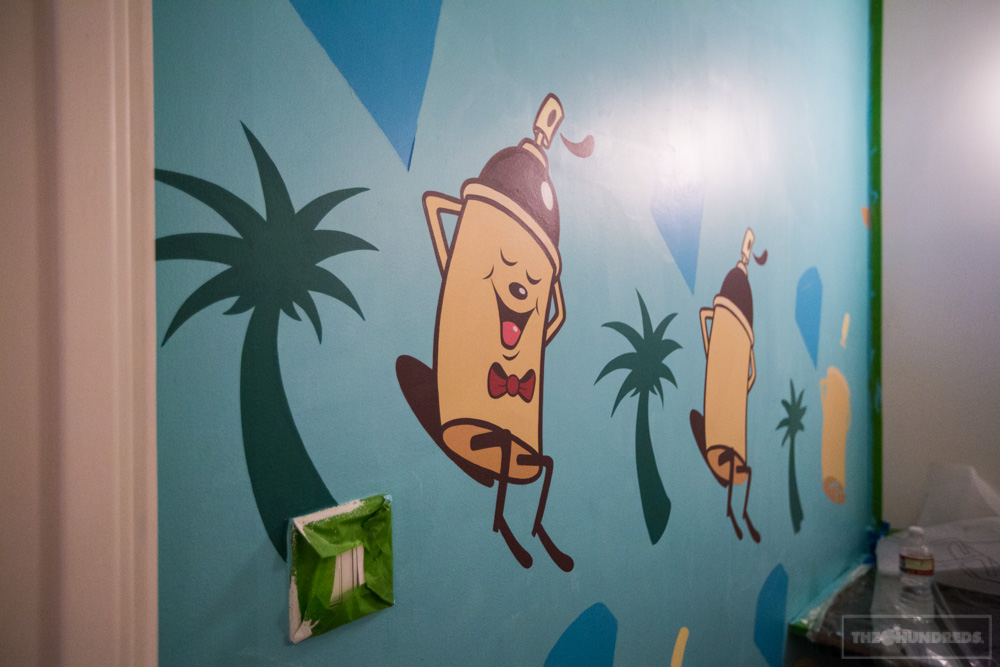 These three are all Melbourne transplants and that brought up the point that there is so much incredible talent coming out of Australia these days. Back when I spoke at that Carbon conference, there was a question asked by an audience member about how Aussies could break through to the greater world. And my response then sorta foreshadowed what was to come. Forever it seemed that Australia was at a disadvantage from a geographical standpoint. That gap not only meant that Aussies could fall behind, but also that they had to work harder to prove themselves and make their unique, creative mark. Which they did.
And then it all exploded forth once the Internet and social media brought everyone together and closed the physical disconnect. For the first time, I feel, Australia is finally getting the recognition they truly deserve. Just look at the Popular Page on Instagram and see how many top pix are coming by way of Down Under. Dabs, Myla, Meggs, are just a few of the examples of how Australia is gradually taking over – not only from an art perspective, but fashion, popular music, skateboarding… You can easily name Aussies at the pinnacle of all those fields in 2013.
Anyways, this year's Carbon conference will be held August 13th and 14th in Melbourne with not only Dabs Myla speaking, but Barry McGee, PM Tenore of RVCA, Eddie Huang, Jeff Hamada, Martha Cooper, Shawn Stussy… The fact that the premiere Street culture conference happens every year in Australia should be a slight indication that this is the region to watch for the next 10 years.