The Hundreds and SE Bikes have collaborated to bring you the world's first 26" PK Ripper.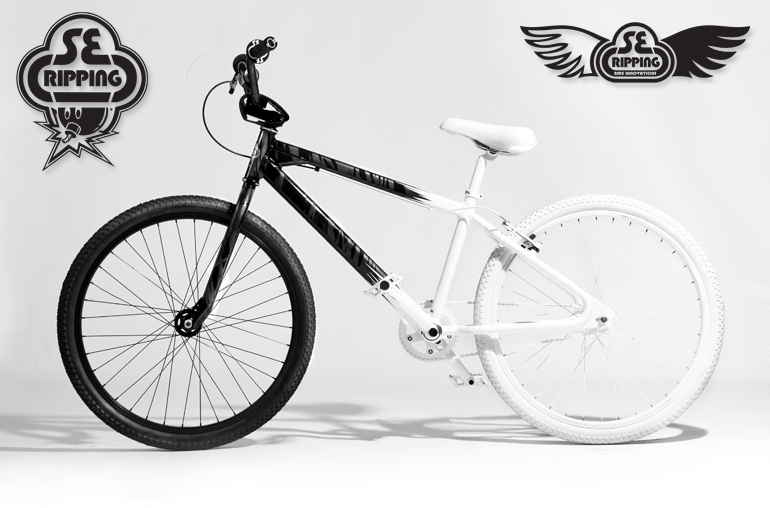 After years of anticipation in the BMX community surrounding a 26" version of SE BIKES' trademark PK Ripper BMX bicycle, SE BIKES built this bike from scratch exclusively for The Hundreds, boasting an all new 6061 aluminum tubing, looptail rear end, and retro dropouts. Limited to a release of 300 pieces worldwide, each bike is individually numbered and featuressignature The Hundreds JAGS design throughout, including seat and padset. The Hundreds x SE BIKES' 26" PK Ripper will be available this Thursday, August 13th at THLA, THSF, and The Hundreds retailers worldwide, along with a special edition The Hundreds x SE BIKES "Ripping" t-shirt offered in black and white to complement the bicycle.
*As a side-note, this is one of my personal favorite portfolio pieces for The Hundreds. The design concept was simple, to reflect The Hundreds' recurring theme ofDRAWING LINES, the stark contrast between black and white, whether straight-up monochromatic colors or a metaphor for social and philosophical issues. NO SHADES OF GREY HERE… This project also couldn't have been accomplished without the help of legendary BMX rider Todd Lyons and James Banuelos, so I do want to thank them for all their contributions to "RIPPING."
P.S. I also want to thank our old friend Andrew for all his support with The Hundreds and BMX. Semi colon. End parentheses.
by bobbyhundreds