So when I decided to do this "Best. T-Shirt. Ever." series, I just threw it out to a bunch of my friends, not really expecting much of a response. After all, my friends are busy people, and also they are largely passive-aggressive and secretly hate me, so I never hear back anyways. Just kidding, I don't have any friends.
But yeah, I got way more submissions than I anticipated. So I'm gonna break 'em up over the next few weeks. I figure you'll get to meet some of my favorite people and learn something new about them in the process. And you'll have a better appreciation for the power and story of the T-Shirt.
This second installment of "Best. T-Shirt. Ever." is with my lovely friend Tara Johnson from Edifice Agency, "a collective of brand strategists, creative minds and innovative technology driven thought leaders who specialize in telling brand narratives."  Tara's one of my favorite people in New York and greater planet Earth for that matter. She's like a human Yelp and knows all the tastiest, secret food spots, dances like she's shutting down the Soul Train line, is an adept artist, and is never not tying up the sickest sneakers.  Basically, this is the Best. T-Shirt. Ever. from the Best. Person. Ever: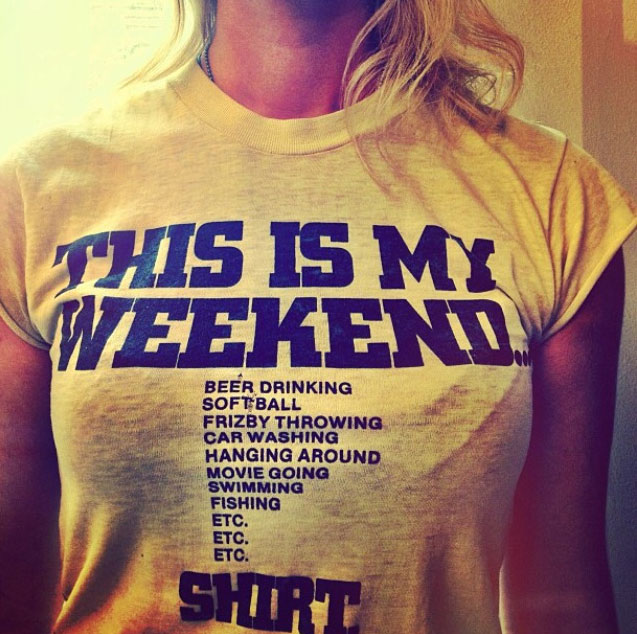 The T-Shirt: THIS is definitely my favorite shirt in the past 10 years. It's paper thin, tattered, stained, and awesome. Pale yellow in color, no branding, with generic black block letters reading, "This is my weekend… beer drinking, softball, frizby throwing, car washing, hanging around, movie going, swimming, fishing, etc,etc, etc shirt."  It basically IS my weekend and it makes me feel like it could be a Saturday on a Tuesday if I were wearing it during the week. Plus "frizby" = "frisbee."
The Story: Besides being just a rad shirt in general, it reminds me of the year I lived in LA. I found this shirt digging through bins of vintage tees when I worked for Rolland Berry. I'm pretty sure I had an allergy attack before finding it. . . but well worth it. We re-side seamed it and I cut the sleeves, so it fits perfect. So soft and thin you pretty much feel like you're naked in it. Righteous aka BEST SHIRT EVER.
What's up, Tara?: I don't have anything to plug now but I want to have another art show probably end of summer… so stay tuned.