"A beautiful girl can make you feel dizzy, like you've been drinking Jack and Coke all mornin'. She can make you feel high, full of the single greatest commodity known to man: Promise. Promise of a better day. Promise of a greater hope. Promise of a new tomorrow. This particular aura, can be found in the gait of a beautiful girl. In her smile, in her soul, in the way she makes every little rotten thing about life seem like it's going to be okay."
Remember when Michael Rapaport said that in Beautiful Girls? Remember when we made a t-shirt about it and Mike Rap quoted himselffor the blog? 'Member? You 'member.
Julia Vaughn and her sister Samantha make a stop at The Hundreds HeadQuarters. They have a great blog together called AVGVSTA & AVGVSTVS that you should follow on your Tumblr.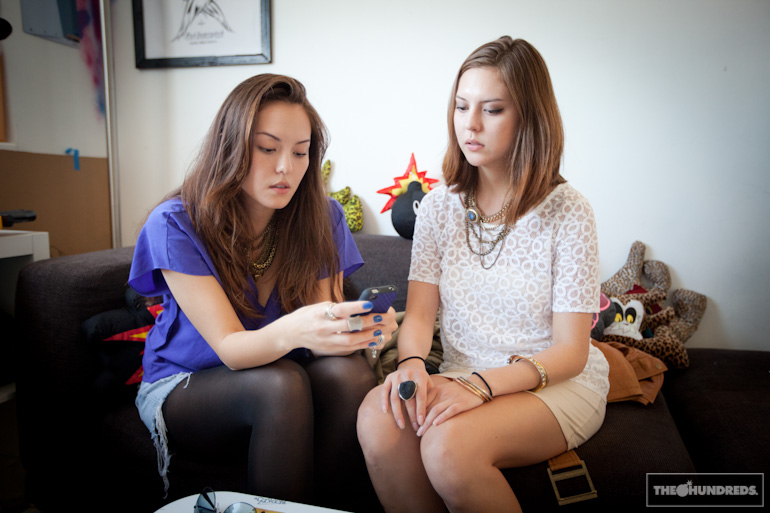 AVGVSTA & AVGVSTVS is actually the name of Julia's new jewelry line, that officially launches through her website Monday. So this week she's been busy running around L.A., putting the finishing touches on her pieces, shooting lookbooks and promo video for the debut. I have a few friends who have made the foray into vintage-inspired and costume jewelry, and it certainly isn't the easiest endeavor. But Julia makes it seem effortless and her story is compelling. Please support a fellow independent and considerAVGVSTA & AVGVSTVS!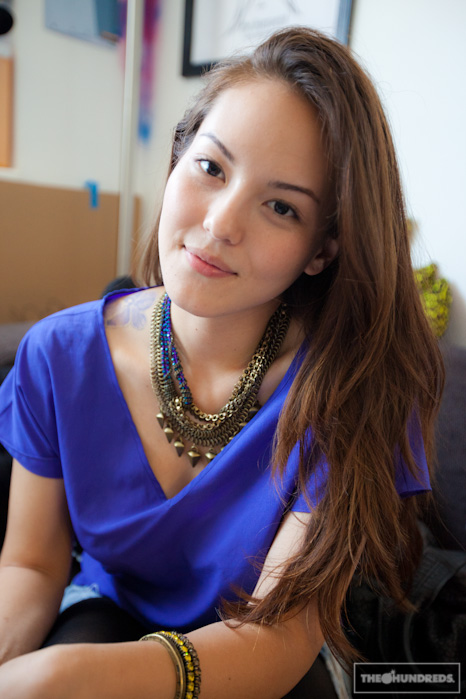 Sarah's an old childhood friend. She's currently on the road with Jessie and the ToyBoys, who are opening for Britney Spears and Nicki Minaj. The touring life can get lonely sometimes, but she's made a lot of friends and even better experiences, and surprised herself with how much she liked Wisconsin.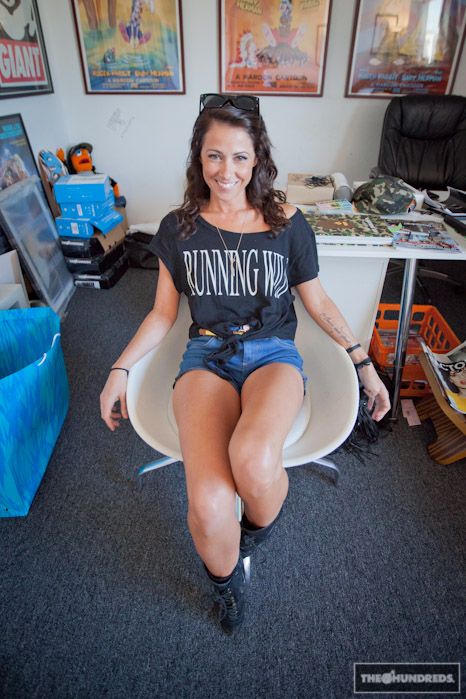 You'd never guess, but Sarah hates the camera. Sarah and a new pair of The Hundreds Eyeware's "Morrison" aviator glasses: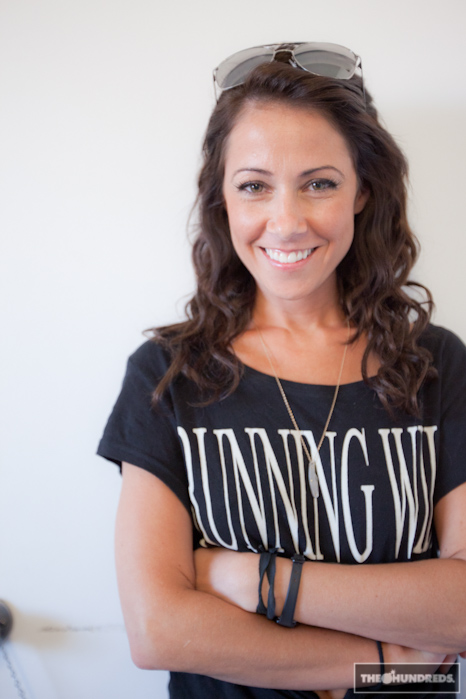 I could dedicate an entire blog post just to Julie Newmar. Better known as the original Catwoman from the televised Batman series, she did quite well for herself, entertaining for decades via a wildly successful acting and modeling career. She even had an entire movie about her called "To Wong Foo, Thanks for Everything, Julie Newmar" where Wesley Snipes, Patrick Swayze, and John Leguizamo dress up as women and nobody questioned it because it was the '90s.
I asked Julie what she thought of Anne Hathaway as the new Catwoman. She said that she was confident Anne could pull it off, because you really can't screw up Catwoman. "Really?" I asked, "What about Halle Berry?" But Julie even backed Halle's performance. That's how gracious and lovely Ms. Newmar is.
At a young 78 years old, she's still as intoxicatingly beautiful and endearing as ever. I'm 6 feet, and she was taller than me, but says she doesn't know exactly how tall because she's never measured herself. She's born and raised Los Angeles – she really IS L.A. – and loves this city for everything it stands for: the history, the legacy, the people, and the dreams waiting to be fulfilled. Julie was also very warm and sage, and is offering to share if you are willing to take the time to listen. I asked if she had any advice for young girls who may look up to her. "About what in particular?," she asked. "I dunno… love?" She laughed and said "Get a cat."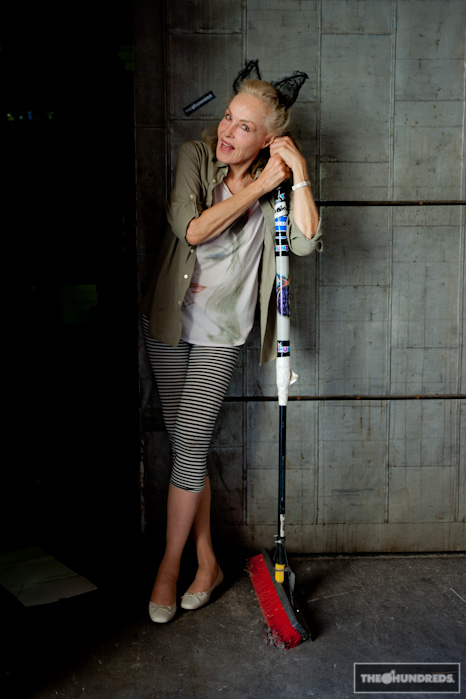 Jayne is one of my best friends, and is well-known in the fashionista world for her blog, STOP IT RIGHT NOW. She has some creative projects in the timeline – keep an eye out for those.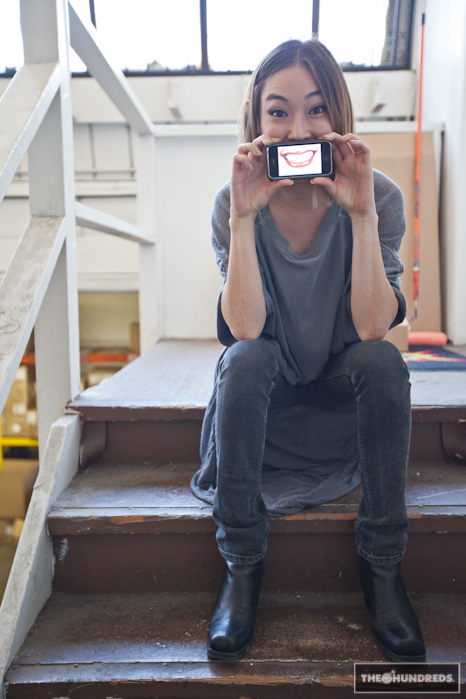 Nick and Quinn aren't beautiful girls, but I have to give the female readers something to look at, right?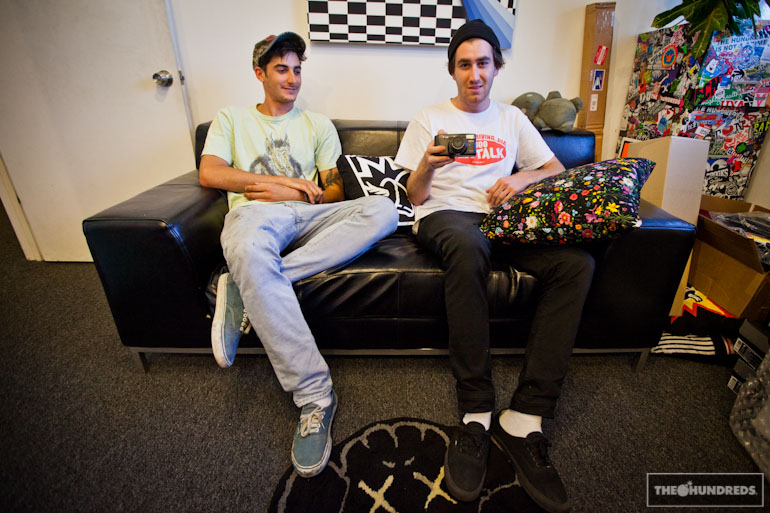 by bobbyhundreds