On our flight home, they were playing this movie, Cadillac Records. Have you seen it? It's a musical biopic about record-exec Leonard Chess and Chess Records, the mid-20th Century blues/R&B/jazz label that spawned legends Etta James, Muddy Waters, Chuck Berry, and Howlin' Wolf, to name a few.
Anyways, the main point of the movie (or at least what I got out of it anyways) is to remind the world that Rock & Roll was inspired and founded by Black American musicians. There's even a pretty funny point about The Rolling Stones, Elvis, and those scalliwags, The Beach Boys, having built their careers on the back of Black music.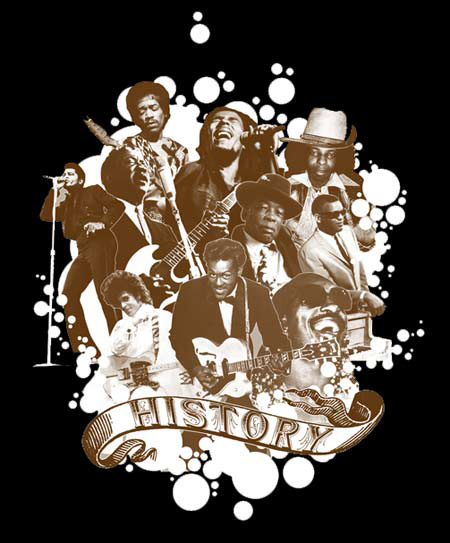 It reminded me of one of our most invested and charged graphics, the "HISTORY" t-shirt, we made years ago.. I think it was 2004? I've always been intrigued with how Rock & Roll has become so intertwined with White American popular culture, although Black musicians were the music's architects.
I wanted to re-tell that story to our customers, many of whom might assume that Black music has always been relegated to something as familiar as hip-hop (which has it's roots in rock and roll anyways). And to do that, I compiled a collage of (just SOME of the) Black artists who Rock owes a Thank You. I dug through local libraries for old books and vintage magazine printouts from the era for high-res photos of Prince to Ray Charles, Sly to Buddy Guy. Bob Marley, Stevie Wonder, Chuck Berry, James Brown, Jimi Hendrix, and back to the start, Muddy Waters.
Of course, the shirt tanked because it didn't have cartoon guns, or bombs exploding all over it, or naked girls with guns exploding into a million pieces of gold foil print. But the few people who did pick it up, like music snobs or older, more sophisticated customers who appreciate that kinda thing, still come up to me on the streets and thank us for making that shirt. So yeah, it was worth it.
P.S. I still like Zeppelin.
by bobbyhundreds