The Hundreds New York opened Friday to an anxious crowd of diehards. We were set to open at 11am, but as anyone who was at the THSF opening can also attest to, we didn't pry the doors open until 1pm. I apologized to a few kids in line, "Sorry we're opening 2 hours late." One guy responded, "That's alright. I've been waiting 2 years for this."
Maybe I'm just biased, but I am convinced we have the best fans, customers, supporters of any brand, streetwear or not. Our clientele is committed, loyal, respectful, and true. One customer flew in from Dallas to say that the one thing that sets our brand apart from everyone else is that our staff, and the people behind The Hundreds, have manners. But you know what? I can turn that compliment right back around to all of you out there. Respect on all sides.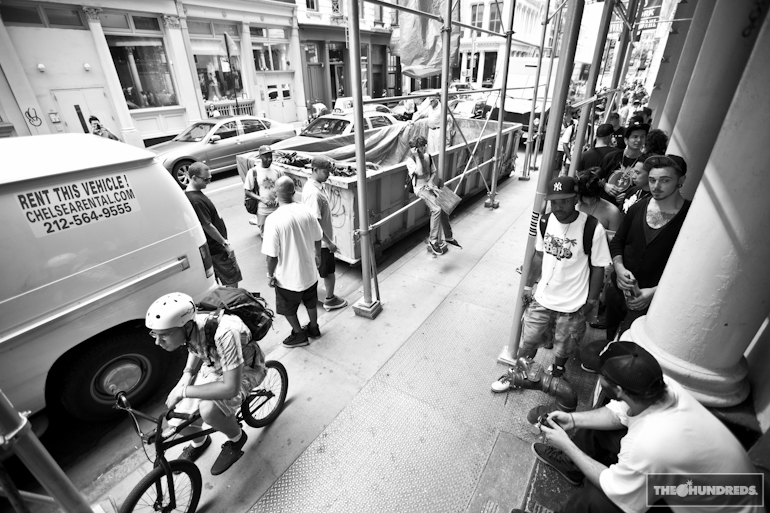 These were the first 3 in line, and yes, they camped out overnight to commemorate the occasion. If I ever asked my dad to sleep on the NYC sidewalk for clothes, I think he would've punched me in the neck and handed me the lawn mower. But this guy was awesome, and it was cool to see a family bonding over something as simple as this.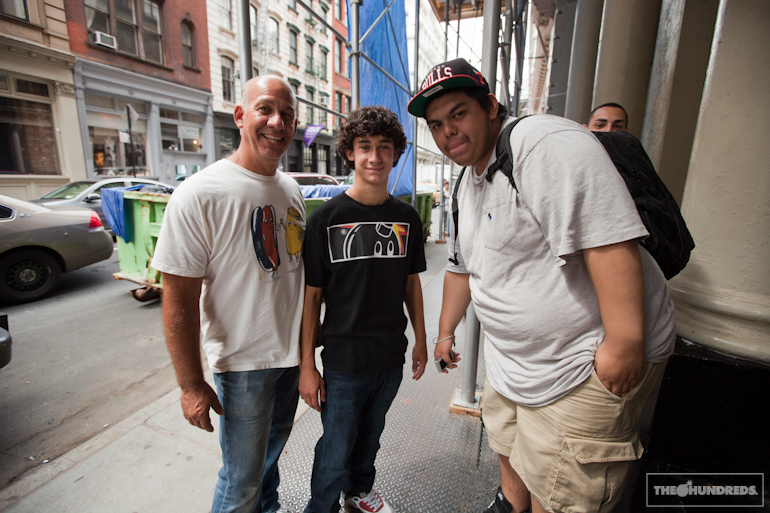 Everyone asked if I had seen this girl's tattoo in line.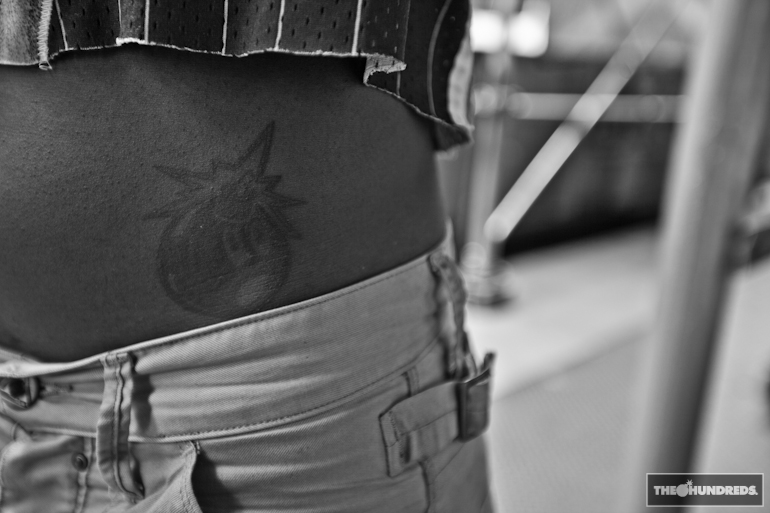 Another thing I always appreciate about our clientele: Diversity. Frankly, there's a running stereotype in streetwear that lineups are usually filled with one particular race. But our lines are always evenly mixed, and not just along ethnic lines. Whether it's age, or skin color, gender, sexual preference, whatever it is, The Hundreds is for all.
And if you don't believe me, check our THNY PhotoBooTH, which whether you've realized or not, has been operating since before we opened. You can see the work in progress, and see all the familiar faces of your extended The Hundreds family here in New York.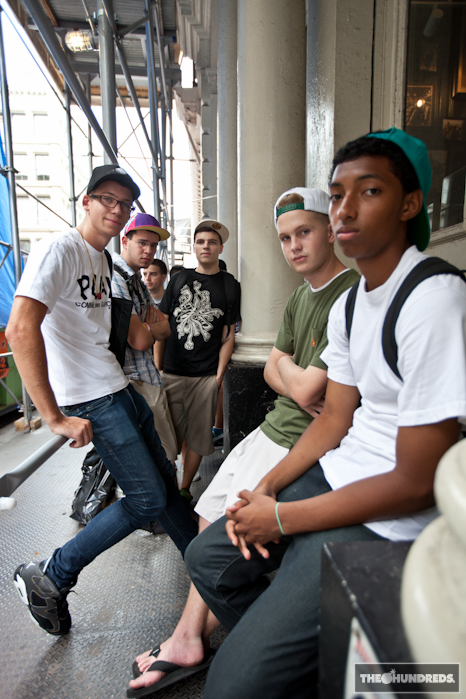 The guy on the far left is hardcore. He almost fainted after taking this photograph. He has 3 The Hundreds x Forum snowboards. I don't even know how he got that block party shirt, considering he didn't go to it. 120% Awesome.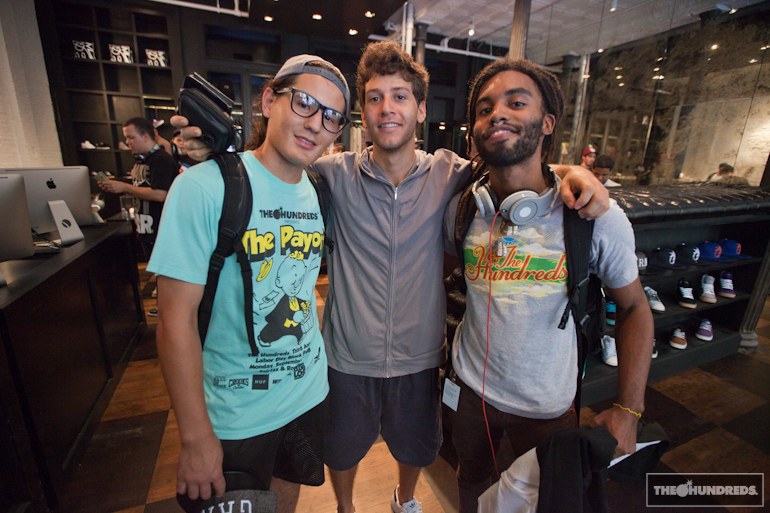 I liked these guys. I was helping them around the shop while they kept telling me how they personally knew the guy who started the company. The situation was too funny for me to say anything.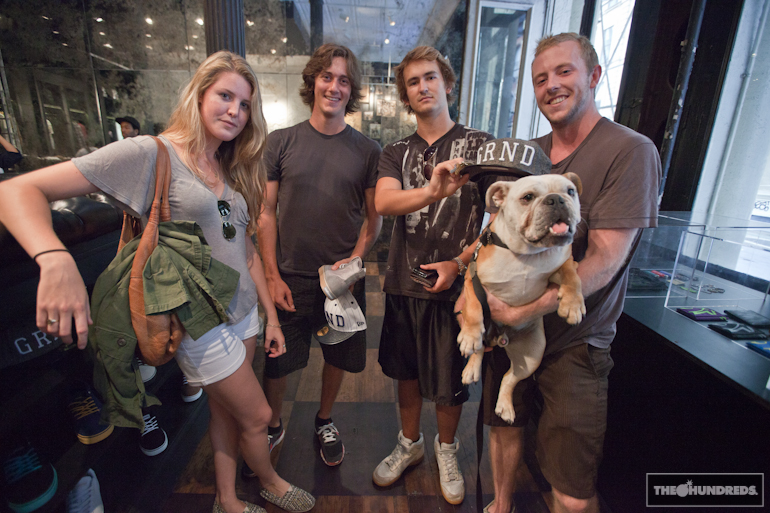 We also need to thank all our New York family who stopped by to support us on the big day. Denis (Nike/Mighty Healthy) and Ray (Mighty Healthy), for instance. Unpictured: Kareem Black, Emeka, Drewpreme, Shiggs, Hawaii Mike, Irv, Sweet Sixteen Sarah, Tex, TJ, 13th Witness, Mike Packer, and plenty of others I'm forgetting right now. Yesterday was a bit of a blur.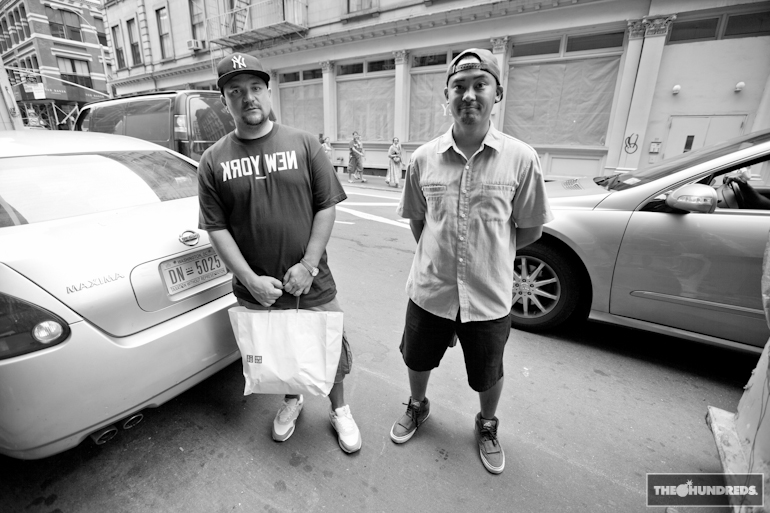 Albert, Jun Cha, and Ruperto.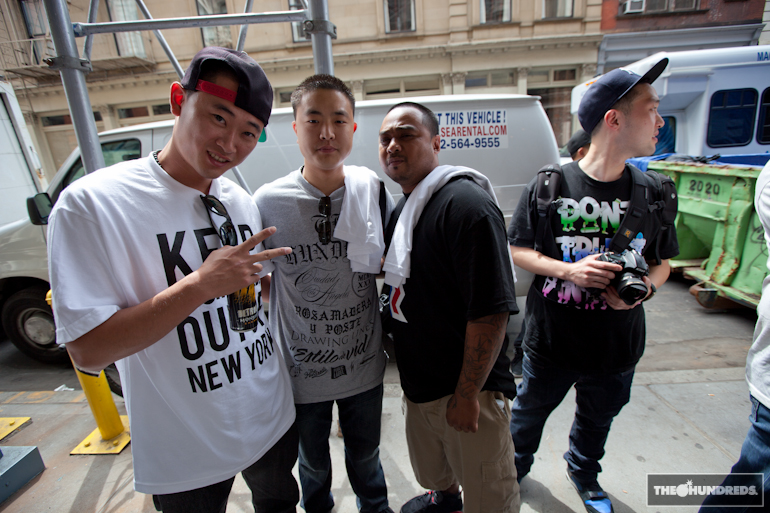 I love and hate Victor.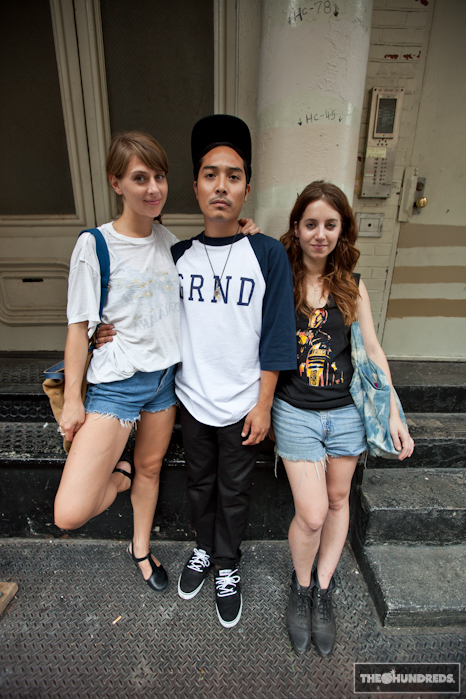 Our fans endured crippling bodily harm to get to the opening.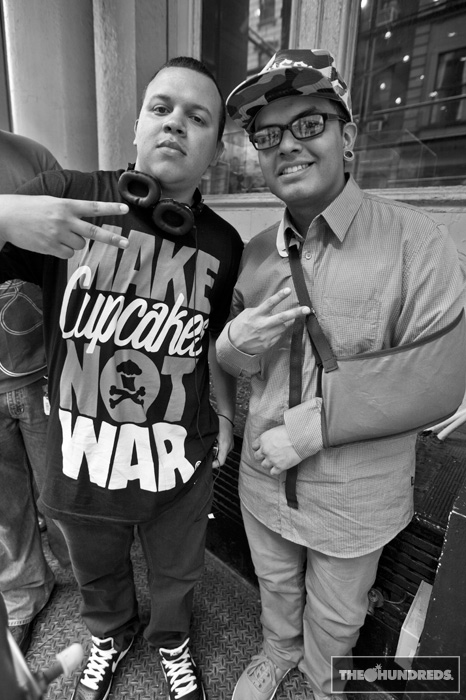 We really need to make Adam Bomb arm casts.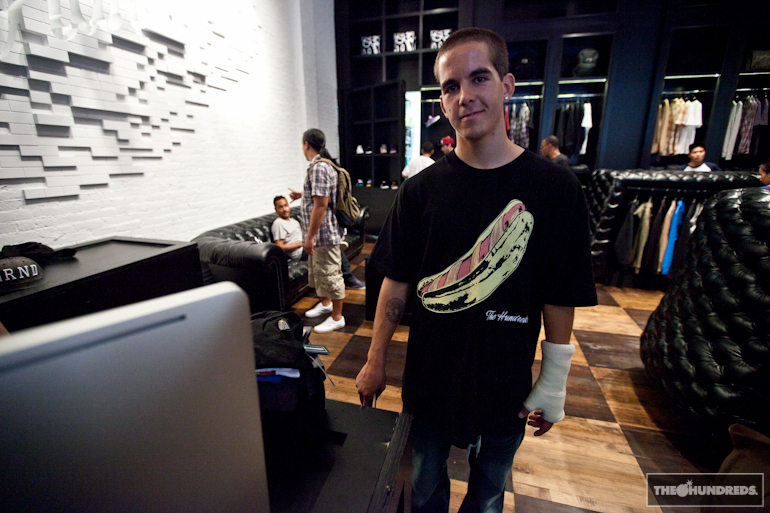 Smiles for miles.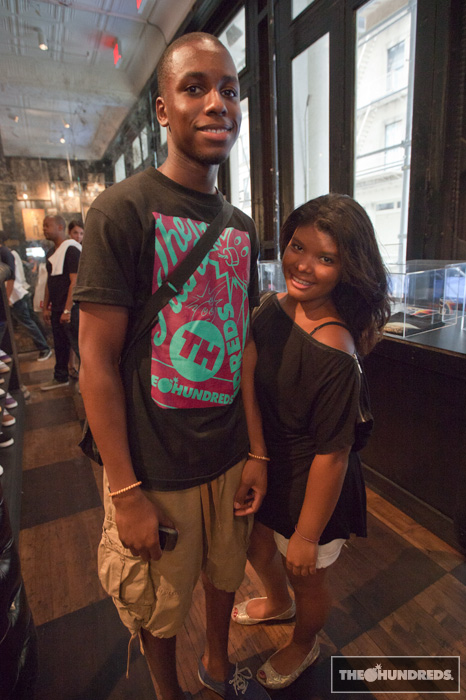 Another thing you gotta love about New York is the heavy European crossover, considering the proximity. The European food is better here than on the West Coast, and you run into a lot more Brits, Germans, French, Spanish, Italians, Russians, etc. over on this side. Like these 2 from London.
On the other hand, the West Coast has got Asians, Mexicans, Latin Americans, and their respective food on lock. So, there.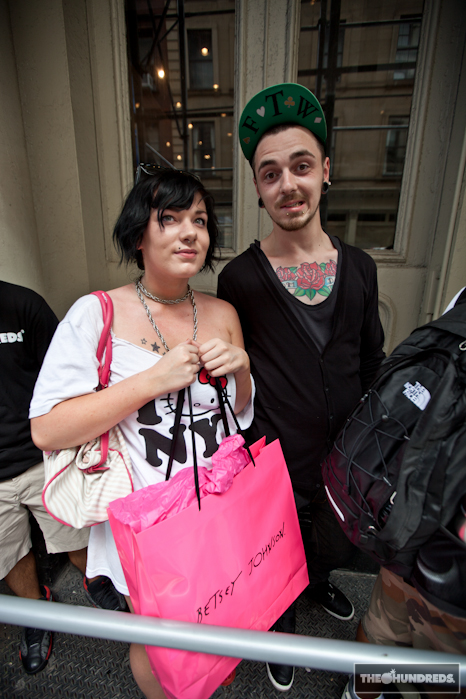 These 2 guys said they bumped into Ben and I years ago RIGHT on this same block in New York, and inquired as to a THNY even back then. Great minds were thinking alike.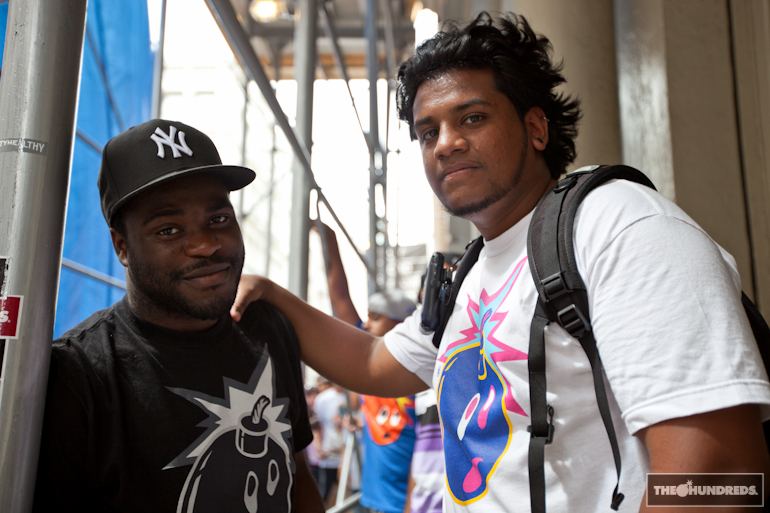 To the guy in Oregon whose dad waited in line, took photos in the PhotoBooTH, and soaked up the store atmosphere to get you some gear, you lucky son of a … awesome father.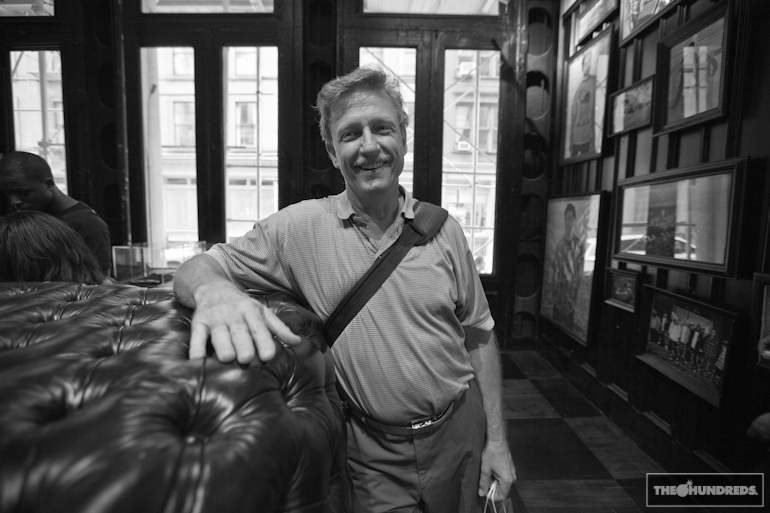 by bobbyhundreds