Once again, Agenda Trade Show came and conquered. We've seen this show explode before our eyes, all the big dogs jumping on the bandwagon (that the littleguys are steering). Congrats to Aaron and Seth for a job well done, and we'll be seeing everyone at the Winter show.
Ray (Mighty Healthy) gets situated. These guys' upcoming seasons is looking umm I'd say,.. strong to very strong.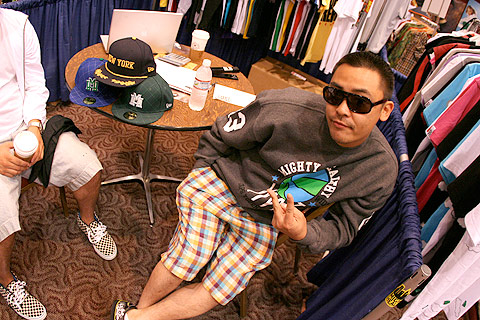 Lanie and my homegirl Tex of the Hellz Bellz phenomenon.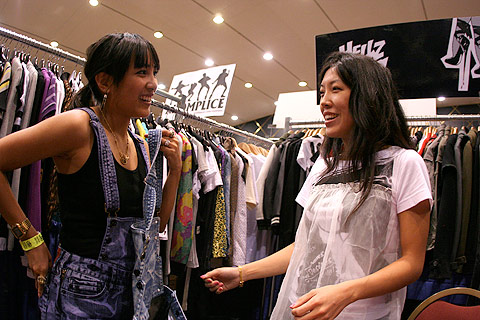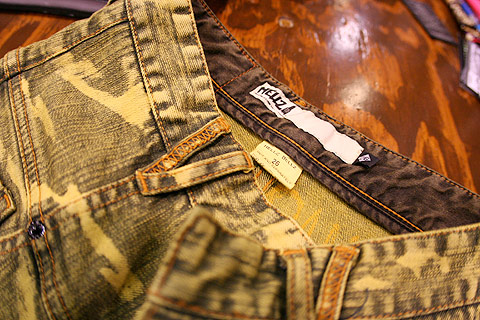 Weekly Droppin' in on Dennis (Crooks & Castles). From audio to video, kid!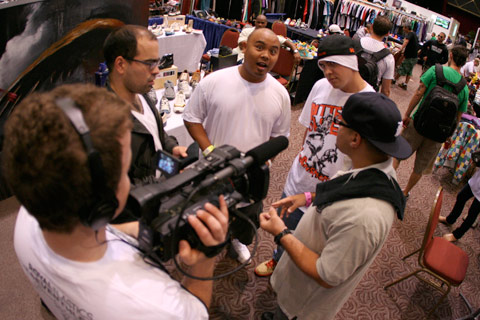 Glen's becoming the coolguy Al Bundy. Flipping shoes at Flight Club Los Angeles to pushing the freshies outta the Greedy Genius camp.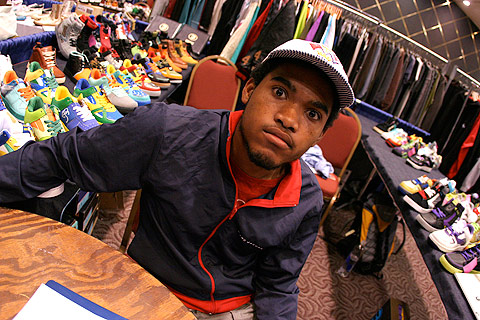 Godwin makes a serious splash with some smart denim and tops. That's what you get when you mix years of experience with creative insight and a healthy dose of ambition.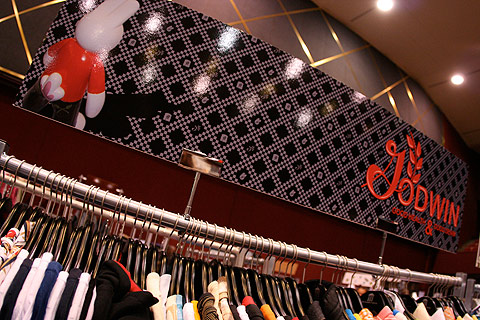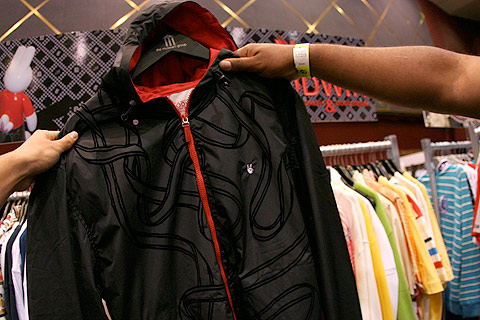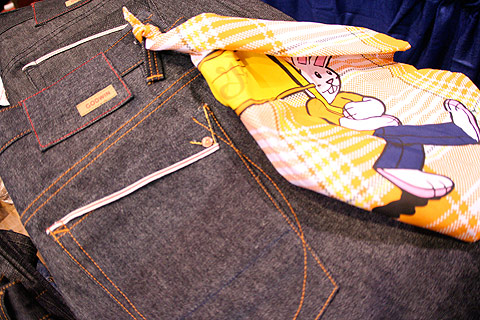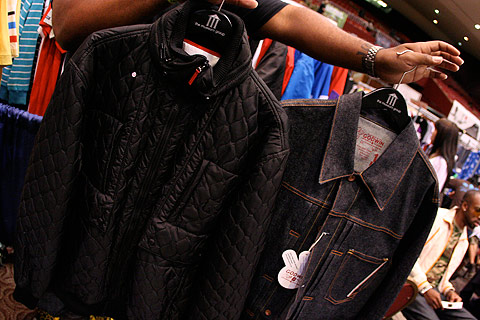 Fingercroxxx from the Far East. Is that a Fingercroxxx x Carhartt hoody I see?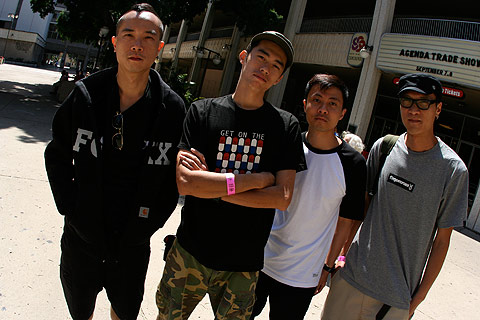 Rhandy, his phone, and the new Kanye video. On his phone. Cool.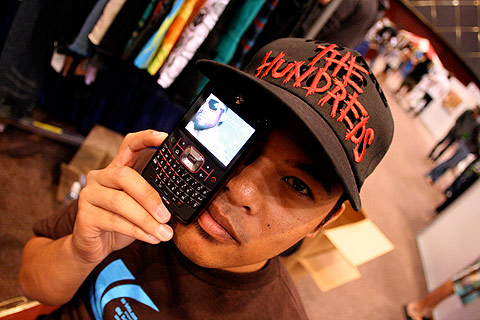 With the influx of overnight brand upstarts, web-induced trend acceleration, and overall complacency in the marketplace, it's rather easy to get jaded these days when it comes to that ever-popular catchphrase: "streetwear." It's difficult to stay excited and intrigued when you're looking at the same formulaic approach time and again.
That's why it's nice to see guys like Tony Bones doin' his thing. I'd say the hit of the show, from my perspective, came by way of the industry veteran and his 2 labels, Local Strangler and Corner Store Hero. Bones has been around longer than most of these kids in the building, but he's finally put 1-and-a-half years' worth of work out on the table with these two projects. Beyond the brilliant design, the concept and background to the brands and their accompanying pieces are enough to launch Bones' work into the limelight.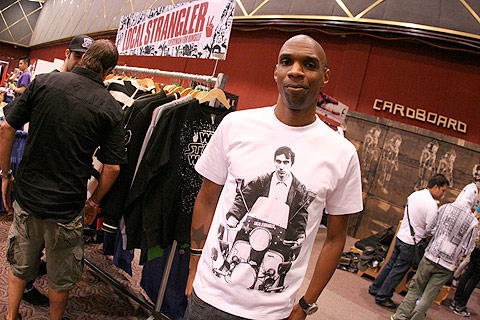 Local Strangler is Bones' thirtysomething-targeted line, which is riddled with double entendres (thus, the UK-oriented f*ck-you fingers logo, otherwise known as the U.S.' peace sign). Heavily concept-driven, but aligned with intelligent construction that's just enough to keep it from goin' over the top.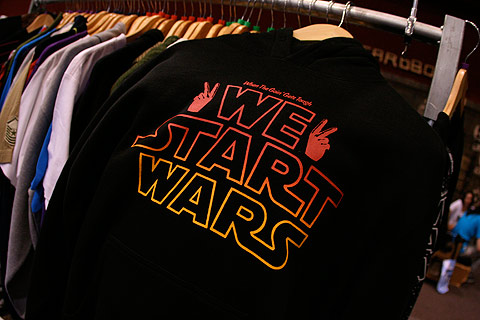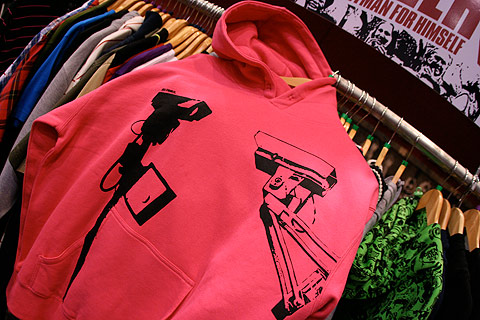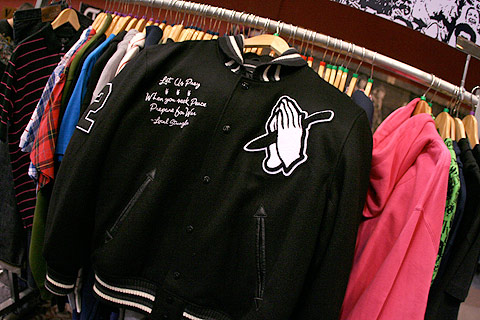 Grampa-styles. Check out the rolled collar, that's complemented with rolled cuffs as well.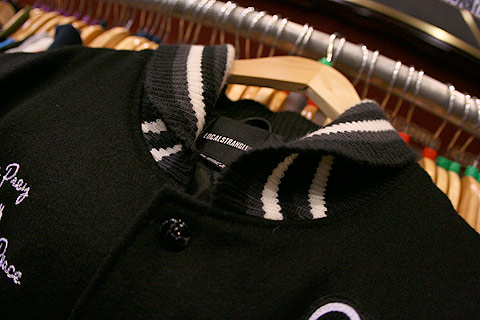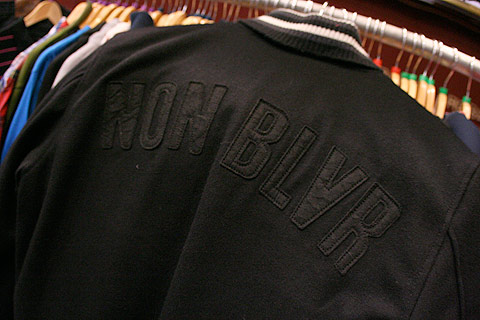 Peep the fingers.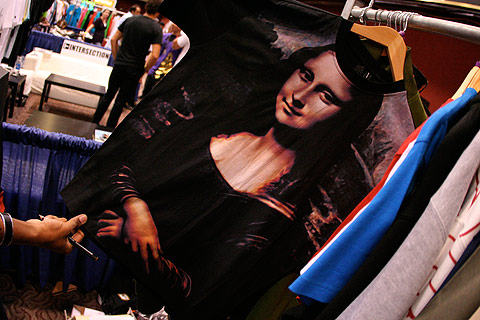 Even the hangtags are thought out, and on point.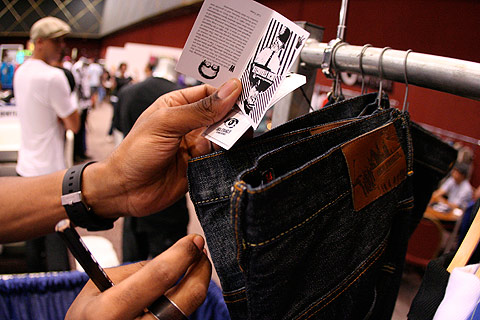 CornerStore Hero's more oriented towards the younger crowd, themed upon vintage Americana ideals and culture, but flipped on its head to reveal the hard truth behind that Norman Rockwell painting.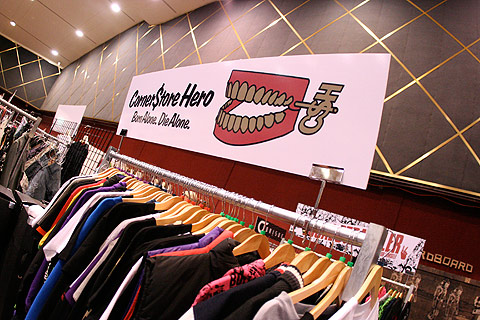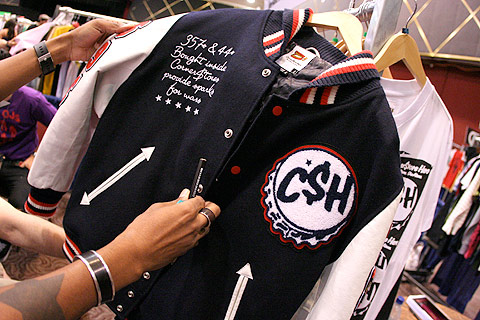 Bones got yelled at by some old lady in New York for this one.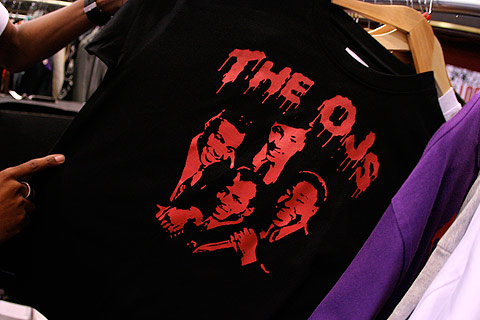 I can only imagine the painstaking process it must have been to re-appropriate each and every one of these ads. Imbued with Bones' tongue-in-cheek humor, that you may remember from some of his previous endeavors like Rinse & Repeat.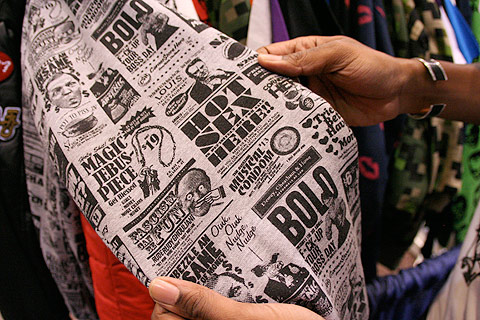 by bobbyhundreds