(1) The skulls and bones embedded in our L.A. storefront were props used in such notable movies as Pirates of the Caribbean 1 and 2.
And Snoop Dogg's Bones.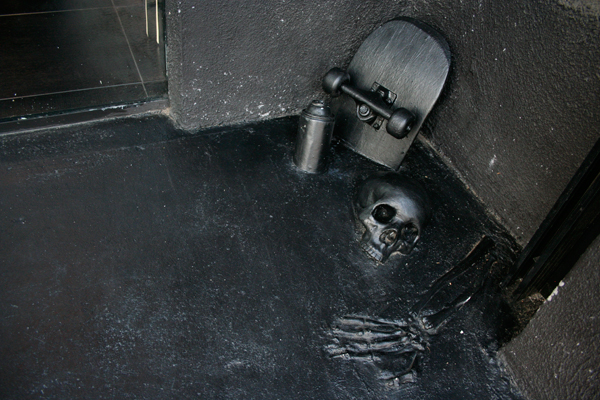 (2) Before settling on "The Hundreds," Ben and I considered over 100 different names, the tail-end losers being "The Holiday Project," "Garden Variety," and "The Collection." Some of the top choices are still used in other ways throughout the company, from passwords to branding. You just don't realize it.
(3) Every season, our favorite t-shirts are consistently the ones that sell the least. Like anything that involves tonal black-on-black or white-on-white printing.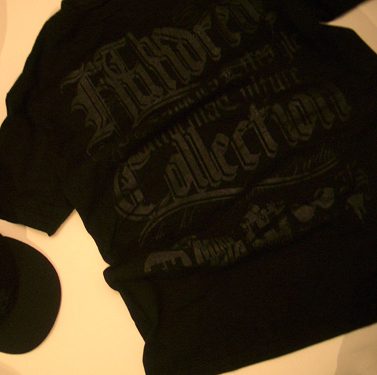 (4) The lettering in our logo was inspired by the Raiders' font. Considering how pervasive Raiders-endorsed apparel was in Southern California culture during the '80s and early '90s, it was only natural. Oakland what?

(5) You'll be hard-pressed to find an orange The Hundreds t-shirt. For some reason, it rarely makes sense.
(6) Most people figured out that upon closer inspection, the "Townstooth" t-shirt's pattern (from Fall 2006) was of a tesselated city skyline. Some even realized that it's actually the silhouette of buildings in downtown Los Angeles. But practically none realized that when the shirt is flipped over, you can see buildings from New York's skyline.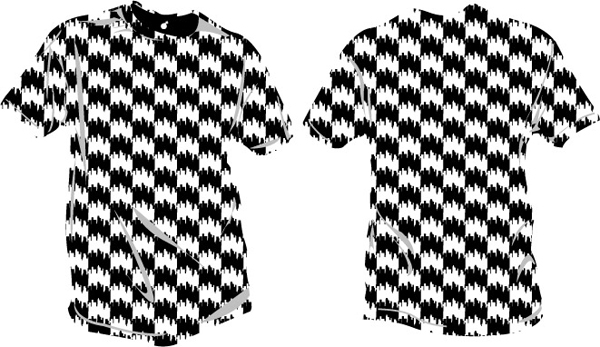 (7) Our watch was made by the same people, molds, and factory that make Swatch watches.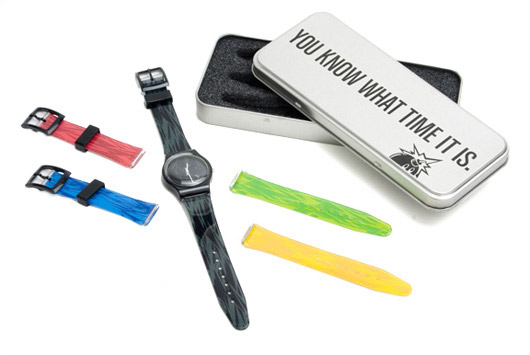 (8) Before Adam Bomb, there was Breadman. Although the t-shirt graphic for the Killer Carb was sampled, due to lack of interest from buyers, Breadman never had a shot at life.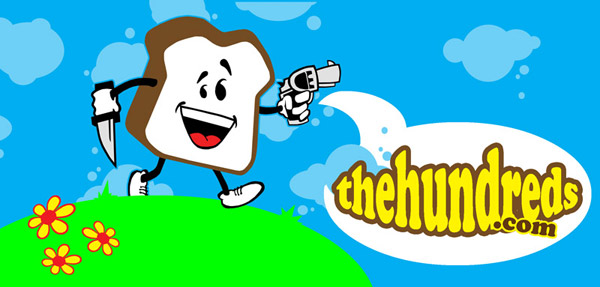 (9) Speaking of sampled t-shirts that never came to fruition, there's a Married to the Mob x The Hundreds t-shirt floating around out there …
(10) …Which would have been our first women's tee. Instead, a few months later we printed 2 colorways of a girl's logo tee (as worn by Tal here). That was the first and last time we printed The Hundreds girls' t-shirts.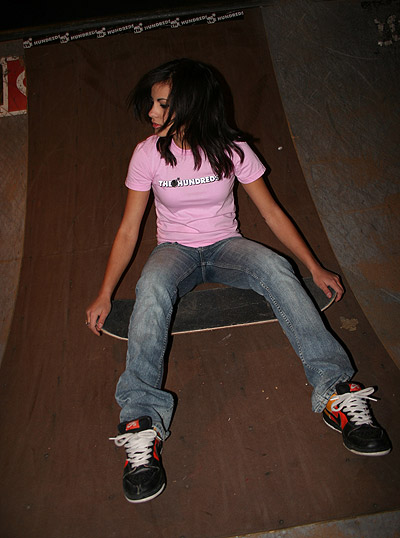 (11) Because of a "propaganda" incident years ago, The Hundreds is not allowed to step foot on any of the University of California campuses. (UCLA was unaware of this when they invited us to speak on-campus last year).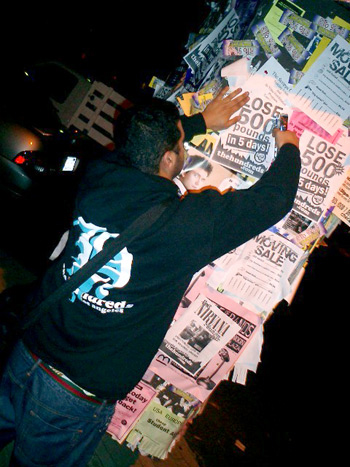 (12) The first time we actually used a paisley graphic, it was for this bandana-inspired zip-up hooded sweatshirt, which didn't quite take off. Ben suggested making it an all-over print and it became one of our first widespread successes. Unfortunately, it also launched a wave of paisley-type graphics throughout the industry, which was always funny to us because I actually think the paisley design, in and of itself, is disgusting without the bandana context. They missed the point.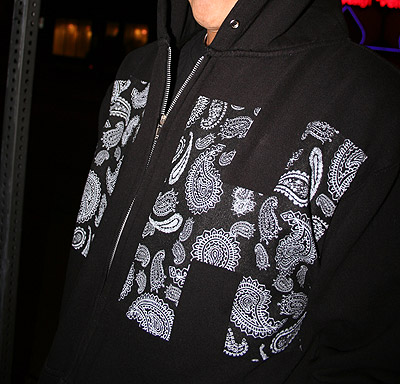 (13) A lot of people have noticed the Simpsonized The Hundreds crew in our webpage banner, and ask to see the full, unblocked version. Here it is.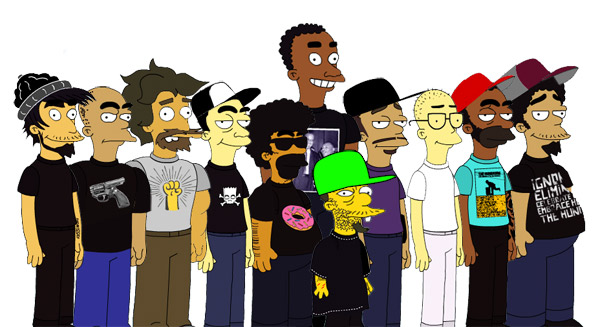 (14) I've never used the numeral "100" or "100s" to reference "The Hundreds," whether on the blog, t-shirts, or anywhere else. So I'm still unsure why other people are intent on doing so.
(15) I accidentally wrote "Jason Lee" twice on the back of the "Thank You Skateboarding" t-shirt from years ago. But that's okay, he deserves it.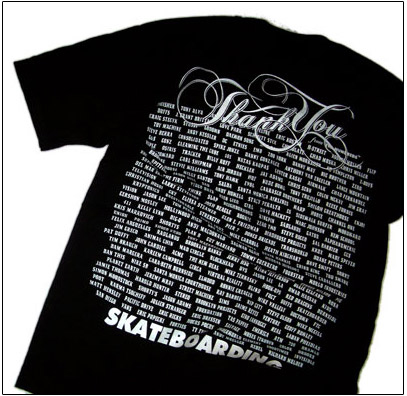 (16) In putting together our Fall 2006 photo shoot, we had Tony stand in our yet-unbuilt Store, in the exact area where his chair and register would be 5 months later. Neither you (nor he) knew it at the time.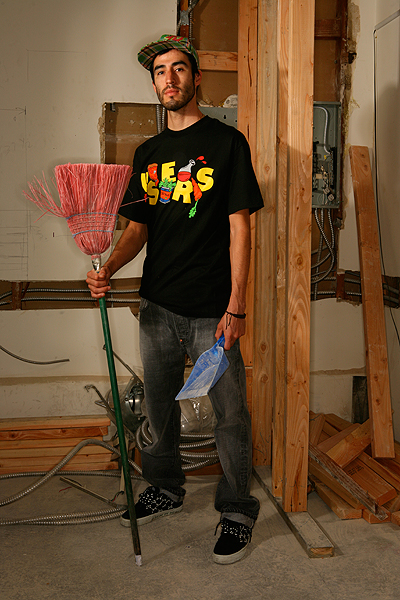 (17) There's actually a story that goes along with Tofer's art installation in our Store. Most people forget that it even has a name: "Corn Mouth." The exhibit documents a journey from innocence to knowledge and darkness. If you notice that there is a flower underground, and then later on a vile serpentine monster, you kinda get the point.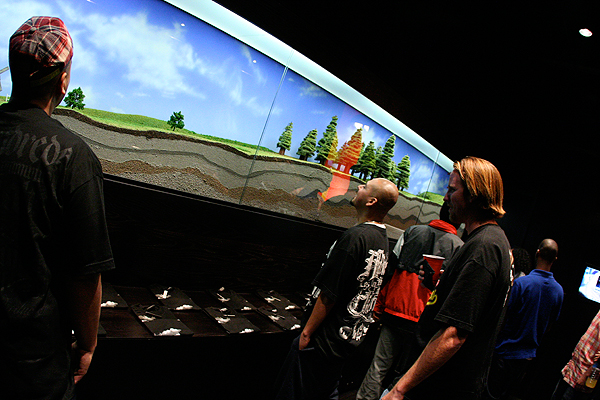 (18) Our man Endi is in that photo.
by bobbyhundreds